Sea Otter Classic Expo
Monterey, California, USA, April 16-19, 2009
On show - April 18: SRAM family unveils new goodies at Sea Otter Classic
By James Huang in Monterey, California
SRAM gives Force an update for 2010
Photo ©: James Huang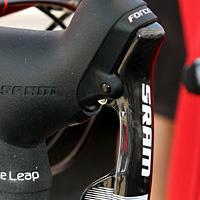 Revamped Force group borrows more heavily from Red, new cable sets developed with Gore
SRAM's second-tier Force group joins the sub-2kg club thanks to new trickle-down features added for the 2010 model year. Claimed weight is now as low as 1957g as compared to Red's 1914g.
The biggest savings comes with a new BB30-compatible Force carbon crank, said to weigh just 645g complete with chainrings, hardware and bearings; the standard GXP version remains in the lineup but adds another 140g. In addition, brake calipers now use the same aluminum forgings as Red for improved stopping performance but with less aggressive machining to cut costs.
Visually, Force also adopts a darker 'zephyr silver' finish for all of the forged aluminum bits – now using a 6000-series alloy – and a bolder black-and-white graphics package bears strong resemblance to the Red design motif. Otherwise, the rest of Force is essentially unchanged for 2010.
The new Force version will be available to consumers around June or July and pricing will be consistent with 2009: USD 1399 with GXP cranksets or USD 1439 for the BB30-compatible package.
Also new is the 'SRAM Professional System by Gore', otherwise known as a modified version of Gore's own sealed derailleur cable and housing set. As with the Gore version, the SRAM set uses a specially coated inner cable for reduced friction but substitutes the full-length liner for an abbreviated one that runs in between the two sections of rear derailleur housing. For the front derailleur, the liner runs between the end of the housing and just below the cable clamp.
For both sides, the liner starts just behind the housing caps at the down tube cable stops and is sealed at the other end with Gore's familiar grub seal. According to SRAM, this setup maintains the original's impressive low-friction and sealing capabilities for faster shifting and more reliable performance but is easier for mechanics to install.
Zipp officially unveil new 303
Zipp have also added a 23mm-wide version
Photo ©: James Huang

Zipp designers took a new approach for the revamped 303 wheels we've now spotted on several occasions at the spring Classics. Instead of aerodynamics and light weight, this latest version was primarily engineered to survive pounding on cobbles and 'cross racing.
Zipp's existing Carbon Bridge technology and dimpled surface carry over from last year but the real durability improvements apparently come from the updated shape itself. According to Zipp, the new full toroidal shape is softer radially than the old hybrid toroidal profile, meaning the rim is more apt to absorb and flex around an impact rather than shatter.
As compared to the outgoing version, the new rim profile is significantly wider both at the tire bed (20.3mm vs. 25.4mm) and at the bulged midsection (27.5mm vs. 22.4mm) as well as slightly deeper (45mm vs. 44.1mm). Even so, weight is unchanged, aerodynamic performance has supposedly improved, and the new rim is even stiffer in torsion and laterally for a snappier feel under power.
Additional benefits include an angled brake track that Zipp claim provides improved stopping control, more support for wider 'cross tubulars, and more rounded edges to decrease the likelihood of pinch flats.
Total weight for a pair of 303 rims built with Zipp 88/188 hubs and Sapim CX-Ray spokes (18/24 front/rear) is just 1182g. Zipp will also offer the new 303 in 'cross-specific, Clydesdale, Zedtech and PowerTap iterations, too.
Surprisingly, the new wheels will already begin shipping as of this coming Monday. Suggested retail price is USD 2285.
Fork and rear shock updates from RockShox
The RockShox Revelation is all-new for 2010
Photo ©: James Huang

The humdrum RockShox Ario rear shock receives a welcome overhaul for 2010, adopting the excellent dual-flow Motion Control internals and basic chassis design of the superb Monarch platform but omitting some of the 'bells and whistles' to reach a more value-oriented price point. As such, don't bother searching for swiveling inflation valves or printed-on sag gradients here but if you believe the spiel, most riders will notice little difference from the saddle.
The top-end Ario 3.2 will feature adjustable rebound damping and an on/off lockout with a remote option. The mid-range Ario 2.1 does without the lockout and the basic Ario 1.1 makes do solely with adjustable air pressure. Claimed weight is a competitive 200-210g for a 165mm eye-to-eye sample measured without the hard-anodized three-piece aluminum hardware also carried over from Monarch.
Monarch receives a few tweaks as well, in particular the return of a Dual Air spring system to give users more control over initial small bump sensitivity. Structurally, the only change is with the new air can, which theoretically should be retrofittable to existing Monarch shocks assuming RockShox makes the parts available.
RockShox will also offer a wider range of factory tuning options for OEM customers.
Save for new tapered steerer options on some models, not much has changed on the fork side of things save for a complete overhaul of the Revelation trail bike fork. The new version's chassis is very similar to the current Reba – including the squared-off arch, Power Bulge bushing reinforcements and post mount brake tabs – but the arch now leaves room for tires up to 2.5" wide.
Other characteristics are more SID-like, however, such as the shorter stanchions and internal shafts for weight savings.
RockShox will offer Revelation in either internally adjustable (130/140/150mm) or Air U-Turn varieties, both with either 9mm quick-release or 20mm Maxle Lite thru-axle dropouts. Standard 1 1/8" and tapered 1 1/8"-to-1 1/2" alloy steerers will be on tap as well. As with Reba, Revelation will be available in SL (internally adjustable Floodgate), Race (externally adjustable Floodgate), and Team (BlackBox Motion Control) levels.
Retail prices will range from USD 509-773 and target weights will range from 1620g (3.57lb) to 1841g (4.06lb).
Avid say goodbye to Juicy
Avid introduce Center Lock-compatible rotors for 2010
Photo ©: James Huang

As expected, Avid have now replaced all remaining Juicy hydraulic disc brakes with Elixir models for 2010. Supplanting the Juicy Ultimate is the top-end Elixir CR Mag, which uses a forged magnesium lever body, carbon lever blades (1/3 lighter than the carbon blades on the standard Elixir CR), and a two-piece aluminum caliper body.
A relocated return spring shortens the lever body a few millimeters while a large-diameter press-fit – but replaceable – lever pivot and tooled reach adjust are designed to save some weight. Pad contact is still adjustable via a convenient dial though and a new split clamp similar to that of the original Single Digit Ultimate does the job with just one bolt. SRAM will also offer a new Matchmaker X – with more angular adjustment – to fit and the included pads will use a semi-metallic compound and aluminum backing plates.
Claimed weight for a complete Elixir CR Mag brake with a 160mm rotor is 330g; retail price is USD 285 per wheel.
At the other end, Elixir 5 will be the new entry-level model with a new caliper and lever design, tooled reach adjustment and a fixed banjo at the caliper. Claimed weight is 395g with a 160mm rotor.
Otherwise, Elixir CR and R will now be offered in a white finish, and the Elixir R also adds a rotatable banjo at the caliper. All Elixirs will work with 160, 185, or 203mm rotors and Avid also adds new 160mm and 185mm rotors to work with Shimano's splined Center Lock rotor attachment system.
Stems, seatposts and colors galore from Truvativ
Two-bolt heads wll be available in both 0mm and 25mm offsets.
Photo ©: James Huang

The comprehensive handlebar changes instilled at Truvativ last season now make their way to the stem and seatpost realm for 2010. The new Noir seatposts feature a filament wound carbon fiber shaft bolstered with unidirectional inner layers for additional directional strength and a more ductile failure mode.
Forged aluminum two-bolt heads will be available in 0mm and 25mm setback options and Truvativ will offer the posts in two lengths (350mm, 400mm) and three sizes (27.2mm, 30.9mm, 31.6mm). Target weight for the top-end World Cup model with titanium hardware is 215g; the stainless hardware of the Team model will add 5g. Suggested retail price will be USD 144 and USD 116, respectively.
Truvativ will also offer two Stylo seatposts with the Team model using a one-piece forged and butted 7050 aluminum shaft and head and the Race using a 6061 shaft and forged 6061 head. As with the Noir, Stylo posts will be available with 0mm and 25mm two-bolt heads, two lengths, and three diameters. Retail pricing is set at USD 55 and USD 27.
Three new stems will complete the Stylo cockpit range. The World Cup and Team models will be built from forged 7050 alloy and will use opposing two-bolt steerer clamps and a four-bolt oversized handlebar faceplate. Target weight for the World Cup is 130g in a 100mm length with titanium hardware and available lengths range from 75-130mm, all in a +/-5? rise. Team models differ only in the use of stainless steel hardware and graphics. Suggested retail pricing will be between USD 79-87 for the World Cup and USD 48 for the Team.
The Stylo Race stem will use a forged 6061 design and will be available in 60-120mm lengths, all for just USD 28.
And finally, SRAM will now offer customers the opportunity to add some color into their lives with their new 'Select' program. Included in the program are the Truvativ Noir 3.3 crank, SRAM X.0 rear derailleur and trigger shifters, and PG-990 cassette, all of which will be offered in a five-color palette of anodized colors: red, gold, green, orange, and of course, pink.
Photography
For a thumbnail gallery of these images, click here
Images by James Huang/Cyclingnews.com