14th Crocodile Trophy - NE
Australia, October 21-30, 2008
Main Page Results Overall standings Previous Stage Next Stage
Stage 7 - October 27: Mt. Mulgrave - Laura, 148 km
Vermeulen gifted stage win as combatants suffer in the sand
Nic Vermeulen wins the stage.
Photo ©: John Flynn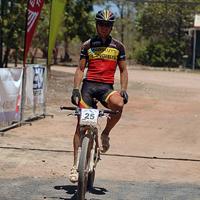 It may have come by way of a gift from the Czech Republic, but whatever the case, the consistent effort of Belgium's Nic Vermeulen was rewarded in stage seven in which he claimed victory in the signature stage from Mount Mulgrave to Laura. Vermeulen, who has toiled long and hard against the Czech powerhouse VIG+ Racing over the past seven days,was in an impossible position once again, outnumberd four to one by the Czechs in the final kilometres.

The gutsy Belgian from Team Lingier, who has earned respect all-round at this race, found himself in the survivors' group, not a breakaway as such, containing race leader Ondrej Fojtik and his team-mates Tomas Trunschka, Ivan Rybarik and Martin Horak. In another display of sportsmanship, the Czechs decided to honour their opponent, opting not to attack Vermeulen in the final kilometres as the race headed into Laura. Had they attacked, Vermeulen would have found himself faced with an almost unwinnable scenario.

"I think it was a gift from the Czechian team," Vermeulen admitted after his win. "The (Czech) team is too strong for me. I can attack but they ride four against me, but I'm happy with the stage win. Thank you."

Confronted with a one hundred and fifty kilometre journey, on roads littered with bull-dust pits and long patches of soft sand, many riders suffered as the fierce elements helped rip apart the general classification.

Australia's solo entrant Craig Gordon, was one riding feeling the heat. He fought doggedly in a stage where pure power counted for much and he finished 23 minutes down on the race leader in the general classification, with his hopes of winning the race effectively extinguished.

"I hate that bulldust. I disappeared into it, gone," Gordon said as he wiped dust from his eyes.

"I struggled today with the bulldust and the sand, maybe I've just gotta get psyched and be on it. Of course I'd love to win a stage but it's very, very tough with these guys. I'm not gonna give up, but certainly days like today just don't favour me at all."

The stage began with an ambitious breakaway that featured two Australians in Nick Both and Reece Stevens along with Belgian Kris Hertsens and stage six winner Kejval Lubos. Rolling through the undulating country to the west of the Laura Ranges. The break group was never far out of the sight of the GC leaders.

For Australia's Stevens, the breakaway move was a gamble worth taking on a stage that's earned itself the reputation as the toughest of the race. "Yeah, longest stage of the tour. I think, the longer they are the more testing they are," Stevens said.

"The Czechs came through, and I got dropped with about 50 or sixty kilometers to go and had to do the last 50 or 60km on my own which was pretty hard work. It was the toughest stage to date, and the last 10km were the toughest 10km of my life."

The biggest threat to race leader Ondrej Fojtik came from within as team-mate Martin Horak joined in the attacks being mounted by Belgian Nic Vermeulen. Horak sits just 38 seconds behind the race leader in the overall standings and it appears the temptation to race for individual glory is proving to difficut to ignore. Fojtik, whose long-term dream has been to win the Crocodile Trophy, remains wary of the man most capable of dislodging him from the top spot - even though that same cyclist is one of his team-mates.

"I must watch martin because he attacked with Nicolas," Fojtik observed. "It's not so hard a physical but psychological stage for me. It will be very hard for me to lead this race (at the end) in Cape Tribulation."
Bennett extends lead in women's race
Jo Bennett (Merida Flight Centre)
Photo ©: John Flynn
In the women's event, Merida Flight Centre's Jo Bennett revealed her trump card today, as she displayed her superior sand riding skills. Bennett was one of only a handful of cyclists in the event to ride the deep soft sand patches of the Palmer River end-to-end.

It was at the Palmer where Bennett edged away from her GC rival Karen Steurs of Belgium. Steurs clearly struggled in the bull-dust pits and sand patches, where pure power is required to turn over the pedals.

Bennett revealed at stage end, that she had been training back home in Western Australia, with this stage of the Crocodile Trophy in mind.

"I actually don't mind the sand it's one of my stronger points and I know it's probably one of Karen's weaker points," Bennett said as her team celebrated at race end.

Today, the entire Merida Flight Centre men's team dropped back to assist the women's race leader and the move reaped rewards as Bennett extended her lead by several minutes.

"I just put it in a bigger gear and pushed it through as hard as I could," Bennett said. "We have a little bit of sand back home and I've been practicing, I knew it was out here."

Steurs also had some strong support today in the form of legendary Belgian Eric Vanderaerden, but even with the help of the former Paris-Roubaix champion, she struggled to maintain momentum on the constantly changing road surface.

Mountain climbs on the next two stages are expected to favour the Belgian, but Bennett is feeling hungry for success.

"I'll push as hard as I can. I want this thing," Bennett said.
Photography
For a thumbnail gallery of these images, click here
Images by John Flynn / Crocodile Trophy
Results
Elite men

1 Nicolas Vermeulen (Bel)                                                5.03.57 (29.22km/h)
2 Ivan Rybarik (Cze) VIG+Racing 1                                           0.14
3 Martin Horak (Cze) VIG+Racing Team 2                                          
4 Ondrej Fojtik (Cze) VIG+Racing Team 2                                         
5 Tomas Trunschka (Cze) VIG+Racing 1                                        0.15
6 Craig Gordon (Aus) Rockstar Racing                                        4.41
7 Benedikt De Vreese (Bel) Winter Vreese                                   18.24
8 Tomas Kozak (Cze) Laser Steel Plzen                                      18.26
9 Nathan Dyke (Aus) TKM / Slattery team                                    28.06
10 Raf De Bakker (Bel)                                                          
11 Tim Bennett (Aus) Merida - Flight Centre 1                              30.37
12 Nick Both (Aus) Merida - Flight Centre 1                                     
13 Karel De Winter (Bel) Winter Vreese                                          
14 Adrian Jackson (Aus) Merida - Flight Centre 1                                
15 Christophe Huybrighs (Bel) Team Ride for Stars                          34.49
16 Robert Novotny (Cze) VIG+Racing Team 2                                  34.51
17 Gillis Van Loon (Bel) Team Ride for Stars                               35.46
18 Tim Calkins (USA) TKM / Slattery team                                   55.24
19 Christian Birngruber (Aut)                                              56.32
20 Steven Boury (Bel)                                                    1.01.52
21 Alfred Schabauer (Aut)                                                1.15.33
22 Petr Uhlik (Cze)                                                      1.15.34
23 Stefaniak Wojciech (Pol)                                              1.41.25
24 Bart Decroubele (Bel) Team Belgian Power                              2.03.46
 
Elite women

1 Joanne Bennett (Aus) Merida - Flight Centre 2                          5.34.34 (26.54km/h)
2 Karen Steurs (Bel) Team Ride for Stars                                    4.11
3 Naomi Hansen (Aus)                                                       38.59
 
M1 men

1 Kris Hertsens (Bel)                                                    5.09.36 (28.68km/h)
2 Stephens Reece (Aus) TKM / Slattery team                                  4.27
3 Daniel Wyss (Swi) swisscrocs08                                           13.25
4 Peter Geldhof (Bel) teamNomaDesk.com                                     22.04
5 Guido De Jong (Ned)                                                      24.58
6 Kejval Lubos (Cze) VIG+Masters                                                
7 Zdenek Kriz (Cze) VIG+Racing 1                                                
8 Issac Tonello (Aus)                                                      29.11
9 Philipp Zenklusen (Swi) swisscrocs08                                     30.07
10 Gunter Selleslagh (Bel)                                                 45.35
11 Matt Powell (Aus)                                                       49.44
12 Mikkel Wichmann (Den)                                                 1.11.10
13 Ermanno Piccaro (Ita) ASD Vigili del Fuoco-Latina-Cinelli-Corratec    1.12.47
14 Bart Vancayzeele (Bel)                                                1.16.13
15 Erik Goeleven (Bel) Team Moozes                                       1.32.00
16 Guy Lemmens (Bel) Team Moozes                                         1.57.58
17 Kristof Vanspauwen (Bel) Team Belgian Power                           1.58.06
18 Mario Vandeweghe (Bel)                                                2.22.56
19 Bruno Verwee (Bel)                                                    2.33.41
20 Bert Apers (Bel)                                                      3.26.58
21 Philip Smith (GBr)                                                    4.01.10
 
M2 Men

1 Axel Strauss (Aut)                                                     5.22.20 (27.55km/h)
2 Darren O'Grady (Aus) Rockstar Racing                                     12.14
3 Ladislav Drda (Cze) VIG+Masters                                               
4 Jiri Kriz (Cze) VIG+Masters                                              29.40
5 Eric Vanderaerden (Bel) Marc Herremans Foundation                        33.56
6 Marc Roggen (Bel)                                                        36.59
7 Thomas Sollich (Ger) Rockstar Racing                                     58.23
8 Ruedi Senn (Swi) swisscrocs08                                            58.24
9 Jos Kerkhofs (Bel) Marc Herremans Foundation                           1.09.19
10 Georg Vinczencz (Aut)                                                 1.24.28
11 Luc Gielen (Bel) Team Belgian Power                                   1.45.22
12 Marc Withofs (Bel)                                                    1.55.09
13 Patrick Van Gelder (Bel) Team Moozes                                  2.26.56
14 Ronny Potter (Bel) Team A.S.P.A                                       3.14.10
15 Patrick Mijlemans (Bel) Team A.S.P.A                                  3.14.12
16 Rudi Donckers (Bel) Marc Herremans Foundation                         3.14.14
 
General classification after stage 7

Elite men

1 Ondrej Fojtik (Cze) VIG+Racing Team 2                                 27.05.23
2 Martin Horak (Cze) VIG+Racing Team 2                                      0.38
3 Tomas Trunschka (Cze) VIG+Racing 1                                        4.08
4 Nicolas Vermeulen (Bel)                                                  10.40
5 Craig Gordon (Aus) Rockstar Racing                                       23.00
6 Ivan Rybarik (Cze) VIG+Racing 1                                          32.22
7 Tomas Kozak (Cze) Laser Steel Plzen                                    1.19.07
8 Robert Novotny (Cze) VIG+Racing Team 2                                 1.33.18
9 Adrian Jackson (Aus) Merida - Flight Centre 1                          2.00.49
10 Benedikt De Vreese (Bel) Winter Vreese                                2.08.31
11 Nick Both (Aus) Merida - Flight Centre 1                              2.16.38
12 Christian Birngruber (Aut)                                            2.21.11
13 Tim Bennett (Aus) Merida - Flight Centre 1                            2.31.18
14 Nathan Dyke (Aus) TKM / Slattery team                                 2.41.47
15 Christophe Huybrighs (Bel) Team Ride for Stars                        3.21.02
16 Alfred Schabauer (Aut)                                                3.49.21
17 Gillis Van Loon (Bel) Team Ride for Stars                             4.13.31
18 Stefaniak Wojciech (Pol)                                              5.17.53
19 Karel De Winter (Bel) Winter Vreese                                   5.19.06
20 Raf De Bakker (Bel)                                                   5.19.59
21 Steven Boury (Bel)                                                    5.34.49
22 Petr Uhlik (Cze)                                                      6.23.33
23 Tim Calkins (USA) TKM / Slattery team                                 6.35.07
24 Bart Decroubele (Bel) Team Belgian Power                              8.37.09
 
Elite women

1 Joanne Bennett (Aus) Merida - Flight Centre 2                         30.19.28
2 Karen Steurs (Bel) Team Ride for Stars                                    5.12
3 Naomi Hansen (Aus)                                                     2.56.34
 
M1 men

1 Kris Hertsens (Bel)                                                   27.57.35
2 Stephens Reece (Aus) TKM / Slattery team                                 55.09
3 Zdenek Kriz (Cze) VIG+Racing 1                                         1.00.13
4 Daniel Wyss (Swi) swisscrocs08                                         1.29.53
5 Kejval Lubos (Cze) VIG+Masters                                         1.54.26
6 Issac Tonello (Aus)                                                    3.06.52
7 Guido De Jong (Ned)                                                    3.07.23
8 Matt Powell (Aus)                                                      3.47.13
9 Philipp Zenklusen (Swi) swisscrocs08                                   3.56.46
10 Peter Geldhof (Bel) teamNomaDesk.com                                  4.37.47
11 Gunter Selleslagh (Bel)                                               5.44.31
12 Bart Vancayzeele (Bel)                                                5.51.59
13 Erik Goeleven (Bel) Team Moozes                                       6.01.23
14 Ermanno Piccaro (Ita) ASD Vigili del Fuoco-Latina-Cinelli-Corratec    6.48.16
15 Mikkel Wichmann (Den)                                                 6.56.55
16 Guy Lemmens (Bel) Team Moozes                                         8.14.28
17 Kristof Vanspauwen (Bel) Team Belgian Power                           8.29.26
18 Bert Apers (Bel)                                                     11.32.18
19 Mario Vandeweghe (Bel)                                               12.13.51
20 Bruno Verwee (Bel)                                                   16.30.00
21 Philip Smith (GBr)                                                   18.15.09
 
M2 men

1 Axel Strauss (Aut)                                                    29.23.25
2 Ladislav Drda (Cze) VIG+Masters                                        1.18.08
3 Jiri Kriz (Cze) VIG+Masters                                            1.33.23
4 Marc Roggen (Bel)                                                      2.22.38
5 Darren O'Grady (Aus) Rockstar Racing                                   2.46.38
6 Eric Vanderaerden (Bel) Marc Herremans Foundation                      2.57.37
7 Ruedi Senn (Swi) swisscrocs08                                          3.37.58
8 Jos Kerkhofs (Bel) Marc Herremans Foundation                           6.16.36
9 Georg Vinczencz (Aut)                                                  6.20.46
10 Thomas Sollich (Ger) Rockstar Racing                                  6.45.55
11 Luc Gielen (Bel) Team Belgian Power                                   8.45.49
12 Marc Withofs (Bel)                                                   10.17.31
13 Patrick Van Gelder (Bel) Team Moozes                                 10.20.22
14 Patrick Mijlemans (Bel) Team A.S.P.A                                 11.42.10
15 Ronny Potter (Bel) Team A.S.P.A                                      13.57.46
16 Rudi Donckers (Bel) Marc Herremans Foundation                        14.52.46