13th Crocodile Trophy - NE
Australia, October 23-November 1, 2007
Main Page Results Overall standings Previous Stage
Stage 10 - November 1: Daintree - Cape Tributlation, 32 km
A Show of unity to end Crocodile Trophy
Herremans' trial ends in glory at Cape Tribulation
By John Michael Flynn at Daintree, Australia
Marc Herremans
Photo ©: John Flynn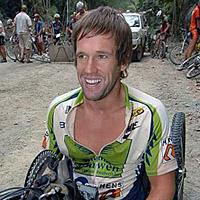 Australia's Cape Tribulation takes its name from one of history's greatest stories of triumph over adversity. It was here in the year 1770, the great British Navigator, Captain James Cook, was shipwrecked while navigating the Great Barrier Reef. His ship, the Endeavour, limped into what is now Cooktown, and was repaired using timber from local trees, before the epic voyage of discovery continued.
Today, 237 years later, Cape Tribulation played host to another of history's great stories of survival, only this time it was a Belgian whose tale of triumph against incredible odds will be told for generations.
At the end of 1400 kilometres, paraplegic athlete Marc Herremans received the ultimate accolade from the protagonists of the Crocodile Trophy, who put aside their chances for individual glory, to honour the man who has inspired and touched each and every person involved with the great outback race.
At the finish of today's stage, when the group finally reached the rainforest fringed beach, the peloton, led by overall race winner Mauro Bettin, formed an honour guard to welcome Herremans as the first finisher in the Trophy of 2007.
For a man who had just spent three consecutive days cranking his hand cycle for more than twelve hours and arriving at the campsite in darkness, this was no gift. More so, it was an opportunity to give thanks to the efforts of the person, to whom each rider's thoughts drifted during the worst, lonely hours in the saddle.
For those who thought they could not continue in The Crocodile, the thought of Herremans' suffering drove them on to achieve what every rider here dreams of – to finish the iconic event.
The riders await Marc Herremans
Photo ©: John Flynn

"Coming over the finish line seeing all the athletes cheering me on is just another great feeling after the accident," an emotional Herremans said as he cast his eyes to the ocean in wonder. "Paralysis doesn't stop you doing great things in your life."
Finishing the Crocodile Trophy was the completion of another chapter in what has become one the truly great journeys in world sport. Paralysed following an accident in 2002, Herremans could have easily given up. Instead, the great ironman re-examined his life's to-do list, and penciled in a series of events, which he had always intended to complete.
His victory in the Hawaii ironman as a paraplegic athlete is famous enough, but there were other goals, including the Crocodile Trophy, which until today probably seemed beyond reach. In perspective, Hawaii was ten hours, one day of pure suffering. To complete the Crocodile Trophy meant enduring the same suffering for ten consecutive days.
"For me it's the biggest one," Herremans said. "Here it was nine days in a row that I had to give everything and I was totally finished, blown up at the finish line, you have to keep on going, keep on going," he said. "To be at the finish line is an amazing feeling even though I'm amazingly tired. I just enjoy the moment, it is great."
Celebrations for all
Photo ©: John Flynn

The feeling in the group was summed up by Crocodile Trophy supremo Gerhard Schoenbacher, a man not known for dispensing accolades with reckless abandon. "This is something we will remember forever," Schoenbacher said. "On a scale of achievement I don't know where to put it. When he (Herremans) rang me a couple of months ago, I warned him how hard it will be and he said, I can do it."
"He proved it every day and I don't think any of us is as strong as he is in his head."
Austrian stage winner Stefan Rucker has been moved, perhaps more than most, by the achievements of the eternally positive Herremans. On the final night of the Crocodile, he shared a bush cabin with the Belgian, who had just completed his third day of absolute torture. "It was arranged from us riders that he comes here first," Rucker said.
"I talked to him in Irvinebank the first evening and I never saw someone like him before. He's not crazy, he knew what he was doing. We stayed together in the cabin last night and he was so tired. It's just incredible, it really brings tears to your eyes when you see something like that."
The Crocodile Trophy Champions
The champion Mauro Bettin
Photo ©: John Flynn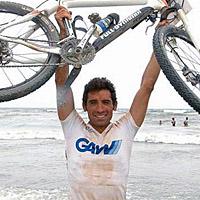 Herremans took just as much joy today from witnessing the achievements of the cyclists who have battled without reprieve in the Crocodile Trophy of 2007. "I am so very happy to win the Crocodile Trophy," Italy's Mauro Bettin admitted as the leader of the Felt Dream Team was crowned Il Campioni for the 2007 edition.
"The first time I come here I finish second, then I finished second again. To win the Crocodile is amazing."
Czech Ondrej Fojtik (Toyota Dolak), returning this year for his second assault on the epic race, was equally pleased to take his place on the podium next to an honourable champion in Bettin. "I'm satisfied with the second place, Mauro was stronger, better than me," Fojtik admitted.
"It was great for me, I won the last stage and it was super." The tough Czech also hinted that his Crocodile Trophy dream is far from done with. "Sure I will be back and I can win this great race," he said.
Third place outright in the Trophy belonged to Dane Allan Carlsen, a rider who may have the right attributes to one day be a champion of the race himself. "I'm super happy with it, I can really enjoy it now, it's been super," Carlsen said. "I really love that it was so competitive this year, there was so many strong guys."
Both Carlsen and compatriot Michael Borup hinted at an imminent return to contest the event once again, with the intention of seeing the Danish flag flying high. "I'm already looking forward to next year, now I know what it's all about," Carlsen said. "I know how to prepare for it now, before this race it was all like guess work."
Tim Bennett
Photo ©: John Flynn

Draped in his national flag, Flight Centre's Tim Bennett became only the second Australian to earn a place on the Crocodile Trophy's final podium. His fourth placing in the General Classification (third in the elite men's division) came at the end of ten days of consistent riding, where Bennett appeared to improve with every stage.
Bennett had aimed for a top five placing in the overall category, but managed to finish higher than expected. "Yeah I'm over the moon, what can you say , you come here to achieve a goal and you over-achieve your goal, there's nothing better," he said. "It's pretty high up there (on his list of achievements) for such a big international race.
"It's the first time I've finished on the podium against European guys."
Women's champion Michela Benzoni
Photo ©: John Flynn

Relaxing on the beach at Cape Tribulation Italy's Michela Benzoni was also ecstatic with her result as the Women's Champion of the Crocodile Trophy. Perhaps the strongest woman ever to contest the race, Benzoni managed to finish high up in the classification in mostly male company, a feat more worthy given she has little history of contesting stage races.
"Cape Tribulation, like Cooktown is very, very beautiful," Benzoni said as she took in the surroundings of the race finish. "Crocodile Trophy is very, very hard …. impossible.
As for the prospect of returning to defend her championship, Benzoni read from the page of many protagonists of the soul destroying race who have gone before her. "Impossible, never never never… no no no no."
Likewise, Marc Herremans is unlikely to return for another assault on the Crocodile Trophy, given he has achieved all he can in the great race.
He will take away from The Trophy the knowledge that certain things in life are most important.
"Some people say that health is the biggest thing that you can have but if you are very very healthy and you have no friends you have no life," Herremans said.
"I am not healthy I am paralysed from the chest down, but I have so much friends that I may be one of the happiest men in the world."
Photography
For a thumbnail gallery of these images, click here
Images by John Flynn/Cyclingnews.com
Results
Final General Classification 

Elite men

1 Mauro Bettin (Ita) Dream Team                               38.09.48
2 Ondrej Fojtik (Cze) Toyota Dolak                               25.47
3 Tim Bennett (Aus) The Flight Centre Team                     1.07.12
4 Michael Borup (Den) Team GHOST - avj.dk                      1.16.07
5 Stefan Rucker (Aut) Elk Haus                                 1.18.35
6 Radoslav Sibl (Cze) Team Ironbike - Bikezone                 1.28.07
7 Benoit Joachim (Lux) Dream Team                              2.11.18
8 Attila Marton (Hun) Meditech Sport Club - CIB                2.55.14
9 Brett Anderson (Aus) Trak Cycles                             3.01.01
10 Nick Both (Aus) The Flight Centre Team                      3.09.16
11 Jacob Agger Troelsen (Den) Team Wonsild - www.wonsild.dk    3.14.04
12 Gerald Bauer (Aut) Publicity PowerBike Team                 3.59.58
13 Dennis Van Mill (Aus) Team Gordon Street Cycles             4.15.19
14 Ryan Hawson (Aus) The Flight Centre Team                    4.54.19
15 Max Becker (Lux) Dream Team                                 5.00.48
16 Dave Wood (Aus) The Flight Centre Team                      5.27.10
17 Roman Stastny (Cze) Rock Machine - Cyklomax                 6.41.46
18 Patric Wiedmer (Swi) Wiedmer-RRGLMV                         8.29.44
19 Matt Hubber (Aus)                                          11.15.39
20 Lukas Mraz (Cze) X - SPORTS                                11.19.00
21 Daniele Avico (Ita)                                        14.10.06
22 Dario Cerisara (Ita) Cicli Giorgio                         30.26.57
23 Marc Herremans (Bel) Team Heremans                         46.25.13
24 Dirk Van Gossum (Bel) Team Heremans                                
25 Glenn Creynen (Bel) Team Heremans               

Points classification

1 Mauro Bettin (Ita)     115 pts
2 Stefan Rucker (Aut)     89
4 Ondrej Fojtik (Cze)     64
3 Benoit Joachim (Lux)    60
5 Radoslav Sibl (Cze)     32
6 Michael Borup (Den)     29
8 Tim Bennett (Aus)       27
7 Gerald Bauer (Aut)      25
9 Nick Both (Aus)         15
10 Max Becker (Lux)       10
11 Attila Marton (Hun)     2     

Team classification

1 Dream Team                  121.21.48
2 The Flight Centre Team        4.36.22
3 Team Ironbike                11.47.26
4 Team Gordon Street Cycles    23.41.41
5 Belgian Joven Team_01        45.32.10
6 Valbuena                     48.37.26
7 Team Heremans               100.19.33        

M1

1 Allan Carlsen (Den) Alb-Gold Mountainbike Team              38.59.26
2 Valentin Zeller (Aut) Endurance Team Kärnten                 1.28.37
3 Roberto Haegdons (Bel) Belgian Joven Team_01                 1.31.40
4 Ewart Van der Putten (Ned) HERBALIFE-MERIDA                  1.57.44
5 Allen St Pierre (USA)                                        2.03.25
6 Salvatore Paolo Albano (Ita) Pedale Tarvisiano               2.43.11
7 Chrisophe Heinix (Bel) Team www.sjette.be                    3.20.28
8 Karel Peelman (Bel)                                          5.34.34
9 Robby Lemmens (Bel) Belgian Joven Team_02                    6.49.42
10 Christophe Desimpelaere (Den) Riis Cycling                  7.49.00
11 Mauro Canale (Ita) Team Ironbike                            7.56.49
12 Struan Lamont (Aus) Team Scott                              8.09.44
13 Christan Hofer (Aut) Radsport Janger                        8.33.39
14 Franz Schwoediauer (Aut) Hrinkow Bikes                      8.46.03
15 Christoph Herr (Ger) Team Radsport König                    8.52.43
16 Lloyd Newell (Aus) Team Gordon Street Cycles                9.34.14
17 Philipp Zenklusen (Swi) World Wide Erne Spirit             11.24.41
18 Roman Petr (Svk)                                           11.44.59
19 Joan Valbuena Roset (Spa) Valbuena                         13.48.07
20 Giovanni Roveri (Ita) Cicli Giorgio                        14.53.00
21 Josh Freeman (Aus) Team Gordon Street Cycles               15.05.16
22 Jose Ezequiel Garcia Carmona (Spa) Valbuena                15.13.37
23 Bohuslav Babor (Cze) X - SPORTS                            18.22.07
24 Michalak Slawomir (Pol) Bank BGZ Team                      23.44.33
25 Juan Kolbe Castillo Inga (Spa) Valbuena                    23.59.12
26 Günter Rafeiner (Aut) KTM Mountainbiker.at                 25.35.56
 
M2

1 Lieb Loots SA Squirt Lube                                   42.58.22
2 Willy Welles (Ned) Mega-NPB.NL                                 28.27
3 Rudolf Senn (Swi) World Wide Erne Spirit                     2.46.37
4 Kurt Alderweireldt (Bel) Kyphon                              5.35.26
5 Scott McLennan (Aus) Abs Security                            6.50.09
6 Greg Featonby (Aus) Full Cycle of Albury                     7.14.31
7 Freddy Compernolle (Bel) Team www.sjette.be                  7.18.25
8 Christan Sengstbratl (Aut) SV Lichtenberg                    8.38.36
9 Han Vaalt (Ned) Klein-Puelhuis                              14.01.27
10 Wallace King (Can) Athleteslowyer.de                       14.01.30
11 Eduard Pleschutznig (Aut) Endurance Team Kärnten           19.01.45
12 Joseph Kerkhofs (Bel) Belgian Joven Team_01                20.12.25
13 Dave Webb (Aus) Marco Polo (CTBE)                          24.52.03
 
Women

1 Michela Benzoni (Ita) Team Lissone Isolmant                 43.03.39
2 Sandra Klomp (Ita) Team Ironbike                             3.31.05
3 Marika Covre (Ita) Bike Pro Action                           9.54.16
4 Lindy Vandevenne (Bel) Belgian Joven Team_01                20.08.26
5 Helle Sejersen Jepsen (Den) Riis Cycling                    20.18.19