USA Cycling Mountain Bike National Championships - CN
USA, July 19-22, 2007
Main Page Results Overall standings Previous Race Next Race
Race 8 - Saturday, July 21: Elite Men Cross Country,
Craig rocks on Mount Snow roots
By Jackson Weber, in West Dover, Vermont
Adam Craig (Giant),
Photo ©: Dave McElwaine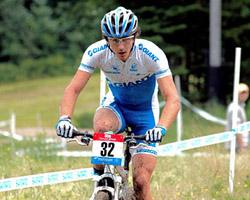 How the Northeast welcomes its riders home. Already renowned for trails dominated by roots and rocks that break rhythm, bikes, and even riders, this weekend, Mount Snow added mud. Thick, greasy, wheel-sucking mud - the kind that turns easy sections into danger zones and transforms what was in past years rideable climbs into long, painful hikes and runs. In short, it made the already-difficult Mount Snow course into a rider-slaying monster.
Local boy Adam Craig (Giant) looked to be at home in the sticky Vermont mud as he romped his way to his first ever men's cross country national title. Well behind him, Jeremiah Bishop (Trek/VW) showed surprising power to take second only weeks after struggling with an lower respiratory ailment that kept him from racing the Canadian World Cups.
Another local boy Mike Broderick (Kenda/Seven), rounded out the top three, putting his New England-bred technical skills to good use to hold off the chasing Jeremy Horgan-Kobelski (Subaru-Gary Fisher) and Todd Wells (GT Bikes).
The mud seemed to slow down everyone but Adam Craig (Giant), the Maine native for whom Mount Snow might as well be an extension of his own backyard. "I rode a couple laps Wednesday evening in the pouring rain and was like, 'This is awesome.'" While other riders looked concerned with the prospect of an already technical course being turned into a mud bath, Craig was beaming like a kid in a candy store.
Jeremiah Bishop (Trek/VW)
Photo ©: Dave McElwaine

It was clear from the go that Craig's smile was well deserved. Not even half way through the first lap, Craig was off the front and out of sight, with all of his supposed competition well behind. Last year's winner, Ryan Trebon (Kona/Les Gets) flatted after drilling a rock in the first mile of the race (he would later DNF after further troubles). Neither favorites Todd Wells (GT Bikes) nor Jeremy Horgan-Kobelski (Subaru-Gary Fisher) could find the legs or the lines to shut down the romping Craig.
"Honestly, Adam just out-climbed everyone today. He probably out-descended all of us too," explained JHK after the race. "He [Craig] was just flying from the gun; I tried to go with him on the first lap, but couldn't even hold his wheel."
Of the pre-race favorites, the only one who ever came close was Trek/VW's Jeremiah Bishop, who even by his own admission, was surprised to be there after having missed both Canadian World Cup races that preceded the Nationals due to illness. "I had a lower respiratory tract infection," said a glazed-looking Bishop after the race. "I was so sick I didn't want to walk outside of my room."
Michael Broderick (Kenda/Seven)
Photo ©: Dave McElwaine

But Bishop missed Craig's early move. Thinking it was safe to stay behind normal favorites like Wells and JHK, he was left holding an empty bag when he made his own move later. The mistake cost him over a minute in the first lap alone. And as the race developed, it became clear that the gap was only going to grow.
Craig was near-perfect on a course that saw the entire men's pro field dismount multiple times to run climbs turned into mires. Up and down he remained smooth, relying on his New England-bred technical skill and dual suspension bike to ease the treacherous descents. Uncharacteristically for Craig, he even took the conservative approach and ran in two spots on the course. He simply outclassed the field.
In the end, Craig finished nearly 4'30" up on Bishop, a testament to just how thoroughly he dominated the field. With a wheelie, he crossed the line to take home his first-ever men's cross country national championship title.
Men's cross country podium:
Photo ©: Dave McElwaine

The big surprise of the day came from Kenda/Seven's Mike Broderick who placed third. A New England local, Broderick has previously lacked the power to rival the big guns on the various NMBS races he's competed in. Today however, power wasn't the deciding factor.
Broderick, the partner of newly crowned elite women's national cross country champion, Mary McConneloug, capped off the couple's stellar opening to this year's nationals.
"I've raced here probably 10-15 times in the past, and I just look forward to when the conditions get tougher," said the jubilant Broderick. "It was pretty boggy and I could just hang in there on the climbs and make time on the descents."
Jeremy Horgan-Kobleski and a suffering Todd Wells rounded out the top five, both finishing nearly 10 minutes behind Craig.
Photography
For a thumbnail gallery of these images, click here
Images by Dave McElwaine/www.trailwatch.net
Images by Jackson Weber / Cyclingnews
Images by Chris Gardner/www.cadencephoto.com
Results
Pro men
 
1 Adam Craig (Giant)                                2.16.31
2 Jeremiah Bishop (Trek/Vw)                            4.26
3 Michael Broderick (Kenda/Seven Cycles)               6.36
4 Jeremy Horgan-Kobelski (Subaru-Gary Fisher)          8.52
5 Todd Wells (GT Bikes)                                9.12
6 Barry Wicks (Kona)                                  10.54
7 Bart Gillespie (Mona Vie/Cannondale)                12.45
8 Erik Tonkin (Kona Les Gets)                         13.22
9 Jeff Hall (Salsa Cycles)                            13.31
10 Samuel Koerber                                     15.22
11 Carl Decker (Giant)                                15.29
12 Adam Snyder (3-D Racing)                           19.33
13 Alex Grant (Titus/Pearl Izumi)                     20.10
14 Jeff Schalk (Trek VW - East)                       20.57
15 Matthew Okeefe (CCB/Volkswagen)                    21.31
16 Thomas Turner (Bear Naked/Cannondale)              22.15
17 Brian Smith                                        22.52
18 Christian Favata (Overlookmtb/Hutchinson/Spy)      23.19
19 Andy Schultz (Bear Naked/Cannondale)               23.39
20 Troy Wells (Tokyo Joes)                            25.30
21 Spencer Paxson (Discover Bicycles Hood River)      25.38
22 Todd Helmick (Trek/Vw)                             26.30
23 Michael Simonson (Bells Brewery/Quiring Cycles)    27.05
24 Michael Patrick (Gary Fisher/Gu/Tonys Bikes)       27.35
25 James Williams (Bendelitemtb.Com)                  29.28
26 Keith Hickerson (Tamarack)                         30.20
27 Jason Sager (Monavia/Cannondale)                   30.55
28 Ryan Lynch (James Frames/Mafia)                    31.21
29 Andy Johnston (Kenda/KHS/Cycleyouth)               31.40
30 Dana Weber (Jax Bicycle Center)                    31.51
31 Ken Burt (Motionbased/Garmin Mtb)                  32.16
32 Nick Waite (Kelly Benefit Strategies)              32.42
33 Christian Ball (Yeti Cycles)                       35.19
34 Kevin Bradford Parish (Lapirre USA)                35.58
35 Jay Richards (Salsa/Maplelag Resort)               36.14
36 Nathan Ringquist                                   36.31
37 Mike Joos (Bikeman.Com)                            37.02
38 Travis Woodruff (Momentumendurance.Com)            38.04
39 David Duvall (Trek/VW E. Coast)                    40.56
40 David Wood (Bearnaked/Cannondale)                  41.34
41 Grant Kier (Redbarnbicycles.Com)                   42.43
42 Robert Lichtenwalner (Bear Naked/Cannondale)       47.08
43 Lucas Livermon (Cycling Spoken Here)               58.45
44 Daniel Corum (Inland/Btd)                               
45 Brett Racine (Jamis/Alpine Shop)                   58.46
DNF Matthew Bailey                                       
DNF Ryan Trebon (Kona/Lesgets)                             
DNF Cody Peterson (Scott Bicycles)                         
DNF Alan Obye (SRAM)                                       
DNF Justin Finn (Ironhorse)                                
DNF Andrew Freye (Bikeman.Com/Salsa Cycles)                
DNF David Yakaitis (Garmin/Jamis)                          
DNF Paul Hanson (Bear Naked/Cannondale)                    
DNF Mike West (Maverick)                                   
DNF Charles Pendry (Inland - Btd)                          
DNF Dan Dombroski (University Of Colorado)