French National Mountain Bike Championships - CN
France, July 20-22, 2007
Main Page Results Overall standings Previous Race Next Race
Race 10 - Saturday, July 21: Elite and Expert Trials - Finals,
Could Trials Be an Olympic Sport?
By Wendy Booher in Montgenevre
Trials rider makes an attempt at one of many sections.
Photo ©: Wendy Booher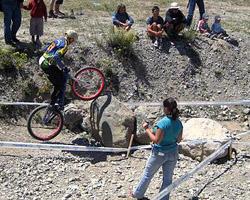 Vincent Hermance (Us Melunaise) won the elite men's trials over Guillaume Dunand (Velo Trial Petit Coeur) and Florian Tournier (Uchav Pays De L'ain VTT) while Julie Pesenti (Cc Et VTT Badonviller) was crowned national women's champion ahead of Soizic Blanchard (Cotes D'armor) and Marion Porcher (Le Mans Sarthe Velo).
Observed Trials 101
The darling of exhibition sports, observed trials, requires relatively inexpensive equipment and little in terms of venue space. Competitors must obey a complex set of rules to perform required feats that might otherwise appear as just "eye candy" to the casual fan. Competitors negotiate obstacle courses that feature natural hazards such as rocks, mud, water, logs or manmade hazards such as walls, pallets, and spools. Riders attempt to "clean" each section within an allotted time without putting their foot or hand down ("dabbing"). Each dab adds a point to the riders score. The rider with the lowest score wins the event.
Trials competitors as young as eight turned out in droves for the French National Mountain Bike Championships and while there were obstacle courses marked off for competition, virtually every rock, curb, bench, railing, log and staircase was fair game for practice. The elite course featured stunning vertical obstacles reaching as high as 15 feet.
A foot dab on a slick rock face.
Photo ©: Wendy Booher

"One of the obstacles was a bulldozer where we had to get up five meters, which altogether is very high," explained Vincent Hermance (Koxx), who clinched the national title with a 23-point advantage over second place, Guillaume Duman. "The first jump was 1.7 meters high and then we had two more jumps from there. Then we had to jump back down so it was very impressive. I think the one section that was the most interesting to me was the one with rocks ­ it was very technical with lots of big moves."
One of the final sections on the elite course spelled out the hosting village's nickname "Monty" in letters approximately six feet high and three feet apart. When the National Championships get broadcast nationwide on Tuesday, July 24, Montgenevre will achieve an unparalleled product placement that goes beyond course tape and banners. There could be something to that kind of exposure for a company like Google or Yahoo!
As the International Olympic Committee seeks to solve a problem of an increasingly disinterested television audience, made-for-TV events like snowboarding and BMX bear the hope of capturing the interest of a younger audience. Unless centering an obstacle course on the Olympic rings would be an act of desecration, then observed trials might just have a chance at the Olympics too.
Photography
For a thumbnail gallery of these images, click here
Images by Wendy Booher
Results
Trials
 
Elite men
 
1 Vincent Hermance (Us Melunaise)                 12 pts
2 Guillaume Dunand (Velo Trial Petit Coeur)       35
3 Florian Tournier (Uchav Pays De L'ain VTT)      37
4 Bruno Arnold (Amneville VTT Trial)              40
5 Gilles Coustellier (Mtb Martigues)                
6 Giacomo Coustellier (Mtb Martigues)               
7 Aurelien Fontenoy (Rand. Trialistes Fontaine)     
8 Marc Caisso (Veloroc Cavaillon)                   
9 Cedric Calvin (Veloroc Cavaillon)               75
10 Cedric Fontenoy (Rand. Trialistes Fontaine)    78
11 Kenny Le Corre (Us Melunaise)                  81
12 Aurelien Narses (Cran Gevrier VTT)             86
 
Expert
 
1 Nicolas Luque (Rand. Trialistes Fontaine)       20 pts
2 Maxime Kolbs (Bike Tarn Sud)                    20
3 Kevin Aglae (Les Trialistes De L'ardoux)        25
4 Théau Courtes (Aep Cerny)                       25
5 Wilfrid Delolme (Golene Evasion)                27
6 Elie Boucher (Vs Clissonnais)                   29
7 Florian Belhacene (Venerque Velo Sport31)       32
8 Christian Gugliotta (Trial's Spirit)            40
9 Gwénaël Le Mene (Cc Liffre)                     82
 
Women
 
1 Julie Pesenti (Cc Et VTT Badonviller)           47 pts
2 Soizic Blanchard (Cotes D'armor)                90
3 Marion Porcher (Le Mans Sarthe Velo)            90
4 Léa Herval (Us Melunaise)                       90