French National Mountain Bike Championships - CN
France, July 20-22, 2007
Main Page Results Overall standings Previous Race Next Race
Race 12 - Sunday, July 22: Downhill - Finals,
Jonnier claims second national downhill title, Barel defends his
By Wendy Booher in Montgenevre, France
Women's Downhill Podium, L-R: Celine Gros, Sabrina Jonnier, Anais Pajot.
Photo ©: Wendy Booher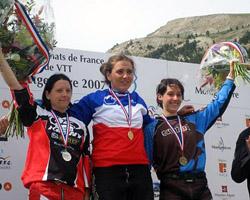 After a four-year hiatus, Sabrina Jonnier (Iron Horse/Monster) celebrated her return to the French National Mountain Bike Championships by claiming the national title in the women's downhill. Easy to spot in the rainbow stripes of the world champion, Jonnier rode a cerebral race balanced between experience, skill, and a loathing for losing. The 1,800-meter course featured four distinct sections of mixed terrain including loose, slippery rubble, jumps, sand-covered rocks, slopes, a challenging pass over a manmade stone drain, a 100-degree turn, and a series of small turns intended to slow racers before heading into the final descent ending with a showboat jump at the finish.
"I went for a really easy run because it's not really my kind of track," said Jonnier. "Every time I tried to gain a bit of speed I'd spin out so I decided to have a 'zen' run. I went pretty easy in the technical part and pedaled hard on the rest."
Despite a surprisingly small field of 13 women contesting the national title, French women have a habit of placing well in gravity events at the international level. When the European Downhill Championship takes place in Greece next weekend, France will dispatch its top racers to win big. With the absence of Tracy Moseley, Marielle Saner, and Rachel Atherton in Greece, Jonnier predicts that, along with teammates Emmeline Ragot and Céline Gros, the bleu, blanc, rouge jerseys of France will be most visible in the results.
Fabien Barel finishes in fine style.
Photo ©: Wendy Booher

"I think we could do a very good French podium over there," Jonnier said.
279 men signed up to try to topple two-time world champion and defending national downhill champion, Fabien Barel (Kona/Les Gets) from the top of the podium but even with a crash midway down the course, Barel clinched another national title. Nearly echoing Jonnier's remarks about the course, Barel called upon his fitness to propel him toward victory.
"The race was challenging because the track wasn't really for me," explained Barel. "It was really slippery and that's not really my kind of riding. You could see the people that were attacking really strongly were a step ahead of me but I challenged myself and I had a really good qualification. I knew I needed to take risks on the track to win today so that's what I did. I had one mistake; I crashed in the middle of the track but winning with a crash is a big satisfaction for me and proof that I have very good speed even in these kinds of conditions."
Barel, who is currently ranked seventh in the world, will seek to add another rainbow jersey to go with the ones he earned in 2004 and 2005. To do this he will need to best fellow world champions, Sam Hill and Greg Minaar. The UCI World Mountain Bike Championships will take place at Fort William, Scotland, starting September 3.
Photography
For a thumbnail gallery of these images, click here
Images by Wendy Booher
Results
Men
 
1 Fabien Barel (Peille VTT)                                    2.16.37
2 Fabien Pedemanaud (Bearn All Rides)                          2.18.20
3 Damien Spagnolo (Qbikes - Saab - Salomon)                    2.19.20
4 Karim Amour (Frejus Roc D'azur)                              2.19.10
5 Mickael Pascal (Qbikes - Saab - Salomon)                     2.19.50
6 Julien Camellini (U.C. Monaco )                                     
7 Florent Payet (Association Cycles Passion Reunion)           2.20.00
8 Thibaut Ruffin (VTT Club St Francois Longchamp)                     
9 Aurelien Giordanengo (O.C.C.V. Draguignan)                   2.21.10
10 Fabien Cousinie (Velo Sport Castrais)                       2.21.20
11 Guilhem Andre (Calvisson Egobike)                           2.22.20
12 Antoine Badouard (Cycleworks)                               2.23.00
13 Florent Wolter (Velo Club De Saint Denis)                   2.23.20
14 Rémi Charrier (Remi Dh Racing)                              2.23.40
15 Rémi Thirion (Remi Dh Racing)                               2.24.10
16 Vincent Saut (Cesar Bike)                                          
17 Yoann Barelli (Peille VTT)                                         
18 Joris Bigoni (Cube - Beaumes De Venise)                            
19 Pierre charles Georges (Evolution VTT St Die)               2.24.20
20 Romain Lescure (Us Cagnes VTT)                              2.26.00
21 Nicolas Ortiz (VTT Luberon Apt)                             2.26.10
22 Remy Casanova (Fr Faulx Wagon Dh)                           2.26.20
23 Mickael Deldycke (As Treport Cyclisme)                      2.27.20
24 Ivan Oziol (Le Roc De La Legue)                             2.28.00
25 Jerome Bigoni (Cube - Beaumes De Venise)                    2.28.10
26 Esteban Deronzier (Chatel Mountain Cycle)                   2.28.20
27 Arnaud Delente (Calvisson Egobike)                          2.28.10
28 Nicolas Lau (Remiremont VTT)                                2.28.20
29 Arnaud Bonifaci (Men'in Bike)                               2.29.10
30 Paul Rovigo (Trial's Spirit)                                       
31 Romain Goulesque (A.T.A.C En Aragon)                        2.29.40
32 Gaetan Reilhan (Planete 2 Roues - Lozere)                          
33 Fabrice Baret (Cilaos Bike Team)                            2.30.20
34 Romain Galy (Planete 2 Roues - Lozere)                      2.30.00
35 Yannick Colomb (Franche Comte Descente)                     2.30.10
36 Victor Jeoffre (Creuse Oxygene Specialized)                 2.31.00
37 Maxime Remy (La Voge VTT)                                          
38 Ghislain Ricci (Bearn All Rides)                            2.31.20
39 Quentin Leroy (Frejus Roc D'azur)                                  
40 Guilhem Nicole (Planete 2 Roues - Lozere)                          
41 Christophe Payet (Cilaos Bike Team)                         2.31.40
42 Simon Andre (Latitude VTT)                                         
43 Mathieu Gallean (Peille VTT)                                2.32.00
44 Eric Folio (Velo Club De Saint-Joseph)                             
45 Loïc Delsouiller (Bc VTT Verrieres)                                
46 Mathieu Benard (VTT Loisirs)                                2.32.20
47 Alexis Pujol (Franche Comte Descente)                       2.32.00
48 Stéphane Fichant (Cycleworks)                               2.32.10
49 Alexandre Sicard (Velo Club De Saint Denis)                 2.32.20
50 Kevin Danh Pha (Vo²)                                               
51 Vincent Guillaume (Franche Comte Descente)                  2.32.40
52 Christophe Martin (Latitude VTT)                            2.33.00
53 Vincent Haulet (Franche Comte Descente)                            
54 David Eme (VTT Conliege Jura Bassin De L)                   2.33.20
55 Julien Borsarelli (U.C. Monaco )                                   
56 Victor Roux (A.S. Rognac Cyclisme VTT)                      2.33.40
57 Nicolas Riviere (Team Hp)                                          
58 Christophe Poupon (Ass.Sportive Quillanaise)                2.33.50
59 Jeremy Voisin (Valloire Galibier VTT)                              
60 Lilian Sergent (Mercantour VTT)                             2.34.00
61 Clement Pfund (B.C Pennes Mirabeau)                         2.34.10
62 Matthieu Faury (Frejus Roc D'azur)                                 
63 Sabrina Jonnier (V.S. Hyerois)                              2.34.30
64 Nicolas Hoarau (Cesar Bike)                                 2.34.40
65 Marc Abiven (Vc Pays De Guingamp 22)                        2.34.50
66 Olivier Nicole (Planete 2 Roues - Lozere)                          
67 Ludovic Merieau (Asptt Mulhouse)                            2.35.20
68 Etienne Dromart (Association Cycles Sport De Bourbon)       2.35.30
69 Alexandre Tissier (V.V. Savignolais)                        2.35.00
70 Yann Gadoin (Velo Club De Besse)                            2.35.10
71 Jonas Simon (Bike Medicine)                                 2.35.20
72 Stéphane Grandieu (E2R - Msc)                               2.35.30
73 Benoit Leenaert (As Maximoise Cyclisme)                     2.36.10
74 Kevin Locquet (Cesar Bike)                                         
75 Philippe Crombet (E2R - Msc)                                2.36.20
76 Damien Reig (U.C. Monaco )                                         
77 Raymond Orre (Association Cycles Sport De Bourbon)          2.36.30
78 Loïc Brandalise (E2R - Msc)                                 2.36.10
79 Didier Rilliard (VTT Jarrie Top Gun)                        2.36.20
80 Yoan Pesenti (VTT Jarrie Top Gun)                           2.36.50
81 Romain Favard (V.V. Savignolais)                            2.37.30
82 Thibaut Duchene (Asptt Mulhouse)                                   
83 Alexis Bousquet (Uchav Pays De L'ain VTT)                   2.37.40
84 Cedric Martin (Peille VTT)                                  2.37.50
85 Thomas Chazottes (VTT.Roc Evasion)                                 
86 Etienne Bosch (U.C. Monaco )                                       
87 Michel Guygrand (Franche Comte Descente)                           
88 Benjamin Fretti (VTT Jarrie Top Gun)                        2.38.10
89 Clement Jente (VTT.Roc Evasion)                             2.38.20
90 Kevin Mollard (VTT Jarrie Top Gun)                          2.38.30
91 Vincent Colange (V.A.Chatel Guyon Volvic)                   2.38.00
92 Romain Paulhan (Planete 2 Roues - Lozere)                          
93 Felix Groizard (Reignier VTT)                                      
94 Eric Martinez (Veloroc Cavaillon)                           2.38.10
95 Arthur Racaud (Us Cagnes VTT)                                      
96 Jean baptiste Jeannin (Rfp Team)                            2.38.40
97 Thibaud Krattinger (Reignier VTT)                           2.38.50
98 Celine Gros (C.C. Morzine Avoriaz)                          2.39.30
99 Camille Lepley (Asptt Mulhouse)                                    
100 Benjamin Verrier (Chamonix VTT Club Des Sports)            2.39.00
101 Jordane Prevost (Cotes D'armor)                            2.39.20
102 Gregory Brunache (Vars VTT Club)                           2.39.40
103 Patrick Thome (Calvisson Egobike)                          2.40.00
104 Yann Montjouvent (Uchav Pays De L'ain VTT)                 2.40.30
105 Bertrand Hamon (Cycleworks)                                2.40.00
106 Stephan Oriol (Bike Aventure)                                     
107 Romain Baghe (VTT Rando 04 Digne)                          2.40.20
108 Gregory Favrolle (Saint Andre VTT)                         2.40.30
109 Luc Esmenjaud (Revel Omnisport Club)                       2.40.50
110 Guillaume Barthie (Guidon Montalbanais)                    2.41.00
111 Julien Clauzel (V.A. Chatel Guyon Volvic)                         
112 Maxime Clerc (Franche Comte Descente)                             
113 Adrien Luc (VTT Luberon Apt)                               2.41.20
114 Yoann Marquet (Asptt VTT Vannes)                           2.41.30
115 Anais Pajot (Velo-Tonic Vauverdois)                        2.41.10
116 Alexandre Laffont (V.A. Chatel Guyon Volvic)               2.41.50
117 Geoffrey Musetti (U.C. Monaco )                                   
118 Laurent Daval (V.A.Chatel Guyon Volvic)                           
119 Steve Talpaert (As Maximoise Cyclisme)                            
120 Quentin Ueberschlag (Asptt Mulhouse)                       2.42.10
121 Clement De Camaret (Cesar Bike)                            2.42.30
122 Vincent Vigouroux (Latitude VTT)                           2.42.00
123 Jordan Berceville (Uc Bassin Houiller)                     2.42.20
124 Kévin Cabeu (Velo Club De Saint Denis)                     2.42.30
125 Tony Bellec (Ec Plouha Lanvollon)                          2.42.50
126 Benoit Bresset (Breiz Mountain 22)                         2.43.10
127 Grégory Maillot (Association Cycles Passion Reunion)       2.43.20
128 Christophe Trognon (Uchav Pays De L'ain VTT)               2.43.30
129 Simon Brum (Vars VTT Club)                                 2.43.00
130 Gaetan Varniere (Rfp Team)                                 2.43.20
131 Ludovic Kunk (Uc Bassin Houiller)                          2.43.40
132 Floriane Pugin (Chatel Mountain Cycle)                            
133 Julien Collet (Remiremont VTT)                                    
134 Adrien Moutet (Mtb Martigues)                              2.43.50
135 Clement Benoit (VTT Jarrie Top Gun)                        2.44.20
136 Boris Petrau (Lescar Vs)                                   2.44.30
137 Jonathan Bertetto (Peille VTT)                             2.44.00
138 Aymeric Monnier (Velo 9 Et Compagnie)                      2.44.10
139 Guillaume Gravoulet (Amical Velo Club Nimois)              2.44.20
140 Mathieu Beraldin (Franche Comte Descente)                  2.44.30
141 Raphaël Robles (Fun Bike Algrange)                         2.44.40
142 Geoffrey Cholley (Remiremont VTT)                          2.44.50
143 Benoit Lasson Sancesario (Chamonix VTT Club Des Sports)           
144 Jeremy Tordo (Saint Andre VTT)                                    
145 Adrien Durain (Evolution VTT St Die)                       2.45.00
146 Morgan Fabre (Cube - Beaumes De Venise)                           
147 Matthieu Carnino (Chouca's Biker's)                        2.45.30
148 Julien Prenez (U.S.Giromagny VTT)                          2.46.00
149 Samuel Amouroux (Planete 2 Roues - Lozere)                 2.46.10
150 Julien Alazard (Orange VTT.)                               2.46.20
151 Patrick Mazel (Cesar Bike)                                        
152 Loic Abbadie (Lourdes VTT)                                 2.46.30
153 Julien Joly (Franche Comte Descente)                       2.46.20
154 Raphael Epitalon (V.C. St Quentin Fallavier)               2.46.50
155 Christophe Degorcas (Le Team 16 VTT)                              
156 Maxime Moulin (V.V. Savignolais)                           2.47.10
157 Arnaud Voisin (Valloire Galibier VTT)                             
158 Julien Mailhan (Uchav Pays De L'ain VTT)                          
159 Pascal Depetris (Aix VTT. Thrifty)                         2.47.00
160 Hadrien Pradel (Calvisson Egobike)                         2.47.10
161 Benjamin Fouquet (Saint Andre VTT)                         2.47.20
162 Camille Blanchard (Velo-Tonic Vauverdois)                  2.47.40
163 Grégory Gaspard (Evolution VTT St Die)                     2.47.50
164 Quentin Geynet (Cesar Bike)                                2.48.00
165 Loic Figuiere (A. V. C. Sisteron)                                 
166 Pierre Massacrier (V.A.Chatel Guyon Volvic)                2.48.30
167 Julien Zanone (Revel Omnisport Club)                       2.48.00
168 Quentin Derbier (VTT Jarrie Top Gun)                       2.48.10
169 Raphael Gailhac (Planete 2 Roues - Lozere)                        
170 Jean didier Payet (Bike Aventure)                          2.49.30
171 Alexandre Cordonnier (X Free Cht'i)                        2.49.00
172 Thomas Chirent (V.A. Chatel Guyon Volvic)                         
173 Alexandre Lohner (Reignier VTT)                            2.49.10
174 Quentin Panosetti (Evolution VTT St Die)                   2.49.20
175 Adrien Bartole (Saint Andre VTT)                           2.49.50
176 David Blanc (Asptt Draguignan Cyclo)                       2.50.10
177 Jean luc Lescure (Cran Gevrier VTT)                        2.50.30
178 Benoit Vissac (Cesar Bike)                                 2.50.00
179 Jules Grimaldi (Uchav Pays De L'ain VTT)                   2.50.30
180 Jean louis Allain (Cotes D'armor)                          2.51.10
181 Valentin Juillard (As Maximoise Cyclisme)                  2.51.00
182 Remy Larrieu (Lourdes VTT)                                 2.51.10
183 Julien Caron (Bearn VTT Gave Et Coteaux)                          
184 Alex Baudras (Velo Club Tournus)                           2.51.20
185 Flavien Gravier (Amical Velo Club Nimois)                         
186 Romain Gritti (Uchav Pays De L'ain VTT)                    2.51.50
187 Julien Hericher (Chamonix VTT Club Des Sports)             2.52.00
188 Quentin Trolat (Bevy Tout Terrain)                         2.52.40
189 Christopher Boyer (Association Cycles Passion Reunion)            
190 Ludovic Gadois (Parisis A.C. 95)                                  
191 Geoffrey Henry (Vs Pays De Lamballe)                              
192 Dorian Dos Santos (Velo 2000 Onet)                         2.53.10
193 Charles Deixonne (Cso Millau)                              2.53.20
194 Mathieu Troquier (VTT Michelbach)                          2.53.10
195 Tom Gadoin (Velo Club De Besse)                            2.53.20
196 Alexandre Claudin (Pommiers VTT)                           2.53.30
197 Ivan Ricquart (X Free Cht'i)                               2.54.00
198 Jonathan Brossard (Passe Partout VTT Macon)                       
199 Thomas Berville (Cotes D'armor)                            2.54.10
200 Boris Hamel (Association Cycles Sport De Bourbon)          2.54.30
201 Robin Castagne (Asptt Draguignan Cyclo)                    2.54.20
202 Kenny Robert (Parisis A.C. 95)                             2.54.30
203 Julien Manuel (Charmeil VTT.)                                     
204 Geoffrey Munier (Uchav Pays De L'ain VTT)                  2.55.00
205 Florian Prevot (Saulxures VTT.)                                   
206 Gauthier Taro (Cycleworks)                                 2.55.10
207 Alexandre Ramin (Mercantour VTT)                           2.55.20
208 Steve Clemencon (Charmeil VTT.)                            2.55.30
209 Adrien Guyot (Parisis A.C. 95)                             2.56.30
210 Dorian Zuretti (Ca Mont St Quentin)                        2.56.20
211 Thomas Zanone (Revel Omnisport Club)                       2.56.50
212 Alban Colin (Landudal VTT)                                 2.57.10
213 Thibault Teyssonniere (VTT Luberon Apt)                           
214 Marc Cabirou (Cso Millau)                                  2.57.30
215 Thierry Salles (V.A. Chatel Guyon Volvic)                  2.58.10
216 Andres Biersteker (Bormes Lavandou Boudragues)                    
217 Jerome Dussauze (Cesar Bike)                               2.59.20
218 Quentin Jacquet (VTT Plateau Du Lizon)                     3.00.50
219 Kevin Bessi (Peille VTT)                                   3.01.30
220 David Ballet (Fr Faulx Wagon Dh)                           3.01.00
221 Patrick Sicard (Velo Club De Saint Denis)                         
222 Sebastien Beaudon (Uchav Pays De L'ain VTT)                3.01.40
223 Jean michel Tyssandier (V.A. Chatel Guyon Volvic)          3.02.40
224 David Vincent (Reignier VTT)                               3.03.30
225 Frederic Marcassus (Lourdes VTT)                           3.03.00
226 Mélanie Pugin (Franche Comte Descente)                     3.05.20
227 Anthony Roumeas (Cesar Bike)                               3.05.00
228 Fabrice Delanzy (Us Orleans VTT)                           3.06.10
229 Quentin Le Dizes (Pedale Guemeneenne)                      3.06.30
230 Florian Arthus (Clic Toinet Vitus)                                
231 Roman Devouassoux (Chamonix VTT Club Des Sports)           3.06.50
232 Celine Tyssandier (V.A. Chatel Guyon Volvic)               3.07.40
233 Adrien Gandolin (Peille VTT)                               3.08.00
234 Cedric Maillot (Men'in Bike)                               3.08.10
235 Vincent Mutryn (Les Kaskou'riders)                                
236 Manuel Riviere (Association Cycles Sport De Bourbon)              
237 Guillaume Laffont (V.A. Chatel Guyon Volvic)               3.09.10
238 Gilles Collignon (Fr Faulx Wagon Dh)                       3.09.00
239 Jerome Rolland (Cesar Bike)                                3.09.10
240 Guillaume Commaret (Promotion Animation Cycl.)             3.11.00
241 David Delassus (Association Cycles Passion Reunion)        3.11.10
242 Charlotte Crombet (E2R - Msc)                              3.12.00
243 Marc teddy Bonnet (V.A. Chatel Guyon Volvic)               3.12.40
244 Quentin Moreau (Association Cycles Sport De Bourbon)       3.13.00
245 Myriam Nicole (VTT.Roc Evasion)                            3.14.50
246 Florent Manzi (Uchav Pays De L'ain VTT)                    3.16.20
247 Didier Blondel (Port Pedales Association)                  3.16.40
248 Elodie Chesseret (Charmeil VTT.)                           3.16.50
249 Pierre nicolas Voinson (Evolution VTT St Die)              3.17.30
250 Pierrick Berthier (Passe Partout VTT Macon)                3.17.50
251 Jean michel Grondin (Port Pedales Association)             3.19.10
252 Tommy Lacour (Creuse Oxygene)                              3.20.20
253 Adrien Sanz (Calvisson Egobike)                            3.22.30
254 Quentin Varniere (Rfp Team)                                3.24.20
255 Morgane Jonnier (Bormes Lavandou Boudragues)               3.24.00
256 Jonathan Bourg (A. V. C. Sisteron)                         3.25.20
257 Samuel Suchaud (Creuse Oxygene)                            3.28.00
258 Severine Cigana (As Maximoise Cyclisme)                    3.29.30
259 Sébastien Ruinart (VTT Club Les Cochons Sauvages)          3.36.20
260 Benjamin Carreric (Charmeil VTT.)                          3.37.20
261 Hervé Houlle (Uc Bassin Houiller)                          3.37.30
262 Nicolas Lautier (Port Pedales Association)                 3.40.20
263 Pierre laurent Bucci (Corsica Fun Bike)                    3.41.30
264 Fanny Lombard (Bike Aventure)                              3.49.40
265 Marjorie Cholez (S.C.Olympique De Dijon)                   3.57.10
266 Xavier Cerutti (Rfp Team)                                  3.58.40
267 Ludovic Greffion (Oust Lanvaux VTT)                        3.58.50
268 Pierre Wils (V.A. Chatel Guyon Volvic)                     3.59.10
269 Quentin Sorel (Charmeil VTT.)                              4.02.50
270 Robin Beaughon (Charmeil VTT.)                             4.28.00
271 Jerome Crocombette (V.A. Chatel Guyon Volvic)              7.40.50
272 Axel Lorenc (Charmeil VTT.)                                4.20.31
DNF Bastien Renard (Bike Medicine)                                    
DNF Vincent Perron (V.C. St Quentin Fallavier)                        
DNF Florent Poilane (Club VTT D'irigny (Jsi))                         
DNF Beranger Munsch (La Bressaude Roue Verte)                         
DNF Jimmy Lacroix (Velo 9 Et Compagnie)                               
DNF Anthony Maillet (As Maximoise Cyclisme)                           
DNF Simon Peeters (Velo Club Tournus)                                 
DNF Guillaume Gal (VTT.Roc Evasion)                                   
DNF Lionel Le Guyader (U.C.H.A.V. Pays De L'ain VTT )                 
DNF Franck Bererd (Rfp Team)                                          
 
Women
 
1 Sabrina Jonnier (V.S. Hyerois)                               2.34.34
2 Celine Gros (C.C. Morzine Avoriaz)                           2.39.30
3 Anais Pajot (Velo-Tonic Vauverdois)                          2.41.10
4 Floriane Pugin (Chatel Mountain Cycle)                       2.43.40
5 Mélanie Pugin (Franche Comte Descente)                       3.05.20
6 Celine Tyssandier (V.A. Chatel Guyon Volvic)                 3.07.40
7 Charlotte Crombet (E2R - Msc)                                3.12.00
8 Myriam Nicole (VTT.Roc Evasion)                              3.14.50
9 Elodie Chesseret (Charmeil VTT.)                             3.16.50
10 Morgane Jonnier (Bormes Lavandou Boudragues)                3.24.00
11 Severine Cigana (As Maximoise Cyclisme)                     3.29.30
12 Fanny Lombard (Bike Aventure)                               3.49.40
13 Marjorie Cholez (S.C.Olympique De Dijon)                    3.57.10
 
Master 2
 
1 Jean luc Lescure (Cran Gevrier VTT)                          2.50.33
2 Patrick Sicard (Velo Club De Saint Denis)                    3.01.00
3 Jean michel Tyssandier (V.A. Chatel Guyon Volvic)            3.02.40
4 Didier Blondel (Port Pedales Association)                    3.16.40
 
Cadet men
 
1 Ivan Oziol (Le Roc De La Legue)                              2.27.53
2 Jonas Simon (Bike Medicine)                                  2.35.20
3 Kevin Mollard (VTT Jarrie Top Gun)                           2.38.30
4 Felix Groizard (Reignier VTT)                                2.38.00
5 Arthur Racaud (Us Cagnes VTT)                                2.38.10
6 Patrick Thome (Calvisson Egobike)                            2.40.00
7 Romain Baghe (VTT Rando 04 Digne)                            2.40.20
8 Guillaume Barthie (Guidon Montalbanais)                      2.41.00
9 Adrien Luc (VTT Luberon Apt)                                 2.41.20
10 Jordan Berceville (Uc Bassin Houiller)                      2.42.20
11 Benoit Bresset (Breiz Mountain 22)                          2.43.10
12 Clement Benoit (VTT Jarrie Top Gun)                         2.44.20
13 Raphaël Robles (Fun Bike Algrange)                          2.44.40
14 Geoffrey Cholley (Remiremont VTT)                           2.44.50
15 Hadrien Pradel (Calvisson Egobike)                          2.47.10
16 Camille Blanchard (Velo-Tonic Vauverdois)                   2.47.40
17 Quentin Geynet (Cesar Bike)                                 2.48.00
18 Loic Figuiere (A. V. C. Sisteron)                                  
19 Alexandre Lohner (Reignier VTT)                             2.49.10
20 Quentin Panosetti (Evolution VTT St Die)                    2.49.20
21 Jean louis Allain (Cotes D'armor)                           2.51.10
22 Julien Hericher (Chamonix VTT Club Des Sports)              2.52.00
23 Charles Deixonne (Cso Millau)                               2.53.20
24 Thomas Berville (Cotes D'armor)                             2.54.10
25 Boris Hamel (Association Cycles Sport De Bourbon)           2.54.30
26 Robin Castagne (Asptt Draguignan Cyclo)                     2.54.20
27 Kenny Robert (Parisis A.C. 95)                              2.54.30
28 Geoffrey Munier (Uchav Pays De L'ain VTT)                   2.55.00
29 Gauthier Taro (Cycleworks)                                  2.55.10
30 Steve Clemencon (Charmeil VTT.)                             2.55.30
31 Adrien Guyot (Parisis A.C. 95)                              2.56.30
32 Dorian Zuretti (Ca Mont St Quentin)                         2.56.20
33 Thomas Zanone (Revel Omnisport Club)                        2.56.50
34 Marc Cabirou (Cso Millau)                                   2.57.30
35 Quentin Jacquet (VTT Plateau Du Lizon)                      3.00.50
36 Kevin Bessi (Peille VTT)                                    3.01.30
37 David Vincent (Reignier VTT)                                3.03.30
38 Anthony Roumeas (Cesar Bike)                                3.05.00
39 Quentin Le Dizes (Pedale Guemeneenne)                       3.06.30
40 Florian Arthus (Clic Toinet Vitus)                                 
41 Roman Devouassoux (Chamonix VTT Club Des Sports)            3.06.50
42 Adrien Gandolin (Peille VTT)                                3.08.00
43 Guillaume Laffont (V.A. Chatel Guyon Volvic)                3.09.10
44 Guillaume Commaret (Promotion Animation Cycl.)              3.11.00
45 Quentin Moreau (Association Cycles Sport De Bourbon)        3.13.00
46 Pierrick Berthier (Passe Partout VTT Macon)                 3.17.50
47 Adrien Sanz (Calvisson Egobike)                             3.22.30
48 Quentin Varniere (Rfp Team)                                 3.24.20
49 Sébastien Ruinart (VTT Club Les Cochons Sauvages)           3.36.20
DNF Guillaume Gal (VTT.Roc Evasion)                                   
 
Junior men
 
1 Rémi Thirion (Remi Dh Racing)                                2.24.03
2 Joris Bigoni (Cube - Beaumes De Venise)                      2.24.10
3 Arnaud Delente (Calvisson Egobike)                           2.28.10
4 Nicolas Lau (Remiremont VTT)                                 2.28.20
5 Yannick Colomb (Franche Comte Descente)                      2.30.10
6 Mathieu Gallean (Peille VTT)                                 2.32.00
7 Eric Folio (Velo Club De Saint-Joseph)                              
8 Mathieu Benard (VTT Loisirs)                                 2.32.20
9 Kevin Danh Pha (Vo²)                                                
10 Vincent Guillaume (Franche Comte Descente)                  2.32.40
11 Julien Borsarelli (U.C. Monaco )                            2.33.20
12 Jeremy Voisin (Valloire Galibier VTT)                       2.33.50
13 Clement Pfund (B.C Pennes Mirabeau)                         2.34.10
14 Etienne Dromart (Association Cycles Sport De Bourbon)       2.35.30
15 Kevin Locquet (Cesar Bike)                                  2.36.10
16 Philippe Crombet (E2R - Msc)                                2.36.20
17 Yoan Pesenti (VTT Jarrie Top Gun)                           2.36.50
18 Romain Favard (V.V. Savignolais)                            2.37.30
19 Thibaut Duchene (Asptt Mulhouse)                                   
20 Cedric Martin (Peille VTT)                                  2.37.50
21 Thomas Chazottes (VTT.Roc Evasion)                                 
22 Michel Guygrand (Franche Comte Descente)                           
23 Vincent Colange (V.A.Chatel Guyon Volvic)                   2.38.00
24 Thibaud Krattinger (Reignier VTT)                           2.38.50
25 Benjamin Verrier (Chamonix VTT Club Des Sports)             2.39.00
26 Jordane Prevost (Cotes D'armor)                             2.39.20
27 Luc Esmenjaud (Revel Omnisport Club)                        2.40.50
28 Maxime Clerc (Franche Comte Descente)                       2.41.00
29 Geoffrey Musetti (U.C. Monaco )                             2.41.50
30 Quentin Ueberschlag (Asptt Mulhouse)                        2.42.10
31 Kévin Cabeu (Velo Club De Saint Denis)                      2.42.30
32 Tony Bellec (Ec Plouha Lanvollon)                           2.42.50
33 Grégory Maillot (Association Cycles Passion Reunion)        2.43.20
34 Simon Brum (Vars VTT Club)                                  2.43.00
35 Gaetan Varniere (Rfp Team)                                  2.43.20
36 Adrien Moutet (Mtb Martigues)                               2.43.50
37 Morgan Fabre (Cube - Beaumes De Venise)                     2.45.00
38 Julien Prenez (U.S.Giromagny VTT)                           2.46.00
39 Julien Alazard (Orange VTT.)                                2.46.20
40 Raphael Epitalon (V.C. St Quentin Fallavier)                2.46.50
41 Maxime Moulin (V.V. Savignolais)                            2.47.10
42 Julien Mailhan (Uchav Pays De L'ain VTT)                           
43 Benjamin Fouquet (Saint Andre VTT)                          2.47.20
44 Thomas Chirent (V.A. Chatel Guyon Volvic)                   2.49.00
45 Jules Grimaldi (Uchav Pays De L'ain VTT)                    2.50.30
46 Valentin Juillard (As Maximoise Cyclisme)                   2.51.00
47 Geoffrey Henry (Vs Pays De Lamballe)                        2.52.40
48 Dorian Dos Santos (Velo 2000 Onet)                          2.53.10
49 Tom Gadoin (Velo Club De Besse)                             2.53.20
50 Alexandre Claudin (Pommiers VTT)                            2.53.30
51 Andres Biersteker (Bormes Lavandou Boudragues)              2.58.10
52 David Ballet (Fr Faulx Wagon Dh)                            3.01.00
53 Manuel Riviere (Association Cycles Sport De Bourbon)        3.08.10
54 David Delassus (Association Cycles Passion Reunion)         3.11.10
55 Tommy Lacour (Creuse Oxygene)                               3.20.20
56 Benjamin Carreric (Charmeil VTT.)                           3.37.20
57 Pierre laurent Bucci (Corsica Fun Bike)                     3.41.30
58 Robin Beaughon (Charmeil VTT.)                              4.28.00
59 Axel Lorenc (Charmeil VTT.)                                 4.20.31
DNF Beranger Munsch (La Bressaude Roue Verte)                         
DNF Anthony Maillet (As Maximoise Cyclisme)                           
DNF Simon Peeters (Velo Club Tournus)                                 
 
Sport
 
1 Benoit Vissac (Cesar Bike)                                   2.50.39
2 Romain Gritti (Uchav Pays De L'ain VTT)                      2.51.50
3 Marc Cabirou (Cso Millau)                                    2.57.30
4 Jerome Dussauze (Cesar Bike)                                 2.59.20
5 David Ballet (Fr Faulx Wagon Dh)                             3.01.00
6 Anthony Roumeas (Cesar Bike)                                 3.05.00
7 Florian Arthus (Clic Toinet Vitus)                           3.06.30
8 Guillaume Commaret (Promotion Animation Cycl.)               3.11.00
9 Adrien Sanz (Calvisson Egobike)                              3.22.30
DNF Beranger Munsch (La Bressaude Roue Verte)