NORBA USA National Championships - CN
USA, July 13-July 16, 2006
Main Page Results Overall standings Previous Race
Race 8 - Sunday, July 16: Downhill
Llanes and Riffle fastest in Sonoma DH
By Steve Medcroft in Sonoma
Duncan Riffle won the men's US National Downhill Championship
Photo ©: Steve Medcroft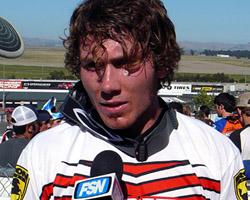 By riding a shorter-travel bike than normal, Mountain-crosser Tara Llanes (Giant Bicycles) took her first downhill national championship on Sunday, beating Melissa Buhl (KHS) and Marla Streb (Luna Chix - in her second race since giving birth to daughter Nicoya two months ago) down the dry and slippery Sonoma course. After pre-rides, Llanes says she swapped her nine-inch downhill bike for a seven-inch-travel Giant Rain and credits the decision with her ability to power out of the five dusty corners with the winning run.
Duncan Riffle (Ironhorse/Honda) posted the fastest time in the men's national championship competition after 2005 champion Cody Warren slipped on the upper portion of the course and was unable to recover through the rest of his run.
Changing Llanes
The women rode first. Llanes, a mountain-crosser by trade, was a surprise winner. But with $1,000 bonus from Nationals sponsor X-Fusion and a relatively small field, she was encouraged to enter. She says her success was due to mostly to attitude. "I was just having fun," she said immediately after the run. "And when I have fun, I ride better."
Tara Llanes
Photo ©: Steve Medcroft

As for that winning run, Llanes said she approached the course like a mountain-cross run. "It was short and not too technical, narrow and most of it off-camber. Everything off the side of the course was hay so if you got off your line just a little, then that hay would take you; it's just like grease. There were only five really good turns on this course. My whole thing was to make sure I had good exit speed coming out of the turns. The only thing that made it technical was the fact that there were so many riders on the course yesterday that the braking bumps were so big they were swallowing me. They got really, really deep."
Does the win, which comes with an automatic berth on the US women's world championships downhill team mean Llanes is ready to switch back to downhill? "I hadn't even thought that far ahead," she said. "Mountain Cross really is my number one goal and focus so I'd have to think about it. I used to race downhill but the last real proper downhill I raced was in was at Snowmass two years ago. I was close in '99 to winning the title - I qualified fastest and then I crashed in my race and ended up fifth and lost the title (back when the national championship was awarded to the winner of the NORBA series) so I'm stunned right now to win. These girls are fast."
Slipping and sliding
Duncan Riffle, winner of the men's race, agreed that focusing on exit speed out of the turns was key to a solid run rather than handling skills over technical terrain. "My run was good, he said at the bottom of the hill. "There were lines where I felt like I wasn't going all that quick but I knew from qualifying that I needed to relax a little bit and ease up in some places so I focused on pedaling - because I know fitness is my strong point - and on exit speed and accelerating out of the turns because it was so tight and narrow."
Riffle and the several-hundred spectators and competitors watched as fastest qualifier and defending champion Cody Warren slipped completely off his bike at the top of the run, effectively losing too much time and leaving Riffle with the winning run. "I'm bummed it happened like that," Riffle said, "because I know that's what everyone's going to talk about. One of these days I'll get it flat out."
What a lovely way of sayin' how much you love me (-Paul Anka)
Marla Streb
Photo ©: Steve Medcroft

Former national champion and Luna Chix Ambassador Marla Streb pulled out her downhill bike and gave the Sonoma course a run as well. Placing third in the competition, the 41 year old said she was disappointed with her performance. "It was fun but obviously I put too much pressure on myself," she said. "I wanted to have a baby and win the National Championships."
The baby in question, daughter Nicoya, was born March 8th. Streb says racing again has made her hungry to return to competition. "I've been racing for about a month now but I want to come back to it. I love the sport and I love the industry and I love riding bicycles."
Non-Americans get a chance to race too
Since Sonoma was originally the site of a NORBA National Series stop, foreign riders were allowed to run down the course before the US Nationals got underway. Amiel Cavalier (Giant/Nevada City) posted the fastest time of the day, beating World Cup contender Greg Minaar (G-Cross/Honda) among others. Results from both competitions will be combined at the end of the weekend and used to calculate points towards the NORBA National Series.
Photography
For a thumbnail gallery of these images, click here
Images by Steve Medcroft / www.cyclingnews.com
Images by Rob O'Dea/www.BaldZebra.com
Results

US National Championship categories

Pro men
 
1 Duncan Riffle (Honda/Iron)                 1.54.02
2 Ryan Finney (Wtb/Fox)                      1.54.52
3 Rich Houseman (Yeti/Fox)                   1.54.73
4 Cole Bangert (Morewood Bikes)              1.55.50
5 Christopher Herndon (Cane Creek)           1.55.76
6 Justin Havukainen (Monster Energy)         1.55.89
7 Aaron Peters (Mongoose)                    1.56.36
8 Henry O'donnell (Wtb/Santa Cruz)           1.56.41
9 Lars Sternberg (Fluidride)                 1.57.28
10 Evan Turpen (Iron Horse)                  1.57.34
11 Cody Warren (C-Dub Racing)                1.58.93
12 Luke Strobel (Downhill)                   1.59.09
13 Dan Krenicki (Predator)                   1.59.78
14 Ian Odom (Khs)                            2.00.80
15 Keith Mott (Khs)                          2.01.04
16 Kyle Adams (Odi)                          2.01.18
17 Curtis Beavers (Wtb/Santa Cruz)           2.01.87
18 David Klaassenvanoorsch (Khs Bicycles)    2.02.20
19 Sanjay Shanbhag (Commencal)               2.02.40
20 Daniel Umland (Foes)                      2.02.91
21 Travis Bond (Yeti/Fox)                    2.03.18
22 Billy Owczarski (Down Fast)               2.04.48
23 Jeff Evans (Khs/Utopia)                   2.04.50
24 Quinton Spaulding (Khs Bicycles)          2.05.26
25 Dante Harmony (Brodie)                    2.05.78
26 Joshua Toland (Fox/Yeti)                  2.06.03
27 Mike Haderer (Foxshox/Yeti)               2.06.42
28 Tim*Tj* Sharp (Yeti/Fox)                  2.06.59
29 Sean Methven (Turner/661)                 2.10.34
30 James Schwanke (Khs/Kenda)                2.11.26
31 Andrew Parson (Versus Cycles)             2.11.31
32 Karl Rogne (Go-Ride)                      2.13.37
33 Curtis Keene (Cane Creek)                 2.14.72
34 Jim Beckman (Fetish Cycles)               2.18.68
35 Ian Richards (Specialized)                3.13.70
36 Jonathan Canfield (Honda/Iron)            3.49.89
DNF NicolasO'neil(Wtb/Fox)                   
DNS ColinBailey(Intense)                     
 
Pro women
                                               
1 Tara Llanes (Giant)                        2.09.60
2 Melissa Buhl (Khs Bicycles)                2.10.05
3 Marla Streb (Luna Chix)                    2.11.72
4 Lisa Myklak (Morewood B)                   2.13.09
5 April Lawyer (Maxxis)                      2.16.07
6 Amelia Colasurdo (Bear Naked)              2.19.04
7 Sara Johnson (Wheelsport)                  2.25.13
8 Michelle Camp (Kona/Mcfat)                 2.29.80
9 Leana Gerrard (Bear Naked)                 2.30.38
10 Jackie Harmony (Brodie)                   2.34.29
11 Tenille Smith                             2.35.29
12 Kote Driscoll (Chumba)                    2.40.38
13 Michelle Rivera (Tnt)                     2.55.98
14 Carol Gibbs (Ellsworth)                   3.29.95
 
Combined NORBA Series #5 results
 
Pro men

1 Amiel Cavalier (Giant/SRAM)                1.51.29
2 Jared Rando (Giant/Mich)                   1.52.34
3 Des Curry (Odi/Smith)                      1.53.54
4 Ben Bell (Yeti/Fox Racing)                 1.53.76
5 Andrew Neethling (Mongoose)                1.53.86
6 Duncan Riffle (Honda/Ironhorse)            1.54.02
7 Ryan Finney (Wtb/Fox)                      1.54.52
8 Greg Minnaar (G-Cross Honda)               1.54.57
9 Rich Houseman (Yeti/Fox)                   1.54.73
10 Cole Bangert (Morewood Bikes)             1.55.50
11 Christopher Herndon (Cane Creek)          1.55.76
12 John Kirkcaldie (Team Maxxis)             1.55.88
13 Justin Havukainen (Monster En)ergy        1.55.89
14 Aaron Peters (Mongoose)                   1.56.36
15 Henry O'donnell (Wtb/Santa)               1.56.41
16 Lars Sternberg (Fluidride)                1.57.28
17 Evan Turpen (Iron Horse)                  1.57.34
18 Kieran Bennett (Foes Racing)              1.58.16
19 Tim Mackersy (Foes Racing)                1.58.80
20 Cody Warren (C-Dub Racing)                1.58.93
21 Bryn Atkinson (Gt Bikes)                  1.59.03
22 Luke Strobel (Downhill)                   1.59.09
23 Joel Bain (Cannondale)                    1.59.19
24 Dan Krenicki (Predator)                   1.59.78
25 Ian Odom (Khs)                            2.00.80
26 Sven Martin (Honda/Ironhorse)                    
27 Keith Mott (Khs)                          2.01.04
28 Kyle Adams (Odi)                          2.01.18
29 Jonathan Neethling (Morewood)             2.01.28
30 Mitchell Delfs (Cur/Manitou)              2.01.55
31 Curtis Beavers (Wtb/Santacruz)            2.01.87
32 David Klaassenvanoorsch (Khs Bicycles)    2.02.20
33 Sanjay Shanbhag (Commencal)               2.02.40
34 Daniel Umland (Foes)                      2.02.91
35 Travis Bond (Yeti/Fox)                    2.03.18
36 Waylon Smith (Khs)                        2.04.12
37 Billy Owczarski (Down Fast)               2.04.48
38 Jeff Evans (Khs/Utopia)                   2.04.50
39 Quinton Spaulding (Khs Bicycl)            2.05.26
40 Dante Harmony (Brodie)                    2.05.78
41 Joshua Toland (Fox/Yeti)                  2.06.03
42 Mike Haderer (Foxshox/Yeti)               2.06.42
43 Tim *Tj* Sharp (Yeti/Fox)                 2.06.59
44 Sean Methven (Turner/6)                   2.10.34
45 James Schwanke (Khs/Kenda)                2.11.26
46 Andrew Parson (Versus Cycles)             2.11.31
47 Karl Rogne (Go-Ride)                      2.13.37
48 Curtis Keene (Cane Creek)                 2.14.72
49 Jim Beckman (Fetish Cycles)               2.18.68
50 Ian Richards (Specialized)                3.13.70
51 Jonathan Canfield (Honda/Iron)            3.49.89
DNF Colin Bailey (Intense)                          
DNF Nicolas O'neil                                  
 
Pro Women
 
1 Tara Llanes (Giant)                        2.09.60
2 Melissa Buhl (KHS Bicycles)                2.10.05
3 Marla Streb (Luna Chix/)                   2.11.72
4 Lisa Myklak (Morewood Bikes)               2.13.09
5 Tracey Hannah (Edge Cycle)                 2.14.02
6 April Lawyer (Maxxis)                      2.16.07
7 Amelia Colasurdo (Bear Naked)              2.19.04
8 Sara Johnson (Wheelsport)                  2.25.13
9 Joanna Petterson (Morewood Bikes)          2.20.02
10 Anka Martin (Honda/Ironhorse)             2.23.10
11 Michelle Camp (Kona/Mcfat)                2.29.80
12 Leana Gerrard (Bear Naked)                2.30.38
13 Jackie Harmony (Brodie)                   2.34.29
14 Tenille Smith                             2.35.29
15 Kote Driscoll                             2.40.38
16 Michelle Rivera (TNT)                     2.55.98
17 Carol Gibbs (Ellsworth)                   3.29.95