NORBA USA National Championships - CN
USA, July 13-July 16, 2006
Main Page Results Overall standings Next Race
Race 1 - Thursday, July 13: Marathon
Brown repeats and Thomas soloes for 5-1/2 hours
By Steve Medcroft in Sonoma
Travis Brown
Photo ©: Steve Medcroft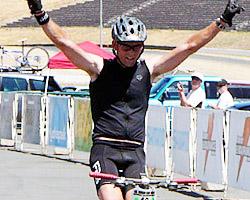 After working as teammates for two-thirds of an almost five-hour contest on Thursday morning, Travis Brown (Trek/FRS) and Chris Eatough (Trek/VW) fought each other on the final lap for the the men's US Marathon National Championship jersey. Defending champion and semi-retired product tester Brown coming out on top.
In the pro women's race, X-Terra and cyclo-cross racer Melissa Thomas (Tokyo Joes) rode away from a small field from the beginning of the race and went on to win by more than thirty minutes to claim her own Stars and Stripes jersey.
Ganging up on Jay Henry
At first, it looked as if it was going to be a pleasant day in Sonoma, California. Thursday morning's marathon started at 7am under a cool, clear and windless sky. But temperatures rose sharply and the lack of shade on the course took its toll and less than an hour into the race, competition turned into a challenge to the racer's will to survive.
Eventual winner Travis Brown and pseudo teammate Chris Eatough (Brown, a former Olympian and long-time Trek factory cross-country rider works for Trek in product development but is not an official member of Eatough's Trek/VW pro racing team) both said they talked about the possibility that they would be in a position to work together (and against their principal competition) in the race .
"We kind of knew Jay (Henry - Tokyo Joes) would be the strongest competition," Eatough said. "We felt there was a good chance we'd have a numerical advantage at the front."
"Jay was in a bad position strategically," Brown said. "We knew that there were a lot of places on this course where we could isolate Jay."
To counter the expected tactic, Henry decided to attack early, leaving the safety of a six-man lead group and building a thirty second lead in the second 7.7-mile lap. "We let him dangle a little bit," Eatough said, "let him hold the gap and burn himself out a little."
Jay Henry
Photo ©: Steve Medcroft

When the chase group pulled Henry back a lap later, Brown immediately countered. "When Travis went, I was able to sit on Jay for a lap and not chase." Eatough said. When Henry tired of chasing, Eatough bridged over to Brown and for the next three of eight total laps, the pair stayed together and stranded Henry in no-man's land
Which left only the final lap. "Obviously, both of us wanted to win the race," Eatough said. "We never really said anything but I think it was understood that we weren't going to do anything to hurt each other until the race was settled. But by the last lap, we had over a minute on Jay and we knew that one of us was going to win."
Eatough says he was suffering but tried to hide it. "My heart rate was 195 - which is my max - for the last fifteen minutes of the marathon. Then I cramped, really bad. Both legs locked up and I couldn't pedal for like two minutes. I went to the back because I was hoping he couldn't see me. I got away with it for about thirty seconds. He saw me and went away."
Brown says he didn't actually register Eatough's cramping. Instead, he says he was simply nervous about Eatough's strength in the finale. Then, "Chris attacked in the last lap and I covered it pretty easily. And my attitude changed. I felt like he had taken a pretty good dig and I was able to close it. So I attacked."
Brown held the fifteen second advantage he built in that one fragile moment to the line. Eatough finished thirteen seconds behind. Henry came through a full six minutes later for third.
Melissa Thomas
Photo ©: Steve Medcroft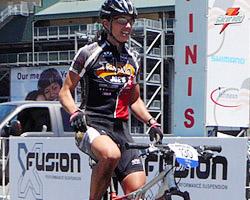 No contest in the women's race
With defending women's marathon champion Gretchen Reeves apparently retired from mountain-bike racing and not on the start line (er, forgive my preview where I mistakenly count her as the favorite), Melissa Thomas decided the best approach to what would be a plus-five-hour effort would be to press from the very start.
"I was just trying to get it done as quick as possible," she said, "because I think I'm going to do a few other races this weekend (super D, short track and possibly the cross-country race)." She built a lead in the first lap and kept on building. By the end, the X-Terra, cyclo-cross and three-time US marathon World's team member was twenty minutes faster than second placed Louise Kobin. Sawicki finshed third.
Photography
For a thumbnail gallery of these images, click here
Images by Steve Medcroft / Cyclingnews.com
Results

Pro/open Men
 
1 Travis Brown, Trek/FRS                     4.38.55
2 Chris Eatough, Trek/VW                        0.13
3 Jay Henry, 3D/Hillenbrand                     7.15
4 Michael Lee, Trek/VW/JB                      13.58
5 Michael Janelle, Tokyo Joe's                 16.31
6 Nat Ross, Subaru-GaryFisher                  29.09
7 Troy Barry                                   37.21
8 Yuri Hauswald, Soulcraft                   1.07.00
9 Karl Etzel, Ride424.Com                    1.23.42
10 A.J. Ataie, Pegasus Bikes                 1.33.57
DNF Chris Mcgovern, Sierra Nevada                   
DNF Richard Nielson                                 
DNF Clint Muhlfeld, Sportsman                       
 
Men 19-29
 
1 Colt Mcelwaine, Independent Fabrication    5.09.48
2 Dezmin Wilder                                 1.31
3 Travis Swicegood                             26.22
DNF Steve Marshall, Bear Valley                     
 
Men 30-39
 
1 Fuzzyjohn Mylne, Team Sho-Air              4.38.40
2 Jeff Wardell, Excel Sports                    3.22
3 Daniel Mellish, Chipotle                      5.37
4 Brian Sevall, RecoverEase                    28.50
5 Steve Tam                                    39.59
6 Rob Dillion, Soulcraft                       53.17
7 Gabriel Sanctuary                          1.00.39
8 Don Mclaughlin, Big Bear                   1.04.20
9 John Seckinger                             1.26.39
DNF Eric Nedzi                                      
DNF David Martin                                    
DNF James Gilmore, Handy Man                        
DNF Michael Maier, Fetish Cycles                    
 
Men 40-49
 
1 Bruce Muhlfeld, Trek/VW                    4.22.14
2 Mike Hogan, Chipotle                          4.06
3 Tim Zandbergen, Afp Velosport                20.34
4 Peter Tempest, Adventure                     30.53
5 Matthew Allen                                31.04
6 Mark Gagner, Form Fitness                    33.03
7 Drew Geer, Chipotle                          44.19
8 Mark Blaser, Owens                           57.43
9 Mark Goue, Chipotle                          59.53
10 Christopher Holmes, Bicycles              1.13.15
11 Tim Chase                                 1.38.10
12 Frederick Huxham, Hup United              1.39.11
13 Robert Martinez                           1.42.58
14 Bryan Van Vleet, Khs Bicycles             1.45.08
DNF Thomas Dooley, Chipotle                         
DNF Geoff Jones, Littleman                          
DNF Jim Gentes, Family Cycles                       
DNF Darrell Davis, Contender                        
DNF Shannon Hirsch, Bim Racing                      
 
Men 50-59
 
1 Robert Bernhard                            5.27.05
2 Kevin Weitz                                  19.31
3 Richard Latorraca                            56.10
4 Kem Akol                                   1.06.16
DNF Steven Miller, Schweitzer                       
DNF Mike Bonkowski                                  
 
Pro/open women
 
1 Melissa Thomas, TokyoJoes                  5.29.37
2 Louise Kobin                                 20.44
3 Monique Sawicki, Sho-Air                     26.34
4 Josie Beggs                                  32.00
5 Kristy Lanier-Mantz, Dirtbean.Com            47.49
6 Rebecca Rusch, Specialized                   53.29
7 Mandy Eakins                               1.03.11
DNF Timar Pruis, Kenda/Titus                        
DNF Kote Driscoll, Chumba                           
DNF Christy Murphy, Soulcraft                       
 
Women 19-29
 
1 Tomarra Muhlfeld, Trek/VW                  4.55.03
 
Women 30-39
 
DNF Jennifer Klausner, Amgen Cycling                
 
Women 40+
 
1 Karen Hogan, Chipotle                      5.44.48
2 Ellen Guthrie, Vanguard                      20.01
3 Caroline Goulard, Afp/Velosport              46.43
4 Beth Gouge, Chipotle                       1.02.44
5 Barbara Peterson                           1.07.44
6 Nancy Thomas                               1.17.22
DNF Toni Geer, Chipotle