MTB world championships - CM
Rotorua, New Zealand, August 22-27, 2006
Main Page Results Previous Race Next Race
Race 11 - August 26: Elite men downhill
Hill hurtles to Australia's first-ever senior men's DH title
By Rob Jones
Sam Hill put a dream run together
Photo ©: Mikkeli Godfree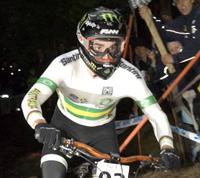 Sam Hill gave Australia its first ever Elite men's world title; a somewhat surprising fact given the depth of Australian riders in the men's field. Hill was joined on the podium by former world champion Greg Minnaar (South Africa) and fellow Aussie Nathan Rennie, who had finished first in qualifying.
The men's field was extremely well stacked, with only defending two-time champion Fabien Barel (France) missing due to injury. Australia also had Mick Hannah (whose sister had earlier in the day won the Junior women's title) and Chris Kovarik as contenders, while Great Britain boasted perennial favourite Steve Peat, plus Marc Beaumont and Atherton brothers Gee and Dan.
Dan Atherton, who crashed in qualifying (and therefore started early) set a fast time of 3:25.58 . This time would hold up for 20 riders before Filip Polc (Slovakia) finally knocked a second off of it. Ten riders later Andrew Neethling (South Africa) took the leading time down a further three seconds, and he hung onto the lead until Kovarik took off another three and a half seconds.
Kovarik's reign lasted until Hill came rocketing home - a staggering seven full seconds faster. Hill's time would easily stand up through the final five riders, with Minnaar's silver medal performance still over three seconds behind the Australian's incredible run.
Greg Minnaar (South Africa)
Photo ©: Mikkeli Godfree

"I was pretty nervous waiting for those last guys to come down" Hill admitted. "Nathan (Rennie) was pretty close to my time in qualifying. I had struggled earlier in the week when the course was wet, but luckily the rain held off today and it was dry for my run.
"I'm actually pretty surprised to be up here; I didn't think I could make up that much time from qualifying. My run was flawless. I tried to be smooth; not lose too much time in the technical bits, and start pedalling right away when I was through them."
Rennie agreed that maybe he had put too much pressure on himself after qualifying first. "The track is slower than qualifying, and maybe I was trying too hard, but I still had the best run that I could have. It could have been any of us (Australians) ... we've got guys ready to hang it out - it's in our blood."
Photography
For a thumbnail gallery of these images, click here
Images by Mikkeli Godfree/Cyclingnews.com
Images by Kristine Seeto
Images by Mikkeli Godfree/Cyclingnews.com
Images by Rob Jones/www.canadiancyclist.com
Results, 2.2km
Finals
 
1 Samuel Hill (Australia)                 3.11.03 (41.46 Km/h)
2 Greg Minnaar (South Africa)             3.15.25
3 Nathan Rennie (Australia)               3.17.16
4 Steve Peat (Great Britain)              3.17.92
5 Chris Kovarik (Australia)               3.18.04
6 Michael Hannah (Australia)              3.19.21
7 Cédric Gracia (France)                  3.19.73
8 Matti Lehikoinen (Finland)              3.20.79
9 Gee Atherton (Great Britain)            3.20.91
10 Mickael Pascal (France)                3.21.13
11 Andrew Neethling (South Africa)        3.21.44
12 Marc Beaumont (Great Britain)          3.22.78
13 Bryn Atkinson (Australia)              3.23.12
14 Filip Polc (Slovakia)                  3.24.49
15 David Vazquez Lopez (Spain)            3.25.24
16 Dan Atherton (Great Britain)           3.25.58
17 Amiel Cavalier (Australia)             3.25.83
18 Markolf Berchtold (Brazil)             3.26.88
19 Duncan Riffle (USA)                    3.27.57
20 Luke Strobel (USA)                     3.27.69
21 John Kirkcaldie (New Zealand)          3.27.74
22 Oscar Saiz Castañe (Spain)             3.27.92
23 Des Curry (New Zealand)                3.28.69
24 Cody Warren (USA)                      3.28.77
25 Jared Rando (Australia)                3.30.76
26 Michal Marosi (Czech Republic)         3.31.25
27 Andrew Mitchell (Canada)               3.31.77
28 Samuel Zbinden (Switzerland)           3.32.52
29 Adam Vagner (Czech Republic)           3.32.55
29 Christopher Herndon (USA)              3.32.55
31 Claudio Caluori (Switzerland)          3.33.35
32 Luke Kitzanuk (Canada)                 3.33.38
33 Evan Turpen (USA)                      3.33.40
34 Cole Bangert (USA)                     3.33.65
35 Kieran Bennett (New Zealand)           3.33.75
36 Carlo Gambirasio (Italy)               3.35.27
37 Justin Havukainen (USA)                3.37.30
38 R. Leiva Figueroa  (Chile)             3.37.40
39 Naoki Idegawa (Japan)                  3.38.36
40 Nathan Rankin (New Zealand)            3.38.71
41 Gerard Wolfe (Ireland)                 3.40.31
42 Tyler Morland (Canada)                 3.42.26
43 Jonty Neethling (South Africa)         3.42.45
44 Glenn Haden (New Zealand)              3.42.96
45 Santiago De Santiago (Argentina)       3.43.28
46 Julien Camellini (France)              3.45.44
47 Gary Barnard (South Africa)            3.51.29
48 Daniel Auerswald (Germany)             3.53.01
49 Justin Leov (New Zealand)              3.55.90
50 Johan Potgieter (South Africa)         3.57.32
51 Tom Holland (New Zealand)              4.17.11
52 Alfred Salgado Medina (Puerto Rico)    4.22.98
53 Nathaniel Giacomozzi (Brazil)          4.27.26
54 Sven Martin (South Africa)             4.46.21
55 Tiago Knorst (Brazil)                  4.54.27
56 Pablo Daniel Cingolani (Argentina)     5.25.55
DNF Alan Beggin (Italy)
DNF Stephen McClintock (Ireland)
DNF Livio Zampieri (Italy)
DNS Claudio Cozzi (Italy)  
 
Seeding run - 2200m Av. 41.25 Kmh
 
1 Nathan Rennie (Australia)               3.12.0
2 Steve Peat (Great Britain)              3.12.4
3 Greg Minnaar (South Africa)             3.13.1
4 Marc Beaumont (Great Britain)           3.15.4
5 Michael Hannah (Australia)              3.15.4
6 Samuel Hill (Australia)                 3.15.9
7 Mickael Pascal (France)                 3.16.1
8 Matti Lehikoinen (Finland)              3.16.3
9 John Kirkcaldie (New Zealand)           3.16.9
10 Gee Atherton (Great Britain)           3.17.9
11 Cédric Gracia (France)                 3.18.3
12 Julien Camellini (France)              3.18.6
13 Glenn Haden (New Zealand)              3.20.3
14 Justin Leov (New Zealand)              3.21.0
15 Jared Rando (Australia)                3.21.8
16 Amiel Cavalier (Australia)             3.22.0
17 Nathan Rankin (New Zealand)            3.23.1
18 Oscar Saiz Castañe (Spain)             3.23.4
19 David Vazquez Lopez (Spain)            3.23.4
20 Chris Kovarik (Australia)              3.24.1
21 Cole Bangert (USA)                     3.24.9
22 Carlo Gambirasio (Italy)               3.26.3
23 Luke Strobel (USA)                     3.26.9
24 Claudio Caluori (Switzerland)          3.26.9
25 Samuel Zbinden (Switzerland)           3.27.0
26 Cody Warren (USA)                      3.27.4
27 Christopher Herndon (USA)              3.28.7
28 Adam Vagner (Czech Republic)           3.29.2
29 Leiva Figueroa R (Chile)               3.29.4
30 Andrew Mitchell (Canada)               3.29.6
31 Andrew Neethling (South Africa)        3.30.0
32 Michal Marosi (Czech Republic)         3.30.1
33 Des Curry (New Zealand)                3.30.9
34 Evan Turpen (USA)                      3.30.9
35 Bryn Atkinson (Australia)              3.31.0
36 Luke Kitzanuk (Canada)                 3.32.1
37 Tyler Morland (Canada)                 3.32.4
38 Naoki Idegawa (Japan)                  3.32.5
39 Filip Polc (Slovakia)                  3.32.7
40 Markolf Berchtold (Brazil)             3.33.4
41 Santiago De Santiago (Argentina)       3.34.1
42 Livio Zampieri (Italy)                 3.35.0
43 Justin Havukainen (USA)                3.35.5
44 Duncan Riffle (USA)                    3.36.2
45 Jonty Neethling (South Africa)         3.37.0