Sea Otter Classic - NE
USA, April 6-9, 2006
Main Page Results Overall standings Previous Race Next Race
Race 6 - Sunday, April 9: MTB stage race #4, Cross Country
Specialized riders make a splash in hometown race
By Steve Medcroft
Liam Killeen
Photo ©: Rob O'Dea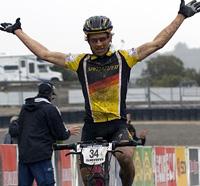 With company headquarters only fifty miles away in Morgan Hill, California, Specialized spared no expense in spreading the word about itself, its history and its riders at what could be considered their home race; the Monterey-based Sea Otter Classic. Celebrating the twenty-fifth anniversary of the world's first mass-produced mountain bike, Specialized had a museum of Stumpjumper models at Sea Otter, one-off pink-framed S-Works Epics (the original team-issue Stumpjumper was painted pink) for their riders, logo banners all around the venue and hosted VIP bike rides throughout the weekend.
So it was fitting that Specialized's athletes should reward the company with strong performances in Sunday's epic UCI E1-rated cross-country race. At world-cup marathon distance (38 miles, 61 kilometers), Specialized factory teammates Liam Killeen and Alban Lakata worked together to go one-two on the day. Although Sabine Spitz finished more than four minutes behind Gunn-Rita Dahle-Flesjaa (Multivan Merida), her second place was an impressive third Specialized factory team podium spot of the race.
Finally, the rain we'd been promised
Sid Taberlay leads
Photo ©: Rob O'Dea

A murky sky finally broke over the racecourse Sunday, just a half hour before the start of the pro race. Only a light rain, the conditions didn't seem to upset the racers too much. "The course was still draining pretty good," Killen said at the finish line. "The patches that were already muddy were a little deeper but it was all rideable."
Dahle-Flesjaa seemed a little more disturbed by the conditions. "It got worse and worse, that's for sure," she said. "You had to be really careful with shifting. And it was starting to get slippery on your hands."
The two races, held on the same course fifteen minutes apart, took on different storylines once the groups worked their way off the opening two-mile Laguna Seca raceway track and onto the seventeen miles of singletrack and fire roads that made up the bulk of the course. The men split into groups; Killeen, Jongewaard and Lakata up front, eight or nine riders (including Bart Brentjens, Todd Wells, Jean-Christoph Peraud, and Jeremiah Bishop), chasing together.
"Chris (Jongewaard) took off pretty hard - like he usually does - so I knew he would be a good guy to follow," Killeen said. "And Alban was riding really strong and helped me out loads." That is, he helped Kileen by sticking his body in the wind to protect the young Englishman. "He's quite a big guy and there were a few windy sections. He really saved my legs for the last lap."
In that last lap, Lakata was the first rider to fall off Killeen's wheel. "I lost a (contact) lens," he said at the finish. "It stuck inside my eyewear. I stopped and put it back on and lost maybe thirty seconds."
Jongewaard cracked and Killeen then soloed comfortably the rest of the way to the finish. "Yeah. It was good. I never really felt too much in trouble."
Gunn-Rita Dahle
Photo ©: Rob O'Dea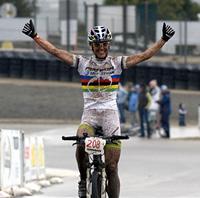 Dahle-Flesjaa splintered the women's race; opting to lead from the gun and leaving a string of solo chasers behind her. But she wasn't alone for long - she began catching the semi-pro riders that had been sent out ten minutes before the women. "It was nice to not have to ride by myself all the time," she said. "I always had someone to try and catch." And what did those young think of the world championship jersey riding past them? "Most people were very nice," Dahle-Flesjaa said. "I believe that there are always some guys that hate to be passed by a woman though."
"Gunn-Rita and I were together for a half an hour," said Spitz about how the Norweigan developed her dominant lead. "There was a part of the course where you have [a series of] climbs; a long climb in total but with up and down singletrack with really steep parts in it." Spitz said she could do nothing as Dahle-Flesjaa built gaps over the steepest terrain and only saw the Olympic gold medalist one more time in the race. "At one section on the road [riding around the Laguna Seca raceway between the first and second laps], I was twenty to thirty seconds behind. When she had a look back and she saw me, she pushed herself once more."
Frenchman Jean-Christoph Peraud finished third in the men's race and locked up the Sea Otter omnium prize. Jeremiah Bishop (Trek/VW) topped the American men's efforts with fourth, followed by former world and Olympic champion Bart Brentjens (Team Giant).
Sabine Spitz (Specialized)
Photo ©: Rob O'Dea

Canadian Kiara Bisaro (Team R.A.C.E.) managed to hold off her compatriot Wendy Simms (Velo Bella/Kona) for third in the women's race. Team Orbea's Pia Sundstedt grabbed the final podium spot. In case it needs to be said - Dahle-Flesjaa won the Sea Otter women's MTB omnium.
Photography
For a thumbnail gallery of these images, click here
Images by Rob O'Dea/www.baldzebra.com
Results
Men
 
1 Liam Killeen (GBr) Specialized Factory Racing                2.30.28
2 Alban Lakata (Aut) Specialized Factory Racing                   2.15
3 Jean Christoph Peraud (Fra) ORBEA                               2.35
4 Jeremiah Bishop (USA) TREK/VW                                   2.36
5 Bart Brentjens (Ned) Giant-Racing-Team                          2.38
6 Christophe Sauser (Swi) Specialized Factory Racing                  
7 Todd Wells (USA) GT Bicycles                                    2.39
8 Jose Antonio Hermida (Spa) Multivan Merida Biking Team              
9 Geoff Kabush (Can) Team Maxxis                                  3.13
10 Max Plaxton (Can) Rocky Mountain/ Business Objects                 
11 Michael Weiss (USA) SRM Simplon Team                           3.27
12 Chris Jongewaard (Aus) Australian National Team                6.43
13 Karl Platt (Ger) Rocky Mountain Business Objects               7.55
14 Matt Martindill (Can) NA                                       7.56
15 Sam Schultz (USA) U23 National Team                            8.04
16 Kris Sneddon (Can) Kona Les Gets Factory Team                  9.15
17 Mat Toulouse (Can) Team Maxxis                                 9.58
18 Carl Decker (USA) Broadmark Capital                           10.40
19 Troy Misseghers (Can) Mountain Bike City                      10.47
20 Burry Stander (RSA) GT Bicycles                               10.58
21 Nick Martin (USA) Unattached                                  11.20
22 Michael Broderick (USA) Seven Cycles/Kenda                    11.33
23 Ken Onodera (Jpn) Subaru-Gary Fisher                          12.09
24 Jason Sager (USA) Hotel San Jose/Cannondale                   13.30
25 Roddi Lega (Can) Norco Factory Team/United Cycle              13.40
26 Tristan Schouten (USA) PCW Cycling team                       14.56
28 Matt Kelly (USA) Subaru-Gary Fisher                           15.58
29 Simon Richardson (GBr) Subaru-Gary Fisher                          
30 Antonio Ortiz (Spa) Specialized Spain                         16.59
31 Chris Eatough (USA) Unattached                                17.13
32 Neal Kindree (Can) Kona Factory                               17.53
33 Christian Favata (USA) campmor/hutchinson                     17.58
34 Charles Jenkins (USA) cytomax/KHS                             18.21
35 Colin Cares (USA) U23 National Team                           18.23
36 Tim Olson (USA) Unattached                                    18.51
37 Geoff Huber (USA) anvil/diamondback                           45.29
37 Perry Paolini (USA) Trek-VW West                              19.43
38 Walker Ferguson (USA) Scott/Spinner                           20.00
39 Eric Ransom (USA) Tamarack Resort/ Intense                    20.07
40 Michael Lee (USA) TREK VW JBL                                 20.51
41 Oyvind Aas (Nor) Team Stifinner/Giant                         21.28
42 Jeff Schalk (USA) Trek-VW East                                21.50
43 Sam Jurekovic (USA) U23 National Team                         21.57
44 Paul Hanson (USA) NA                                          22.09
45 Bryan Fawley (USA) University of Montana                      22.23
46 Kevin Bradford-Parish (USA) Bicycle Butler/Rocky Mountain     22.37
47 Ben Thompson (USA) Santiam Bicycles / Breakaway Consulting    23.06
48 Ricky Federau (Can) TEAM R.A.C.E. COM                         23.59
49 Pierre-Yves Facomprez (Fra) A.S Fourchambault                 24.43
50 Austin Carroll (USA) Team Devo                                24.46
51 Aren Timmel (USA) Soulcraft                                   25.44
52 Noah Singer (USA) Cannondale Mountain Bike Team               25.51
53 Earl Bradley (USA) Southeast Trek/VW/JBL                      26.41
54 Sean Donovan (USA) cytomax/KHS                                26.49
55 Craig Richey (Can) Cove Bikes                                 27.43
56 Clint Muhlfeld (USA) Sportsman Ski Haus-Cannondale            28.03
57 Bruce Muhlfeld (USA) TREK/VW                                  28.07
58 Evan Plews (USA) Santiam Bicycle                              28.26
59 Paolo Montoya (CRc) Santa Ana                                 28.40
60 Hal Helbock (USA) Unattached                                  29.51
61 Miles Venzara (USA) H & S Bicycles                            30.10
62 Warren Gravely (USA) California Giant                         30.53
63 Charlie Pendry (USA) Inland Construction/BTD                  31.03
64 Tj Woodruff (USA) Litespeed/PCW                               31.24
65 Gordon Yanota (USA) Ellsworth Bicycles                        31.49
66 Justin Robinson (USA) Cal Giant /Village Peddler              32.46
67 Patrick Bush (USA) clif bar                                   36.03
68 Anastasio Flores Jr (USA) Another Bike Shop .com              37.23
69 Dallas Morris (Can) DeadGoat Racing                           37.47
70 Arlo Buijten (USA) Titus-Schwalbe                             39.35
71 Kris Holden (USA) Wheelsport                                  39.36
72 Jason Moeschler (USA) NA                                      41.56
73 Nat Ross (USA) Subaru-Gary Fisher                             43.16
74 Dana Weber (USA) JAX Bicycle Center                           46.17
75 Mitchell Peterson (USA) Balance Bar/ Devo                     54.45
76 Cody Peterson (USA) 3D Racing/ SRAM/ LFP&Co                   56.13
78 Lucas Livermon (USA) Cycling Spoken Here                    1.28.59
79 Noah Holcomb (USA) Cannondale Mountain Bike Team            1.43.29
 
Women
 
1 Gunn-Rita Dahle Flesjaa (Nor) Multivan Merida Biking Team    2.56.00
2 Sabine Spitz (Ger) Specialized Factory Racing                   4.39
3 Kiara Bisaro (Can) Team R.A.C.E. COM                            7.49
4 Wendy Simms (Can) Velo Bella - Kona                             9.08
5 Pia Sundstedt (Ger) Business Objects/ Rocky Mountain            9.50
6 Jimena Florit (USA) Luna Women's MTB Team                      11.00
7 Sue Hayward (USA) Trek VW                                      11.03
8 Katerina Nash (USA) Luna Women's MTB Team                      11.54
9 Mary McConneloug (USA) SEven Cycles/Kenda                      12.03
10 Dara Marks Marino (USA) Titus/Kenda                           12.34
11 Alison Sydor (Can) Rocky Mountain/Business Objects            15.20
12 Sabrina Enaux (Fra) Lapierre Factory Team                     16.22
13 Georgia Gloud (USA) Luna Women's MTB Team                     17.07
14 Willow Koerber (Can) Subaru-Gary Fisher                       17.29
15 Catharine Pendrel (Can) Norco                                 17.42
16 Monique Sawicki (USA) Sho-Air/Team Mata                       18.57
17 Melanie McQuaid (USA) ORBEA                                   21.57
18 Lea Davison (USA) Unattached                                  22.41
19 Kristin Danielson (USA) Velo Bella - Kona                     23.38
20 Kathy Sherwin (USA) Ford Cycling                              24.46
21 Jenny Copnall (GBr) Subaru-Gary Fisher                        25.29
22 Sara Bresnick-Zocchi (USA) Ford Cycling                       26.02
23 Jenna Zander (USA) Cannondale Mtn Bike Team                   28.36
24 Nina Baum (USA) Cannondale Mountain Bike Team                 28.51
25 Rie Katayama (Jpn) TREK                                       32.18
26 Kyia Malenkovich (USA) Headmethod.com                         37.26
27 Theresa Richardson (USA) Cannondale Mountain Bike Team        38.16
28 Judy Freeman (USA) Cannondale MTB Team                        38.17
29 Christy Love (Can) Sugoi/Giant                                38.26
30 Carolyn Popovic (USA) mtbchick.com/Cannondale                 38.27
31 Noel Weddle (USA) Velo Bella - Kona                           40.59
32 Krista Park (USA) Colavita/Addictive Cycles                   41.15
33 Stacey Scanlan (USA) Tamarack                                 41.26
34 Heather Svahn (USA) Reno Wheelmen/The Backcountry             41.51
35 Shannon Holden (USA) Velo Bella - Kona                        42.06
36 Megan Monroe (USA) Sports Garage/Yeti                         43.02
37 Ann Fitzsimmons (USA) Schwalbe Tires                          43.08
38 Chrissy Bono (USA) Bicycle Johns Serious Cycling              43.36
39 Cecile Rode (Fra) Lapierre Factory Team                       43.45
40 Jennifer Gersbach (USA) Tokyo Joe's                           44.01
41 Cristina Begy (USA) Spot                                      48.10
42 Josie Beggs (USA) Starbucks                                   50.02
43 Meggan Flaherty (USA) Bicycle John's Serious Cycling          50.32
44 Caitlyn Tuel (USA) Penn State                                 51.00
45 Kim Passafiume (USA) Velo Bella-Kona                          52.22
46 Christie Pleiss (USA) Team K&N Performance                    53.01
47 Mandy Eakins (USA) NA                                         59.33
48 Linden Kimmerer (USA) Soulcraft                             1.00.27
49 Erin Duggan (USA) Velo Bella - Kona                         1.02.18
50 Jennifer Tilley (USA) Velo Bella - Kona                     1.05.31
51 Mary-Ellen Ash (USA) 3 Rox Racing                           1.11.19
52 Rebecca Gross (USA) Armed Forces                            1.17.04
53 Christy Roberts (USA) Paragon Ski & Sport                   1.24.25