Sea Otter Classic - NE
USA, April 6-9, 2006
Main Page Results Overall standings Previous Race Next Race
Race 3 - Saturday, April 8: MTB stage race #3, Short Track
By Steve Medcroft
Craig laughed
Photo ©: Steve Medcroft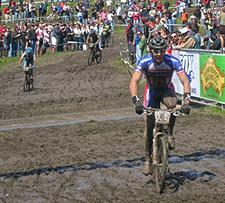 "I can't believe I just won that," American Adam Craig said (Team Giant) after he fought his way across a gap and passed Sea Otter omnium leader Jean-Christoph Peraud (Team Orbea) to win the first race in which he wore his U.S. short-track national championship jersey.
And only Katerina Nash (formerly Katerina Hunosova, of the Luna Chix Racing Team) was able to stay on Gunn-Rita Dahle-Flesjaa's (Merida Multivan) wheel in the women's short track race. But not to the end; Dahle-Flesjaa found clean lines when no-one else could and managed to build enough momentum to win her second race of the weekend.
It all started with a beautifully dry sky that almost seemed to mock the still-waterlogged hillside short-track course. Racers were given a hideous half-mile loop across part grassy knoll, part rim and hub deep diaper-fill mud. And so full of treacherous holes that the pro women and men's competitions looked more like the under-five years old kid's race.
But these are professional mountain bikers and as U.S. cyclo-cross national champion Todd Wells (GT/Hyundai) said at the finish of the men's race, "The strong guys will usually rise to the top regardless of the course."
In the women's race, the 'strong guys' were Gunn-Rita Dahle-Flesjaa, Alison Sydor (Rocky Mountain/Business Objects), Katerina Nash, Melanie McQuaid (Team Orbea) and Mary McConneloug (Kenda/Seven); who all spent time setting the pace in the first few laps.
Chaos reigned
Photo ©: Steve Medcroft

Dahle-Flesjaa sat behind the different leaders for the first two laps; she hadn't pre-rode the course and needed time to learn the lines and build a head of steam. She even ran her bike through some sections to avoid the risk of putting herself on the ground. "If you crash, you break your equipment," she said about her conservative approach.
The world champion and Olympic gold medalist wasn't the only rider who skipped a pre-ride. "I didn't want to get myself or the bike all muddy before the race," Mary McConneloug said about her decision to wait and see the course for the first time in the actual race. "No one knew what to do the first lap. It took a while to figure it all out. Then Gunn-Rita took off. She's so powerful."
"I spent time on the course yesterday morning so I had some idea of where the lines were," Nash said about her ability to stay with Dahle-Flesjaa. "But it was changing throughout the race. When I was able to ride around Mary McConneloug (with about three laps to go in the twenty-minute-plus-three-laps contest), I didn't want to let the opportunity to ride with (Gunn-Rita) get away that quickly. It worked out. I was able to ride with her for a while and we got a separation from the rest. I was excited to be on her wheel."
Dahle-Flesjaa managed to open up ground on Nash in the second to last lap and finished, as she so often does, alone. Nash held on for second. McConneloug's third place (and subsequent five-point bonus) moved her ahead of Alison Sydor in the omnium competition.
World champion Gunn-Rita Dahle-Flesjaa (Multivan Merida)
Photo ©: Steve Medcroft

Craig credits tire choice as his secret anti-otter-mud weapon. "The skinnier the better," he said abut his green Michelin Comp S's.
Wells, who was the first American to bridge to an early lead group of Europeans Jean-Christoph Peraud, Jose Antonio Hermida (Multivan Merida) and Bart Brentjens (Team Giant), echoed the women's consensus that line choice was everything. "If you hit a good line," he said at the finish, "you could go maybe twice as fast as someone riding just as strong in the bad line."
But lines were changing as riders chewed their way through the terrain and the course dried out. "I was basically just watching heads," Craig, who also did not pre-ride the course, said. "Every time I saw a head go into the ground or drop down, I knew not to go there, to find somewhere else."
His approach allowed him to pull away from a last-laps group of Wells, Craig, Hermida, and Brentjens (with Thomas Frischknecht hanging five seconds behind) – all who were chasing Peraud. Craig says that taking the lead was almost a surprise. "I was thinking sweet, I wonder if I can hold this guy off."
Geoff Kabush
Photo ©: Steve Medcroft

Craig "kept it clean from there" and won his first race as short-track national champion. He says the win tells him that even though he's been public about not feeling close to his racing shape this early in the season, he's not as far off his form as he thought. "It's telling me that I'm not as disgustingly out of shape as I thought I was after yesterday and the day before (Sea Otter time trial and Super XC races)."
For Dahle-Flesjaa, the win is just another step in her goal to follow her training program meticulously, perform well at every competition this season, and work her way back to World Cup and World Championship titles.
Race Notes:
• If the name Katerina Nash doesn't sound familiar, it's because it changed from Hunosova at the end of last season. The Luna Chix short-track specialist married World Cup and Olympic skier Marcus Nash last September in her hometown in the Czech Republic . She admits that the name change may be confusing to her fans but says she's doesn't believe in hyphenated last names for married women. "I think it's better to just pick one," she says.
Subaru/Gary Fisher ultra-endurance racer Nat Ross
Photo ©: Steve Medcroft

• Two-niner advocates would have been happy to be at the side of the course during Saturday's short track race. Subaru/Gary Fisher riders Nat Ross and Cameron Chambers brought their big-wheels and held their own. Ross, an ultra-endurance racer who placed an almost-unbelievable sixth in the short track B heat, says the confounding terrain played right into his twenty-nine inch hands. "Hey man," he said with a dirt-splattered grin at the finish. "I just rolled right through that stuff."
Photography
For a thumbnail gallery of these images, click here
Images by Steve Medcroft/Cyclingnews
Images by Rob O'Dea/www.baldzebra.com
Results
Women
 
1 Gunn-Rita Dahle-Flesjaa (Merida Multivan)
2 Katerina Nash (Luna Chix )
3 Mary McConneloug (Kenda/Seven)
4 Melanie McQuiad (Team Orbea)
5 Kiara Bisaro (Team R.A.C.E.)

Men

1 Adam Craig (Giant)
2 Jean Christoph Peraud (Orbea)
3 Jose Antonio Hermida (Multivan Merida)
4 Thomas Frischknecht (SwissPower)
5 Todd Wells (GT)