NORBA USA National Championships - CN
Mammoth Mountain, CA, USA, September 15-18, 2005
Main Page Results Overall standings Race Details Previous Race Next Race
Race 2 - Friday, September 16: Cross Country
JHK and McConneloug get their XC titles
By Steve Medcroft
Jeremy Horgan-Kobelski (Subaru-Gary Fisher)
Photo ©: Rocky Arroyo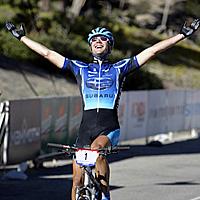 Under crystal blue skies and swirling, dusty headwinds, Mary McConneloug (Seven Cycles/Kenda) and Jeremy Horgan-Kobelski (Subaru/Gary Fisher) rode into U.S. National Championship jerseys this afternoon in Mammoth Mountain, California.
Defending National Champion Horgan-Kobelski dominated the men's race. "There was a deceptive amount of climbing on the course," he said after the finish. "There were long fire-road climbs at the bottom then singletrack climbs at the top." Knowing this, and being somewhat of a high-altitude climbing specialist, Horgan-Kobelski said his tactic was to "put in a huge effort on the second or third lap and hopefully get a gap to demoralise people."
Horgan-Kobelski executed his plan on the first lap. "I pulled away up the first climb," he said. Adam Craig (Giant), fresh off successful back-to-back European races (21st at World Championships and 7th at the Fort William World Cup finals) was hot on his heels. "Adam came blowing by me on the downhill," Horgan-Kobelski said, "and I had to get back on him."
Although Craig says his choice of full-suspension allowed him to take chances on the downhills, he didn't feel that he had the form to win; he was fatigued from travel. "I've been so jacked this week," he said. "I was in survival mode; riding slow. I figured if there was anywhere I could make up time it would be on the downhills."
Eventual second-place rider Todd Wells (GT/Hyundai) sat behind Craig and former Junior World Champion Walker Ferguson (HealthNet/Maxxis) in fourth after two laps. "On the first lap, things were pretty close," Wells said. "There was a little bit of a gap but I could still see them ahead of me. Then they were gone."
With JHK riding smooth off the front - opening the gap to almost three minutes - Craig says he was stuck in survival mode. "I couldn't get my heart rate over 140 beats per minute on the climbs. It was pathetic." Ferguson faded too and soon, Wells found himself in second place. "I don't know what happened," Wells said. "I just kept it steady throughout the race and they came back real fast on the fourth lap. I turned a corner and (Craig and Ferguson) were right there."
Wells says he tried to lift his pace after slipping into second but knew there was nothing but bad luck on Horgan-Kobelski's part that would move him into first. Horgan-Kobelski won with a final advantage around two minutes followed by Wells, Craig then Ferguson. Fifty year-old Ned Overend (Specialized) rounded out the podium in fifth.
In the women's race, Mary McConneloug (Seven Cycles/Kenda Tires) got just the kind of break that Todd Wells could have used to take her second National Championship jersey (she won her first in 2003, the last year where the National Championship was decided on NORBA series points and not in a one-day race like Mammoth).
2004 and 2005 NORBA National Championship Series Cross Country winner Shonny Vanlandingham (Luna Chix) rode at the front of the women's race until the very last mile, when she flatted on a downhill and crashed entering the final straight. Hard-chasing Mary McConneloug, who had sat second on the course in the last lap, slipped past a heartbroken Vanlandingham for the National Championship.
"Shonny got the gap on the first lap," McConneloug, who started on the back row (she hasn't raced many NORBAs in 2005 and Nationals call ups aren't based on UCI points like they are at international competitions) said after the finish. "By the feed zone (beginning of the second lap), I was up front. Shonny came around at the top and I was running second position the rest of the race."
By the final downhill in the three-lap race, McConneloug had all but given up on anything better than second-place. Then the unthinkable happened to Vanlandingham. "I front flatted," she said at the finish. "I was holding it off and rode the whole descent with a front flat."
"It all happened in the last mile," said McConneloug. "People were yelling that Shonny had a flat. I saw her on the last downhill, in the singletrack. I thought the race would come down to a sprint."
The sprint never materialised. As soon as the forgiven dusty silt of the singletrack downhill gave way to pavement of the finishing straight, the wheel gripped and threw Vanlandingham to the ground. "I hated to see it," McConneloug said. "It was totally awful to see her lying there, knowing she was hurting." But as an elite-level racer, McConneloug knew that she had to take the advantage given her and crossed the line first for the title. Vanlandingham ran her bike across the finish line for fourth. 2004 National Champion and retiring former World Champion Alison Dunlap finished second.
Photography
For a thumbnail gallery of these images, click here
Images by Rocky Arroyo/www.arroyophotography.com
Images by Steve Medcroft/Cyclingnews.com
Results

Pro Men
 
1 Jeremy Horgan-Kobelski (Subaru-Gary Fisher)     1.50.40
2 Todd Wells (Gt/Hyundi)                             3.53
3 Adam Craig (Giant)                                 4.59
4 Walker Ferguson (Scott Usa/Spinner)                5.29
5 Ned Overend (Specialized)                          5.45
6 Jay Henry (Ford/Specialized)                       6.29
7 Michael Broderick (Kenda/Seven Cycles)             9.25
8 Carl Decker (Giant)                                9.47
9 Cody Peterson (3D Racing)                         10.59
10 Erik Tonkin (Kona/Team S And M)                  11.40
11 Barry Wicks (Kona/Les Gets)                      12.22
12 Nick Gould (Santa Cruz)                          14.22
13 Brig Brandt (Team Rebound)                       15.32
14 Alan Obye (U23 National Team)                    15.34
15 Charles Pendry (Inland - Btd)                    15.35
16 Evan Plews (Santiam Bicycles)                    15.57
17 Douglas Ryden (Pro Cycling)                      18.12
18 Dana Weber (Jax Bicycle Center)                  18.15
19 Ben Thompson (Second Ascent)                     18.19
20 Michael Janelle (Tokyo Joes/Go Lite)             19.11
21 Jeff Schalk (Bikeworks)                          19.23
22 Greg Lewis (Healthfx/Cwc)                        20.21
23 Charles Jenkins (Cytomax/Khs)                    20.55
24 Brent Winebarger (Health Fx/Cwc)                 21.34
25 Brian Laiho (Dean Bicycles)                      23.10
26 Aren Timmel (Soul Craft)                         24.31
27 Hal Helbock (Cytomax/Khs)                        25.06
28 Leonardo Sandoval (Bicycle Johns/Litespeed)      27.03
29 Amon Pease (Intense)                             27.22
DNF Eric Jones (Biogen-Idec)                             
DNF Kyle Dixon (Bicycle Warehouse)                       
DNF Sean Donovan (Steven K Sport)                        
DNF Nat Ross (Subaru- Gary Fisher)                       
DNF Travis Brown (Trek/Frs Plus)                         
DNF Patrick Bush (Clif Bar)                              
DNF Joshua Powers (Red Rock Racing)                      
DNF Miles Venzara (Team Health Fx)                       
DNF Mike West (Maverick)                                 
DNF Ross Schnell (Tokyo Joes/Go-Lite)                    
DNF Jeff Burnard (Mrazek)                                
DNF Cale Redpath (3D Racing)                             
 
Pro Women
 
1 Mary McConneloug (Kenda/Seven Cycles)           1.40.54
2 Alison Dunlap (Luna Womens Mtb Team)               0.09
3 Willow Koerber (Subaru-Gary Fisher)                0.10
4 Shonny Vanlandingham (Luna Womens Mtb Team)        0.46
5 Susan Haywood (Trek-Volkswagen)                    0.59
6 Heather Irmiger (Tokyo Joes/Go Lite)               1.02
7 Dara Marks-Marino (Ford/Specialized)               2.32
8 Georgia Gould (Tamarack)                           4.23
9 Kathy Sherwin (Biogen-Idec)                        4.40
10 Kelli Emmett (Ford/Specialized)                   7.33
11 Jamie Whitmore (Reebok/Felt)                      8.03
12 Gretchen Reeves (Rocky Mtn / Business Objects)    8.43
13 Sara Bresnick-Zocchi (Ford/Specialized)           8.49
14 Nina Baum (Cannondale)                           10.21
15 Lorien Lightfield (Tamarack)                     11.57
16 Judy Freeman (Cannondale Mtn Bike Team)          12.23
17 Lea Davison (Balance Bar/Devo)                   12.35
18 Jenna Zander (Cannondale)                        13.14
19 Shannon Gibson (Crazy Cat Cyclery/Yeti G)        13.29
20 Zephanie Blasi (Kenda/Dt Swiss/Gu)               13.44
21 Carolyn Popovic (Contentworks)                   14.32
22 Sue Abbene (Biogen-Idec)                         15.25
23 Stacey Scanlan (Tamarack)                        16.11
24 Heather Svahn (Reno Wheelman/The Back)           16.57
25 Cindi Hansen (Mtbchick.Com/Cannondale)           17.04
26 Susie Fiore (Colavita)                           18.57
27 Kristina Andrus (Canyon Cycles)                  19.39
28 Kristi Lewis (Sun & Ski Sports)                  20.43
29 Caitlyn Tuel (Trek Vw)                           20.44
30 Beverley Harper (Contentworks)                   20.50
31 Theresa Richardson (Cannondale Mtn Bike Team)    21.04
32 Rebecca Gross (Sun And Ski Sports)               22.32
33 Becca Blay (Team Dean)                           23.48
34 Shari Hausbeck (Sram/Rockshox)                   24.31
35 Megan Elliott (Bianchi-Grand Performance)        30.54
DNF Kerry Barnholt (Subaru-Gary Fisher)