NORBA USA National Championships - CN
Mammoth Mountain, CA, USA, September 15-18, 2005
Main Page Results Race Details Next Race
Race 1 - Thursday, September 15: Marathon
Travis Brown (Trek/FRS)
Photo ©: Rocky Arroyo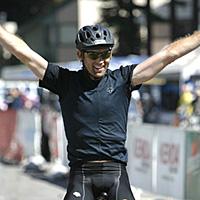 Gretchen Reeves (Rocky Mountain Cycles)
Photo ©: Rocky Arroyo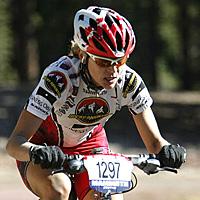 Brown & Reeves speed to marathon titles
Semi-retired former Olympian Travis Brown (Trek/FRS) and endurance specialistGretchen Reeves (Rocky Mountain Cycles) are the new US national marathon champions after two very different races at Mammoth Mountain.
Defending National Champion Reeves was able to put almost 13 minutes on 2004/2005 NORBA National Series Marathon and 2005 NORBA 24-Hours Solo Champion Monique Sawicki (TeamMATA) for the win doing much of the damage in the first lap. "I wanted to go out at World Cup pace," she said after the finish. "I'm doing a World Cup in Germany in a couple of weeks (a marathon in St. Wendel, Germany October 1st) so I wanted to go out at that pace.
As for the men's race, didn't Travis Brown retire last year? "Well, yeah. I did retire," he explained on Friday. "And I am retired from full-time racing but I'm still doing about half the races I did when I was full time." Brown says he still enjoys the sport and racing is the best way to test product design. "I'll learn as much about how a product works in one race as I would learn in ten training rides," he says. "You're sensitivities are tuned when you're racing; you feel things in the terrain and the bike you might not in other types of rides."
With retirement out the window, Brown says he was drawn to marathon in 2005. "It was something I hadn't tried before so I decided to do two NORBA's and this race." Brown says he's enjoyed the hard, long style of racing. "It's kind of more like the old school Cross Country races; we used to have regular cross country races that were over three hours."
In Thursday's marathon, Brown said he strategized with teammate Chris Eatough on how to work together to take the title. "There were a lot of fire roads, climbs and long, gradual descents. That terrain and the headwinds were conducive to group riding." The Trek duo knew that Ford/Specalized rider Jay Henry (who had bested Eatough in two NORBA marathons this season) would be aggressive. "The plan was for me to go off with Jay and for Chris to sit back," Brown said.
Henry pushed the pace as expected and Brown sat on. Eatough sat third on the course but says he wasn't totally comfortable; he was still suffering the after effects of a brutal 24 Hours of Adrenalin Solo World Championships only two weekend's before. "Then the three of us were led off course by the lead moto," Brown said. "We turned around but we were stuck at the back of the field; about fifteenth place."
Eatough faded and Brown and Henry managed to get off the front again. Then Brown found his decisive moment. "Near the end of the second lap Jay showed what might have been a little weakness," Brown said. "He was stretching. I wasn't sure if his back was hurting or what so I made an effort and got a gap." With a lead into the final lap, Brown says he was committed to the move and although Henry stayed within fifteen seconds through the descents in the latter half of the course, Brown opened up time on the climb and ultimately finished 3:34 ahead of Henry.
Asked how it feels to once again be a U.S. National Champion (his first - in Cross Country - came in 1999), Brown said "It's sweet." He'll next race the Singlespeed Cross Country race Saturday morning on his hybrid Trek singlespeed (which features a 29" front wheel, 26" rear wheel and adjustable drop-outs). As for whether he has aspirations to return to racing full time or contest a complete Marathon season, Brown says "I think I've got it out of my system."
Photography
For a thumbnail gallery of these images, click here
Images by Rocky Arroyo/www.arroyophotography.com
Results
Men
 
1 Travis Brown (Trek/FRS)           4.18.12
2 Jay Henry (Ford/Specialized)         3.34
3 Chris Eatough (Trek/VW)              9.41
4 Michael Mccalla ()                  13.07
5 Nat Ross (Subaru-Gary Fisher)       13.35
6 David Yakaitis (WTB)                15.22
7 Michael Lee (Trek/VW)               21.36
8 Arlo Buijten (Titus)                28.09
9 Manuel Prado (Sho-Air)            1.04.59
10 James Williams (Steven K S)      1.04.59
11 Kip Biese (Cannondale)           1.10.04
DNF Michael Janelle (Tokyo Joes)           
DNF Rob Blue (Amgen)                       
 
Women
 
1 Gretchen Reeves (Rocky Mtn)       4.56.07
2 Monique Sawicki (Team Mata)         12.55
3 Mandy Eakins (Velo Sport)           50.56
4 Shari Hausbeck (Sram/Rockshox)    1.03.13
5 Hillary Harrison (Kenda)          1.16.28
DNF Marla Streb (Luna Women)