MTB World Championships - CM
Livigno, Italy, August 31-September 4, 2005
Main Page Results Overall standings Previous Race Next Race
Race 5 - September 3: Downhill
French on top down hill
Chausson retires on a high note
By Rob Jones in Livigno
An exultant Fabian Barel
Photo ©: David Olle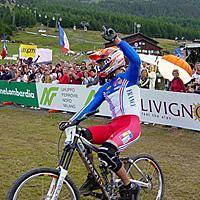 The French proved to be dominant once again in the downhill at the 2005 Mountain Bike World Championships, sweeping the women's podium and winning the men's title, but this year marks the end of an era: Anne-Caroline Chausson announced after winning her ninth elite title that she is retiring, effective immediately. Both Chausson and Fabien Barel, who repeated as the men's winner, won by the narrowest of margins - 0.37 seconds for Chausson over Sabrina Jonnier, and 0.77 seconds for Barel over Sam Hill (Australia).
The 2.85 kilometre course was fast and bumpy, with a total of 15 jumps. All conspired to tire out riders long before they reached the bottom. Chausson had a scare early in her run when her front wheel slid out on a steep, grassy section and she went down. It wasn't a serious crash, but it did cost her time.
"I'm very happy to win, in this my last championship. The difference was very small today. I had a crash in the first part of the race and at that moment I knew that it would be difficult to win. But I just concentrated harder until the end of the race."
Jonnier had mixed feelings about the retirement of her all but unbeatable rival. "I'm not really happy, because it has always been a goal of mine to beat Anne-Caroline at the world championships. This was very close, but I had a couple of mistakes at the top (of the course), and there is no where to make it up at the bottom."
An all-French affair
Photo ©: Marek Lazarski

The young French hope, Emmeline Ragot, a two time Junior world champion, was third.
The men's race had no clear favourite, with any of five or six riders capable of taking the title. Barel started earlier than his main rivals, after purposely taking a slow qualification run. It has been raining in the afternoon for the past few days, so he decided to get an early start time, in hopes that this could possibly tip things in his favour.
As it turned out, Barel didn't need the extra help. The rain fell for only five minutes, and dried out almost immediately, but the Frenchman was still the fastest.
As the last ten riders came down, and steadily got closer to Barel's time, he began to think that maybe going early hadn't been such a good idea mentally.
Greg Minnaar (South Africa)
Photo ©: Marek Lazarski

"Waiting at the bottom is a big stress." admitted Barel. "I did an early ride as a tactic because of the weather, but then watching Greg (Minnaar - South Africa) and Sam (Hill) come very, very close to my split was very, very stressful.
"It is a big satisfaction to win, I have trained hard all season for this race. There were maybe five or six guys who could win so this is a big victory."
With his win Barel has completed a triple: national, European and now world Champion all in the same year.
Sam Hill was disappointed, but the former Junior World Champion took satisfaction in his World Cup wins in Schladming (Austria) and Pila (Italy).
Sam Hill (Australia) was reigning Junior World Champion
Photo ©: Rob Jones

"I have always dreamed of winning a World Cup, so that was a big victory. This race was my other focus for the season, but Fabien was faster today. It was definitely a disappointment not to win, but someone's got to, so you just have to take it, suck it in."
He wasn't too worried about the rain, even when the clouds did roll in briefly. "It rained at Schladming and Pila for the final riders, and that worked fine for me. I had mud tires ready to go, but the sun came out again. My run was pretty good, but at the Worlds it is all or nothing. I was pushing it, taking some risks, but that's part of it if you want to win."
Race Notes:
- Chausson's retirement announcement stole the thunder from anything else that happened. The French legend has a staggering total of 19 world titles (even she didn't know how many, and had to be prompted):
9 Elite downhill (1996-2003, 2005)
3 Junior downhill
5 4-Cross
2 BMX
She was asked about returning to BMX for the Beijing Olympics, but said that she is finished with all competition. "I am stopping because I don't want the stress of racing anymore. It was my plan to stop last year, in France (at the Worlds in Les Gets), but I broke my collarbone during training and could not race, so I decided to go one more year. I'll only do freeride now." Chausson has a three year contract with her sponsor Commencal-Oxbow.
- The UCI reports that 40 riders were blood tested this morning, with riders from Spain, Germany, Australia, Italy and Japan taking part. All passed and were declared fit to race.
- Amiel Cavalier (Australia) took the Junior men's title ahead of heavy favourite Brendan Fairclough (Great Britain), who admitted that he cracked a bit under the pressure. Fairclough finished third against the Elites at the Schladming World Cup. The youngest of the Atherton downhill family became the first to win a world title when Rachel won the Junior women's event, ahead of defending champion Scarlett Hagen (New Zealand) Hagen crashed in the lower part of the course, sliding right off the course and losing considerable time. Canada's national champion Micayla Gatto took the bronze - the first Canadian downhill medal since the glory days of 1990-1992, when Cindy Devine won gold, silver and bronze.
Photography
For a thumbnail gallery of these images, click here
Images by Marek Lazarski/ www.lazarskiphoto.com
Images by David Olle
Images by Rob Jones/www.canadiancyclist.com
Results
Junior Women

1 Rachel Atherton (Great Britain)               4.39.67
2 Scarlett Hagen (New Zealand)                  4.49.03
3 Micayla Gatto (Canada)                        5.11.27
4 Sophie Borderes (France)                      5.24.22
5 Zsofia Koczka (Hungary)                       5.29.27
6 Sabrina Capaul (Switzerland)                  5.29.90
7 Sidonie Jolidon (Switzerland)                 5.38.21
 
Junior Men

1 Amiel Cavalier (Australia)                    4.05.79
2 Brendan Fairclough (Great Britain)            4.07.15
3 Liam Panozzo (Australia)                      4.11.33
4 Antoine Badouard (France)                     4.14.37
5 Matthew Simmonds (Great Britain)              4.14.52
6 Ayden Eves (Australia)                        4.17.82
7 Andrew Mitchell (Canada)                      4.18.53
8 Samuel Blenkinsop (New Zealand)               4.19.05
9 Darren Pokoj (Australia)                      4.19.09
10 Lars Peyer (Switzerland)                     4.19.46
11 Kyle Strait (United States Of America)       4.19.65
12 Christopher Panozzo (Australia)              4.20.65
13 Claudio Cozzi (Italy)                        4.22.02
14 Emanuel Pombo (Portugal)                     4.22.08
15 Hugh Mansfield (Australia)                   4.23.12
16 Steve Chan (Canada)                          4.23.37
17 Travis Bond (United States Of America)       4.23.48
18 Dominik Gspan (Switzerland)                  4.23.64
19 Cameron Cole (New Zealand)                   4.23.85
20 Florent Wolter (France)                      4.23.89
21 Edgar Carballo Gonzalez (Spain)              4.24.97
22 Richard Marini (France)                      4.26.12
23 Kieran Bennett (New Zealand)                 4.27.40
24 Mike Skinner (New Zealand)                   4.28.57
25 Robin Wallner (Sweden)                       4.29.58
26 Nimrod Hemmo (Israel)                        4.30.45
27 Elias Somvi (Italy)                          4.31.29
28 Johannes Krist (Germany)                     4.31.35
29 Erik Kallstrom (Sweden)                      4.31.46
30 Daniel Wolfe (Ireland)                       4.32.72
31 Aurélien Giordanengo (France)                4.33.07
32 Mario Sieder (Austria)                       4.33.77
33 Brendon Newton (United States Of America)    4.34.74
34 Richard Smith (Ireland)                      4.34.93
35 Jyunya Nagata (Japan)                        4.35.04
36 Derek Cowell (Canada)                        4.37.26
37 Greg Okeefe (Ireland)                        4.39.85
38 Paul Cummins (Ireland)                       4.40.21
39 Rick Balbierer (Germany)                     4.40.23
40 Mikolaj Wincenciak (Poland)                  4.40.39
41 Franco Emanuel Riva (Argentina)              4.41.14
42 Kyle Ritchie (Canada)                        4.42.70
43 Johannes Fischbach (Germany)                 4.43.92
44 Hugo Lourenco (Portugal)                     4.44.57
45 Jérome Hunziker (Switzerland)                4.44.69
46 Jorge Toledo Lopez (Spain)                   4.46.06
47 Patrik Kotrla (Czech Republic)               4.48.61
48 Luca Russotto (Italy)                        4.50.12
49 Wataru Koyama (Japan)                        4.51.32
50 Kyle Adams (United States Of America)        4.51.71
51 Samuel Lagrange (Canada)                     4.51.97
52 Wesley Augustyn (South Africa)               4.53.65
53 Bostjan Volf (Slovenia)                      4.53.68
54 Ruben Garcia Ramon (Spain)                   4.54.84
55 Mauro Paladino (Argentina)                   5.07.86
56 Jakub Fiser (Czech Republic)                 5.11.94
57 Aitor Punzano Martinez (Andorra)             5.20.44
58 Daniel Molnar (Hungary)                      5.24.75
59 Gabor Egri (Hungary)                         6.06.05
DNS Ben Cathro (Great Britain)                         
DNS Tomas Pagac (Slovakia)                             
 
Elite Women

1 Anne Caroline Chausson (France)               4.27.34
2 Sabrina Jonnier (France)                      4.27.71
3 Emmeline Ragot (France)                       4.31.52
4 Vanessa Quin (New Zealand)                    4.35.98
5 Marielle Saner (Switzerland)                  4.38.71
6 Tracy Moseley (Great Britain)                 4.39.31
7 Kathleen Pruitt (United States Of America)    4.39.60
8 Helen Gaskell (Great Britain)                 4.40.10
9 Céline Gros (France)                          4.41.27
10 Nolvenn Le Caer (France)                     4.46.15
11 Mio Suemasa (Japan)                          4.48.05
12 Jennifer Makgill (New Zealand)               4.53.09
13 Michela Thaler (Italy)                       4.54.50
14 Anneke Beerten (Netherlands)                 4.55.27
15 Petra Bernhard (Austria)                     4.56.05
16 Claire Buchar (Canada)                       5.00.54
17 Miriam Blas Otondo (Spain)                   5.01.42
18 Alice Kühne (Switzerland)                    5.02.94
19 Anita Molcik (Austria)                       5.07.10
20 Pascaline Reusser (Switzerland)              5.07.19
21 Adrienne Miller (Canada)                     5.07.74
22 Katrina Strand (Canada)                      5.08.80
23 Silja Stadler (Switzerland)                  5.11.90
24 Brook Baker (Canada)                         5.12.23
25 P. Pizarro Bernardita (Chile)                5.12.81
26 Angelika Hohenwarter (Austria)               5.16.15
27 Antje Kramer (Germany)                       5.16.78
28 Dalma Kiss (Hungary)                         5.17.54
29 Claire Whiteman (Australia)                  5.21.46
30 Katarina Siskova (Slovakia)                  5.29.18
31 Helena Boskova (Slovakia)                    5.32.08
32 Jaime Mart (Barbados)                        5.40.06
33 Rika Olivier (South Africa)                  6.16.02

Elite Men

1 Fabien Barel (France)                            3.54.77
2 Samuel Hill (Australia)                          3.55.54
3 Greg Minnaar (South Africa)                      3.57.79
4 Steve Peat (Great Britain)                       3.58.14
5 Gee Atherton (Great Britain)                     4.01.98
6 Karim Amour (France)                             4.02.59
7 Bryn Atkinson (Australia)                        4.03.24
8 Cedric Gracia (France)                           4.03.51
9 Nathan Rankin (New Zealand)                      4.03.61
10 Marc Beaumont (Great Britain)                   4.03.62
11 Claudio Caluori (Switzerland)                   4.03.94
12 Julien Camellini (France)                       4.04.37
13 Justin Leov (New Zealand)                       4.04.51
14 David Vazquez Lopez (Spain)                     4.04.87
15 Oscar Saiz Castane (Spain)                      4.06.58
16 Jared Graves (Australia)                        4.06.99
17 Chris Kovarik (Australia)                       4.07.22
18 Yoann Barelli (France)                          4.07.34
19 Cody Warren (United States Of America)          4.07.46
20 Matti Lehikoinen (Finland)                      4.07.64
21 Joel Panozzo (Australia)                        4.07.80
22 Damien Spagnolo (France)                        4.08.41
23 John Kirkcaldie (New Zealand)                   4.08.73
24 Markus Klausmann (Germany)                      4.09.27
25 Adam Vagner (Czech Republic)                    4.09.53
26 Filip Polc (Slovakia)                           4.10.13
27 Ivan Oulego Moreno (Spain)                      4.10.34
28 Alan Beggin (Italy)                             4.10.78
29 Markolf Berchtold (Brazil)                      4.11.37
30 Glenn Haden (New Zealand)                       4.11.63
31 Damien Mermoud (Switzerland)                    4.11.70
32 D. Klaassenvanoorscht (United States Of America)4.11.82
33 Marcel Beer (Switzerland)                       4.12.18
34 Michael Hannah (Australia)                      4.12.37
35 Tom Holland (New Zealand)                       4.12.65
36 Pasqual Canals Flix (Spain)                     4.12.72
37 Bernat Guardia Pascual (Spain)                  4.13.21
38 Des Curry (New Zealand)                         4.13.24
39 Michal Marosi (Czech Republic)                  4.13.57
40 Bruno Zanchi (Italy)                            4.13.64
41 Dan Atherton (Great Britain)                    4.14.01
42 Romain Saladini (France)                        4.14.58
43 Herman Olund (Sweden)                           4.14.78
44 David Schatzki (Germany)                        4.15.03
45 Curtis Keene (United States Of America)         4.15.51
46 Nathan Rennie (Australia)                       4.15.76
47 Ben Reid (Ireland)                              4.16.10
48 Geritt Beytagh (United States Of America)       4.16.22
49 Christopher Van Dine (United States Of America) 4.16.35
50 Charles-Alexandre Dube (Canada)                 4.16.45
51 Frank Schneider (Germany)                       4.16.54
52 Craig Pattle (New Zealand)                      4.17.49
53 Maciej Jodko (Poland)                           4.18.12
54 Andre Wagenknecht (Germany)                     4.18.43
55 L. Leiva Antonio (Chile)                        4.19.50
56 M. Jarrin Molina (Ecuador)                      4.19.63
57 Nico Vink (Belgium)                             4.20.61
58 Matthias Haas (Austria)                         4.20.97
59 Samuel Zbinden (Switzerland)                    4.21.10
60 Kamil Tatarkovic (Czech Republic)               4.21.29
61 Claudio Loureiro (Portugal)                     4.21.51
62 Toni Berg (Finland)                             4.21.60
63 Jamie Popham (Ireland)                          4.21.78
64 Justin Brown (Canada)                           4.22.20
65 Andreas Sieber (Germany)                        4.22.22
66 Naoki Idegawa (Japan)                           4.22.73
67 Maxime Remy (France)                            4.22.78
68 Gerard Wolfe (Ireland)                          4.22.79
69 Ryo Uchijima (Japan)                            4.22.82
70 Carlo Gambirasio (Italy)                        4.23.24
71 Stefano Lacchetta (Italy)                       4.24.30
72 Tyler Morland (Canada)                          4.24.37
73 J. Franco Navarro (Colombia)                    4.24.69
74 Karlis Kisuro (Latvia)                          4.24.75
75 Julius Syvanen (Finland)                        4.24.88
76 John Lawlor (Ireland)                           4.24.94
77 Luke Kitzanuk (Canada)                          4.25.72
78 Glyn O'brien (Ireland)                          4.26.92
79 Federico Mattia Gemme (Italy)                   4.28.03
80 Marco Milivinti (Italy)                         4.28.33
81 Vesa Virta (Finland)                            4.28.94
82 Vlastimil Hyncica (Czech Republic)              4.33.72
83 Enrico Dal Fitto (Italy)                        4.35.00
84 Andraz Jersin (Slovenia)                        4.35.08
85 Walter Martinschitz (Austria)                   4.35.72
86 Jan Cestnik (Slovenia)                          4.36.15
87 Krisztian Halasz (Hungary)                      4.36.34
88 Louis-Philippe Leonard (Canada)                 4.37.57
89 Jorge Aguin Castro (Spain)                      4.41.04
90 J. Jaramillo Salzar (Colombia)                  4.41.16
91 Sergio Campos (Portugal)                        4.42.10
92 Amir Caspi (Israel)                             4.42.41
93 Marco Fidalgo (Portugal)                        4.43.67
94 Andre Jaramillo Botero (Colombia)               4.52.34
95 Andras Szecskay (Hungary)                       4.52.37
96 Volodymyr Boychuk (Ukraine)                     4.56.56
97 Santiago De Santiago (Argentina)                4.59.85
98 Artem Shybika (Ukraine)                         5.04.83
99 Andrew Neethling (South Africa)                 5.14.86
DNF Szymon Syrzistie (Poland)                                 
DNS Aki Farm (Finland)                                        
DNS Zsolt Somogyi (Hungary)