MTB World Championships - CM
Livigno, Italy, August 31-September 4, 2005
Main Page Results Previous Race Next Race
Race 2 - September 1: Junior Cross Country, 17.6/30.15 km
Juniors make first assault
By Rob Jones in Livigno
Czech rider Tereza Hurikova
Photo ©: Rob Jones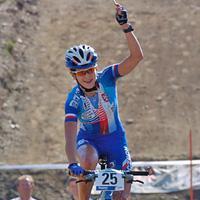 Today was the first run through of the full cross-country course - an unusually long circuit at 12.1 kilometres, shaped in a figure eight, with long climbs in each section.
The Junior women were the first to tackle this monster, completing one full lap, plus the shorter of the two loops that make up the circuit. To no one's surprise, it was the Czech rider Tereza Hurikova that took the rainbow jersey, a title she was denied last year, after flatting while in the lead. Germany's Hanna Klein finished second, followed by Tanja Zakelj of Slovenia.
Hurikova, who also won the road time trial title last year, and finished second in the event this year, stormed around the first short lap, nearly a minute and a half ahead of Swede Alexandra Engen. Engen cracked as the riders started their full lap, and was overtaken by Klein and Zakelj, who were working together to try and pull back Hurikova.
Hurikova agreed that the flat she suffered last year made her more cautious: "I remembered my flat tire from last year. I'll never forget it, I am still sad about it. But I just told myself to go, go, go, to not slow down. I didn't believe I was going to win. I went cautiously on the descent and around every rock.
Chloe Forsman (USA)
Photo ©: Rob Jones

I have been here for three weeks, but I still can't believe I won. It was a very hard course. My competitors were all very strong. I know that I am strong, but to go alone from start to finish is amazing.
I didn't know these other girls. It's my first time racing against them. I knew about five girls in my field, that's all. But every year there are more and more strong girls.
People ask me if I prefer road racing or mountain bike racing. I prefer the mountain bike. I love Livigno!"
Podium tears
Photo ©: Rob Jones

Klein, racing at her first world championships, came into the race of the back of a strong season, after winning the German championships and finishing 12th at the European championships. The immense amount of climbing on this circuit suited her and, after a slow start, she actually pulled back time on Hurikova in the last lap, turning the fastest lap of the race, 46 seconds faster than Hurikova.
"I'm not a specialist at the start." Klein admitted "I was very cautious. I was nervous about the flat sections, but I began to gain confidence as the race went on. I liked the climbing sections. I hoped to win, but I am very happy. I gave it my best."
Junior Men
Robert Gehbauer (Austria)
Photo ©: Rob Jones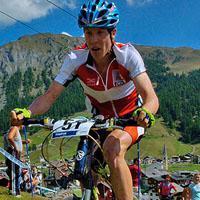 The Junior men added one more lap to their race, but it was all Robert Gehbauer of Austria. Gehbauer led after the first short loop, 23 seconds ahead of Olivier Sarrazin (France), and never looked back. Gehbauer actually recorded the top two fastest laps of the race, with his finishing lap second only to his first lap.
"It was a good course for me, I like this track. After I finished fifth at the European championship, I had confidence that I could win here. By the second lap I was sure that I was going to make."
Behind him, Sarrazin and Tim Wijnants (Belgium) rode a steady race together, always within a few seconds of each other. At the finish, Sarrazin managed to get into the final corner first to take the silver medal.
"Before the race, I was only hoping for top-10" said Wijnants, "so this result makes me very happy. I had a bad start, but was able to get to the front for the climb. Sarrazin and I chased him (Gehbauer) all race, we were joined from time to time by a few others, but we two were always at the front."
Tim Wijnants (Belgium) and Olivier Sarrazin (France)
Photo ©: Rob Jones

Canada's Neal Kindree had a very strong race, albeit with some misfortune. After a slow start, he steadily moved up through the field into the top 15 as they started the first full lap. Kindree continued to move up, and was only 25 seconds out of second place after the first lap (recording the fourth fastest lap time). Then disaster:
"I crashed the second time on the short loop, and my front tire popped off the bead. I inflated it, but then I had to inflate it again later. It was really disappointing.
I found it hard to get back into a rhythm, I couldn't really find it again. I felt good; I don't know if I could have held it, but I felt really good. I came into it not knowing what to expect - I've never raced a World Cup or anything before, so I was just hoping for a top 10. Eighth is good."
Race Notes
The venue from above
Photo ©: Rob Jones

Tomorrow at 10 am, the UCI will hold an information session for teams, federations and the press to discuss plans for the 2006 season. There has been a lot of confusion of late - the UCI had announced earlier that an organization headed by Martin Whitely and the Gestev group would take over the World Cup next season, however, the two sides never finalized an agreement. At one point, the UCI then informed national federations that they would block off 30 dates for UCI level events (a la ProTour), but appear to have backed off that idea. So, at this point there is no clear idea of what the schedule will look like for next season. Hopefully, tomorrow's meeting will clear up the confusion.
Photography
For a thumbnail gallery of these images, click here
Images by Rob Jones/www.canadiancyclist.com
Results
Junior Women XC - 17.6km

1 Tereza Hurikova (Czech Republic)         1.13.14 (14.42 km/h)
2 Hanna Klein (Germany)                       1.03
3 Tanja Zakelj (Slovenia)                     2.18
4 Marianne Vos (The Netherlands)              3.06
5 Nadja Roschi (Switzerland)                  3.28
6 Julie Krasniak (France)                     3.53
7 Alexandra Engen (Sweden)                    4.27
8 Liliya Zaytseva (Ukraine)                   5.12
9 Chloe Forsman (USA)                         6.21
10 Nataliya Krompets (Ukraine)                7.08
11 Verona Sovcikova (Slovakia)                7.26
12 Judith Pollinger (Italy)                   8.07
13 Emiliy Batty (Canada)                      8.16
14 Sandra Weber (Germany)                     8.24
15 Silke Schmidt (Germany)                    8.52
16 Johana Sovcikova (Slovakia)                9.03
17 Nicole Perruchon (Italy)                   9.44
18 Claudia Sieder (Italy)                    10.01
19 Joëlle Schmutz (Switzerland)                   
20 Isabelle Jacques (Canada)                 11.03
21 Nina Gulino (Italy)                       11.18
22 Emilie Beaumont (Canada)                  11.20
23 Erica Oldfield (Australia)                11.56
24 Rasa Leleivyte (Lithuania)                13.09
25 Jennifer Fischer (France)                 13.15
26 Evgenia Belozerova (Russia)               13.17
27 Michelle Bellamy (New Zealand)            13.34
28 Vera Andreeva (Russia)                    14.01
29 Heletje Van Staden (Namibia)              14.14
30 Katarina Uhlarikova (Slovakia)            14.26
31 Evelyne Frei (Switzerland)                16.07
32 Marie-Claude Surprenant (Canada)          18.14
33 Evelyne Pichette (Canada)                 18.24
34 Paula Quiroz (Argentina)                  18.41
35 Kaitlin Michener (Canada)                 20.47
36 Sabine Stiegler (Austria)                 20.56
37 Elisabetta Borgia (Italy)                 24.58
38 Danae York (USA)                          31.00
39 Anna Fordos (Hungary)                     44.13
DSQ Aleksandra Dawidowicz (Poland)                
DNF Magdalena Pyrgies (Poland)                    
DNF Ilke Dejongh (Belgium)                        
DNF Tatjana Kaliakina (Lithuania)                 
 
Junior Men XC- 30.15 km

1 Robert Gehbauer (Austria)                1.38.45 (18.32 km/h)
2 Olivier Sarrazin (France)                   3.11
3 Tim Wijnants (Belgium)                      3.15
4 Martin Fanger (Switzerland)                 3.40
5 Alejandro Dario Gasco (Argentina)           4.03
6 Patrik Gallati (Switzerland)                4.32
7 Cristian Cominelli (Italy)                  4.53
8 Neal Kindree (Canada)                       4.56
9 Vivien Legastelois (France)                 5.23
10 Fabian Giger (Switzerland)                 6.33
11 Alexis Vuillermoz (France)                 7.40
12 Lukas Kaufmann (Switzerland)               8.04
13 Guillaume Vinit (France)                   8.18
14 Raphael Gagne (Canada)                     8.56
15 Anders Hovdenes (Norway)                   9.22
16 Sepp Freiburghaus (Switzerland)            9.57
17 Cal Britten (Australia)                   10.03
18 Heiko Gutmann (Germany)                   10.13
19 Matthys Beukes (South Africa)             10.43
20 Clinton Robert Avery (New Zealand)        11.24
21 Dries Govaerts (Belgium)                  11.47
22 Giancarlo Sax (Switzerland)               11.55
23 Robert Gavenda (Slovakia)                 11.56
24 Yannick Martinez (France)                 11.57
25 Matteo Fabbri (Italy)                     12.19
26 J. Castiblanco Cubide (Columbia)          12.36
27 Joel Healy (Australia)                    13.17
28 Luka Homovec (Slovenia)                   13.37
29 Paolo Treachi (Italy)                     14.00
30 Tom Meeusen (Belgium)                     14.10
31 Garry Millburn (Australia)                14.25
32 Frank Beemer (The Netherlands)            14.41
33 Colin Cares (USA)                         14.51
34 Alex Harvey (Canada)                      14.56
35 Yu Takenouchi (Japan)                     15.14
36 Max Knox (South Africa)                   15.24
37 Mattias Wengelin (Sweeden)                15.30
38 Max Oste Macdonald (Sweeden)              15.37
39 Daniel Johnston (Australia)               15.43
40 Ivan Grabovskyy (Ukraine)                 16.26
41 Martin Nemecek (Czech Republic)           16.40
42 Ermin Van Wyk (Namibia)                   17.08
43 Andrea Mosconi (Italy)                    17.09
44 Lucian Logigan (Romania)                  17.30
45 Oliver Aviles Gilabert (Spain)            18.32
46 Patrick Thoma (Germany)                   18.39
47 Georges-Edouard Duquette (Canada)         18.49
48 Nieck Busser (The Netherlands)            19.14
49 Michel Urbani (Italy)                     19.43
50 Andrew Arthur (Australia)                 19.52
51 Mohor Vrhovnik (Slovenia)                 20.30
52 Kyle Hammaker (USA)                       20.40
53 Mauro Gonzalez Fontan (Spain)             20.48
54 Mitchell Peterson (USA)                   21.23
55 Ian Mcavity (Canada)                      21.27
56 Joao Pereira (Portugal)                   21.34
57 Joao Matos (Portugal)                     21.50
58 Severin Disch (Switzerland)               22.02
59 Michael Cummings (USA)                    22.07
60 Lachlan Norris (Australia)                22.09
61 Carlos Rodrigo Sigre (Argentina)          22.18
62 Dmitry Medvedev (Russia)                  22.50
63 Tristen Uhl (USA)                         23.00
64 Matthias Waldhart (Austria)               23.16
65 Andriy Gumenyuk (Ukraine)                 25.54
66 Joel Martinez Fernandez (Andorra)         26.35
67 Borut Fonda (Slovenia)                    27.41
68 Jakob Bering (Denmark)                    28.05
69 Sergey Nikolaev (Russia)                  28.36
70 Nuno Segundo (Portugal)                   28.44
71 Carl Jones (New Zealand)                  29.08
72 Catriel Daniel Soto (Argentina)           29.24
73 Leni Gelinas-Trudel (Canada)              29.27
74 André Francisco (Portugal)                29.42
75 Igor Sitnikov (Russia)                    30.39
76 Andrew Mccullough (Irland)                31.09
77 Luke Mills (New Zealand)                  31.16
78 Sebastian Lehr (Germany)                  32.49
79 Boaz Hemmo (Israel)                       33.40
80 Mate Palfy (Hungary)                      35.21
81 Kornel Vratarics (Hungary)                35.24
82 Rudolf Sos (Serbia and Montenegro)        39.18
83 Ryan Anderson (Canada)                    40.08
84 Dragan Jasovic (Serbia and Montenegro)    56.08
 
1 lap behind
 
85 Sahel Martinovic (Serbia and Montenegro)       
DNF Markus Diller (Germany)                       
DNF Gunther Huber (Italy)                         
DNF Johannes Schweiggl (Italy)                    
DNF Ales Broz (Czech Republic)                    
DNF Daniel Federspiel (Austria)                   
DNF Burry Stander (South Africa)                  
DNF Stanislav Vasilyev (Russia)                   
DNF Adrian Dzialakiewicz (Poland)                 
DNF Daniel Zywer (Poland)                         
DNF Roberto Aitor Ruiz Lopez (Spain)              
DNF Tanel Kangert (Estonia)                       
DNF Nicodemos Protopapas (Cyprus)