2004 MTB World championships - CM
Les Gets, France, September 8-12, 2004
Main Page Results Previous Race Next Race
Race 9 - September 11: Downhill Elite Men
Title to Barel as Peat crashes out
By Rob Jones in Les Gets
Fabien Barel (France)
Photo ©: Birke Ulrich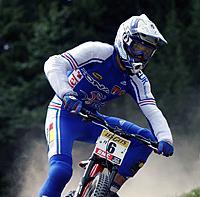 Fabien Barel reclaimed French honour by winning the men's downhill title, after the unbeatable Anne-Caroline Chausson could not start the women's race due to an injury suffered in training. Barel's victory came in the final moments, when top-seeded Steve Peat (Great Britain) crashed within sight of the finish line, while over a second ahead. Defending champion Greg Minnaar (South Africa) was second, and former junior champion Sam Hill (Australia) third.
The threat of rain led to a number of riders posting purposely slow times in the seeding run, hoping that they would therefore ride before the onset of any precipitation. Despite an early morning sprinkle, the rain held off, leaving the trail dusty and loose. Hill was the second rider out of the gate, and his time of 2:42.20 held up for over half an hour, until Minnaar managed to knock eight-tenths off the top time. Approximately 16 minutes later, Barel soared across the finish line and into the hotseat, six-tenths of a second faster again.
However, there were still 32 riders to come, including Peat, the fastest qualifier, and the World Cup champion (he locked up the title in Calgary). Peat came through the first time check a full second faster than Barel, and looked to be on track to break his record of three second places. Unfortunately for him, coming out of the final wooded section and into a small compression before the last two jumps, Peat lost control in spectacular fashion, flipping over in a cloud of dust and ripping through the course tape. He quickly got up and going, but the damage had been done, and he finished 11th, 4.69 seconds down.
Chris Vandine
Photo ©: Birke Ulrich

Afterwards, he was stunned at the finish line, unable to believe that the world title had slipped from his grasp again. "I think there was a root there and it kicked my wheel out, spun me around. I knew I was on a good run, but I didn't know I was leading. I hadn't had a problem there all week, I've been making time on people, but you've got to have a perfect run on the day."
Barel had actually conceded victory to Peat. "I was waiting for Steve. I knew my time was good, but when i saw Steve passing one second in front (at the intermediate check), I knew he would make it and I stood up and started to clap for him.
"But then everyone started crying 'you are the world champion!', and I saw the dust, and then I started to realize I had done it. I prepared for this race for a year and a half; I prepared only for this race. To win here in Les Gets is exceptional. It is only in a dream that you think this happens, and then it becomes real."
Photography
Trouble
Photo ©: Rob Jones

Images by Birke Ulrich/www.alakarte.de
Images by Rob Jones/www.canadiancyclist.com
Images by Birke Ulrich/www.alakarte.de
Results
1 Fabien Barel (France)                  2.40.78
2 Greg Minnaar (South Africa)            0.00.58
3 Samuel Hill (Australia)                0.01.42
4 Joel Panozzo (Australia)               0.02.03
5 Nathan Rennie (Australia)              0.02.04
6 David Vazquez Lopez (Spain)            0.02.81
7 Julien Camellini (France)              0.03.23
8 Cedric Gracia (France)                 0.03.72
9 Marc Beaumont (Great Britain)          0.04.21
10 Gee Atherton (Great Britain)          0.04.55
11 Steve Peat (Great Britain)            0.04.69
12 Justin Havukainen (Australia)         0.05.59
13 Karim Amour (France)                  0.05.69
14 Matti Lehikoinen (Finland)            0.05.74
15 Damien Mermoud (Switzerland)          0.06.18
16 Pasqual Canals Flix (Spain)           0.06.33
17 Jared Rando (Australia)               0.06.64
18 Sebastien Autale (France)             0.07.04
19 Oscar Saiz Castane (Spain)            0.07.23
20 Dan Atherton (Great Britain)          0.07.26
21 Adam Vagner (Czech Republic)          0.07.40
22 Nico Vink (Belgium)                   0.07.96
23 Markus Klausmann (Germany)            0.08.42
24 Craig Pattle (New Zealand)            0.08.48
25 Alan Beggin (Italy)                   0.08.69
26 Justin Leov (New Zealand)             0.08.78
27 Yoann Barelli (France)                0.09.18
28 Marcel Beer (Switzerland)             0.09.36
29 Sascha Ehrmann (Germany)              0.09.37
30 Jared Graves (Australia)              0.09.51
31 John Kirkcaldie (New Zealand)         0.09.93
32 Chris Vandine (USA)                   0.10.00
33 Kamil Tatarkovic (Czech Republic)     0.10.36
33 Tom Holland (New Zealand)                    
35 Neil Donoghue (Great Britain)         0.10.52
36 Claudio Caluori (Switzerland)         0.10.53
37 Vlastimil Hyncica (Czech Republic)    0.10.73
38 D Klaassenvanoorschot (USA)           0.11.51
39 Sebastian Vasquez (Chile)             0.11.62
40 Gertje Tholen (Netherlands)           0.12.25
41 Mathieu Laurin (Canada)               0.13.38
42 Filip Polc (Slovakia)                 0.13.54
43 Nino Antic (Croatia)                  0.14.30
44 Andrew Neethling (South Africa)       0.14.32
45 Michal Marosi (Czech Republic)        0.15.27
46 Oscar Yunge (Chile)                   0.15.54
47 Will Longden (Great Britain)          0.16.09
48 M Estrada Pulgarin (Colombia)         0.16.52
49 Bruno Zanchi (Italy)                  0.16.65
50 Andreas Sieber (Germany)              0.16.75
51 Himar Sanchez Salminen (Spain)        0.16.85
52 Nathaniel Giacomozzi (Brazil)         0.16.91
53 Glyn O'Brien (Ireland)                0.17.29
54 Walter Martinschitz (Austria)         0.17.73
55 Andrew Yoong (Ireland)                0.18.03
56 Eric Goss (Canada)                    0.18.04
57 Stefan Kudella (Germany)              0.18.60
58 Jukka Keinonen (Finland)              0.18.73
59 Frank Schneider (Germany)             0.19.01
60 Espen Johnsen (Norway)                0.19.08
61 Matthias Haas (Austria)               0.19.49
62 Tim Mackersy (New Zealand)            0.19.80
63 John Lawlor (Ireland)                 0.19.96
64 Karlis Kisuro (Latvia)                0.20.15
65 Judd Devall (USA)                     0.20.47
66 Bas De Bever (Netherlands)            0.20.48
67 Toni Berg (Finland)                   0.20.57
68 Matej Charvat (Czech Republic)        0.20.84
69 Rudiger Jahnel (Austria)              0.21.71
70 Michael Jones (Canada)                0.21.76
71 Thomas Ryser (Switzerland)            0.22.13
72 Colin Ross (Ireland)                  0.23.01
73 Aku Tuunainen (Finland)               0.23.18
74 Markus Petschenig (Austria)           0.23.24
75 Sven Martin (South Africa)            0.24.86
76 Andres Sotomayor (Equador)            0.25.89
77 Zigis Skolins (Latvia)                0.26.75
78 Michael Golles (Austria)              0.26.99
79 Volkmar Berchtold (Brazil)            0.27.59
80 Nuno Duarte (Portugal)                0.27.72
81 Claudio Loureiro (Portugal)           0.28.65
82 Martin Raffo (Argentina)              0.28.96
83 Oscar Pellegrina (Argentina)          0.29.44
84 Andre Beato (Portugal)                0.29.60
85 Naoki Idegawa (Japan)                 0.29.95
86 Marco Fidalgo (Portugal)              0.32.10
87 Andy Smith (Ireland)                  0.33.34
88 Bernat Guardia Pascual (Spain)        0.34.25
89 Jose Sousa (Portugal)                 0.35.35
90 Gonzalo Rodriguez (Argentina)         0.35.77
91 Sergey Maltsev (Russia)               0.36.34
92 Stephan Noser (Liechtenstein)         0.36.51
93 Marcio Ferreira (Portugal)            0.37.04
94 Sorin Parau (Roumania)                0.38.18
95 Diego Naranjo (Equador)               0.38.72
96 Markolf Berchtold (Brazil)            0.39.67
97 Robert Sgarbi (Brazil)                0.41.17
98 Gary Barnard (South Africa)           0.43.49
99 Derrick Chambers (Canada)             0.44.16
100 Geza Kinda (Roumania)                1.03.80
101 Dustin Adams (Canada)                2.31.49
102 A Pittigliani Junior (Brazil)        3.36.20
DSQ Diego Contreras (Equador)                   
DNF Bryn Atkinson (Australia)                   
DNF Juan Franco (Colombia)                      
DNS Vincent Saut (France)                       
DNS Rene Wildhaber (Switzerland)                
DNS Jure Logar (Slovenia)