MTB index page for all MTB content
An interview with Julien Absalon, June 3, 2008
Staying on top
Every so often one rider comes along to dominate a cycling discipline. Julien Absalon is the man at the top of cross country mountain biking. He has won just about all the titles possible in his chosen sport in recent years. Gunter Hauspie travelled to the Vosges Mountains in the east of France to chat with the top favourite for the gold medal at the upcoming Beijing Olympics in August.
Defending Olympic Champion Julien Absalon
Photo ©: Gunter Hauspie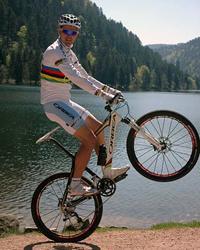 Frenchman Julien Absalon was 20 minutes late for the interview in the isolated Hohnech - one of the most beautiful viewpoints of the Vosges. "Sorry, I got a bit lost," the Orbea rider said as he introduced himself. The 28 year-old champion stands 1.78 meters tall and despite living just 35km away in Saint-Amé, he'd never been here before.

"I often train in these parts of the mountains, but I stay on the magnificent "Route des Crêtes", a little lower. I've never taken this road to the top," said Absalon before he removed his bicycle from a cherry-red Nissan Micra Cabriolet. Its frame just fits in the back seat space, and the two wheels fill the car trunk. He is ready for a relaxed training ride to Lake Xonrupt-Longemer.

Absalon was the World Champion in 2004, 2005, 2006 and 2007. He won the World Cup overall in 2003, 2006 and 2007 and was Olympic Champion in 2004. He is gearing up for the next Olympic competition in Beijing, China, on August 23.

Cyclingnews: You were born here in the Vosges in Raon-aux-Bois, near Remiremont, and you have always lived here. Did you ever think of moving to the real mountains?

Julien Absalon: No. There is no better training location than the Vosges. For road training, I come to these high summits. The roads are good, and not much traffic. Mountain biking, however, I do closer to home. I begin at my front door. The mountains are 800 to 900 meters high with many short climbing sections and descents and technical singletrack. The mountains are wooded, so [there are] a lot of tree roots as well. Altogether, a very varied itinerary. At higher altitudes, the parcours becomes more monotonous, rougher, and in winter, inaccessible and too cold for training rides. I travel 210 days a year. Nowhere did I find a better mountain biking region than my Vosges.

CN: But didn't you go south to Fréjus at the Côte d'Azur, last winter, to prepare for the season?

JA: Yes, because of the snow here, from January to March. I went south, indeed. But in normal circumstances I can train on the Vosges Mountains even in winter. As soon as the snow had disappeared, I came back. It's no use to train in ideal conditions, when during the competitions one has to ride in bad weather anyway. Besides, the Vosges are centrally located between Belgium, Germany and Switzerland. Most MTB events occur here.
"Because one wins so often, people begin to take it for granted. But that is not the way it is. I'm never the winner beforehand. Every season needs a different preparation."
-Julien Absalon on what it's like at the top..
Cyclingnews: At the opening competition for the World Cup at Houffalize, in Belgium, you won easily. And you kept winning afterwards. Haven't you reached your top condition too early this Olympic year?
Julien Absalon: No, I'm on schedule. I planned two peaks this year. The World Championship in Val di Sole in Italy on June 22 and the Olympic race on August 23. The other competitions, I'll participate in them, but they are not essential. I won the first three rounds of the World Cup, which gives me an advantage. It allows me to skip some rounds if I so decide. It will be a long and difficult year. For example, one week after the Olympic Games, a stage of the World Cup will be held in [Canberra] Australia.
CN: It is said that you may very well retain your Olympic title at Beijing. Whom do you expect the greatest resistance from?
Julien Absalon (Orbea) seems unbeatable at the races for which he peaks
Photo ©: Dave McElwaine

JA:The same as in Athens: [Christoph] Sauser from Switzerland, [Jose Antonio] Hermida from Spain... . And there is now a promising generation of young Swiss riders, such as [Nino] Schurter who is doing very well. The question is whether they will compete at the Games. Finally, I see the Swede [Frederik] Kessiakoff as a great competitor in Beijing.
CN: Doesn't the air pollution worry you more than the contestants?
JA: No. The air is the same for everybody. In September I went to Beijing to explore the circuit. It's situated in the centre of the city and the pollution was terrible, indeed. It felt like riding a bike in an underground parking lot. They promised the air would be better this summer. I hope so. It's the competitors that I worry about more. Everybody will be watching me. In Athens, I was an outsider, now I'm the favourite. On the other hand, I feel I'm more mature now and stronger than four years ago."
CN: What's the circuit like?
JA: It is a four-kilometer circuit. The climbing sections are short and there are many turns. I think the Chinese don't know how to descend. So, in the technical sections, it will be difficult to make a difference. Because of the many changes in rhythm, I'm now concentrating on interval training in order to gain strength. I don't really like the parcours. But that is not necessarily a bad thing. I can train for the circuit as it is. Besides, it is comparable to the circuit of the World Cup in Madrid. And that is where I won.
CN: By the way, what do you think of a possible boycott of the Games because of the political situation in Tibet?
Julien Absalon (Orbea) cruises at the Madrid World Cup
Photo ©: Luke Webber

JA: I don't think it is the athletes' role to exert political pressure. If you ask my opinion concerning the situation in Tibet, my answer is that the Chinese approach is wrong. If I could wear a badge against their approach, I would do it. But they won't allow this, so I won't do it. It's not up to the athletes to get involved in this kind of controversy. There are politicians who are more informed and better placed to tackle this problem.
CN: What keeps you motivated? There is not a title that you haven't won yet.
JA: Because one wins so often, people begin to take it for granted. But that is not the way it is. I'm never the winner beforehand. Every season needs a different preparation. This year, for example, I've planned and I'm training for two peaks. That's not easy.
In 2004, the World Championship took place two weeks after the Olympic Games. That meant: one peak was enough. Not now. You ask yourself how to proceed. You change your training method, follow different schedules, work out different strategies.
The Beijing circuit also demands a different preparation. No season is similar to any other. That's what I find interesting and what motivates me. Besides, I do not win all the time. But I do win the most important competitions. Do you think that is a coincidence?
CN: You are 28 now. Will Beijing be the summit of your career?
JA: No. There are the London Games in 2012. I want to be a winner there, too. I'll be 32. That is the age when one reaches the peak of one's abilities. As long as I enjoy mountain biking and training as much as I do now, I know I can still improve my performance. The ambition to become the best is one thing, but, for me, the ambition to remain the best is just as challenging.
Julien Absalon (Orbea) has had plenty of practice giving a winning salute
Photo ©: Dave McElwaine

CN: Do you take into account a possible defeat in Beijing?
JA: Sure. But it won't overly depress me. To the contrary, a defeat would be an incentive for me to train even more intensively and to establish new goals.
CN: Was mountain biking your first favourite sport?
JA: Not at all. As a young child I tried out many sports. Each time for only a few months. I did do a lot of judo, though, and skiing. These two sports helped me later when I picked up mountain biking. They taught me how to fall, how to keep my balance and how to change directions. My sponsor does not allow me to ski any more. At the age of 14, I started mountain biking - kind of late to begin a new sport. In my first competition I finished seventh. I often ended up in the top five. Only in 1997, four years later, did I manage to win my first junior competition with Roc d'Azur. From then on my life was like being caught in a rapid.
CN: Your brother Rémy is four years younger than you, and for three years in a row, he has won the title of European Champion for marathon downhill mountain biking. Will he become as good as you?
JA: We often train together. In climbing I win, but in descending, he's better. Physically, he's very strong - he amazes me time and again. But he lacks conviction when training, and precision as well. Rémy has long hesitated [in deciding] between cross country and downhill. But now he has definitely chosen a discipline that is somewhere in between: marathon downhill. I'm glad he has finally made up his mind.
CN: Is there life for you after mountain biking?
JA: Yes, I've been thinking about that. Rémy runs together with a friend Irwego, a touring business that offers guided mountain bike rides at any level in the Vosges Mountains. After my sports career I would like to join them. But that is for a distant future.
Photography
For a thumbnail gallery of these images, click here
Images by Gunter Hauspie