MTB index page for all MTB content
An interview with Irina Kalentieva, June 11, 2008
Riding with her head
Irina Kalentieva came originally from the little-known Russian province of Chuvash to conquer the world – the world of mountain biking. She won the World Championship title in cross country last year in Fort William, and will look to defend that title next week in Val di Sole, Italy. She has lived in Germany for the past five years, and that is where Cyclingnews' Susan Westemeyer caught up with her.
Kalentieva won the Worlds last year, saying that she really wanted it.
Photo ©: Rob Jones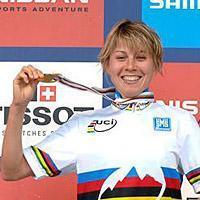 Talking with the 30 year-old, one is struck by how often she mentions her motivation, leading to the question, does she ride with her head as much as with her legs? "My head – the motivation – is the most important. All the riders have good legs, good training, we are all equal physically. Five or six of us, all the same," she said. "But the one who will win in the end is the one who is strongest in the head, who thinks positively. For me, I use my head a lot in racing, for example in tactics." She continued, "In the World Championships, all are strong and it is very difficult, but I tell myself that I can do it. That is my strength."
That was also how the Topeak Ergon racer won the World title last year. "It was something very special, all the strongest riders in the world were there, even (Gunn-Rita) Dahle Flesjĺ (Multivan Merida). It was very special. I thought I could finish in the top three. The course was very good for me, the downhill, everything worked out 100 percent.
"I had the strongest motivation to win and to become World Champion, that helped. Perhaps I was no stronger than the others, but with this motivation ... that I one day wanted to become World Champion, that helped" to bring her the title.
Winning that title was the best moment in her career. The worst moment was four years ago, in the 2004 Olympics in Athens. "I got sick two days before the race. We figured on a medal and then I got sick. I rode anyway, and finished 13th out of 32, fever and all. I could have died, but that didn't matter."
The Russian is from Norwash-Shigalj in the Russian province of Chuvash, which is located in the Volga region not far from Nijnij Novgorod. Why did she make the long trip to Aalen, Germany, and end up living there? I wanted to go to Europe because there are so many races there, World Cup or Bundesliga," she said. "All of my main rivals are in Europe. It is perfect for preparation and for taking part in races. I can watch my rivals closely and change my training plans quickly when I need to."
The proximity to the races has been good for her. In 2007 she won the World Championships, the World Cup and four World Cup races. She was second in the recent European Championships in St. Wendel, Germany, as she also was in the 2006 worlds in Rotorua, New Zealand. She has been Russian national champion seven times, and is the five-time winner of the German National Series (Bundesliga).
"I had the strongest motivation to win and to become World Champion, that helped."
-Kalentieva is convinced that mental strength is at least as important as physical ability.
There is another advantage to living in Germany, and that is that "it is much easier to go mountain biking in Germany than in Russia. Here in Germany there are many bike paths, where you can ride away from the autos, and in the forest, too, where you can train in peace and quiet. In Russia there is only the road, and no special trails for mountain bikers. It is much too dangerous to train there."
Kalentieva started out in track and field and tried cyclo-cross before turning to mountain biking in 1993. Her change came about this way: "Our city bought two mountain bikes for the athletes. We got one, that is, our team's trainer got one. Then I just started riding it. I liked it a lot, it was something special, and I really enjoyed it a lot, this technique. That's when I decided: I want to ride mountain bikes.
"We had 10 girls in our club, all of whom wanted to train on this one bike. It was very diffiicult, and we had to work out an exact time plan. One girl had it from 5:00 to 6:00 pm, the next from 6:00 to 7:00 pm, and so on. That's how it started."
Her 2008 season got off to a good start with a second place in Houffalize, Belgium and a win in Offenburg, Germany. "When I got through January, February and March without getting sick, then I knew that I would be good this season. I had a lot of motivation from last year when I was also good, so I knew I would also be near the front this year. It was my goal to win one World Cup, and now I have done that."
Her good health hasn't lasted though. She started feeling poorly in Houffalize, "and it got a lot worse after Offenberg. I was fighting my allergies, my nose was stuffed up. Since I couldn't breathe through my nose, I had to breathe through my mouth, which brought about breathing problems and it went down to my lungs. I coughed a lot and had to take antibiotics. That is why I skipped [the] Madrid [round of the World Cup]."
Irina Kalentieva on the Offenburg course during her great 2007 World Cup campaign
Photo ©: Rob Jones

Despite that, she went to the European championships and finished second, better than expected. "I hadn't figured that I would be able to ride, but it worked out well, and I was very good despite my sickness. I am still not entirely healthy. I'm still taking antibiotics for a sinus infection, plus a strong nasal spray, and I need to rest. But I am very motivated for the World Championships.".
Kalentieva also skipped the Andorra and Fort William rounds of the World Cup to try and clear up her sinus infection. Instead, she flew to Teneriffa, Canary Islands, to train at altitude.
Her next goal is "to be in the top three at the worlds. Right now it is hard to say whether it will be first, second or third, but I want to win a medal."
After the Worlds come the Olympics, another special goal. "This year is something special. The races are very difficult, but I am doubly motivated to win a medal. I have been in this sport 14 years and winning an Olympic medal is the ultimate. But the important thing is to stay healthy."
She has not been to China to see the course, which is said not to be very technical, and thus wouldn't necessarily meet her strengths. Kalentieva said, "The course in Beijing is pretty flat. You need a lot of strength for that. It will be difficult for me there. There are others who are stronger, but I am well motivated and I changed a lot in my training plan and I think it will work out. Because of that I am not bad on flat courses – I can be good there, too. I see it positively," she added, one again showing how important her head is in her racing.
Kalentieva during a training ride
Photo ©: Oliver Kessler

Turning philosophical, the Russian said, "The Olympics and the worlds are a lot of responsibility, they involve a lot of excitement and tension. The Olympics are only once every four years. It can be a little dangerous when you give 100 % in every race, when you want to win every race, and then you want to win in Beijing, too. That will be difficult. The Olympics stand much higher than the Worlds, but for me the World Championships are just as important as the Olympics. A medal in the worlds would motivate me espcially for the Olympics. If I am good in the worlds, then I know I will be good in the Olympics."
Looking specifically at the Beijing games, she says she and all the other athletes will find it difficult "with the heat, humidity and pollution. It is hard for competitive athletes. We have to carefully acclimate ourselves. Some athletes like the heat, some don't. I don't particularly like it. but I have discovered that last year I had many good races in the heat, like Madrid. I was good there, finishing third," and repeating her favourite word, "So I think yes, I am a little scared but I am well motivated. And the conditions are the same for everyone."
There will be a lot of competition for the top spots in Beijing, with the Chinese riders having good chances. "They surprise you always, you never know what to expect," she said laughing. "They are young, but strong. Margarita Fullana [Massi] or Sabine Spitz [Central Ghost] or Gunn-Rita, there are six or seven of them."
Looking at Dahle, who sat out last year, she says that the Norwegian will probably return to the top of the sport, but be unable to dominate it again as she once did. "She dominated the sport for three or four years; she won every race. Last year she was out, really out, didn't ride any races. It made the racing more interesting. Before that it was Gunn-Rita rides, she wins, that was it. Last year, there were more winners."
Kalentieva is all smiles
Photo ©: Oliver Kessler

"I think she will come back but it won't be as easy for her now to just ride away from all the others as she did before. We are a big group of equally strong riders, there is no one dominant rider. But I think she will get stronger over the season. She knows what she has to do because she has done it all before. That will motivate her."
Looking to the future, she says she might change disciplines – someday. "Right now I am fully motivated for the World Cup or the World Championships. Sometime when I get older, I could ride stage races or marathon races. It just doesn't fit me right now, because of my speed. After my career, when I am 36, 37, 38, then I will try stage racing. But right now I have other goals."
And those goals right now are the worlds and the Olympics, races in which a positive head game will make a difference in performance. Kalientieva knows that it won't be easy to peak twice in one season, but she will try. "I am very motivated, but I always see things positively. I know what I am doing, and I want a medal and that helps a lot.
"It will be difficult to win a medal in two competitions, very difficult, but I want a medal. I WANT a medal. That is what I said last year and it worked.
"Of course, it can also be two medals!"
Photography
For a thumbnail gallery of these images, click here
Images by Rob Jones/www.canadiancyclist.com
Images by Oliver Kessler/www.topeak-ergon-racing.com