MTB index page for all MTB content
An interview with Gunn-Rita Dahle Flesjå, May 8, 2008
Back to the beginning
One year ago the most dominant woman in cross country was sidelined with a virus that kept her out of competition for the rest of the 2007 season. Through a mix of complacency, urgency and a passion to ride came her biggest downfall. Cyclingnews' Luke Webber talked with Gunn-Rita Dahle Flesjå after the Offenburg, Germany World Cup as she orchestrated her slow, but steady comeback. Little did she know at the time of the interview that she'd win the third round of the World Cup in Madrid just days later.
Gunn Rita Dahle Flesjaa (Multivan Merida)
Photo ©: Dave McElwaine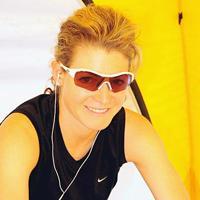 If you were to ask any mountain bike afficianado the odds of Gunn-Rita Dahle pulling out of a World Cup held in the home country of title sponsor Merida, at a time when she was at the head of the race after only two laps without any mechanical difficulty, everyone would have deemed it impossible.
A dominance stretching over four years and an ability to race and win even when not in peak condition had led to a previously unseen level of respect from other athletes. A tireless schedule of racing, training and media work never detracted from her results, but in May 2007 that all changed.
"I should definitely not have raced - that's why I say to everyone on the team now, 'Don't make the same mistake that I did'," said Dahle Flesjå. "When we arrived here in Offenburg last year I had already been sick for three weeks, but I was in such good shape because I was in a peak. So I felt like I could compete and do OK."
What followed was the onset of a virus that would ravage cross country's premier rider of any energy and deny her chances of racing for another rainbow jersey last September. Even before the race it was evident that this was more than a small illness, but Dahle Flesjå admits that both she and her husband/trainer, Kenneth, got carried away in the moment.
"You are on the edge where it can be bad for your health in the long term."
- Gunn-Rita Dahle Flesjå reflects on her mistakes
"Looking back in the last five and a half years, we have been pushing the body to the absolute limit and you are on the edge where it can be bad for your health in the long term," she said. "After the first World Cup we were in such good shape when we had planned no peak so we were working so hard to get the maximum when we did peak. But we felt so strong. We only lost Houffalize by a couple metres.
"The body was on the limit for sure but we wanted to push the hardest ever," she said. "But in that period we got too excited and forgot. We got complacent, we missed the sign pointing of resting, but feeling more tired. And we didn't listen, we were not awake enough. If I hadn't felt the pressure we would have been more honest with ourselves. It was a German race with a German-based sponsor. If I was less pressured I would have not raced. But the pressure only came from within."
One year down
Former World Champion Dahle Flesjaa goes to the front early
Photo ©: Dave McElwaine

Having to drop an entire year from competition is the worst nightmare for any rider. Sponsorship deals expire and renewed motivation is at risk, but having to also stop training entirely for over five months due to illness could be the difference between racing again and finding a normal job.
Fortunately for Dahle Flesjå, however, the relationship with her sponsors Merida was a special one, where even the executives at the very top understood what she had provided over the past years and how much more could come.
"When I stopped I felt a lot of responsibility toward the sponsors and maybe what would happen if I would lose them," she admitted. "We have been with Merida from the start of the winning streak and we always had support from them but we felt guilty for not giving anything back when we should have been giving the most. To know they had full confidence in me - even from the big boss - was a great feeling."
The mental barriers of not training were almost as much as the physical ones, too. Such was the confidence in the Dahle Flesjå camp when the first doctor told them it would be a year before any serious training could commence it was seen as "the biggest joke ever". But the reality hit home finally after a training camp where just 10 hours in one week was enough to totally exhaust any reserves remaining.
From then on Gunn-Rita and Kenneth stayed away from home and only really rued their mistake the World Championships. "I really felt shitty for a week. I realised how big my mistake was," she said. "And the week before the Worlds I said 'I really hate this and in the future everything comes second to my health'. That way I can keep in control - I can ride my bike again. It doesn't even matter if I never win again."
A whole new outlook
Dahle Flesjaa (Multivan Merida) leads Marga Fullana (Masi)
Photo ©: Dave McElwaine

This was the start of a whole new outlook for the seemingly invincible multi-timeWorld and Olympic champion and this year has already seen the implementation of the new plan. Stopping early, while leading a German national race with a lot of big name competitors, was the first of the moves that are being made specifically because of a lack of training.
"I only started training again in January, but it was nowhere near the same level," explained Gunn Rita. "If I trained hard it would take forever to recover again. Even though I started to get energy back, if I did a little too much I would have to take a week off. Two days without enough sleep and again I had to take a half week off. So everything had to be done so steadily."
Already, World Cup round four in Andorra has been scratched from the schedule because there are too many races leading up to the World Championships, which are the first aim of the season [in mid-June]. This strategy comes despite a strong performance in Houffalize, in Belgium, where Gunn Rita finished sixth in her first race in 11 months.
Even though some of the old pace is there, she had no aspirations for the first batch of races. "We know the exact training we need to win a World Cup and right now we are nowhere near," said Kenneth just days before his wife went on to her win in Madrid at round three.
This mantra rang true in Offenburg, Germany, where almost the whole Merida team suffered from colds. With fresh bad memories, Gunn-Rita was on hand to give out advice.
"I was really shocked with how I felt after Houffalize; it felt like I had been in a war," she said. "It was my first race in 11 months and two days after, I was in bed not feeling great. Everyone on the team got ill. When it comes to getting ill being such a big family it spreads through the team.
"That was a shock so this weekend I could not take any risks," she added after the Offenburg round of the World Cup. "If I would feel a little ill even I would stop, even if I didn't finish a lap. In the past I would have never quit a race but this year I will stop several, especially if I am tired. I have learned the risk is not worth it. In the worst weeks last summer I couldn't even get up. That reminded me why I still do this - it is for the joy of bike riding and that is the most important thing, that and my health. If you don't have your health you really have nothing.
Gunn Rita Dahle-Flesjaa (Multivan Merida) is elated with her first major victory
Photo ©: Dave McElwaine

"Right now we are working on the way of getting back so every step is small," said Gunn-Rita. "Even though I have to quit a few races that's ok. The World Cups right now are training, we will have a lot of chances to win the World Cup in the future."
For some, coming from such a dominant position, this attitude could be seen at best as conservative and worst, pessimistic. But her spirits are high - even amongst all the rumours as to why Gunn-Rita really took a year off in 2007. Those rumours included pregnancy, doping and divorce, but the one that hurt most was the accusation of zero motivation.
"Even though we tried to be totally honest every step of the way with interviews, diaries and lots of media there were still the rumours," said Gunn-Rita. "It was stupid, but that's how it is, especially if you have done something special."
And achieving something special this year is also seen as a great challenge, with the aim to get only a top five at the World Championships and no Olympic aims until after this race.
"This season will be up and down but we don't want to take any chances," she said. "We always want to win but we know we can't do it yet. We know exactly how much we need to do to win a World Championship and so far we are nowhere near. Like in Houffalize I felt like I had been in a war and the technical skills were not there. All the work we had done was fitness-based so it was good to get some time in on the mountain bike."
Leading up to the Madrid race, the comeback of cross country racing's leading lady was understated and steady, but those who know the underlying determination and work ethic of Gunn Rita are already preparing themselves for who they see as the biggest threat for the Olympic Games. Six months is a long time in cycling, but once again, nobody is betting against the ultimate golden comeback.