MTB index page for all MTB content
An interview with Caroline Buchanan, August 29, 2008
Buchanan-ball run
Master of speed: Caroline Buchanan
Photo ©: Greg Johnson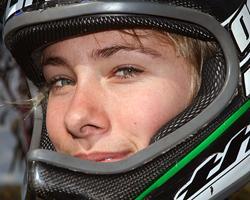 At 17 years of age Caroline Buchanan isn't even old enough to drive at the sign-posted speed limit on most highways in Australia. But that hasn't stopped the Canberra rider from speeding down the four cross, downhill, and BMX tracks of the world, learned Cyclingnews' Greg Johnson.
Unloading her downhill and four cross rigs from the back of her sleek black Holden Commodore ute, 17 year-old Caroline Buchanan looks like a young lady that's not to be messed with. But the bubbly Buchanan is not only a media-savvy and outgoing youngster; she's also a rocket ship of a bike rider.
The two times Australian elite women's four cross champion made her Mountain Biking World Cup debut recently in Canada. Just weeks after finishing fifth in four cross World Championship race in Italy, Buchanan made the elite final and finished fourth at the second of the two Canadian World Cup events in Bromont.
"I love travelling, I love being overseas, I love escaping winter."
- Caroline Buchanan is determined to make it on the world scene
"It was really good, a big eye opener to see where I'm at on a world level and yeah, I love it," said Buchanan. "I was pretty happy with how I did, to make the final in my second World Cup, I was very happy."
The trip to Italy and then on to Canada was a new experience for Buchanan. While she contested the World Championships at Fort William, Scotland in 2007, this year's trip abroad was her first without an accompanying family member.
"Normally one of my parents come but this year none of them came and I went with some mates from Canberra, so we did things our own way and got around how we could," she said. "It was a good experience and good for me."
Tackling Stromlo
The 17 year old will contest her first
Photo ©: Greg Johnson

With the boost of a World Cup final appearance under her helmet, Buchanan is feeling confident ahead of this weekend's World Cup event in her homeland of Australia. The World Cup isn't just in her home country, but minutes away from the neighborhood where she grew up and is also the venue where she claimed her national titles.
"I'm feeling pretty confident for this one," said Buchanan, decked out in her green and gold KHS kit. "I think the four cross track in Canberra suits me a lot more than my first two World Cups. They were a lot more technical, sort of rocky kind of tracks, but this one is more similar to a BMX track and that's originally where I've come from so I think that will suit me.
"I think the downhill will just be a good experience as I'm a junior racing the elite girls," she added.
Buchanan has a close connection to the Stromlo Forest Park venue in the Australian Capital Territory. In addition to being her local haunt, Buchanan's family lost their home to the same bush fire which devastated the region and destroyed the recreational venue earlier this decade.
With the new facilities built and a Glen Jacobs-designed course all set for the world stage, Buchanan is looking to battle on her home turf. "I think my course knowledge will really help, but they've done a lot of changes, especially to the downhill track," she said. "The four cross track they've made a couple of changes but they're all really good changes.
"I think knowing the course will definitely help me, but also sleeping in the same bed, having the same water, eating the same food - I think the routine will help," she added.
It's that routine which Buchanan is hoping will see her repeat, if not outdo, her success from Canada. "Hopefully," she smiled. "I know there are a couple of girls whose sponsors aren't sending them over here. There are a couple of girls that won't be here, but we should still have a pretty strong field."
Taking on the world
Canberra's Caroline Buchanan
Photo ©: Greg Johnson

A strong performance on home soil, Buchanan hopes, will help lock down her plans for 2009. While the youngster wants to continue her education after finishing High School this year, she is considering having a year off to focus on racing.
"After this year I'm hoping to do the whole World Cup series or do some sort of mountain bike series like the Jeep series in America or some races in Europe," she said. "I've just got to see how financial things go with sponsorships. I'm finishing school this year, I'm in year 12, I might take a year off after school and hopefully do some racing before starting a degree.
"I love all the sporting side of things, human movement aspects, and I also interior design and I love art stuff, so I've definitely got a future outside of racing," said Buchanan. "I'd also love to be able to just ride my bike, make a living off it and enjoy it - that would be awesome. I love travelling, I love being overseas, I love escaping winter."
One thing Buchanan has already decided about her future is the desire to compete at Olympic level. Having come from a background in BMX racing, where she started as a five year old, the discipline's inclusion at this month's event in Beijing, China has her thinking about Olympic gold at the next Olympiad in London, England.
"One of my major goals is the 2012 Olympic Games in London," she said. "So between now and then I need to get back into BMX, probably one to two years out from the Olympics. I need to come back in, get my points up, and do all the rounds to qualify."
Buchanan wasn't able to compete at BMX's Olympic Games debut this month due to age restrictions. To be eligible for the Olympic Games riders had to be 19 in the qualification year, leaving Buchanan out of the running.
Caroline Buchanan has a stellar performance in Canada
Photo ©: Greg Johnson

"Now that BMX is in the Olympics, seeing it on TV I felt like I wanted to be there so that's pushing me towards 2012," said Buchanan. "Come 2012, I'll be the perfect age."
While fellow BMX sensation Shanaze Reade of Great Britain has proven explosive in track racing during short forays into the discipline, Buchanan is yet to decide if she will follow a similar route. Should she choose to go outside her chosen disciplines of BMX and mountain biking, however, she could benefit from her family history in the discipline.
"I don't know where it will take me," said Buchanan. "I've done a bit of track in the past, just short sprint events. I don't enjoy it as much as the four cross, downhill and BMX, but I definitely have the body for it. My dad was in the Commonwealth training squad for Wales before we moved over here, so it's definitely in the genes."
For the time being Buchanan is focused on finishing her studies. While her recent trips abroad meant some time away from school, it hasn't impacted her study too much, according to Buchanan.
"I go to a sporting school so they give me a lot of time off, so I'm pretty lucky," she said.
While luck assists with her education, it will be Buchanan's knowledge, experience and talent that carries her through this weekend's World Cup round in her own backyard.
Photography
For a thumbnail gallery of these images, click here
Images by Greg Johnson/Cyclingnews.com