MTB index page for all MTB content
An interview with Georgia Gould, June 20, 2007
Going for Gould
Georgia Gould wants to keep her stars and stripes US national cross country championship jersey this weekend. Cyclingnews' Sue George spoke with the Luna Chix rider by phone while she was relaxing and spending some time with her family in the Catskill Mountains of New York just a few days before nationals at Mount Snow, Vermont.
Georgia Gould
Photo ©: Rob Jones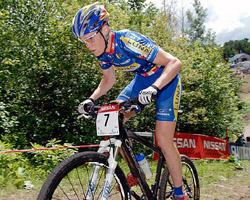 "Defending my title is definitely a goal," said 27 year-old Gould. "This will be my third year at Mount Snow. I'm excited about racing there this year. I feel like I've improved a lot on riding technical roots and rocks and wet."
Gould started mountain biking in Idaho where she said the terrain was very different. "I used to dread the Mount Snow course because it was difficult for me." But fast forward a few years, and Gould is a more mature, experienced racer. "Racing all the World Cups has helped me gain experience on that terrain."
"The World Cups have been great as a whole package," said Gould. "The competition is more in terms of the large numbers of racers, and the courses have more difficult stuff than you find in the NORBA series [now called National Mountain Bike Series (NMBS). - ed.].
With a BA in psychology, Gould knows just how to inspire herself. "When I come up against a big challenge like the World Cups, it motivates me to rise to it. It's been beneficial for me to do them - I've enjoyed the racing and the travel, too. It's been fun." Gould has earned four top ten World Cup finishes so far in 2006, culminating most recently in a fifth place podium appearance at St. Felicien.
"Hopefully Mount Snow will be an exciting race," said Gould. "Those [nationals] are the best ones to race and watch. We have enough women riding strong domestically now."
Gould made the women's podium at St. Felicien World Cup
Photo ©: Rob Jones

Americans have been doing well in the World Cups this year. "When you go to the international races, it's not such a big jump because the competition at home is so tough." Gould pointed to teammate Shonny Vanlandingham, Heather Irminger and Willow Koerber (Subaru / Gary Fisher), and Mary McConneloug (Kenda / Seven) as her most likely challengers at nationals.
A change of scenery
Gould's skills have also improved, in part due to a move last October from Ketchum, Idaho, to Fort Collins, Colorado. In search of milder and shorter winters, Gould moved to the Front Range. "I don't have to take five months off my bike in the winter any more." The extra training has clearly been paying off in a successful 2007 season so far.
Her new hometown offered another appealing benefit. "I'm closer to the Denver airport which makes travel easier. When I lived in Ketchum, I had to drive 2.5 hours to Boise and then fly to Salt Lake."
Georgia and her husband Dusty LaBarr put down roots in their new location. The couple bought a house in May. However, during the year, the pair doesn't spend much time there. "Dusty is a mechanic for the Trek team, so we both travel. He's able to go to all the races, we're really lucky, although we're not able to see each other much while there."
Long, steady path upward
Gould's career is a textbook example of how to enter the sport of mountain biking and progress upward. "I got into racing out of curiosity. I had been riding for a little while and had done some running races, which I enjoyed. I won a local beginner race in 2000, and the [racing] bug bit me. Then I moved up to sport, then expert. 2003 was first year I did full season as a regional expert. Then I stopped running to focus on riding." 2005 was her first year racing the full NMBS circuit.
"It'll be tough. There are a lot of women who are rising up to the challenge. I'm sure whomever gets selected will deserve it - hopefully I'm one of them."
-Georgia Gould on her chances for being selected to the 2008 US Olympic team
She credits her coach, Ben Ollett for much of her success. "My coach is very sensible. He's been really good at keeping my training going in a progressive way and not getting me overtrained. He's good at keeping me balanced, and I feel like I owe him a lot."
"Athletes at elite level tend to be hard on themselves with their training and not rest when they need to. Having someone objective is really helpful." Gould and her coach were randomly assigned when she went online in late 2003 looking for a coach. "I applied for the cheapest coaching package." The relationship was clearly meant to be. "He's the only coach I've ever had. I can't imagine if I'd gotten paired up with some other random coach who wasn't any good." Ollett has been stepping up her training volume and intensity each year. "I couldn't have done the training I did this year last year."
What comes next
Looking beyond US nationals, Gould said she would do a few more NMBS races and then the World Championship in Fort William, Scotland. After that it's onto 'cross.
Georgia Gould at the St. Felicien World Cup (Luna Womens MTB Team)
Photo ©: Frank Bodenmüller

"I am planning to do another full season of 'cross. I'll do the same thing I did last year - the USGP series and nationals. 'Cross isn't my focus, so I keep my training the same as I would that time of year for mountain biking. Last year, 'cross was a way for me to get more race experience and confidence in a short amount of time."
'Cross is all about fun for Gould. "I don't want to say I'm not taking it seriously, but 'cross is definitely on the back burner for mountain biking so I'm not doing anything to jeopardize my mountain biking."
After all, 2008 is an Olympic year and Georgia Gould is one of the top favourites to make the American team. "The Olympics are a goal. They aren't the only goal -- the end all, be all -- but I think that would be a sweet opportunity and experience, and I'd like to be able to go."
"It'll be tough. There are a lot of women who are rising up to the challenge. I'm sure whomever gets selected will deserve it - hopefully I'm one of them."
Olympic team selection processes are often fraught with stress and controversy, but if anyone can manage that and still keep a positive outlook on racing, it's Gould. "I'm so lucky to get to do this as a job. I'm thankful every day." If this weekend goes her way, she may soon have another national title for which to give thanks.