MTB index page for all MTB content
An interview with Eddie and Namrita O'Dea, November 14, 2007
The long haul
Married for just over a year, Eddie and Namrita O'Dea are two American racers balancing the demands of professional racing and training for and even the promoting of endurance races. Cyclingnews' Sue George talked to the O'Deas about their roles as spouses, team-mates, and co-promoters.
Namrita and Eddie O'Dea (Vassago Cycles) enjoy a busy schedule
Photo ©: Dan Willis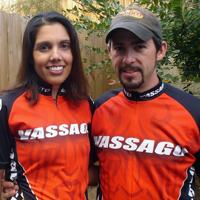 While many couples have their hands full with just one member racing professionally in the time-consuming endurance mountain bike discipline, Eddie and Namrita O'Dea have to balance racing and training needs for two. On top of that, Namrita is a full-time masters student of nutrition at Georgia State University.
"We're both concentrating on endurance racing - mostly 24 hour solos, but 100 milers and 12 hours, too," said Namrita, who turned 31 in October.
"We train together quite a bit," added 32 year-old Eddie, who finished fourth at the 2007 US 24 hour solo nationals and has also won the 12 hours of Dauset and the Cowbell Challenge. "During the week in heavy training sessions, we may go to same place, but we'll ride different stuff. We ride together more during our weekends."
"We get to spend a lot of time together," he continued. "One of us is not off training, so there is no stress on the relationship due to time apart. We also both understand what are goals are and why. There's no explaining why I want to go ride in circles for 24 hours."
"When we travel, neither of us is working and we're spending twice as much money."
-Namrita O'Dea talks about the drawbacks of the O'Deas position
However, two serious racers in one household does place stresses on family resources. "It's a lot of equipment, time and money," noted Eddie. "Sometimes, the laundry doesn't get done."
"When we travel, neither of us is working and we're spending twice as much money," added Namrita, before adding sincerely, "I'd much rather have it like this than only one of us racing."
The couple from Atlanta, Georgia will both ride for Vassago Cycles in 2008, with Eddie joining the team for which Namrita raced in 2007. With a relationship that centres so heavily around mountain biking, it's only natural that it was in the forests that the pair first met. "I was training for my first 24 hour and crashed two weeks before and couldn't race," said Namrita. "I volunteered to help a solo racer to learn more. That's how we met in 2004. I supported him."
Namrita took the women's singlespeed and overall wins
Photo ©: Carl Mesta

The pair has a comfortable rapport on and off the bikes, but when it comes to the competitive aspect Namrita knows who's faster. "There's no contest," she noted. "Eddie's definitely faster. I'm just happy to keep up; my goal isn't to be faster."
When not racing or promoting races Eddie, who originally hails from Connecticut, works for the company they founded, 55nineperformance, which provides bike fitting and coaching. Namrita, originally from Troy, Michigan, will add nutritional counselling to the company's range of expertise when she completes her degree.
The path to endurance racing
The Vassago team races on 29ers, but Namrita also rides and races exclusively on a singlespeed. In 2007, she won both the solo women's category and the solo singlespeed (men's and women's) category the 12 hours of Dauset. She also took the women's singlespeed and overall wins at the six hours of Conyers and eighth place at 24 hour solo nationals.
Eddie has no plans to follow his wife's lead into the singlespeed arena. "I don't race on a singlespeed," he said. "I don't because I feel I am at a disadvantage with the guys I'm competing against. The reason she started in the first place was because she had many mechanical issues during races. She dropped out of the Shenandoah Mountain 100 twice with broken derailleurs."
It's not surprising that the O'Deas first met one another
Photo ©: Rob Giersch

Namrita comes from an adventure racing background. She began with four hour adventure races then progressed to overnight events. The switch directly to 24 hour endurance mountain biking was no big leap. "For me it was another endurance race to do and I never considered anything shorter," she explained. "It was tough and I did my first one and made it through as test of endurance. I really enjoy racing by myself [on a mountain bike] versus racing with team in adventure racing."
Eddie's path to endurance racing was more conventional. "It was a progression," he said. "I started out in cross country, then tried a 12 hour and then a few other longer races. The next year I wanted to go further and try 24 hour races. It went well, although there were certain points in the race I wanted to die."
Next year will be a huge season for the pair, with plans to contest the Granny Gear 24 hour series, which includes races all over the US, and the national 24 hour championships. They duo also expects to contest a few 100 milers in the National Ultra Endurance Series (NUE), including the Shenandoah and the Lumberjack, and will also race singlespeed worlds in Napa, California.
The pair will contest the same events, thereby allowing them to travel together. However, 2008 should be easier than years gone by as both will be riding for the same team, which will afford them the same mechanic and allowed for easier coordination of the pair's logistics.
Eddie works for the company the pair established
Photo ©: Carl Mesta

They've seen growth in the quantity and quality of the solo men's categories over the years, but have noticed a decline in the women's categories for the 24 hour races. But both see growth in the six and 12 hour and 100 mile events. The couple believe that it may because those relatively smaller events require little or no outside support. "I think having support at 24 hours is a big deal and people value their sleep," said Eddie. "I think that's why the 12 hour formats are popular."
Wearing the race promoter hat
Unlike most endurance racers, who have their hands full just focusing on attending and recovering from as many long races as their bodies can handle, Eddie and Namrita also co-promote a 100 mile event. They put on the Fool's Gold 100 for its inaugural running in 2007. The race went so well, drawing 115 racers, that it will be included in the 2008 National Ultra Endurance (NUE) series for the first time.
Technically, the couple is supposed to be spending early August resting and recuperating from the USA Cycling 24 Hour National Championships at the end of July, but instead they are busy with the logistics associated with promoting a 100 mile event. "We don't race in August, it's how we balance," said Eddie, who picked the race's date so it would fall about mid-way through their race season.
With both O'Deas racing it places extra pressures on the family
Photo ©: Trev Martin

Namrita added that the step into race promoting this season placed a huge load on the pair's shoulders. "This past year, the whole undertaking was more tiring and time consuming than actually training and racing," she said.
"It took me three weeks to recover - it was harder than racing," added Eddie. "The race was about three years in the making. It was a huge undertaking, but very cool, very rewarding."
Unlike many of the races in the NUE series, the Fool's Gold consists of two 50 mile laps in the Chattahoochee National Forest. That makes course clean-up somewhat easier than other events, but it still takes time to clear the course and mark it. "The trails are in the National Forest - way back in there," said Eddie.
"We originally wanted to do a [single] loop of 100 miles," reflected Namrita. "The forest service did not approve all the trails. So it makes things interesting logistically. I think a lot of people like the two-lap format."
The Fool's Gold's success wasn't a complete surprise, with Eddie's past race promoting experience playing a crucial role. Of course, as competitors themselves, the duo know exactly what their entrants do and don't want in a race. "I direct the Burn 24 hour race, too," said Eddie. "So bringing in people was a little easier. I also think people were ready for a 100 miler in the area."
Eddie will join Namrita at the team she rode for
Photo ©: Carl Mesta

The O'Deas are expecting more participants for next year's race. "The 100 mile format is growing like crazy," added Eddie. "It's just the tip of the iceberg. The number of races out there is still going up."
The nearest 100 miler is the Cohutta 100, also in the NUE series, but despite the courses only being 30 miles apart, the two are unique in their format and calendar slot. "We don't want to compete directly so we are at a different time on the calendar [in August instead of in April]," noted Eddie. "Cohutta has 70 miles of fireroad. So it's fast. For the Fool's Gold, the fastest finish time was 10 hours and 22 minutes because it has a lot of singletrack. It's only got one sustained section of fireroad for about 10 miles continuously; otherwise the road sections are very intermittent."
The O'Deas have targeted their event at enthusiastic mountain bikers who may enjoy the atmosphere of a 100 mile race, but aren't up for such an undertaking themselves. In addition to the 50 mile race option, the pair creates a festival around the race, thanks in part to their unique facilities. "We also had a festival and will do so again, we'll focus on building that," said Namrita. "We have lodging for up to 250 people on site. There's space for bands. There will be organized group rides, so we can cater to the people who don't want to race, too. We want to combine advocacy, the recreational side, and the racer side."
"The area the Fool's Gold Race is in is the site of the first IMBA Epic, the trails are 20 years-old and have a lot of history," she said. "It's fun to put a race on there and bring it all together."
If any couple can find that balance between racing and fun lifestyle events, it's the O'Deas. Stay tuned to Cyclingnews for an upcoming diary from Eddie and Namrita O'Dea.
Photography
For a thumbnail gallery of these images, click here
Images by Dan Willis
Images by Trev Martin / Bam Bam Photography
Images by Rob Giersch
Images by Carl Mesta/www.mestaphotos.us