MTB index page for all MTB content
An interview with Christoph Sauser, September 28, 2007
Sauser surmises successful season
Switzerland's Christoph Sauser proved he's still at the pinnacle of Elite Men's mountain biking in 2007 with a series of strong results. Cyclingnews' Greg Johnson caught up with the Specialized rider to discuss the year that was and his future plans.
Sauser was happy with the win.
Photo ©: PixStream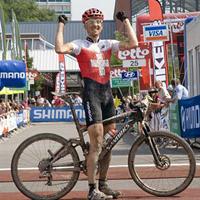 At 31 years of age Christoph Sauser is no new player in the mountain biking game, yet his hunger for victory mirrors that displayed when he claimed his first Junior Downhill Swiss Championship in 1993 ­ the same year he won the Junior Downhill World Championship. In the 14 years that have passed Sauser has swapped disciplines and found success in both the cross country and marathon fields ­ success that continued throughout 2007 and he hopes will see him return to the Olympic podium in August 2008.
Sauser only claimed a few victories during the 2007 season, but he ensured those that he did take were big wins. In fact, despite finishing on the podium in both cross country World Cups in Houffalize, Belgium and Champéry, Switzerland, Sauser's first major victory of the year didn't come until eight months into the season when he claimed the Marathon World Championship in Belgium. "All in all I am happy, yes," Sauser said of how the year unfolded. "Being Marathon World Champ feels great and it was my second biggest goal of the season - after the Cross Country World Championships. Unfortunately, like past World Championships bad luck hit me there again. But with one title in the pocket it helped to get over that disappointment."
The Marathon World Championship was a feather missing from Sauser's cap, with the Specialized rider having already claimed the Cross Country World Cup in 2004 and then again in 2005, won six Swiss championships, an Under 23 European Championship and taken bronze at the 2000 Olympic Games in Sydney, Australia. "That finally everything came together on a big day was great," reflected Sauser of his marathon victory. "Too many times I had to leave a venue with the famous 'if, when and what'.
Sauser looked strong all day to eventually win.
Photo ©: PixStream

"It was such a great moment going to the podium, seeing the jersey on a nice pillow in the podium girl's arms and finally it is mine ­ and the team's too," he added. "They were so excited and had huge smiles on their faces. With that title I could give a lot back for what they've done for me. To me it felt also like big "pay check" for all the sweat I am investing in the sport. In such a moment everything is worthwhile!"
A few short weeks later Sauser returned home to Switzerland and mirrored the victory with another at IXS Nationalpark Bike Marathon. It was another mirror of events from earlier in the season that hampered Sauser's attempt at adding another feather to his cap ­ the Cross Country World Champion crown. The title that has escaped his highly decorated palmares was again put out of reach when his shoe binding system broke, similar to the mechanical that saw him pull out of Berner Rundfahrt in May. Showing his fighting spirit Sauser returned to the field in 20th place at the World Championships in Fort William, Scotland and stormed up the order to claim sixth overall. "Since I have been third and second already two times, only the win counted for me," said Sauser. "My shape was peaking and I had a really good preparation, but it looks like I can only be lucky one time a year. It is very hard when you get hit out of the whole race action because of a mechanical.
"After a race like this I can motivate myself again when thinking of the next race and doing well again there," he added. "And as already mentioned before, the marathon title helped a lot too, to get rid of the disappointment."
Of course, there's one other obstacle that Sauser will need to overcome if he's to add the World Champion crown to his list of accomplishments ­ a certain Frenchman by the name of Julien Absalon. The 27 year-old French Cross Country Champion has enjoyed another superb season, stamping his name on nearly every event he's contested ­ including the World Championship and World Cup crowns. Despite being fierce rivals on the course, Sauser is complementary of the Frenchman's talent. "If you win so many races it is not luck," admitted Sauser. "He is not that much stronger then everybody else, but has the 'spark' more to win. He really makes use of any chance - even if it's small - in a race and is not afraid to attack early and suffer hard."
Two thumbs up for Sauser.
Photo ©: PixStream

While he missed out on the cross country world title the victory this time around, Sauser is determined to return for another crack in 2008. "Beijing is the main goal for 2008, so are the cross country and marathon worlds," he explained of his ambitions for next year. "The World Cup is still important, but I take it as it comes."
If last weekend's Olympic Test Event is anything to go by, Sauser is shaping up well to be a gold medal contender at next year's Beijing Olympic Games. Sauser took victory at the test event, his third consecutive weekend of racing following the World Championship and World Cup races, but Absalon wasn't present at the test and Sauser knows the French rider will again be his toughest opponent. "Yes, I can win there," declared Sauser. "I like heat and humidity and it looks like the smog does not bother me. In Beijing it is not that much about the course, it is more about the special environment we have there. I am not only taking about heat and smog, but the whole Olympic craziness you have there and you have to deal with.
"Absalon will get everything together for that day again and will be one of the biggest rivals," he added.
For now Sauser has a season to complete and his will wind down with this weekend's European Marathon Championships and the Roc d'Azur event in France next month. Despite it being his fourth consecutive weekend of competition, Sauser says he's feeling good heading into the race. "I always feel good after world championship racing," he admitted. "I keep in shape with free riding. Unfortunately [on Tuesday] we had to stop our four day planed trip due constant rain and snow. So I will be well rested for Euros since the very bad weather continues - I do not want to go outside at the moment! So, you can check my result on Saturday."