MTB index page for all MTB content
An interview with Mary Grigson
Nursing mind and body back to form
Back on the program
Photo: © Jeff Horen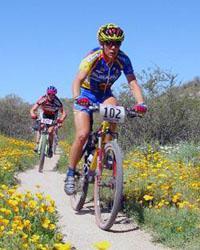 Five-time Australian national champion two-time American national series champion, Mary Grigson, also happens to be an accomplished nurse. Last year though, she failed to see the warning signs of fatigue that later snowballed into a spate of poor form and bouts of depression, where she seriously considered throwing the sport away. But as Stephen W. Medcroft writes, Grigson's almost back to her best - and won't settle for second.
Mary Grigson, a consistent performer on the Elite scene since 1996, broke out in 2000 when she won her first World Cup race and dominated the American National Championship series with four wins in five races. She capped off 2001 with an Adrenalin Solo World Championships by logging more than 200 miles on her bike in 24 hours.
However in 2002, all the success and momentum she had built during her professional career started to wane. After years of pushing herself to ever-higher goals in racing, she found herself listless and fatigued - completely over-trained and burned out - and seriously considering that she may have reached the end of her career. In fact, some in the cycling community expected Grigson to simply retire.
From listening to her talk about racing though, you can tell giving up was never a serious consideration. She is far too competitive and is far too young to fold up her riding clothes and pack them away into a trunk forever. In fact, Grigson still exudes the passion for mountain biking that she says was first sparked after an adventurous five month cycling and camping trip through Europe with friends. She's been racing since, at first supporting her racing habit with a nursing degree (Grigson's a registered nurse in Australia and New Zealand and hopes to make a transition back to nursing after her racing career truly ends) and later as a full-time professional. She races today for the Subaru/Gary Fisher Mountain Bike Team.
Cyclingnews caught up with Grigson at the Subaru Nova Desert Classic in March where she won an optimistic overall stage-race victory against world-class competition including Susan Haywood, Alison Sydor and Jimena Florit, and spoke frankly about the experience that almost took her from the sport she loves so much.
Cyclingnews: What were the first signs in 2002 that you were not operating at your usual capacity?
Mary Grigson: The first time I raced in the 2002 season and hit threshold pace, I felt like I hit a wall; I went right off the back of the pack. When I tried to push myself, I felt like I'd have to get off the bike and lay on the side of the track.
CN: So you couldn't burst over your limit for a reason?
It was like this, see...
Photo: © Stephen Medcroft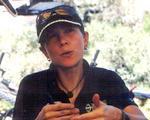 MG: No way. I remember doing ergo-efforts in workouts, these one-minute power efforts where you just pour it on. I would get thirty, forty seconds through it and my muscles would be screaming. My heart rate would only go to about 140, not very fast, but I'd start to feel dizzy. I'd get lightheaded. If I kept pushing it, I was convinced I would have blacked out by the end of the minute.
I thought lack of food might be the problem. I'd eat a big breakfast but run out of energy too early in a training ride. So I'd eat again and only go another twenty minutes before bonking. Someone said they thought I was too focused on the food, trying to reduce my weight too much, and they advised me to eat as much as I could. I did. I just got bigger and bigger and bigger for my trouble.
In every race, I'd have the same problem; hit a wall and couldn't get over it. When June came along I knew that I was in a hole, I was overtrained and fatigued. My body wasn't recovering. The only way out was to get off the bike completely and stay off for a long time.
I had to come to terms with the fact that this was me for this year. I had cooked myself so I changed my goals and switched to damage control mode. For me, this meant three or four rest days a week and workouts were limited to a couple of sprints a week. I came out of the hole for a little bit and had one awesome race, one day where I felt really good, where I actually felt like me again.
CN: That was close to the end of the season. But the last race didn't go so well?
MG: Yeah, the World Cup race in Les Gets, France [the final UCI World Cup race of the 2002 season on September 8]. I rolled across the start line and couldn't go, couldn't push any longer. I was so sick of hitting that wall. I had a mini panic attack and actually pulled out of the race. I felt awful about it and couldn't believe I did it. It was so unlike me. Thankfully, the team supported me through my toughest moments.
CN: Was there any medical explanation for the problem? Were you being told what was wrong?
"I have to be happy with myself in racing. Part of that is winning."
MG: I wish I was. We did blood tests throughout the year and they were telling us nothing. I pulled out the heart rate monitor and it showed that my resting heart rate had gone up a good ten beats - isn't that a classic symptom of overtraining?
But squeezing in rest days didn't work. My heart rate just wouldn't respond normally to the efforts I put in during workouts. It just kept coming back to overtraining. The blood tests were perfect so there was no medical reason for the problem. I had simply never taken the time to get proper rest between seasons and it finally caught up with me.
Early in the year, a lab technician gave me a copy of an EKG (Electrocardiogram) that was done on me. He told me to look at it at the end of the year. When I finally did, it made a lot of sense to me. It told me I had a suppressed nervous system, most likely caused by overstimulation of my sympathetic nervous system [the body control system that reacts to stress].
The sympathetic nervous system gives you fright and flight responses and energy. You trigger it in racing. If you overstimulate it, your parasympathetic [the body control system that governs basic living functions and is responsible for bringing your body back to its normal state] will override and suppress it. This suppression is a defense response. What happened to me are classic symptoms of what happens to people with suppressed nervous systems.
CN: Being a registered nurse, you can view your own medical information from a different perspective than most people?
MG: It helps to be able to read a blood test, to know what on there means something and what doesn't.
CN: What did you do after Les Gets?
MG: I went home to Denver and slept 14 hours a day. I fell into depression. To do anything took me ages. Lifting my hand was so painful. I was jumpy. People would walk in the room and I knew they were going to speak to me but as soon as I heard their voice, I would jump. If a door slammed, I'd hit the ceiling. It was crazy.
I took some online nursing courses. I went for walks. And slowly I started to come out of it. After about three or four weeks, I could finally crack a smile. Things were funny again. I wanted to go outside. I wanted to see people again, to do things.
CN: That was a signal to get back on a bike?
Light at the end of the tunnel
Photo: © Joe Ward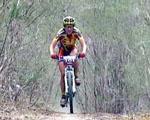 MG: No way. Four weeks wasn't enough. I've been taking four weeks off the bike in winter every year for years and had put myself in this hole. I didn't ride until the beginning of December, then only for a couple of days and only social riding. I needed more time. I wanted to wait until I was hungry for the bike, hungry to ride again. When I reached that point, I wanted to force myself to wait another four weeks.
So I went New Zealand and visited with my family. For my first rides back on the bike, I had the new prototype Gary Fisher 29-inch Sugar, right off the production line. It had no paint and was put together with zip ties but I loved it. I rode it for fun. It made riding fun again. Early this year, I took the bike with me to Australia and began serious training again. In eight weeks, I went from being so unfit that a three-hour ride was a killer, to the form I'm in now (winning the Subaru Nova Desert Classic stage race). I've dropped a good five pounds without even trying. I wake up in the morning and I'm happy to be here.
CN: Have you been medically tested since, to see how you're performing now, or is it mostly based upon feel and your intuition?
MG: I did a VO2 Max test initially in Australia. It was the most dismal test I've ever done in my life. In fact, I found the whole thing kind of amusing because I'd just started training again and didn't expect anything of myself.
CN: Is it too soon to know if you're back to normal?
MG: I don't know whether I'm going to jump back into this season and be competitive or not. I feel better but still a little scared. I won the Oceania Games in Australia in February, so that's encouraging. But this year I'll monitor my training closely with the help of Warren McDonald (Grigson's coach). From there, I just have to trust the recovery, listen to and trust my body, and do what I know how to do.
For me to keep going beyond this year, I have to still be experiencing the whole package. I've got to be enjoying it, enjoy life on the road, I've got to enjoy the equipment, and I have to be happy with myself in racing. Part of that is winning. I was successful in 2001. 2002 was a grind. We'll see how 2003 goes. If this is a really successful year, I'll ride again. If this year's just kind of ho-hum, then it's been great and this year will have been nice little 'thanks for the warm fuzzies' year and I'll move on.
CN: Good luck.
Look for Grigson at the U.S. National Series NORBA events, the domestic World Cup races, and a handful of large festival and regional races.