MTB news & racing round-up for May 10, 2008
Welcome to our regular roundup of what's happening in mountain biking. Feel free to send feedback, news, & releases to mtb@cyclingnews.com and results, reports & photos to cyclingnews@cyclingnews.com.
Edited by Sue George
On the trail with Sabine Spitz
Catch her if you can
By Bjorn Haake
Spitz in full concentration going down the 'Dual Speed'
Photo ©: Bjorn Haake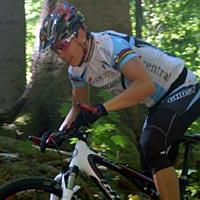 Sabine Spitz returned to the World Cup course in Offenburg, Germany, one week after the race to demonstrate how to ride descents that are virtually vertical. She showed just how a professional blasts around a technical course without fear.

Sabine Spitz and husband and manager Ralf Schäuble invited media members to a two-day event in Offenburg to get a feel for the skills required to ride a World Cup course. While the first day was focusing on a Q&A session, the duo had organised enough bikes so that everyone who wanted to try out the course (in perfect, sunny conditions!) was able to do so.

The course started innocently enough, with a paved uphill before heading onto an easy singletrack in the forest. But soon riders would have to make a decision on the "Dual Speed" section, with two options to get down a very steep part of the course, with several stair-step-like drops. Fortunately for the non-professionals, the lack of spectators offered a "Triple Speed" variant, with a wide switchback offering a safer alternative for the unskilled.

Spitz then demonstrated the section twice, both times in perfect control of her 7.5-kilogram machine. Part of the reason for the event was to give everyone a different perspective. At the races, everybody waits at the bottom of the sections to take pictures or cheer the riders on. "I want you to see the course from the reverse angle," Spitz explained the purpose of the shock that most felt when they arrived at the top, with no bottom in sight until they were almost already on the descent.
Coming up on
Cyclingnews will cover the 60th edition of the Dauphiné Libéré live as of stage 4 on Wednesday, June 10, at approximately 15:00 local Europe time (CEST)/ 23:00 Australian time (CDT)/ 9:00 (USA East).

WAP-enabled mobile devices: http://live.cyclingnews.com/wap/

Still dazed by the demonstration, everybody headed on to the "Wolfsdrop". The group took a little shortcut to get there, as this one was technically not the next difficulty of the course (it is tackled after the North Shore and the World Class drop). Time for another round of "ahs", as most stopped before the really steep part. Not only was it steep, but full of roots, too. So a patient Spitz pointed out that "Here, I would approach it from the right hand side. There aren't any roots, so the bike doesn't bounce all over the place in the beginning of the section." This one is arguably the most difficult descent of the parcours.
Another important factor the German pointed out is speed. But it's not that a fast approach under the guideline of "Get it done and over with quickly" that will do the trick. "You have to enter the section slowly, get your heart rate down a bit, so you can fully concentrate on the technical section." Riding slower also means having more control over the bike and again, Spitz rode the section, with lots of cameras flashing.
The Wolfsdrop is arguably one of the biggest difficulties in Offenburg
Photo ©: Bjorn Haake

The group headed back up, to get to the "World Class" drop. You really have to be world class, as this was the steepest section, a three-metre drop that is as close to vertical as it can get. Calmly approaching the top of it, Spitz had to make a 90 degree right turn on the gravel singletrack, before finding her line, which has changed over the years, due to the erosion created by the racers.
The "North Shore" was only glanced at from the top. During the World Cup race, this is the second of five very technical parts. It is not the most difficult, but it winds from the highest point of the course down, and Schäuble said, "It takes about a minute to get down." The racers use their momentum and skills to head down the very curvy part to descend as quickly as possible, while trying to minimize pedalling and recover a little bit.
From there, it was a short ride to the "Snake Pit". If there were actually soft snakes, it probably would be easier to ride down, but the solid roots across made it a tricky manoeuvre.
When a top-level athlete demonstrates those sections, they look easy enough, yet most of the group opted for the "chicken run," as Spitz smilingly called it. One brave soul tackled the bumpy part, and with both Spitz and Schäuble shouting instructions – "You are too far back, shift your weight further up front!" – the lone rider made it down on one of the five difficulties of the day, more or less in one piece.
Rolling back to the start-finish area there was a sense of admiration for a parcours that doesn't look nearly as technical on TV. Even Spitz admitted that she had to swallow the very first time she encountered the "Wolfsdrop" on the warm-up loop in her first appearance in Offenburg, but went on to overcome the initial fear by winning the race in 2004. She added, "It is a matter of practice. If you only ride easy stuff, you will not improve on those technical sections. You will have to do them over and over again, then you will be able to tackle them."
Read the complete feature including a conversation with Spitz about the upcoming World Championships, European Championships and Olympic Games.
Hill ready for downhill World Cup opener
Sam Hill (Australia)
Photo ©: Rob Jones

The 2008 World Cup season opens for gravity riders this weekend in Maribor, Slovenia. No one is more ready than reigning World Cup and World Champion Sam Hill (Team Monster Energy Iron Horse). The Australian downhiller proved he is on form this past weekend with a win at the Val di Sole Test Event in Italy on the course that will be used for the World Championships in mid-June.
The downhill course is essentially new, but somewhat based upon a previous European Championship course. It takes about three and a half minutes to race. Hill took his win in the final with a more than five-second margin over Steve Peat (Santa Cruz Syndicate), a result that had many in the race paddock returning to their team areas scratching their heads, trying to figure out what needs to be done to beat the four time World Champion. Fabien Barel (Subaru Mountain Bike Pro Team) finished third, down by 7.5 seconds.
"My run in the final was OK," said Hill modestly. "The track has lots of line choices. It's technical and a lot of fun, but this can make it really hard to get a perfect run on it. I thought it was cool to have this warm up race to see where my race speed is before heading into World Cup 1."
Looking to this weekend's World Cup, Hill said, "I'm definitely looking for a clean run in Maribor this coming weekend. I'm really looking forward to the start of the World Cup season in Slovenia...it's an awesome track, and hopefully I can go there and start the season off with a win!"
Hill will be joined in Slovenia by team-mate Brendan Fairclough, who will be aiming for a top five finish. Both riders were scheduled to arrive in Slovenia in Wednesday, walk the course Thursday and begin riding it in official practice on Friday.
Floriane Pugin (Playbiker -Iron Horse) won the women's test event ahead of Sabrina Jonnier (Team Maxxis) and Emmeline Ragot (Suspension Center). See full results from the Val di Sole Test Event.
ECP-Tau riders picked to represent Spain
Carlos Coloma, Martí Gispert and Umbert Almenara
Photo ©: ECP - Tau CerECP-Tau Cerámica Team

Three of the ECP-Tau Cerámica Team's members have been selected to represent Spain in the upcoming European Championships to be held in Saint Wendel, Germany on May 17-18. Carlos Coloma and Martí Gispert will be riding in the elite cross country race, while Umbert Almenara will fight with the best juniors in Europe in the Continental Championships.
"This will be a good opportunity to race at maximum level. Carlos will fight to repeat the eighth place he got in last year's edition, while you can expect anything from Martí," said Team Manager Ramón Bartoló. "Both are talented riders and with a wide international experience. Umbert will do his best to be up in front, although the tests done at the junior races that are scheduled together with the World Cups prove that he is far from the best. We hope that the work done on the last two weeks will help him go a step forward".
IMBA renews volunteer stewardship program
IMBA and REI renewed their partnership supporting the Volunteer Stewardship Challenge which aims to boost volunteerism in the mountain bike community through various grants.
In 2007, the program exceeded its goals by recording 450,000 hours of service by 40,600 volunteers during the first nine months of the year. In dollar terms, the total donation is equivalent to a US$8.1 million gift to public lands. Stepping up the goals for 2008, the partnership is aiming for 650,000 volunteer hours including increased youth participation. REI stores across the US will be used to help recruit additional volunteers.
"REI's partnership with IMBA has been critical to developing the capacity of our affiliated clubs. Quantifying volunteer hours and club's trail stewardship efforts has enabled us to speak more effectively with land managers at the state, local and national level." said Ryan Schutz IMBA Affiliate Program Manager.
IMBA clubs may apply for Volunteer Stewardship Toolkits and trailhead signs valued at approximately US$200 per kit or for cash grants to fund volunteer development projects. For more information, contact Ryan Schutz at ryan.schultz@imba.com.
Velirium to rock Mont-Sainte-Anne in July
Velirium will return to Mont-Sainte-Anne for another year from July 12 to 27. Canada's biggest mountain bike festival will host the 17th edition of the UCI World Cup held there as well as the Canadian Championships and the Québec Cups. Mont-Sainte-Anne is the only venue in North America to have hosted the UCI World Cup competition every year since its inception in 1991.
Velirium is composed of three weekends at Mont-Sainte-Anne to celebrate mountain biking. It annually attracts 55,000 visitors, 2,500 athletes, and 150 journalists. The weekend will also give racers a chance to check out the area, which will host the 2010 World Championships.
Velirium 2008
July 12: Velo Mag Raid from Québec to Mont-Sainte-Anne raid featuring two courses: a 72km or 32km
July 13: Downhill Canadian National Championships, Quebec Cup, Freeride Cup, and 5-hour endurance race.
July 19-20: Cross Country Canadian National Championships and Quebec Cup
July 20: Cross Country Tim Hortons National Championships and Quebec Cup Timbits Challenge
July 24: Yop' Urban Delirium in downtown Québec City!
July 25: Xtreme 4-Cross World Cup
July 26: Xtreme 4-Cross & Downhill World Cup
July 27: Cross Country World Cup & Kids race
For more information, visit www.velirium.com.
Eastern Canada gets stage race
While Canadians from the western part of their nation have several options for off road stage racing, Crank the Shield is the first such race to appear in eastern Canada. The three-day race will traverse a section of Ontario's near north from September 19-21.
The "Shield" in the race's name refers to the Canadian Shield, a large mass of bedrock covered by a thin layer of soil that forms the nucleus of Canada from Ontario's near north to the Arctic according to the race's website. The geography associated with the shield has produced "diverse terrain with scattered lakes, bogs, hills, and exposed rock."
Crank the Shield 2008
September 19: Stage 1 - Buckwallow to Kanddore, 80km
September 20: Stage 2 - Wilderness to Village, 90 km
September 21: Stage 3 - Hills & Singletrack, 80 km
For more information visit www.cranktheshield.com.
Epic tech from Houffalize
By Luke Webber
Fox Racing Shox' new production remote lockout lever
Photo ©: Luke Webber

The first few UCI World Cup races in Europe usually carry with them a swathe of new bikes and kit but this year's deluge at the Sea Otter Classic in Monterey, California left few surprises. Even so, that doesn't mean that there was nothing of interest to see.
As it turns out, one of the biggest pieces of news didn't even involve anything we saw but rather something that was said (or more specifically, wasn't denied). Given the progression of Specialized's recent mountain bike product development over the past few years, it doesn't take a genius to figure that the short-travel Epic cross country race platform is next in line for a redesign and what that change might include.
Swiss powerhouse Christoph Sauser was rightfully coy when we asked him about the possibility of an all new Epic but the smile was arguably all we needed to know. As expected, the new bike is expected to use the same basic suspension architecture as the current Stumpjumper design with its rocker link and centrally located shock (current Epic shocks are placed on the non-driveside seat stay). Also as we guessed, the bike will probably come with Specialized's own house-brand fork which is sure to include a more firmly tuned version of the Brain inertia valve technology found on the Stumpjumper. We'll have to wait until next month to see if these 'rumors' hold true but we'd be awfully surprised if they don't.
Development work and race testing was also in progress in the Trek/Gary Fisher/Bontrager stable. We've already given you a sneak peak at the new aluminum hardtails Gary Fisher is working on for '09 but much is underway with Bontrager's rolling stock, too. Some new tyres are currently making the test rounds to accompany the Dry X released last winter and a new wheelset is also rumoured to launch soon. According to our information, these will be substantially lighter than the current Race X Lite and might incorporate one of two advances - either the carbon rim we've seen at some races or upgraded hubs based on the DT Swiss 190 Ceramic model. We also don't rule out the possibility that we'll see both but we'll keep you posted.
Read the complete feature.
Heather Irminger's new aluminum steed
By Luke Webber, somewhere on the Euro World Cup train…
Heather Irmiger's Subaru-Gary Fisher Genesister Hardtail
Photo ©: Luke Webber

US Olympic hopeful Heather Irmiger is making her way across the hectic UCI World Cup circuit on her usual bright pink bike, only this time around it's a brand new all-aluminum model also shared by team-mates Jeremy Horgan-Kobelski and Willow Koerber. Logistical constraints have meant that each team member could only take one bike to the first five races and the World Championships. For the majority of those European courses, a hardtail was deemed the best option.
Unlike Irmiger's 2007 aluminum hardtail which was a wholly custom build using a mix of various tubing (including some Klein Gradient road-specific pipes), the new machine is closer to a stock offering although consumers still shouldn't expect to see anything like it in the near future. Her new rig is actually a prototype '09 model built with 6066 alloy and far more dramatic tube shaping than we're used to seeing from the nameplate. In fact, the prototype's curvaceous multi-sided down tube bears a similar profile to that of the current Fuel EX of parent company Trek while the top tube employs the more familiar Gary Fisher hydroformed design cues.
In spite of the swoopy appearance, the new build otherwise seems fairly straightforward with TIG-welded joints, standard dropouts, a conventionally threaded bottom bracket shell and non-integrated post. As with every prototype, though, there is always a question mark over the outcome. Even so Irmiger was decidedly optimistic.
"Even with a new bike we still know it's going to work great!" she said. "It usually takes me about half a season to bond with a bike but I already like this one a lot."
Some of that familiar feel was undoubtedly due to the steering geometry which, at least currently, is nearly the same as what she used last year. According to our information, the company does plan to introduce the latest Genesis 2.0 geometry on its '09 production hardtails but the requisite increased-offset forks weren't available just yet.
Read the complete probike feature.
O'Dea diary: Racing Vail Lake and the 72 hours before
Getting ready
Photo ©: Mike Rick

It was Wednesday, April 23, and everything went smoothly that morning until we had to switch flights. Although we had a nonstop flight, we had to deplane and replane in Atlanta before the plane even moved...nice.
We arrived about an hour late into San Diego and the Vassago guys were there waiting. We drove around for awhile collecting some odds and ends and then someone mentioned beer. One of the greatest breweries ever, Stone Brewing Co. is located in Escondido, California. Being that we are all connoisseurs of adult beverages, we absolutely had to go.
Vassago treated us to a growler of Arrogant Bastard Oaked Ale to take with us to our hotel room in Temecula since they were dropping us off with no car. No worries, we now had lots of beer and two bikes to get around!
On Thursday, April 24, we pre-rode the race course with Eddie's local friend Orion. The temperature on the completely sun-exposed course was perfect for the pre-ride but we knew it would rise 20 degrees in the next two days. After the ride we noticed that Namrita's brand new fork was spewing oil. Uh oh!
A few hours later, we received notice that Vassago had located a replacement White Brothers fork for Namrita. Phew...thanks guys! But wait...we then found out that the UPS box with Eddie's front wheel, our sports nutrition products including the essential Saltstick tabs, extra drivetrain parts, Hayes brake pads, Eggbeater pedals, extra WTB tires, and more was officially lost. This was not good news to receive with only one day left before the race!
Read the complete diary entry.
Watch Valley Bike Cup next round: Arnon Bike
Racers will converge upon Bonvillars for another round of the Watch Valley Bike Cup on Sunday, May 11. The Arnon Bike will be held Sunday on a 35km course with a VTT (including options from 15 to 37km available) following on Monday.
In addition to a15-rider strong French squad, favorites for the third annual competition, starting on the shores of the Neuchâtel Lake are Stéphane Tempier and Fabien Canal in the men's race, Julie Krasniak and Laura Metzler in the women's race and Camille Devi and Clément Koretzki in the juniors' race.
For more information, visit www.arnonbike.ch.
(All rights reserved/Copyright Future Publishing Limited 2008)