MTB news & racing round-up for February 16, 2008
Welcome to our regular roundup of what's happening in mountain biking. Feel free to send feedback, news, & releases to mtb@cyclingnews.com and results, reports & photos to cyclingnews@cyclingnews.com.
Edited by Sue George
Rebecca's new adventure
By Sue George
Rebecca Rusch
Photo ©: Nate Galpin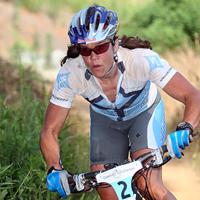 When Rebecca Rusch lost her sponsor for her adventure racing team late in 2005, she had no idea her next career would be in endurance mountain biking. In 2006, she finished second at the 24 Hours of Adrenalin World Solo Championships in Conyers, Georgia. In 2007, at Laguna Seca she won her first title.
Coming from adventure racing, 24 hour races are a whole different kind of experience. "The intensity is way higher - it feels hard for me," said Rusch who calls Ketchum, Idaho, home. "The pace and speed are so much faster than a seven day adventure race. A winning team in an adventure race often goes from five to seven days, so you're really pacing yourself. You're also changing sports."
On the other hand there are some advantages. "It's almost easy because a crew takes care of my food and equipment. All I have to do is ride my bike and help them get there. In adventure racing no one clean your dirty socks or lubes your bike chain. You do it yourself. Even though it's solo mountain bike racing, there is so much of a team. I feel like a princess."
Referring to the many racers who transition to 24 hour races from Olympic-distance cross country racing, "I come to it from the opposite end. I tell myself, 'It's just one night and I can sleep in a bed tomorrow night and take a shower - that's so cool.'"
The Red Bull / Specialized rider will show up to defend her title at the 24 Hours of Adrenalin World Solo Championship this summer in Canmore, Canada.
Making the leap
Rebecca Rusch racing at night
Photo ©: Chris Baker

"I lost my team sponsor at the end of 2005 for adventure racing. That was a big blow. I had managed a team for years and we had it dialled, but the sponsor got bought out by another team and all the sudden I was out of team in November," said Rusch.
"It ended up being a blessing in disguise. I asked what I could do - I thought maybe I'd be a free agent in adventure racing."
But thanks to a positive experience with some girlfriends racing as a team at the 24 Hours of Moab the previous month, Rusch thought she could try some solo mountain bike races. "I ended up being fastest on my team and got the fastest women's lap overall. It was a huge boost of confidence. I went there for fun and I had a great time."
"I knew I wasn't ready to not be an athlete any more. I knew I was good at endurance and I had to figure out what to do. I thought about ultra endurance running." But her friend Matthew steered her toward bike racing. He told her "You have the engine for it, you can learn how to ride the bike."
Read the complete feature.
24 Hours of Old Pueblo draws more riders
Tinker Juarez keeps moving at the 24 hours of Old Pueblo
Photo ©: Dennis Gray

More riders, more singletrack and more fun are on tap for riders and spectators at the Kona 24 Hours in the Old Pueblo, which will take place February 16-17 near Willow Springs Ranch, north of Tucson, Arizona.
Now in its ninth year, the event is a winter mountain bike destination for many North Americans. The race features fast and flowing singletrack and a festival-like atmosphere in Southern Arizona's Sonoran desert landscape.
An anticipated 1,650 riders will compete in the event, 200 more than the 2007 race, and a huge increase over the 176 contestants in 2000, the 24 Hours in The Old Pueblo's first year.
Promoter Todd Sadow said this year's event will incorporate another three miles of singletrack, utilizing existing trails "improving safety for the riders and others in the area while ramping up the fun factor another notch."
Racers bolt around a corner
Photo ©: Dennis Gray

Among the elite riders drawn to the desert for some warm-weather racing are past solo winner and national 24 Hour solo champion Cameron Chambers, who will join a four-person singlespeed team and former 24 Hours. Former winner Tinker Juarez (Siemens Cannondale) will also race Mountain Bike Hall of Fame member and 2007 Leadville 100 winner Dave Wiens, Team Kona riders Barry Wicks, Matthew Slaven and Kris Sneddon and Team Cyclepath's Nelson Snyder, who will be tuning up for his adventure racing season. Snyder won the singlespeed solo category in 2006.
In the women's race, former national short track and Super D champion and 2007 La Ruta winner Sue Haywood (Trek / VW) will take on US National 24 hour solo champion Pua Sawicki (Team Ergon-Ellsworth).
The ninth annual event is dedicated to Mountain Bike Hall of Fame member Richard Cunningham, founder of Mantis Bicycles, whose contributions to the sport include being a mountain bike editor, advocating for mountain bike access, and making innovations to mountain bike design.
In its first eight years, the event raised approximately US$65,000 for various non-profit organizations, plus more than 10 tons of food for community food banks. For more information about the event go online to www.epicrides.com/twofour/24.htm and stay tuned to Cyclingnews for race coverage.
Subaru-Gary Fisher stays strong for 2008
Willow Koerber (Subaru-Gary Fisher)
Photo ©: Rob Jones

The Subaru / Gary Fisher Team retains the core of its team for 2008 including Olympic hopefuls Jeremy Horgan-Kobelski, Willow Koerber, and Heather Irmiger. They also kept their title sponsor, Subaru, who re-signed for an additional three years. For 2008, the team will be split into two divisions - a National Team and a Global Team. The National Team will race largely in North America with a focus on the National Mountain Bike Series (NMBS) events, World Cups, premier domestic events, and select international races.
In 2007, Horgan-Kobelski captured another first place cross country finish at the Deer Valley, Utah, NMBS. Koerber stood on two World Cup podiums and five domestic podiums while finishing the season as the top-ranked American woman in the World Cup rankings. Nat Ross pulled in the overall USA Cycling National Point Series endurance title for the second year in the row, and Heather Irmiger stood on three domestic podiums.
Horgan-Kobelski, Koerber and Irmiger will be aiming to make the US Olympic Team by competing in World Cup and World Championship races throughout the first half of the season.
Former U23 US National Champion Sam Schultz will be looking to make his place among the elites after a strong showing at the UCI World Championships in 2007 where he was part of the bronze-medal winning relay team. Schultz, a Missoula native, will base himself in Colorado Springs.
The longest standing member of the team, Nat Ross, captured the USA Cycling Ultra Endurance series title in 2007 in addition to competing in the Race Across America (RAAM) for his second consecutive year. Ross is aiming to defend his series title in 2008.
Britain's Jenny Copnall will continue to ride for the global squad with regular appearances at UK and World Cup events. She'll be joined by 22 year-old Ken Onodera, a pro from Japan, Swedish marathoner Asa Erlandsson, and Israeli racer Dror Pekatch.
Fisher (US) National Team: Jeremy Horgan-Kobelski, Willow Koerber, Heather Irmiger, Sam Schultz, Nat Ross
Fisher Global Team: Jenny Copnall, Ken Onodera, Asa Erlandsson, and Dror Pekatch.
Spitz training for Beijing
By Susan Westemeyer
Sabine Spitz (Germany)
Photo ©: Didier Weemaels

Mountain biker Sabine Spitz has been working hard all winter, with one goal in mind: the Beijing Olympics. She is determined to win a medal, and has her training all planned to deliver herself in the best possible shape. Her successes in 2007 gave her additional motivation for the Olympic Games.
After a break in October, the German started her training on the island of Crete, putting in lots of time on the road. Then she went home for additional training, followed by altitude training in St. Moritz, working in both the mountains and the weight room. The 36 year-old then did cross-country skiing.
After all that snow and cold, she was ready for the sun and warmth of the Canary Islands – but not the beach. "I'm an active person. Not someone whose only activity at a beach vacation is to change their position on the beach chair every 15 minutes. I need movement." She and her husband/coach Ralf Schäuble are putting in long tours on Gran Canaria, with about 2,500 climbing meters each day.
Spitz will start her season with a stage race the end of this month, to be followed by the Schönbuch-Klassiker in Schönaich bei Böblingen on Easter Monday. After these road races, she will return to mountain biking with the race in Münsingen, also known as the "Paris-Roubaix for mountain bikers."
Blenkinsop inks two year deal
Sam Blenkinsop
Photo ©: Mikkeli Godfree

New Zealand's Sam Blenkinsop, one of the youngest riders to hit the World Cup circuit, signed a two-year deal with the Yeti / Fox Shox Factory Team.
The young Blenkinsop emerged on the scene at the World downhill championships in 2005 in Italy, where the skill and riding style of the then 16 year-old stood out on the challenging Livigno course. The following year, Blenkinsop took the world racing scene by storm with silver medal on his home turf at the 2006 UCI World Championships in Rotorua as a junior, even after an over-the-handlebar crash. More recently, he finished ninth in the elite ranks at the 2007 UCI World Championships in Fort William, Scotland. He was in the top 25 of the World Cup overall rankings within his first year of turning pro.
"Yeti has a long legacy of grooming young talent," said Yeti's president Chris Conroy. "Sam is a very exciting rider and we are looking forward to see him progress to the top ranks of the sport."
Just last week, Blenkinsop proved he's off to a good start for 2008 when racing head-to-head with team-mate and compatriot Justin Leov in the New Zealand North Island Downhill series. The pair will wrap up racing in New Zealand and then head off for the World Cup series.
"With team-mates like Jared and Justin," said Blenkinsop, "I'm going to learn heaps this year, can't wait to get racing on the new rig."
Joining Blenkinsop and Leov will be Jared Graves (Aus) and Ross Milan (USA) on the global team and Rich Houseman (USA), TJ Sharp (USA), Chris Boice (USA), and Rudy Unrau (USA) on the US-based national-level squad.
Ergon signs two mountain bike legends
Dave Wiens at the Leadville 100
Photo ©: Wesley & Garrett Geer

Five-time consecutive Leadville 100 winner Dave Wiens and Mountain Bike Hall of Famer Hans Rey signed with Ergon USA for 2008. While preparing to go for win number six in Leadville, Wiens will serve as the company spokesperson, product tester and member of Team Topeak-Ergon.
Rey will represent Ergon as he heads to Africa to work his Wheels 4 Life non-profit charity. He'll be working his "Wheels 4 Villages" Film project in Tanzania and then will circumnavigate Mount Kilimanjaro. Then he's off to the Philippines for the first descent of the Mount Mayon Volcano, some exploration on the Alta Rezia Trail, and a search for Noah's Ark in Mount Ararat, Turkey.
Pros throw down tricks at Ray's
Last weekend at Ray's MTB Park in Cleveland, Ohio, pros came together for a competition similar to the basketball game of H.O.R.S.E. Athletes paired up, and competed by drawing from a specially designed deck of cards. Each card featured a unique trick, and teams tried to out perform the other by throwing down the trick anywhere inside the park. When a team was unable to perform the trick, they earned a letter.
In the final round, Thomas Hancock found himself out of action after a bad spill, so Branden Semenuk stepped in. The newly formed team of Adam Hauck and Brandon Semenuk took the overall win and title of 2008 Ray's MTB B.I.K.E. Champions. Greg Watts won the "Best Trick" award with a back flip, double bar spin.
Stage racing spreads to India
The growing trend of multi-day mountain bike has spread to India with a nine-stage race called the MTB Challenge Race 2008 on March 3-14 in Sikkim. The race is being organized by Sikkim Tourism and will span 495km and 14,000m of climbing. For more information, visit sikkimadventures.com/events.html.
MTB Challenge Race
Stage 1: Gangtok - Ranka - Rumtek - Sang
Stage 2: Sang - Martam - Rabong
Stage 3: Rabong - Kewzing - Tashiding
Stage 4: Tashiding - Phamrong Fall - Yuksam
Stage 5: Yuksam - Darap - Pelling
Stage 6: Pelling - Dentam - Hee Bermiok
Stage 7: Hee Bermiok - Kaluk - Soreng
Stage 8: Soreng - Sombaria - Daramdin
Stage 9: Daramdin - Jorethang - Namchi
Stage 10: Namchi - Namthang - Rongpo
Australia selects junior team for worlds
Cycling Australia selected the juniors who will race for Australia at the Junior World Mountain Bike Championships in Val di Sole, Italy on June 16-22. Elite and U23 men and women cross country, downhill and 4X riders will be selected by May 20. More juniors may be picked depending on performances following the Oceania Championships next month.
Australian Junior Worlds cross country team
U19 Men: Charlton Durie, Luke Fetch, Robbie Hucker, David Johnston
U19 Women: Rebecca Henderson
Australian Junior Worlds downhill team
U19 Men: Dylan Prohm, Matthew Vincent, Shaun O'Connor
U19 Women: Caroline Buchanan
Sea Otter caters to all disciplines
Scheduled for April 17-20, the Sea Otter Classic at Laguna Seca Recreation Area in Monterey, California, is readying for the onslaught of thousands of racers. France's Sabrina Jonnier will be among the international competitors returning to mix it up in the dual slalom. Jonnier will be aiming for her fourth consecutive victory on the course built and designed by Keith Defiebre.
For 90 percent of the 1,500 downhill racers that show up, it might be the only time during their season that they race downhill. This course continues to evolve for 2008 with an improved top section with a new line, a mix of jumps, turns, pedalling sections and hi-rev speed traps.
The Super D will return for its second year. The hybrid downhill and cross country race will require not only power, but also a finely tuned descending strategy to win. It's the opening event on Friday for three days of mountain bike racing. The 2008 edition will be a combination of fast fire road and singletrack descents and maybe a few short double-track climbs - all of which follow a LeMans-style, mass start race by category.
The short track and cross country races are scheduled for Saturday and Sunday respectively. The cross country course will take riders all over Fort Ord. Maps with the route will be available March 14.
This year's event will benefit the Davis Phinney Foundation, which supports Parkinson's disease research and wellness, and IMBA California, which organizes advocacy and trailbuilding efforts statewide and strengthens California mountain bike clubs. For more information, visit www.seaotterclassic.com.
GHORBA & SORBA among Bikes Belong grant winners
Bikes Belong awarded six grants to grassroots groups in Colorado, Georgia, Ohio, Oklahoma, Texas, and Washington to help build new bike paths and trails.
The Greater Houston Off-Road Biking Association (GHORBA) received US$10,000 to expand the trail system at Double Lake Recreation Area. The Bikes Belong grant matches a Recreational Trails Program grant and will enable the group to hire professional trailbuilders to help the all-volunteer group with their work.
The Southern Off-Road Bicycle Association, Woodstock Chapter (SORBA Woodstock) also received US$10,000 to expand the Blankets Creek Trail in Georgia. Plans include extending the beginner loop and creating an advanced loop with technical terrain.
Other grants went to the Whatcom Council of Governments for the Coast Millennium Trail in Bellingham, Washington; the Centerville-Washington Park District for the Iron Horse Trail near Dayton, Ohio; the Trails and Open Space Coalition for the Pikes Peak Greenway/South Tejon Street Connector in Colorado Springs, Colorado; and the Yukon BMX Parents and Riders Association for Track and Trail Enhancements in Yukon, Oklahoma.
Mike & Mary diary: Staying on in Chile
The view of Santiago,
Photo ©: Mike Broderick & Mary McConneloug

When our planned flight back to Boston departed from Santiago, Mary and I were checking our tire pressure, filling water bottles and getting ready to go out on another epic mountain bike exploration mission here in Pichilemu. Not sure how it happened but once again we took advantage of really not living anywhere and decided to just stay where we were. In this case to live and dedicate our winter training out of this dusty little coastal town in Chile.
This place just kind of lured us in as we were based here competing in some late season mountain bike races during the quiet time from November through December. At that time, we enjoyed a flowery desert spring, quiet beachfront living and out of the way styles of town. Now in late January-February, it is mid summer for the Southern hemisphere and a hectic carnival feel has taken over–although we still find ourselves loving much of what we have discovered. We are definitely influenced by the long lines at the grocery and the increased traffic on the single tar road linking town to the real world–but it seems a small price to pay for how sweet it is here.
The only guy
Photo ©: Mike Broderick & Mary McConneloug

The vast rolling hills where we train remain mostly unchanged, big open dusty and completely remote. The kind of place that's so quiet you could/can rail through a blind left hand corner in the inside lane rather than touch the brakes, though you know you really shouldn't!! Also the kind of place where you can look up to spot the peak of the massive climb from your vantage point at the very bottom, and you just have to take a look at what you are getting into, though you know you really shouldn't.
Mary and I are certainly among the first mountain bikers to ride many of the trails that we have been frequenting. With a good bit of trail work and countless hours of exploration we have linked miles and miles of quality forest service terrain that has seemingly laid dormant, maintained only by cows, horses and the few farmers that scratch a living out of the dusty soil. Once you learn and commit to the proper duck and roll under the rusted barbed wire and don't mind a few extra repetitions of lifting the bike over a few gates, this place gives up some remarkable rides.
Read the complete diary entry.
24 Hours of Kellevie to celebrate second year
The Hobart Dirt Devils Mountain Bike Club 's Kellevie 12/24 hour mountain bike race will return to the Kellevie Mountain Bike Park in the municipality of Sorell in Australia for its second year on March 29, 2008. Last year's solo champions Andrew Fellowes and Eleanor Patterson will be on hand to defend their titles. Solos, teams of up to six and schools will compete a track that's been lengthened by nine kilometers.
"We are looking forward to another great event that occurs as a result of the generosity of the land owner and support of the mountain biking community," said Duncan Giblin, Race Director.
Last year's riders braved strong winds and a storm to ride through the night and into the next day. This year, the male and female winners of the fastest lap will earn AUS$250. Overall male and female solo winners will be awarded $750.
Registration closes March 7. For more info, visit www.kellevie24.com.
24 Hours of Rotorua to serve as Worlds qualifier
The solo category of the 24 Hours of Rotorua on February 23-24 will serve as the New Zealand qualifier for the 2008 24 Hours of Adrenalin World Solo Championships in Alberta, Canada.
"This is great news for our event," said Rotorua race director, Dean Watson.
Those not quite up for 24 hours will be able to race a 12 hour version of the event starting at midnight. For more information, visit www.n-duro.co.nz.
Midwest Fat Tire Series
In its 15th season, Midwest Fat Tire Series in 2008 will feature seven races in Missouri and Kansas. Racers who compete in 70% or more of the events will be eligible for the series. For more information, visit www.midwestfattireseries.com.
Midwest Fat Tire Series
March 9: Race #1 - Ride with the Devil - Clinton Lake State Park, Lawrence, Kansas
March 30: Race #2 - Rim Wrecker - Council Bluff Lake, Potosi, Missouri
April 20: Race #3 - Tour de Tick - Neosho, Missouri
June 1: Race #4 - Rhett's Run - Cosmo Park, Columbia, Missouri
July 13: Race #5 - Lunatic Fringe - Smithville Lake, Smithville, Missouri
July 27: Race #6 - Show-Me State Games - Rock Bridge State Park, Columbia, Missouri
August 31: Binder Lake 6 Hour - Binder Lake Park, Jefferson City, Missouri
September 21: Race #7 - OZ Epic - Trail of the Four Winds, Lake Ozark, Missouri
(All rights reserved/Copyright Future Publishing Limited 2008)