MTB news & racing round-up for August 28, 2008
Welcome to our regular roundup of what's happening in mountain biking. Feel free to send feedback, news, & releases to mtb@cyclingnews.com and results, reports & photos to cyclingnews@cyclingnews.com.
Edited by Steve Medcroft
Absalon repeats while Spitz completes dream ride in Beijing
Julien Absalon celebrates his win.
Photo ©: Casey Gibson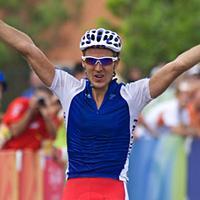 In dominating performances, Frenchman Julien Absalon earned his second consecutive men's Gold medal at the Beijing Olympics last week while German rider Sabine Spitz fulfilled what she called a lifetime goal of reaching Gold in the women's race.
Absalon was a sure favorite but the men's race wasn't without surprises. Most notable was Absalon's compatriot Jean-Christophe Peraud, who stormed to a silver medal, a minute after Absalon celebrated his win. The Swiss duo of Christoph Sauser and Nino Schurter delivered an exciting battle for bronze, with Schurter edging out Sauser by a few seconds.
The Laoshan mountain bike course was criticized after the test event last year for being too easy, but the riders should have been careful what they asked for, as the re-designed track was far harder than anyone had anticipated.
"It's the most complicated, difficult technical race. There were lots of stones and no time to rest," Absalon said after the race. Pernaud agreed that it was one of the hardest courses he'd ever ridden. "After I finished, I was so tired that I had to take a rest, because I couldn't feel my legs anymore," he said.
Absalon was impervious to the numerous steep and rocky descents which spelled the end of many of the favorite's' races. Even Switzerland's Christoph Sauser, the reigning world champion, had to concede the race to his 22-year-old team-mate Nino Schurter, who took the bronze. Absalon says that Schurter will be the rider to beat in London in four years' time.
Spitz dominates her way to gold
Sabine Spitz
Photo ©: AFP

Sabine Spitz of Germany fulfilled her dream of an Olympic gold medal by dominating the field early on. Silver went to Polish rider Maja Wloszczowska and Irina Kalentyeva (Russia) scored the bronze medal. The best Chinese rider was Chengyuan Ren in fifth place. She was 2'29 back.
The race in the unforgiving Beijing heat on a very technical course saw some of the pre-race favorites drop out early. Margarita Fullana (Spain), Gunn-Rita Dahle Flesjaa (Norway) and Marie-Helene Premont (Canada) all were not able to finish the race.
Spitz had a good start and was at the front together with Fullana and Wloszczowska. Only a half lap (of six) into the race Spitz put in a very strong move. She completed the first lap 4.3-kilometre lap in 16'51, 21 seconds faster than her closest competitors.
From there Spitz kept pulling away until she held a commanding lead of around 50 seconds until the end, giving her an extremely gratifying win. "I felt pure joy that I had finally achieved this goal after so many years of hard work. Winning the gold medal at the Olympics is the crowning glory of a career."
"Almost from the beginning I was able to be at the front and set the speed of the race. This meant that I was able to set my own rhythm, and ride my own race."
Click here to see Cyclingnews' full coverage of the men's and women's Olympic MTB cross-country races.
Canberra World Cup should be showcase for Aussie riders
Sam Hill at Worlds
Photo ©: Rob Jones

Two time world downhill champion Sam Hill, Olympian Jared Graves and Australian 4X champion Caroline Buchanan spearhead the local challenge when World Cup mountain bike racing heads Down Under to Canberra's Mt Stromlo Forest Park this weekend (August 30-31).
Over 80 Australians and a world class international contingent of over 200 will contest the three mountain bike disciplines: downhill, X-Country and 4X, in the penultimate round of the UCI World Cup.
The event is the first time MT Stromlo has staged a World Cup round, with Canberra's cool climate and technical reconfigured courses bound to test the skills and skins of athletes. The event also offers Australian stars the chance to shine at home, at the venue which also hosts next year's UCI Mountain Bike World Championships (September 1-6,2009).
However if two time world downhill champion, and the current World Cup frontrunner , Aussie Sam Hill was looking for some assistance from the course designers – he will be disappointed. The Perth rider confessed today the 2.3km course, with its flatter lower sections would favor the power pedallers, including Aussie rivals Nathan Rennie and Chris Kovarik, and internationals Steve Peat (GBR) and Greg Minnaar (RSA).
"It's going to be pretty difficult, because there's a lot of pedaling and it's a smaller mountain than I'm used to," said 23 year old Hill about the 2.3 kilometer downhill course. "It's not going to be as easy to generate speed, so it will favor the powerful peddlers who can carry their speed and momentum into the lowers section of the course. "However I'm going to give it my best shot," added Hill, who missed out on a world title hat-trick after crashing in Italy.
Hill's track record on this layout is also not great, with the 23-year-old crashing the last time he raced at the venue for the Australian Championships in 2007. He will also need all his renown 'line' reading skills to hold off, Britain's Gee Atherton, who is looking to add the World Cup trophy to his newly acquired World Championship title. Only 128 points separate the two on the World Cup point score with a maximum of 500 points on offer over the final two rounds.
Canada's Geoff Kabush got the holeshot at the Olympics
Photo ©: Rob Jones

In the 4X Aussie Olympic BMX aces Jared Graves and Luke Madill will be looking for redemption when they line up for their first outing post Beijing at the World Cup 4X on Saturday night.
26-year-old Graves finished 6th in Beijing after being taken out in the final, but is back in the saddle for the 4X, as is Sydney's Madill whose Olympic campaign ended in the quarter stages . Although not in the hunt for the World Cup title, Aussie 4X champion Madill and Graves will be eager to disrupt the ambitions of others. Their main opposition will come from Spanish World Champion Rafael Alvarez De Lara Lucas, who also heads the World Cup standings, Germany's creative Guido Tschugg and perennial American Brian Lopes – who boasts six World Cup titles and four World Championships.
The women's 4X race will be no less hotly contested with Aussies Olympian Tania Bailey (BMX) and current champion Carolyn Buchan eager to stamp their authority on the course ahead of next year's World Championships also at Stromlo. Buchanan lies seventh in the standings behind Dutchwoman Annke Beerton.
In the cross-country races, all eyes will be watching the ever popular Geoff Kabush (Can) with his trade mark sideburns and Olympic Bronze medallist and under 23 World Champion Nino Schurter. The technical nature of Stromlo should also provide New Zealander Kashi Leuchs with his chance to shine on the world stage in the men's X-Country event.
Check back on Cyclingnews for full coverage from the MTB World Cup in Canberra.
Inside Canberra's grueling course
Drop in and see me some time.

The final round of the World Cup mountain bike series will be held in Australia on August 30 and 31 on the same courses as the 2009 world championships. Bikeradar's John Stevenson looks at what's in store for the world's top riders Down Under.
The Olympic cross-country mountain bike course was made more technical when test events revealed it to be a bit too easy. That's not likely to happen with the 2009 world championships course at Mt Stromlo, Canberra, Australia. It's already hard enough that top local rider Ben Henderson thinks some sections will have a significant proportion of the field walking at the final round of the mountain bike world cup, August 30-31.
"The downhillers say that this bit is harder than anything on the downhill course," Henderson told us before piloting his Mongoose hardtail down a pair of treacherous, ultra-steep rock slabs that are made even more interesting by the surrounding rocks, bushes and brambles. They're not a comfortable landing zone if you stuff up.
Henderson showed us round the cross-country course on a sunny but cool afternoon that was typical of the weather riders can expect for next weekend. We basked in the winter sunshine, but reached for armwarmers and gilets when clouds covered the sun.
Downhill rock slabs aren't the only problem lurking in wait for the cross-country riders at Mt Stromlo. There's a 'b' line round that section - though it's not exactly easy - and there are several similar uphill sections.
Riders hit the singletrack - dubbed Cardiac Climb - after a section of fire road. As it twists and turns up Mt Stromlo they're presented with several steep, technical hairpins. Nestled in a few of them are even steeper, more technical sections that will save riders a few seconds - if they can ride them. Going the long way round will be safer but slower.
It's only about a kilometer long in total but Cardiac Climb is expected to be the crux section of the cross-country course. Whoever gets up it first will have a significant advantage and repeated ascents will wear riders down over the six laps of the men's race.
To read the full course preview, click here.
Gunn-Rita Dahle Flesjå forced to pass on Canberra
Dahle-Flesjaa winning the Madrid World Cup
Photo ©: Dave McElwaine

One week after the Olympic games have come to an end, mountain bike racers will now gather in Canberra, Australia for another World cup race.
Norway's Gunn-Rita Dahle Flesjå announced this week that she has decided to pass on competing; she had crashed repeatedly while practicing on the Olympic race course and obviously had suffered worse injuries than diagnosed on site.
The marathon World Champion says that severe bruises on her hip, ribs and even face still cause too much pain to be competitive in Canberra.
"I had a hard time getting any sleep the last few nights because of all the pain, so before I return to competing I first need to recover from my injuries completely" Dahle said.
Dahle says she will instead fly to Germany for Friedrichshafen's Eurobike trade show where she will represent the "Multivan Merida Biking Team."
TransWales ends with closest GC battles in its history
After seven days and 550 kilometers riding with 15,500 meters of climbing, Frans Claes (Connections Granville) and Fiona Spotswood (Ironhorse Extreme) have claimed the open solo categories in the 2008 Merida Bikes TransWales Challenge.
The final linking stage took riders from beautiful Strata Florida with its ancient abbey back home to Builth Wells, some 84km and 2500m of climbing away and in the end, the TransWales saw the closest racing in the event's history: in many categories, racers had been swapping the lead in the general classification all week with no one clear superpower dominating. With the final special stage yesterday again seeing fresh winners in some categories, it made for a suitably climactic finish to the event and all was finally revealed in Builth Wells.
After more than 45 hours of total riding, Claes finished just 23-seconds ahead of second place rider Ewan Thorburn (Fat Tread Bikes) and 43-seconds ahead of Ryan Bevies (RAM Bikes). In the women's solo open category, Spotswood finished 2:13 ahead of Katrina Brown (Deeside Total Endurance) and 39:34 in front of Amy Baron-Hall (trio25.blogspot.com).
For full reports and results from the 2008 TransWales, click here.
Epic battles expected at 11,000-foot NMBS Finals
By Dave McElwaine
Katerina Nash (Luna Women's MTB) could challenge
Photo ©: Dave McElwaine

The U.S.A. National Mountain Bike Series Finals (NMBS) will be held this weekend on the rugged slopes of Brian Head, Utah in the Wasatch Mountains. Series titles will be awarded in Cross Country, Downhill, and Dual Slalom events.
Most of the top racers in North America will be in attendance including Olympians (and series leaders) Geoff Kabush (Maxxis) and Georgia Gould (Luna Woman's MTB). Both will be flying halfway around the world from Beijing to nail down NMBS cross country titles. Neither have been racing at altitude since the World Championships in Val di Sole, Italy so the thin air at Brian Head could be a challenge. Gould finished 8th in her Olympic race while Kabush finished 20th.
The rest of the North American Mountain Bike Olympians will be heading directly from Beijing to the World Cup Race in Canberra, Australia. This includes Catherine Pendrel (Luna Women's MTB), who finished 4th in the Olympics (which was the best result for any North American). The absence of these riders opens the door for other racers to shine at Brian Head.
Some racers who will be competing this weekend have raced in The Great American Stage Race this past weekend in and around Brian Head. While racing 170 miles in fours days may not seem to be good preparation for the series finale, a couple factors may work in their favor. Firstly, they may have had enough time to acclimate somewhat to the high altitude. Secondly, the last stage was exactly the same course as the NMBS cross country circuit. These racers will have the course dialed in.
Jeremy Horgan-Kobelski (Gary Fisher/Subaru), Jeremiah Bishop (Trek/VW), Ryan Trebon (Kona), Heather Irmiger (Gary Fisher/Subaru), Pua Sawicki (Ellsworth), Lea Davision (Trek/VW), and Jenny Smith (Trek/VW) have all competed in the stage race.
For the full preview of the 2008 US National Mountain Bike Series Finals, click here.
National Ultra Endurance Series stops in Virginia
by Harlan Price
The 10th annual Shenandoah Mountain 100 fires off this weekend with a field of gunners looking to bring down another 100 miler course record. 2008 has been the year of course record deaths with the fastest times ever for many events including the Wilderness 101 last month and the Fools Gold 100 and Leadville 100 this month. Shenandoah 100 race promoter Chris Scott has a record size field of 500 riders coming to his Shenandoah Valley venue outside of Harrisonburg, VA this Saturday for a weekend of camping eating and racing at the private Stokesville Campground.
Jeff Schalk at the Wilderness 101
Photo ©: Chris Scott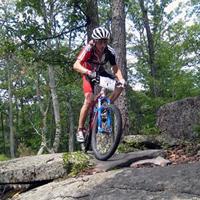 A strong favorite in the men's field is NUE series leader and last years winner and course record holder, Jeff Schalk (Trek VW East Coast Regional). His 2007 race against Floyd Landis pushed him to new heights and it will be doubtful that he will be able to break his own time of 7:05:25. The men looking to take Schalk and his time down are deep with the determination of racers such as Chris Eatough (Trek VW Factory), Sam Koerber (Gary Fisher 29) and Chris Beck (Gary Fisher 29er) on the short list, while past pros such as Paul Brushetta and Charlie Storm will be looking to replay some glory days. Look for some roadies to fill in the gaps, while trying to figure out what all the hollering is about over these 100 mile sufferfests. Not in attendance will be series contenders Christian Tanguy (American Cycling and Fitness) and Harlan Price (IFracing.org) who is still recovering from a fractured wrist. Jeremiah Bishop (Trek VW) will be in Utah racing the NMBS series final, escaping a much anticipated rematch with Schalk after Schalk DNF'd at the Fools Gold.
As is traditionally the case for a Chris Scott production, the women's race will see one of the biggest fields due to his policy of equal payouts for top riders in the men's and women's fields. Fresh to form like a new sports car off the lot, Trish Stevenson (IFracing.org) is looking to back up her Fools Gold 100 win last week. Though she was looking strong while taking down two of the leading ladies in the series at that race, it's a new day for everyone and she'll have to work hard to defend against the NUE series leader Cheryl Sornson (Trek VW East Coast), Betsy Shogren (Sobe Cannondale) and recent TransRockies finisher Michelle Stopper (Visit PA).
Last year Sue Haywood (Trek VW) blazed the course with a new women's record time and set the challenge high. Due to an injury at the national championships in Vermont, the local Haywood will be on the sidelines yelling words of encouragement to the 30 plus women duking it out.
Gunner Shogren (Sobe Cannondale) doesn't seem satisfied with a couple of decades of racing success and now has his eyes set on a NUE series single speed championship. He'll have to contend with a West Virginia posse of skilled riders like, Chris McGill and Benji Klimas in the run to the finish and for the beer pint glasses given to each finisher.
For the 50+ men this will be another chance for the locomotives Greg Turner and Scott Root to collide. Though Turner has consistently churned the engines for dominant winning times, the day for Root might be this weekend. Perhaps paving the way for these stately elders of speed is John Majors, 2006 and 2007 series winner, who will be dicing it up as well.
Up next is the series final in Tahoe CA, at the Tahoe-Sierra 100 on Sept 6th.
Stay tuned to Cyclingnews.com for full results, photos and race report from the Shenandoah Mountain 100 or go to www.usmtb100.com for more information.
Tour of the White Mountains opens new trails for 2008
The 2008 Show Low Bluff Tour of the White Mountains (in Northern Arizona, USA) presented by Cellular One is in its 13th year, but in some ways it's a brand new event. The endurance mountain biking event, which will be held Saturday, Oct. 4, still will be on trails in the Apache-Sitgreaves National Forest located near Pinetop-Lakeside, AZ, but some of those trails are new.
Promoter Todd Sadow says that the Apache Sitgreaves National Forest and TRACKS, the local trail construction and advocacy club, have worked hard to rehab existing trails and build the new trails that exemplify the best of Northern Arizona riding, with climbs, fun and challenging, groovy singletrack, and of course spectacular mountain scenery.
The Tour of the White Mountains include 60, 30 and 15-mile MTB endurance options. For more information, see www.epicrides.com/towm/towm.htm.
Inaugural Nelson's Creek MTB Festival set for Sep 13/14
First-year event, the Nelson's Creek MTB Festival at Nelson Wine Estate near Paarl in South Africa, is offering 500 riders a full weekend of riding and activities September 13th and 14th.
The options start with a three-day MTB stage race which provide advanced riders with the chance to start training for longer races on the cycling calendar, like the Coronation Double Century held around Swellendam later this year and next year's stage race season with events like the Cape Epic. The stage-race weekend will also include amenities (sports massage therapists will be on hand at the end of stages 1 and 2) and R10,00 in prize moeny. The stage race is limited to 500 racers.
Less ambitious riders will have the chance to compete a seven-kilometre Friday night race as well as 15, 30 and 50 kilometer events run while the stage racers are out on course. Camping for the whole family
Alan Nelson, owner of Nelson Wine Estate which has been in existence since 1692, has made 700 camping sites available on his farm, with the much-needed "luxuries" of flush toilets and hot showers. For more information or to enter, visit www.mtbfestival.co.za.
River's Edge to host US Southeast Marathon Championships
Charlotte Sports Cycling announced this week that they have teamed up with the US National Whitewater Center in Charlotte, NC to host the Widmer Brothers Rivers Edge Mountain Bike Marathon. The 50-mile mountain bike race on Sunday, September 7 will serve as the USA Cycling's Southeast Marathon Championships.
The 50 mile race will consist of six 8.4 mile laps of tough singletrack. The course terrain at the US National Whitewater Center is rolling with three tough climbs gaining approximately 750 feet per lap. Neutral food and mechanic support for all racers will be provided and 12 championship categories will be contested.
The event will be held at the US National Whitewater Center. Not only is the USNWC an awesome place to mountain bike, it's a great place to bring the whole family. There is lots to do at the Park including, whitewater rafting, climbing(one of the largest outdoor climbing facilities in the U.S.), high ropes, and hopefully they will have their new four person zip line open by the time of the event. For more information on the Rivers Edge Mountain Bike Marathon, visit www.charlottemtnbike.com.
A late start and a new beginning; The Barbara Howe diary
Riding in the mountains.
Photo ©: Barbara Howe

For the past several months, I've been trying to write a diary to update everyone on the condition of my injury. I've written several and liked none of them. Here I am almost eight months later finally writing a diary I like and I think it happened because I'm finally putting a number on again and racing.
I was quite nervous about my first race back for several reasons, the least of them being that my last race was eight months ago. It was going to be hot in Napa, there's tons of poison oak in the area and I wasn't sure how my ankle was going to take to a long hot race. I've put in several long hot mountain bikes rides in the mountains over the summer but they all somehow involved taking long mid-ride breaks and swimming in rivers.
My teammate Shannon Edson took the hole shot – trying to keep up with her put me in a world of hurt as I haven't gone that hard in a very long time. I was very impressed by the single speeder who put the hurt on me for part of the first lap. I finally caught her on a steep climb.
For the full Barbara Howe diary, click here.
In the Beijing pits
Cyclingnews staff scoured the pits at the Beijing MTB event and sent back photos and details of some of a handful of the machines in use there.
A look at Geoff Kabush's race machine
Canada's Geoff Kabush
Photo ©: Christopher Warrick

Canada's Geoff Kabush (who currently sits third in the UCI World Cup series) will take a straightforward approach to his Olympic equipment with a Litespeed Ocoee titanium hardtail that we expect to perform well on Beijing's relatively non-technical course.
Kabush's 1.48kg (3.26lb, estimated) frame is outfitted with a pair of Stan's ZTR Race wheels wrapped in Maxxis rubber (converted to tubeless with Stan's NoTubes sealant), Magura's upcoming ultralight Marta SL Magnesium hydraulic disc brakes (with Stan's coated aluminum rotors), ubiquitous Egg Beater 4Ti pedals from Crankbrothers and fi'zi:k's new carbon-railed Tundra saddle with a custom red-and-white cover.
The rest of the bike is completed with a Shimano XTR transmission, Fox Racing Shox F100 RLC fork (with remote lockout), Chris King NoThreadset and FSA's K-Force carbon riser bar, K-Force carbon seatpost and OS-115 aluminum stem. Finishing out the color-coordinated look is Jagwire housing, a Cateye computer and a ceramic-enhanced bottom bracket and derailleur pulleys, all in matching red.
Team officials weren't exactly forthcoming with a total bike weight but the build kit suggests that it's certainly light enough.
Seven Cycles launches Olympic-edition Sola
Seven Cycles will offer

Seven Cycles has unveiled a special edition of its Sola hardtail to celebrate the Olympic return of its star rider, Mary McConneloug (United States). The so-called Sola Gold augments the standard Sola's all-Argen butted titanium tubeset with a smattering of the company's ultralight Cirrus Ultra-Butted pipes. The Sola Gold drops about 50g (0.1lb) in the process to yield a total average weight of just 1.45kg (3.2lb).
Based on previous set-ups, we're guessing McConneloug's rig will be set up with an 80mm-travel fork but Seven will build the Sola Gold for consumers to accommodate anything from 80-120mm and with disc and/or rim brake mounts.
For more MTB tech from Beijing, click here.
(All rights reserved/Copyright Future Publishing Limited 2008)