MTB news & racing round-up for October 18, 2006
Edited by Sue George & Steve Medcroft
Ross wraps weather-hampered season with 24-Hour series win
By Steve Medcroft
Nat Ross
Photo ©: Xavier Fane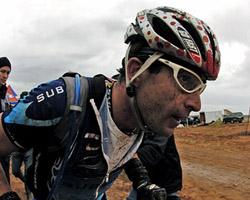 At last weekend's 24 Hours of Moab, Cyclingnews diarist Nat Ross became the winner of the first-ever 24 hour national points series. In the series, promoted by Laird Knight (Granny Gear Promotions), a rider had to collect points at three of the six Granny Gears races to win a cash prize estimated at $5,000.
Even though he won all of the three Granny Gear races he entered in 2006, and podiumed in two other 24-hour events, Ross hasn't had an easy season. For the first time, the veteran solo endurance racer has been in races that were called for weather. And not just one; three events Ross was in have come to a screeching halt.
"At the 24 Hours of Nine Mile," Ross said by phone on Tuesday, "lightning storms and torrential rains at 5:30 in the morning stopped the race. At the 24 Hours of Landau the terrain became impassable after a deluge of rain some time between two and six a.m.,." Then again last weekend, at the 24 Hours of Moab, rain dumped over the course; this time causing flash floods that washed sections of the course out from under rider's wheels.
"It was insane," Ross said. "It was cold. I heard that Search and Rescue had pulled 21 people off the course for hypothermia and injuries from crashes."
When he wrote his original season plan, Ross had not intended to race in Moab. "I showed up a (the 24 Hours of) Temecula (the first event in the Granny Gear series, held April 21st) to test myself at the beginning of the season. Laird (Knight, race promoter) said there was a series but I didn't think it would fit my schedule. But I won Temecula, and Laird said that 30% of the overall prize money (Granny Gear donates a portion of every solo entry to a pool from which he pays five riders deep in the solo class) would go to the series category and it got me thinking."
The final nudge that caused Ross to shift his schedule contend for the Granny Gear series was "going to Wisconsin (the US national championship race at the 24 Hours of 9 Mile in Wassau) and getting my ass handed to me by Chris (Eatough). I decided to concentrate on Moab instead of (24 hours of Adrenalin) Worlds in Georgia, and in order to win the series, I had to have three races so I jumped into (24 hours of) Landahl (in Missouri September 16th.)."
Having recently completed the Race Across America in the four-man competition Ross says he found himself with good legs at Landahl and took his second series win. All he needed was a high placing at Moab. After recon rides in Moab by his pit crew, and warnings of possible bad weather, Ross geared up for wet conditions. "When it rains in Moab, it gets cold," he said. "I brought rain gear and even modified my stuff with shower caps and water proof vests and rubber gloves - everything I could think of to keep me dry."
"And," Ross adds, "after the previous two races (that were affected by severe weather), I knew it would be an advantage to go out fast early; if the race got stopped and restarted I wanted to be in front."
Ultimately, after flash flooding tore the Moab course apart, racing was called after less than nine hours. Ross was four minutes ahead of Josh Tostada (Giant) at the time. As anticipated, the solo class competition never resumed and Ross was declared victor. Once the total attendance is calculated, Ross expects a series payout of about $5,000. "That's a pretty good payday."
Ross says the series will impact the way he designs his 2007 racing schedule."I think it can be good for the sport, something a lot of racers could get behind."
For now though, Ross is hanging up the rain gear and turning his attention to "taking the whole month of December off" and riding in a few select cyclo-cross races.
See also, the Nat Ross diary, www.grannygear.com and our 24 Hour of Moab race report.
McConneloug and Paez Leon capture continental MTB titles
By Sue George
Mary McConneloug (USA) won the women's cross-country Pan Am Championships. She clocked a winning time of 1:35:36 over the 13.17-mile course to beat silver medalist Catherine Pendrel (Canada) and bronze medalist Jimena Florit (Argentina). Pendrel learned she would replace Alison Sydor on the Canadian team only one week prior to the race, but told her coach the morning of the race that she felt like she would medal.
Hector Leonardo Paez Leon (Colombia) won the men's 19.76 mile race in front of silver medalist Mathieu Toulouse (Canada), and bronze medalist Cristobal Silva (Chile).
In the men's Under 23 race, Max Plaxton (Canada) took home gold over Dario Alejandro Gasco (Argentina) and Sam Schultz (USA). Plaxton, 21, said, "I wanted to win this race so badly, as I took the silver as a junior in 2002 and the bronze in 2005. It was pretty hard for me in the first couple of laps, but after a while I succeeded in catching the leaders and I passed them. I soon got a lap ahead and was feeling better at every lap." Plaxton added that he did not suffer much in the oppressive heat thanks to drinking a lot of water.
Francisca Campos (Chile) and Jenna Zander (USA) took first and second in the women's Under 23.
The Continental Championships follow only the World Championships and World Cup events in terms of races that offer the most UCI points on an annual basis. Hence, many nations send their best athletes to win valuable UCI points. Overall country rankings determine the number of 2008 Olympic Games starting positions per country.
For full results from the Pan American MTB Championships, click here.
Wet and windy start to Crocodile Trophy 2006
This pair decided
Photo ©: John Flynn

In a repeat of his 2005 performance, Belgian Christophe Stevens kicked off his 2006 Crocodile Trophy Campaign with a tempting 15km prologue victory on the palm-fringed beach at Townsville in Tropical North Queensland on October 17. Under dark, wet skies in the sweaty tropics, the former Chocolade Jacques pro road cyclist, who was unsure of his form until the midday race start, answered his own questions and those of fellow competitors by joining Austrian powerhouse Heinz Zorweg in a two man breakaway.
The pair, who on today's form, shape up as the two serious contenders for the 2006 Croc Trophy, blasted away the field of 43 riders (from 14 countries), to gain more than a minute on GC, not that the margin will matter with twelve punishing stages and 1400 kilometres ahead. "It was really hard compared to last year, the wind was just the opposite," Stevens said. "The beach was so hard on the legs."
Austrian Dominique Angerer, one of two women competing in this year's Croc Trophy was the first woman to finish in 23rd place outright.
The race through Australian Outback runs through October 29th.
Read the complete Stage 1 report and results. Race preview and links to reports on remaining stage can be found here.
Extreme conditions affect 24 Hours of Moab final standings
Martin and Ross
Photo ©: Xavier Fane

Nat Ross (Subaru/Gary Fisher) overcame extreme conditions and confusion at the 12th Annual 24 Hours of Moab to win the men's solo division and the entire National Points Series sponsored by Granny Gear Productions. Lynda Wallenfels took the women's race.
According to local sources, a 105 year-old record for rainfall was broken by Friday before the race, and while the rain backed off to a drizzle for Saturday's race start, a torrential downpour resumed around 7 PM. The desert could not absorb so much water so quickly, so water ran everywhere, eroding the course so that lines differed from lap to lap.
Ross led four contenders at the end of lap one. At only eight seconds, Nick Martin (Trek/VW) followed. The two would stay within only 14 seconds for the next six-and-a-half hours.
Martin said, "My plan was to stick to Nat's wheel - to be that annoying pest behind Nat, but we're really good friends, and I made my intentions clear to him. Our first laps felt pretty comfortable. Nat was setting the pace the whole time and I was just respecting the fact that it was Nat's territory."
For a full race report, photos and as many results as we have from the 24 Hours of Moab, click here.
Brentjens wins his own Challenge
For the second time, Bart Brentjens has won his own Bart Brentjens Challenge. In the last kilometres of the 104km mountain bike marathon, Brentjens flatted and was overtaken by his teammate Martin Kraler, who gained a minute. Yet, Brentjens regained Kraler and then beat the Austrian in the final sprint. Brentjens said, "This is the Amstel Gold Race for mountain bikers. In the sprint, I showed who was best. Kraler asked me to go together over the finish, but that's not my mentality."
Comas crowns in Larch trials world cup
By Antonio J. Salmerón
Spanish rider Daniel Comas won the fifth and final race of the UCI Trials World Cup. Comas also took the 2006 individual overall title after dominating his rivals, Poland's Rafal Kumorowski and the Spanish Carles Diaz Codina, who finished second and third in the final general respectively.
On the women's side, Swiss Karin Moor won after taking control of the world title. Mireia and Gemma Abant finished second and third, but they did not dispute the claim by some that second and third ought to have gone Frenchwoman Julie Pesenti and German Ann Christine Bettenhausen.
US Collegiate Mountain Bike National Championships happening this weekend
Top American collegiate mountain bike racers will compete for the NCCA Mountain Bike Championships Friday, October 20th through Sunday, October 22nd in Angel Fire, New Mexico.
The short track and mountain cross events happen on Friday. Saturday will test the fitness and bike-handling skills of cross-country riders on the technically demanding, ten-mile course which will wind through the breathtaking hills of the Sangre De Cristo Mountains. Competition wraps up Sunday with the downhill, which drops 1,500 feet over rough volcanic terrain in just under six minutes. Overall team and individual champions will be crowned Sunday afternoon.
English downhill championships
English downhillers will head to Headon Plantation in Bratton for the championship event to be held this weekend. First contested in 2005, the English Downhill Championships was cancelled last year. After practicing on Saturday, racers will do a seeding run to determine start order on Sunday to determine starting order on the final run.
Bootes to attend Australian Mountain Cross Cup #1
Wade Bootes, fifth-ranked BMX racer worldwide and current mountain cross champion, will attend this weekend's first round of the Australian Mountain Cross Cup in Sydney Olympic Park. Bootes recently broke his collarbone at World Championships Mountain Cross in Rotorua, New Zealand. Western Sydney Mountain Bike Club and Mountain Biking Australia host the event.
Other riders expected to attend include Caroline Buchanan, third last year and reigning mountain cross champion; Alex Lloyd, defending champion; Luke Strom, Oceania Champion; Amiel Cavalier, last year's junior world downhill winner; and Grace Ireland, defending women's champion.
Santa Cruz Team Syndicate happy with 2006 season.
Santa Cruz Syndicate wrapped up a successful season after achieving many of its objectives set forth early in the year. The team climbed atop 42 podiums, and of the six UCI World Cup Downhill events and overall podiums, Syndicate took ten spots.
Steve Pete and Nathan Rennie took first and fourth overall in the UCI World Cup downhill. Rennie also earned the bronze medal, his first as a senior, at the downhill world championships in Rotorua, New Zealand.
In a breakthrough year, Jamie Goldman won the indoor dirt jump competition at the Kona Out of Bounds Weekend in Leogang, Austria, placing 1st in the indoor dirt jump comp. After recovering from a broken hand mid-season, he won the Red Bull VOZI BRE slopestyle in Belgrade, Serbia and the slopestyle and dirt jump at Rock D'Azur, in Provence, France.
Klaus, Kramer win iXS German Downhill Cup finale
Marcus Klaus (Ghost) won the final German Downhill Cup last weekend in front of several thousand spectators in Northwave Bike Park. The 1.7km course dropped 220m. Antje Kramer (Giant) won the women's race.
Vink crowned as new Belgian downhill champion
An international field of racers took part in the open Belgian championships downhill in Namur. Favorite Nico Vink (Dolphin) won the title ahead of compatriot Christoff Lensens and German rider Nino Antic.
Yorkshire, here I come; the Keith Bontrager diary
My plan was about the same this year as it was last year - get up north with a few days to ride, shake the air miles out, get used to the area and the rocks, enjoy the weather and some fine ale, and get ready to race. Other than new wheels, tires and a new handlebar set up, I had a new bike. The bike I rode last year was an Empella with a 1" aluminum steerer. That was a bit too flexible for the descents. I talked Zap out of a Trek XO cross bike, and it was working well. I also added a layer of tape to the bars the evening before the race to help soften the blows on my blistered hands a little.
Descending one of the Dales.
Photo ©: Keith Bontrager

This year I hiked up the back of Whernside with some friends on the Saturday before the race. This is the evil section of the course that has been my undoing every year, so a preview would be good. Ray hadn't raced here before and Julie didn't race last year, so it would be good for them to see it up close and in all of its gory detail. It's a good hike, and it was a sunny day so there were a lot of people taking advantage of the day.
The August rain they'd had there had eroded the dirt around the stones in the trail, so they were a lot more prominent than they had been before. Instead of wasting words on this I am including some shots of the rocks, stones and scenic views of the fell for your enjoyment. It will give you a good idea of how challenging this race is technically, and how beautiful the area is. It was nice to get a chance to see it at a leisurely pace, too - it's much tougher to enjoy it on race day, of course. Keep in mind that it rained on Sunday and these were wet all the way down. It is the north of England, you know.
For the full Keith Bontrager diary, click here.
(All rights reserved/Copyright Knapp Communications Pty Limited 2006)