MTB news & racing round-up for October 14, 2006
Edited by Sue George & Steve Medcroft
Hi Def MTB film wraps shooting
By Steve Medcroft
Ken Bell and Jason Berry of Gripped Films (makers of Off Road to Athens)
Photo ©: Gripped Films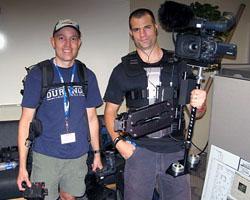 Gripped Films, the production company that released Off Road to Athens at the Sea Otter Classic in 2005, has just concluded filming of their next mountian-bike feature documentary; 24-Solo. For the project, the filmmakers followed multi-time 24 Hours of Adrenalin World Solo Championships winner Chris Eatough (Trek/VW) through the year shooting race footage, background and interviews.
Jason Berry, the film's producer and director, says they shot the final footage for the movie in and around the October 7th World Solo Championships in Conyers Georgia, where Eatough was upset by Australian marathon and 24-hour national champion Craig Gordon (see additional story below).
Berry says he's pleased with the raw material. "We got everything I wanted to get. Except for Chris Winning. But even that was okay because it was such a dramatic battle and the fact that Craig ended up in the hospital speaks to what it took to beat Chris."
Berry says the final film will cover Eatough's complete 2006 season. "We got about 100-hours worth of raw footage. The training aspect is covered. We did interviews (including Eatough's competitors, support staff, family and pioneers in the sport of 24 hour solo mountain biking; like John Stamstead) that will seperate it from typical bike porn; having Chris explain how important in was to him, having his manager talk about his training - things like that."
Berry rolled out a huge production effort for the final event, which will feature as the climax of the movie. "We had five cameras rolling almost 24 hours straight," he said. "We had cameras mounted on cables in certain sections of the course - one over a big ravine - which allowed us to get overhead footage of riders on their bikes. We had a boom crane over the finish se we could get right on top and right beside the finishers."
Berry managed to get inside the race action as well. "We had a steady cam (a special body-mounted camera that uses a gyro to offset the movement of the camera operator to provide smooth shots while the operator moves). "We would pick a very technical secton and literally run beside riders and get some interview stuff. We were able to get Chris and Craig on their bikes in the race."
Berry also mounted a helmet camera on a rider capable of holding pace with Eatough and Gordon. "We had that rider right behind Craig on his last lap, the one he didn't need to complete. When Craig physically broke down, our camera guy had to help him finish - carry him up a hill, put him on his bike and push him; Craig's body had completely locked up."
Berry says his company also made an arrangement with a high-definition night-vision optics manufacturer to capture nighttime racing action.
Berry says he will begin to edit the film, shot completely with high-definition video equipment, over the winter and plans to finish in time to premiere at the Sea Otter Classic in March, 2007.
For more information on the project or to view a trailer for the movie, see the production company's Web site at www.24-solo.com.
Aussie upsets six-time champ at 24 Hour MTB Worlds
By Sue George & Steve Medcroft
Craig Gordon
Photo ©: Tracy Posner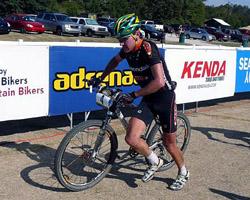 Australian 24 hour solo and marathon champion Craig Gordon (Bear Naked/Cannondale) won the 2006 24 Hours of Adrenalin World Solo Championships on Sunday, beating six-time consecutive champion Chris Eatough (Trek/VW) in an upset. After a fast start that saw Eatough and Gordon escape from every other rider in the race, Gordon managed to build his lead, in five minute-per-lap increments through the night to end up over a lap ahead of the 24-Hours specialist. The two men had raced years ago at cross country World Cups, but this was the first time they battled in a 24 hour race. The determined Gordon pushed himself so hard that he ended up afterward in the hospital on dialysis for two days.
On the women's side, Sue Haywood (Trek/VW) showed her athletic versatility by adding a world title to her collection of national titles. She rode steadily, consistently increasing her lead each lap over her main challenger, Rebecca Rusch (Specialized), an adventure racer undertaking her third ever 24 hour solo race.
For full race report and results, click here.
Roc D'Azur closes out Euro marathon calendar
By Sue George
Alison Sydor (Rocky Mountain Business Objects) and Christoph Sauser won the European end-of-season marathon classic 18th annual Roc D'Azur in southern France last weekend in front of 130,000 spectators. Racers covered 58km starting and ending at the airport of Frejus.
Sydor took her third consecutive victory at the race, which is combined with the largest bicycle show in France. She won in spite of an early crash that separated her from her lead group of four. After convincing medical personnel to return her bike so she could continue racing, she caught back the group before outsprinting them to the finish.
The Swiss Sauser beat second-placed Marti Gispert Labarta by over one minute. Another minute separated third placed Martin Kraler. Well-known roadie Gilberto Simoni showed his late season form also applies to the dirt. The Saunier-Duval pro placed fifth, less than three minutes behind current World Cross Country Champion Sauser in the 2.5 hour race.
See full results for the Roc D'Azur marathon here.
Favorites ready for 24 Hours of Moab
Nat Ross(Subaru/Gary Fisher), Nick Martin (Trek/VW), Tinker Juarez (Cannondale), Tim Graczyk (Wily) and Josh Tostado (Giant) are among the favorites who will vie for victory this weekend at the 12th Annual 24 Hours of Moab.
A win at Moab would top earn Ross the Granny Gear 24 hour race series title in the 2006. Last year, Ross underwent eye surgery to correct vision in his left eye and improve his poor night vision. Surgery for his right eye is cheduled for the week after this year's race. So far this year, Ross has already won the 24 Hours of Temecula in April and the 24 Hours of Landahl in September and competed as a member of the winning four person team in the Race Across America (RAAM).
Perennial race favorite Juarez, who also completed the RAAM this year, last won the solo category in 2003 when Ross took third. Ross said, "Racing against Tinker is the real deal. Tinker is a true icon in the sport and has taken 24-hour racing to new heights. I enjoyed doing RAAM with him this year - it was cool to have so many mountain bikers amongst the best roadies from around the world!"
The 15-mile racecourse at Moab has a reputation as one of the most challenging courses in the world with fabled rock ledges, sandy descents, and 1,360 feet of climbing on each lap.
Check back on Cyclingnews after the weekend for full results from the 24 Hours of Moab.
Crocodile Trophy starts next week
The dusty, corrugated, pot-holed roads of Outback Australia await the twelfth edition of the famed Crocodile Trophy race, which gets underway next week on October 17th in the tropical city of Townsville. The race snakes its way through Australia in 13 stages and 1,400 kilometers. It gets its name from its hazardous river crossings, some of which contain crocodiles.
This year, the eclectic international race field will include more than 50 riders from Austria, Germany, Belgium, Italy, Denmark, France, Switzerland, Spain, Latvia, Japan, Canada, the USA and Australia.
Stage 1, Tuesday, Octber 17, Townsville - Townsville, 15 km
Stage 2, Wednesday, October 18, Herveys Range – Hidden Valley, 120 km
Stage 3, Thursday, Octber 19, Hidden Valley – Lake Lucy, 170 km 04.
Stage 4, Friday, October 20, Lake Lucy – Blencoe Falls, 124 km
Stage 5, Saturday, October 21, Blencoe Falls - Koombooloomba, 75 km
Stage 6, Sunday, October 22, Koombooloomba - Irvinebank, 125 km
Stage 7, Monday, October 23, Irvinebank - Chillagoe, 156 km
Stage 8, Tuesday, October 24, . Chillagoe (time trial), 30 km
Stage 9, Wednesday, October 25, Chillagoe - Mt. Mulgrave, 136 km
Stage 10, Thursday, October 26, Mt. Mulgrave - Laura, 148 km
Stage 11, Friday, October 27, Laura - Cooktown, 142 km
Stage 12, Saturday, October 28, Cooktown - Daintree, 135 km
Stage 13, Sunday, October 29, Cow Bay – Cow Bay, 30 km
Check back on Cyclingnews for complete, stage-by-stage coverage of the Crocodile Trophy.
South Aftrica's Crater Cruise goes on and off road this weekend
The Crater Cruise attracts not only South Africa's best mountain bikers, but also it's top road riders. More than R190,000 in prize money is up for grabs, with the winner of Saturday's 105km marathon taking home R45,000. Robert Hunter (Phonak), Ryan Cox (Barloworld), and Under-23 champion John-Lee Augustyn (Konica Minolta) are among the roadies who will race. Hunter's fitness and experience racing the cobbled Paris Roubaix make him the man to beat on the corrugated gravel roads that comprise much of the race course. At least 2000 racers will participate in various events associated with the Crater Cruise.
Rocky Mountain Collegiate Conference mountain bike finals
With USA NCAA Collegiate Mountain Bike Nationals only two weeks away, teams in the Rocky Mountain conference will challenge each other for the conference championships this weekend in Golden, Colarado. The University of Colorado, the 2005 NCAA winners, will host the regional event.
Racing will take place in the Golden Gate State Park and is open to NORBA riders as well as collegiate racers. Saturday will feature a Short Track and Super D race while the cross country race will take place on Sunday. One lap of the cross country course will feature over 1000 feet of climbing and a dozen challenging creek crossings on the downhill.
New 12-hour race coming to Fayetteville, Tennessee
Dirt Sweat & Gears Announces new 12 hour mountain bike race in the southern US. Mountain bikers will race for a US$10,000 cash purse in Fayetteville, Tennessee, next April 28, 2007. The largest purse ever seen on the 12 hour race circuit is expected to draw top athletes. Winners of the male and female solo category will take home US$1500 each. "These riders work hard and deserve to reap the benefits of their dedication to the sport," says Clay Higgins, Race Director for Dirt Sweat & Gears. Racers will travel a ten mile course on the little-known 260 acre private Cotton Mill Preserve.
WTB returns to its roots for '07
By James Huang, Technical Editor
Two ends of WTB's new tire spectrum:
Photo ©: James Huang
At the Interbike Expo, companies showcased new mountain bike products. One such company was WTB, who after several years of attention to saddles, components, and 29" tires, shifted its focus back to core products with nine new 26" mountain bike tires for 2007. In particular, WTB will emphasize larger 2.3"/2.5" casings for the all-mountain crowd.
A new Prowler line will include the XT 2.3" and MX 2.5" models, both with paired outer knobs. Pairing the side knobs close together should keep them from folding underneath the casing during hard cornering but still offers twice as many biting edges as a single knob. The XT features more of a paddle-type center tread for good driving and braking traction, while the MX utilizes offset center knobs for more directional stability.
To read the rest of this report plus coverage of Reynolds' new 29er wheels, check out Interbike Expo coverage Part 16: Reynolds 29er wheels; Nine new WTB tires; Beefier Rolf tandem wheelset.
World leaders in bike park development convene in Whistler
Bike park developers from Les Gets, Levi, Leogang, Snowshoe, Killington, Livigno, Panorama, and Winter Park met at Whistler to discuss the future of bike park riding. They learned about marketing ideas and events, specially designed bikes, and the creation and implementation of trail construction and rating guidelines. Attendees checked out examples of different types of trails, wooden features, and jump parks. Bicycle manufacturer Kona sponsored the event.
Kona signs the Lacondeguy brothers to the Clump Freeride Team
European brothers Lluis and Andreu Lacondeguy signed with Kona after bursting onto the dirt jump scene in 2006 with podium finishes at the Austrian King of Dirt, Red Bull Trailfox, Braun 26TRIX, and Red Bull District Ride. The free-riding brothers are best known for their slopestyle riding.
Chasing setup at Landahl 24-Hour; the Keith Bontrager diary
It's been a while since my meltdown in Canada. I've spent the time constructively and fairly focused - training for the last races of the year. Some friends of mine dragged me out for some long rides on my cross bike, which was a good thing. I told them if I win money in England it's my shout when I got back. I guess I owe them.
24 Hours of Landahl
This was the event's first year and the field was small - but I think it will catch on quickly. The fairly technical course is about 11 miles long, with short climbs and is mainly single-track in the trees - hard not to like that!
Doug Long lives in the area. He and I had raced against each other in West Virginia a few times, so it was a change to be on the same team. Doug's fast. He recruited Lyle Riedy, another fast local and John George, a friend of mine and team mate at Moab for many years. John, who is also fast, grew up in the area and it turns out Doug and he both wrestled on high school teams about the same time, knew the same guys etc. Small world.
Read the entire Keith Bontrager diary here.
Mary and Mike return to North America
By Mary McConneloug
Ready to race
Photo ©: Mike Broderick & Mary McConneloug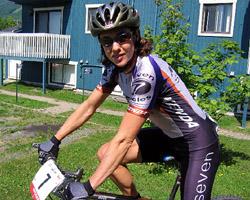 Mike and I were glad to make our way back to the East Coast of North America after seven weeks in Europe. During our three weeks back, we raced the US NORBA National in Mount Snow, Vermont and the World Cup in Mont Sainte Anne, Quebec, and then we spent a precious week of down time on Martha's Vineyard island in Massachusetts.
Early summer travels (June 14- July 7, 2006)
It was great flying into Boston being picked up and taken care of by our sponsor and good friend Jennifer Miller of Seven Cycles. Thanks to her, we could easily transition from intense travels and racing to relaxing and recovering at her house in Medford for a few days. After living in an RV for extended periods of time, hot running showers and private space become a luxury. It was nice to be back in the USA where the sun was shining, people communicated in English, and best of all, we were heading excitedly for two of our favorite race venues.
US NORBA National #3: Mount Snow, Vermont
Mount Snow is a classic mountain bike race. The steep climbs and descents, riddled with technical rooty, rocky terrain is what off-road cycling is all about for us. This course requires a balance of good fitness to get up the unrelenting climbs and the skills to handle the bike on the bumpy and rooty descents. My first NORBA victory was on this course in 2003, and my goal was to repeat the win.
Read the entire Mary McConneloug & Mike Broderick diary here.
(All rights reserved/Copyright Knapp Communications Pty Limited 2006)