MTB news & racing round-up for October 4, 2006
Edited by Steve Medcroft and Sue George
Travis Brown Inducted Into Mountain Bike Hall of Fame
By Sue George
Travis Brown wins the 2006 US Marathon National Championship
Photo ©: Steve Medcroft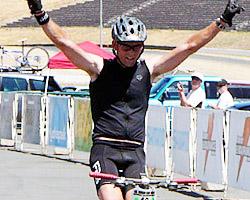 US Olympic mountain biker Travis Brown (Trek/FRS) was among three men inducted into the Mountain Bike Hall of Fame at a ceremony held during Interbike on September 28, 2006. He was honored for his career accomplishments along with Chris King and Bob Gregorio.
"The proudest moments of my career were making the step up to the national level by winning my first NORBA National event in 1996 and becoming an Olympian in the 2000 games," Brown said after receiving a welded steel trophy of a mountain biker on a mountain and a jacket from Gore Bicycle Wear. Brown also won the NORBA cross-country series and title in 1999.
The 37-year-old Brown, who recently moved back to his hometown of Durango, Colorado, after fifteen years in Boulder, reflected on his fourteen seasons racing pro, "When I look back, the memories of the good races overshadow the tough races, which is interesting because while racing as a professional, the ratio of really tough races to good races was about 9:1." Although Brown returned to Durango because his wife landed a job as Executive Director of the local Trails 2000 organization, Brown finds the location perfect for his new role in cycling. "Now that I've shifted toward product development over racing, having a good trail network close by is a huge advantage to me." Brown tests cross country and all mountain bikes and components for Trek, Fisher, and Bontrager. He also tests clothing for Descente's DNA line.
In sixteen years as a professional, Brown raced all but two for the same team, Trek/VW but at the end of the 2004 season, Brown retired to local competition with the exception of a few key national events. His "retirement" didn't slow him down though; he successfully defended his 2005 national marathon title in July. "I don't travel as much for racing now," he says. "I'm fortunate that there is a lot of high quality racing nearby. The pressure on me has shifted to product development away from race performance. It's made the racing I do more fun again, like when I first started." Brown says that as long as he stays motivated to use the races as a testing platform, he'll continue his product development work.
When asked how Brown juggles the added responsibility, he says, "I'm able to get the same fitness with less training. Having some new responsibilities is actually complimentary to my training. I spend less time overtrained."
Brown plans to continue racing cyclo-cross with at least two US Gran Prix of Cyclo-cross races near Boulder this year. He's still undecided about Nationals in Rhode Island, but he will be testing new cyclo-cross products at the races he does attend. "Trek is putting more life and energy behind their cyclocross models this year and is looking to produce something more high-end for the next few years."
Brown's career spans a period of time in mountain bike history that has fostered incredible innovation, but his favorite development is tubeless tires. "I think the ability to run a lot less pressure is significant." Suspension is his second favorite development although he still regularly rides rigid forks to keep his handling sharp. "Suspension and rigid forks have their place. When I spend lots of time on a long-travel fork, it takes me a few days to get fast again on a cross country bike."
Brown thinks mountain bike technology is still in its infancy and we'll see plenty more development. In what areas specifically? "We look to boutique builders in the industry for new ideas," he says. "The quest for lighter bikes with more travel and suspension with more control will continue. Everyone is working on suspension that's efficient to pedal, but still really plush through rough terrain."
The new inductees were voted to membership by a panel of cycling journalists and current Hall of Fame members. Thirty years ago, Chris King changed cycling's approach to components when he founded his component company, now famous for its high-end headsets and hubs. Coloradoan Bob Gregario has served as a trusted mechanic for racers like John Tomac and advisor to manufacturers like Cannondale and Miyata.
Eatough goes for seventh world championship
Chris Eatough
Photo ©: Bill McCarrick

In the world of off-road endurance racing, there simply is no counterpart to 31 year old Chris Eatough (Trek/VW). For the last six years, Eatough has been a model of consistency and perseverance as he's pursued the lonely world of 24 hour solo racing. Through extreme heat, cold, rain and even tornado warnings, Eatough has steadfastly pedaled around the clock logging more miles in one 24 hour span than most people log in over a month. His six consecutive world championship titles more than prove his mettle in what is undoubtedly the most difficult form of off-road competition.
In the 24 Hours of Adrenalin World Championships, held from noon October 7 to noon October 8 in Conyers, Georgia (site of the 1996 Olympics mountain-bike cross country race), Eatough will attempt to win his seventh consecutive title.
His face challengers from a growing core of endurance pros including 2005 second-place runner up Ernest Marenchin as well as recently-crowned Australian marathon national champion Craig Gordon.
In the women's event, endurance phenom and 2005 US 24 Hour Solo national champion Monique Sawicki is seemingly over the injuries she suffered in a crash at the marathon in Mont Sainte Anne going up against, among others, 2005 world champion Marg Fedyna, Trek/VW's Susan Haywood, and National MTB Ultra Endurance Series competitor Rebecca Rusch.
Cyclingnews will be covering the 24 Hours of Adrenalin World Solo Championships live starting at noon on Saturday with regular updates and images from the event site.
Chris Eatough by the numbers:
1 - Mechanical suffered in all 24 hour world & national championship races - a flat front tire in 2002.
10 - Pounds of body weight lost in 24 hours on bike.
10 - The most minutes ever spent off the bike in a race.
144 - Hours ridden for six world titles.
1080 - Miles ridden to win in six world titles.
14,000 - Average calories burned in 24 hours on bike.

Gilberto Simoni, MTB champion
Gilberto Simoni announced a few weeks ago that he would round off his 2006 season with various MTB races. He said he thought it was a good way to open up to new horizons and add further motivations to come back again to road cycling in 2007.
Good move Gibo; after only three MTB races, Gilberto took the Italian Marathon Championships September 24th. Gibo found himself in a seven-man lead group from the fourteenth kilometer of the race until he broke away with with Hubert Pallhuber. Hubert later punctured, leaving Simoni to roll away for the win.
10th Annual SMBC Mountain Bike Festival
By Sue George
The Shenandoah Mountain Bike Club (SMBC) will host its tenth annual mountain bike festival near Harrisonburg, Virginia, on October 6-8, 2006. Every fall, a few hundred mid-Atlantic riders converge for a weekend of riding and camping in the George Washington National Forest. According to Club President Thomas Jenkins, "The festival is unique as a grassroots, all-volunteer event at which attendees not only play together, but also give back to complete a major trail work project each year."
The festival began in 1997 when club members wanted to host a fun mountain bike event for those visiting the area during the UCI World Cup Downhill Race at nearby Massanutten resort. Rides now occur on many of the same trails featured in the Shenandoah Mountain 100 endurance cross-country race. This year, special events include a kids' ride held in conjunction with IMBA's Take a Kid Mountain Biking Day, a full-moon night ride, a dawn patrol trail run, and a women's skills clinic and adventure ride.
Proceeds from the festival support the non-profit club's efforts to maintain local trails. The club annually logs over 1000 hours of volunteer trail work. For more information, see www.shenandoahmountainbikeclub.com.
Purse grows for Wigwam/Ultimax Mountain Bike Challenge
The 2006 edition of the Wigwam/Ultimax Mountain Bike Challenge, hosted by the Sheboygan FAT KATS (www.fatkats.org) will be held on October 8th (XC) in Sheboygan, Wisconsin.
For 2006, sponsors have delivered a total cash and merchandise purse greater than $10,000! The Pro purse will be no less than $3,000 in cash with Men receiving $1,000 for first place, $500 for second, $250 for third, $200 for fourth, and $100 for fifth place overall. Regular payouts for the remaining top 20 are based off of WORS standard payout schedules. Please reference www.wors.org for payout information. Winners of the Women's Pro division will receive $500 for first place, $250 for second, $125 for third, $100 for fourth and $75 for fifth. Again, regular payouts for the remaining top 10 will be based off of Wisconsin Off Road Series (WORS) standard payout schedules.
Raffle prizes, such as a TREK bike, Oakley glasses and clothing, Chippewa Falls Water, Wigwam Socks, PCW Cycling gear, Crank Brothers pedals, Bontranger Equipment, will also be awarded at the event.
Dickies American Worker of the Year contest closes on Saturday
Cycling style - the Park Tool work shirt
is made by Dickies
Photo ©: Park Tool Company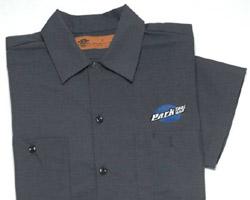 Earlier this year, we reported that Cyclingnews.com diarist Chris Davidson has been selected as a finalist in the Dickies American Worker of the Year competition; a contest in which the worker (of five selected finalists) who receives the most online votes, wins a prize package which includes a spanking new 4X pickup truck.
Davidson, 36, of Salt Lake City, Utah, is the team mechanic for Ford Cycling, a US-based women's MTB team. He travels with the team to domestic events providing full technical and, sometimes, moral support.
In his diary entry following the Sugar Mountain NORBA stop, Davidson wrote "Some of the nice folks at Dickies clothing came out to film me working on the Ford Cycling Team bikes on Friday. I have worn their clothes for a long time now while working on bikes... it was an interesting day, with spotlights and all."
Online voting in the contest ends this weekend, at 11:59pm on October 7th. If you follow Davidson's diaries online or have met, worked with or been served by him at the races, vote for Chris online at www.workeroftheyear.com. Voters are eligible to win a free trip to Las Vegas, Nevada; presumably to attend the final awards ceremony at in the City that Never Sleeps.
Race Face re-signs Paul Basogiotta
Race Face Components announced that it signed free-rider Paul Basagoitia to its pro team through December 2009.
"As one of Paul's first sponsors in the mountain bike industry, we've had a long association with him and have seen him progress into one of the sport's premiere athletes." says Race Face president, Craig Pollack. "We're all looking forward to see what the future holds for Paul over the next few years and are very excited to be there to support him with a line of gear that has proven to be capable of withstanding his crazy riding style."
Race Face originally signed Paul in Aug 2004, right after winning Crankworx Slopestyle, the first major mountain bike competition he entered, a result he repeated in 2005. In 2006, Basogiotta won the first Red Bull District Ride event in Catania, Italy and then proceeded to win the Overall Red Bull District Ride by finishing second at the Nuremberg, Germany event. He also placed third at Adidas Slopestyle and third at Monster Park).
Basogiotta has also signed a long-term deal with the Kona Clump Team.
Kirkcaldie retires
John Kirkaldie (Team Maxxis)
Photo ©: Steve Medcroft

Now that the 2006 World Championships is behind him, Team Maxxis rider John Kirkcaldie has raced his last race as a professional mountain biker. Kirkcaldie, a fixture on the podium during six years with Team Maxxis, revealed his decision in August.
In his final season, Kirkaldie scored a downhill victory in the US Open and taking the mountain cross title at the Oceania Championships. He's also scored podiums in the gravity omnium at Sea Otter and several top-three spots at NORBA races, including a victory in Super D at NORBA #2 and second place in dual slalom at NORBA #5.
Kirkaldie won the 2005 New Zealand National Championships in both downhill and four cross and finished third in the NORBA downhill series overall. He also took fourth place overall in the downhill in the 2004 NORBA series and sixth place in downhill at the 2004 UCI World Cup Race in Calgary, BC (Canada). He was also the 2004 New Zealand National Champion, and took NORBA championships in 2000 and 2001.
"John's presence will be deeply missed not just by Team Maxxis, but by his colleagues around the circuit," said Christopher Warrick, bicycle sponsorship coordinator for Maxxis. "His impact went beyond riding and is visible through the riders he inspired and lent a helping hand to over the years. John always gave back much more than he could ever receive from the sport. We were lucky to have had John as a part of the team and appreciate his hard work and loyalty. I know that he will be successful in any direction he chooses to go."
Kirkcaldie's plans include a move back to his native New Zealand, where he hopes to open a construction company and build custom houses. He has also indicated interest in working as a New Zealand downhill coach.
Sea Otter adds new contests for 2007
The Sea Otter Classic announced that it will expand its list of competitions for its 2007 edition by including BMX, Adventure Racing and Super D into the program.
In preparation for its first-ever appearance as an Olympic sport in 2008, Sea Otter's BMX event will feature an NBL-style BMX track with "tabletops," rollers and one or two rhythm sections. "A traditional track will have a start that's probably 8-10 feet tall, not too steep and then it can have any combination of obstacles in the first straightaway," said Randy Stumpfhauser (GT Bikes), four-time UCI BMX World Champion (cruiser class). "It could be a roller, a step-up jump or a tabletop. I would say that a traditional track has a lot more pedaling; power has a lot to do with it and getting to the first corner is 80 percent of the race."
The Sea Otter Classic is also opening its doors to the multi-sport crowd with the debut of Adventure Racing, where teams must complete the course together - no more than 30 yards apart - using nothing more than a map and compass. The Sea Otter Classic Adventure Race will be made up of four elements featuring water, mountain bike, foot, and a "special" element described as a "navigational skills test."
Also debuting in 2007 will be the Super D, which is a hybrid of downhill and cross-country requiring not only power, but also a finely tuned descending strategy to win. "Super D is the kind of race you'd have with your riding buddies - first one down the last epic descent doesn't have to buy the beer," said two-time national Super D champion, Adam Craig. "It's the essence of mountain biking in my mind, everyone climbs to descend, is in shape because of it, knows how to rail because of it - it's the simple combination and concentration that make it such a good time."
Sea Otter's Super D will be a 14-minute race with a Lemans-style start. Racers are expected to reach for short-travel, maybe even hard-tail rigs due to the classic hard-packed, typically dry, fast conditions of mid coast California.
Also see the 2006 Sea Otter Classic coverage on Cyclingnews.
Kranked 6 DVD released
The filmmakers who brought us the five-edition Kranked series of mountain-bike films, Bjorn Enga and Radical Films, released "Progression Kranked 6" this week. the company says the inspiration for this edition was "to create the most stunning and progressive mountain bike line... And Ride It."
Filmed in High Definition with Surround Sound and coming in a two-disc set with a Soundtrack CD, the film stars Steve Peat, Nathan Rennie, Ben Boyko, Eric Porter, Ryan Leech, Kirt Voreis, Jamie Goldman, Steve Romaniuk, Mike Kinrade, James Doerfling and Trent Kidd and was filmed on location in BC Canada, Utah, Idaho, California, Switzerland and Scotland.
Striking Contrasts; the Gunn-Rita Dahle-Flesjaa diary
They say that no two days are alike, but we have now entered a period of truly striking contrasts - everything from bike races in Estonia and classwork at school in Oslo, to spectacular bike rides in the middle of the noisy and busy city of Beijing. We're enjoying every single exciting challenge that meets us these days.
Gunn-Rita Dahle Flesjaa
Photo ©: Rob Jones

We've just arrived home again from an action-packed and busy week in Beijing. A whole lot has been happening since we did the final World Cup race in Schladming on Saturday, September 9. We had four days at home in Stavanger, meeting with the whole family one evening, washing countless machine-loads of dirty clothing, spending a few hours in the office doing the most important of the paperwork and, as always, spending some time at necessary meetings. We've also naturally had a few enjoyable evenings just the two of us, with delicious home-made food and lots of fun with our two lovely cats.
New places - new challenges
After that, we left for Estonia, a country we haven't visited before. Our programme here included a marathon race on bike, placed amongst well-known skiing resorts of Otapaa. We were cordially welcomed by some of the Merida dealers in Tallinn, Marko and Sven, and had a great cycling experience together with a good 3000 other enthusiasts on bikes.
Read the entire Gunn-Rita Dahle-Flesjaa diary here.
One step closer; the Nat Ross diary
Landal Le Mans
Photo ©: Xavier Fane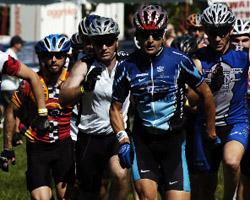 By October, almost all the elite cyclists in the world have wrapped up their seasons and shifted into donut-eating vacation mode. Unless you're a cyclo-cross racer or 24 hour mountain biker that is!
"Typically, I dial in my race calendar in January and February and then check off the races as they come and go. Over the years, I have stuck to the calendar as planned and have not added any extra races. This year was different as I added the 24 Hours of Landahl to my calendar mid-August which brought me to four 24's in one summer. It is very difficult to balance racing and recovery from three of these, yet alone four. However, my legs benefited greatly from all the miles in Race Across America (RAAM) in June.
There are two big 24 hour races in the fall with hefty purses; one in Georgia and the other in Moab, Utah. Only one of those is left on my schedule; my sixth consecutive solo race at the 12th Annual 24 Hours of Moab.
But back to Landal - The race went something like this……..
The run was short and fast and I kinda flailed putting on my CamelBak in the transition while mounting my Gary Fisher Super Caliber 29. I picked my way though the group to the front and was quickly joined by my teammate Cameron Chambers who was racing on a four-man team. Cameron charged the lines since this course was in his backyard, and I sat on his wheel and we finished the first lap first and second overall. I had a killer support group consisting of my girlfriend Janis, a mechanic Colin, and my friend Brian. Everything went like clockwork for the first fourteen hours. In fact, I was duking it out with a four-person team for the first placed team overall. "
Read the entire Nat Ross diary here.
Trade show time at Interbike; the Chris Davidson diary
"Greetings cyclingnews.com readers,
The badge with the yellow bottom
Photo ©: Chris Davidson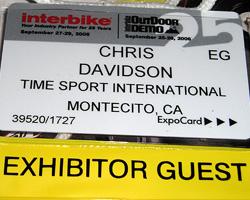 It is that time of year again when the manufacturers of all that is bicycle converge on Las Vegas to entice the retail world to buy plenty of the latest toys, so that you will have those vital pieces of bike lust under glass in your local shop. It seems that a majority of the attendees of the show are either in the buying or selling category, but for me and a handful of others, the show represents the best opportunity all year to get some face time with the people that keep the racing world afloat. Here is how it went for me:
Living only an hour plane ride from Las Vegas I opted to fly in Wednesday morning attend the indoor show for two days and fly home on Thursday night. I can't say that I missed the outdoor show, as in 2003 and 2004 I worked the outdoor show prepping bikes for demo rides. Two days in a row of eight hours each, plenty of dust and non-stop work. By the time I got to the indoor part of the show I was wasted. This year I hit the floor fresh on Wednesday morning with what looked to be the largest crowd of show goers yet at Interbike to see the new toys.
First up for me was thanking those sponsors who I worked with at Ford Cycling this year. It was much nicer to speak to people to just say 'thanks' rather than asking for more stuff. I have been fortunate this year to have a great set of people to work with at various companies that have made my life easier, answered my last minute requests, shipped stuff overnight to hotels, etc.. It was particularly nice to spend some time with Dan Weatherford at Squadra (our 2006 clothing supplier), Matt McClendon of Kenda (our tire sponsor) and Duncan Benning (our inflation sponsor) of Genuine Innovations just talking about the highs and lows of the season from my end. "
Read the entire Chris Davidson diary here.
(All rights reserved/Copyright Knapp Communications Pty Limited 2006)