MTB news & racing round-up for November 21, 2006
Welcome to our regular roundup of what's happening in mountain biking. Feel free to send feedback, news and releases to mtb@cyclingnews.com.
Edited by Steve Medcroft
Injured Bishop returns home
By Steve Medcroft
Jeremiah Bishop finishes the stage despite a brutal crash
Photo ©: Rob Jones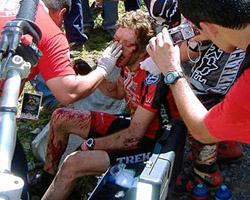 Trek/VW rider Jeremiah Bishop has returned home following hospitalization after a brutal crash in stage two of La Ruta de Los Conquistadores on November 4th. In the crash, suffered while Bishop was leading the stage and making up time on race leader Hector Leonardo Paez (Full Dynamix), Bishop fractured his upper jaw bone. He was immediately transported to a hospital in San Jose where he received treatment for the fracture.
"The Injury was a Laforte 1 break of the maxilla," Bishop said Tuesday from his home in Harrisonburg, Virginia. Named for the medical scientist who first identified the weak spots in the human skull, the fracture essentially mean that Bishops upper jaw had separated from the rest of his skull. "If you can imagine looking at a set of dentures, that's what my jaw looked like." The fracture was most commonly associated with automobile accidents prior to airbag.
Bishop, who also had deep cuts in his temple, under his right eye and on his elbow as well as a fracture from the upper jaw to the orbit of his eye and two shattered teeth, was treated at the CIMA Medical Center in San Jose, Costa Rica. "CIMA was top notch; on par with a good hospital here in the US," he said. "They took a pretty typical approach to the repair for a skull fracture; used small, flat titanium pins. They have basically bolted my jaw into place until it heals."
Besides the extent of the injuries, the most incredible aspect to Bishop's crash is that he got back on his bike and finished the stage (for second place on the day). "I finished out of sheer determination and, in some ways, frustration," he said. "I was leading the stage and beating the guy who we thought was unbeatable. (Paez) is a rising star. He was pretty much spanking everyone at the race. To have that good of a day against a pure climber, on a 6,000 foot climb, was awesome. It was a stalemate to the top of the mountain so I put my game face on and thought I would take calculated risks down hill."
The ironic aspect to the crash, Bishop said, was that the gnarly part of the downhill was over when he fell. "I was on a three-kilometer section of gravel road - after the major downhill - and crashed just as I got up to speed trying to avoid a blind driveway." Bishop says someone had yelled for him to be careful of traffic on the road so he feels that he was "thinking too much." He classifies the accident as a 'freak.'
Three days after his surgery, the American flew home to Virginia to begin his recovery. Currently restricted to soft foods, Bishop says " They say these bones take longer to heal because they're eggshell thin, but I should be able to chew normally at the end of two months."
Bishop returned to training almost immediately. "I am riding again; mostly on the road and mostly endurance rides," he said. "I'll get back on my mountain bike soon but the crash hasn't affected my training at all - in fact, my coach (Hunter Allen of The Peaks Coaching in Bedford, Virginia) had scheduled eight consecutive days off the bike right after La Ruta as my winter break anyway so even though I was unlucky to crash, it couldn't have happened at a more lucky time."
Lewis and Van Der Spiegel win Vaude Highland Fling
1,100 mountain bikers were up for a Fling November 12th and enjoyed warm and generally cloudy conditions for the second running of the VAUDE Highland Fling MTB Marathon in the Southern Highlands of New South Wales.
The weekend's feast of mountain biking kicked off with a Saturday evening entree of the Bundanoon Dash. A 6km sprint race starting in the middle of Bundanoon village and doing a loop into Morton National Park. It was a fast course except for the final 300metres, a steep pull up Constitution Hill to the finish line. From 70 riders, Shaun Lewis took the line in 11.07, for him the start of a very successful weekend, followed by Nick Both and Dennis Van Mil. Renee Fortunato took out the women's race in 12.01 and 9th overall.
To the main course on Sunday, with over 700 riders for the 109km Full Fling, 350 for the Half Fling and 10 Flinging Threesome relay teams sent off by the bagpipes. There were also 7 brave souls prepared to take the challenge of the severe time cutoffs imposed in the 100 Mile Fling.
The day dawned cool and overcast with a blood red sky. With 30 degrees forecast it was to be a warm ride. The 45 elite full flingers set off with the half flingers 30 minutes behind the main full fling pack and the chase was on to catch them during the 29km VAUDE stage. This passed through paddocks and forest: up and down the Roller Coaster, through the Free Bike Wash and onto the Early Bath before Boags Draft and Pigs Fly into Wingello Village. At the transition, Shaun Lewis, Matt Fleming, Aiden Lefman and the Fl(y)ing Dutchman, Dirk Van Der Walle were wheel to wheel.
Read the entire Vaude Highland Fling race report here.
Australian National Series round two this weekend
The Australian National mountain bike series moves to its second round this weekend (Nov 25-26) at Glenorchy Mountain Bike Park in Hobart, Tasmania. On tap are cross-country, downhill and mountain-cross competitions.
The elite women's field could have another surprise finish as National Marathon Champion, Tory Thomas (Mt Beauty, VIC) rides to secure a win in the second round of the the series on the Glenorchy Mountain Bike Park. The 26 year old returned to racing after being hit by a car in March 2005 and was told she would not ride again.. Thomas was narrowly pipped on the line in Round 1 of the series last month in the Blue Mountains when Zoe King (Fairlight) out sprinted her across the line. Sydney based King will race in Tasmania as one of the 25 elite women riders chosen in the "Dirt Roads to London" program to prepare female cross country riders for the London Olympics in 2012.
Local rider Rowena Fry (South Launceston), is also a part of the "Dirt Roads to London" program The 24 year old physiotherapist was discovered from a talent identification program and has switched from her basketball program with the Tasmanian Institute of Sport to focus more on her mountain biking career. According to her coach, Garron Buckland, "She has really only been on the bike for 18 months but has very good skills. Perhaps it's the hand-eye co-ordination from her basketball training."
Fry's partner Ben Mather, 25 also from South Launceston will be a rider to watch as his form continues to improve. Mather will start alongside a prestigious elite men's field starring Athens Olympian, Sid Taberlay (Blackman's Bay) from Tasmania and his Commonwealth Games team mate, Chris Jongewaard (Parra Hills) from Adelaide. Jongewaard has just returned to training after a well deserved rest after placing second in the Sun Tour in Victoria. He is keen to return to Tasmania after placing second to Taberlay in last year's national round. "I just love the course. My plan is to have a clean race and try and finish," he said. However, if Jongewaard repeats his Commonwealth Games effort and heads out hard in the early stages it could be difficult for strong riders such as Dylan Cooper or Shaun Lewis, both from Canberra, to chase. Another rider who could dominate the field is NSW State Series winner, Matthew Fleming (Helensburgh), brother of Athens Olympian, Josh Fleming.
Riders from the World Championships team such as Daniel Johnson from the Alice Springs and Cal Britton (Bright) from Victoria will race in the Under 23 division while Daniel Hallam from the Gold Coast remains in Under 19. Daniel Braunsteins from Victoria will also attend but will miss being at the cycling awards night in Melbourne where he is a finalist.
Stay tuned to Cyclingnews over the weekend for race reports and results as they come in.
Australian Nationals set for Australia Day weekend
The 5-day schedule for the 2007 National Championships, hosted for the next 3 years in Canberra, is available now. Set for January 24-28, 2007, the draft schedule is subject to change without notice but will be confirmed in early December.
Tony Scott, Executive Officer of MTBA, said, "The Nationals presents some significant logistical hurdles to overcome in trying to host four MTB disciplines in the one location on the one weekend. What we learned at the 2006 Nationals, held in Mt. Beauty for XC and Thredbo for DH and MTNX, was that having more than 2 days to run all the competitions for each discipline was very advantagous and was well received by the participants."
He continued, "This year we have attempted to mimic that in Canberra at the new Mt. Stromlo MTB facility, and by hosting the nationals over the Australia Day weekend. This has provided us some extra holiday time to allow all the disciplines and all the race categories in them to shine in their own right."
New African MTB Championship race
The 2007 African MTB championships will be held in the Namibian capital of Windhoek on the 28th of July in 2007. Although the African's have had an annual Continental Road Race there has not been a Continental MTB event for three years. Both previous editions were held in South Africa.
The 2007 event is to be organised by the Namibian Cycling Federation and the race will be UCI sanctioned and will include both men, women, juniors and U23 categories.
Riders to watch: Namibia: Mannie Heymans (three-time Namibian continental champion) and Marc Bassigthwaite, South Africa: Burry Stander, Jacques Roussouw, JP Pearton , Anke Erlank and Yolande Speedy, Zimbabweans: Conway Mohamed, Linda Davidson, Abel Muchenje and the South African based Warren Carne.
Aussies to be honored in awards ceremony
Sam Hill'
Photo ©: Steve Medcroft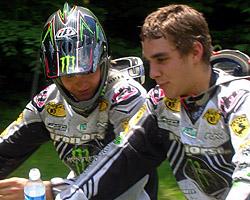 World Champion Sam Hill, 21 from Glen Forrest in Perth is one of three finalists in the Australian Cycling Awards for Mountain Bike (which will be presented on Friday 24th November at the Arts Centre in Melbourne).
Hill produced a thrilling run at the World Championships in New Zealand in August to claim the gold medal in the elite downhill. He was consistent throughout the year picking up two World Cup wins in Great Britain and Austria to finish second overall in the World Cup Series. He won the American NORBA Series and finished the year as the number one ranked downhill rider in the world.
Hill is up against Jared Graves, 23 from Toowoomba in Queensland who claimed victory in the Four Cross at the Willingen World Cup in Germany and was second in the Brazilian round. He also placed fifth in both the Vigo (ESP) and Mont St Anne (CAN) rounds.
Olympic Cross Country rider, Chris Jongewaard, 27, from Parra Hills in Adelaide is also a finalist. Jongewaard won the Mountain Bike Australia Cross Country Series and was second at the Australian Championships in Mt Beauty in January. At the Commonwealth Games in Melbourne he delighted the Aussie fans with an early attack that saw him lead for most of the race before finishing fourth across the line. A photo of Jongewaard at the finish of the Commonwealth Games is also up for a photographic award by photographer, Mikkeil Godfree.
Newly retired Katrina Miller, 31 from Mudgeeraba on the Gold Coast, is the only finalist is the female mountain biker of the year award. Miller's final year of international competition saw her again challenging on the international stage. She won the Four Cross at the Mont St Anne World Cup (CAN) and was second in both the German and Brazilian rounds to finish fourth in the World Cup Series. Miller has won the Women's Mountain Bike Cyclist of the Year Award an outstanding five times previously in 2005, 2003, 1999, 1998 and in 1997. She has recently retired and is just about to officially open her new bike shop in Burleigh Heads on the Gold Coast called 'Bikes and Beans'.
Tracey Hannah'
Photo ©: Steve Medcroft

Tracey Hannah, 18, from Cairns in North Queensland is the only finalist for the Sportscover Junior Female Mountain Bike Cyclist of the Year Award. Hannah had an exceptional year in 2006. She was the National Series champion and won up two rounds in the elite division of the American NORBA series (Sugar Mountain and Deer Valley) and ended her season with a gold medal winning ride to be crowned Junior Women's Downhill World Champion in Rotorua in August. Hannah also received the same award for the past two years.
A range of awards will be presented culminating in the presentation of the prestigious "Sir Hubert Opperman Medal" to the 2006 Australian Cyclist of the Year. For further information go to www.cycling.org.au
MTB Teams support Curacao dolphin therapy program
On the initiative of team leader Bart Brentjens, three mountain bike teams have donated money to support a 'Dolphin Therapy' program on the Dutch Antilles island of Curacao. Brentjens, mountain-bike ambassador of Curacao, along with a small group of other riders, visited the Curacao Sea Aquarium during last year's World Cup stop on the island. Everybody was deeply impressed to see how autistic, mentally as well as physically handicapped children responded to the dolphins.
The Dolphin, Giant Racing and Bejan teams therefore decided to take some action. The first donation, worth of €1.000,- was presented by Brentjens last week during a Curacao road race. This money will be used to give a chance to the poor local children to experience the swimming with dolphins. Brentjens hopes to continue the charity in the future. "The next two seasons I'll be riding for the Dolphin Bike Team. With the team, we want to support a good cause. We would like to help the Dolphin Therapy on Curacao and try to give something back to the local people on the island."
Slopestyle competition scheduled for Sea Otter Classic
Could the Sea Otter classic, the season opener for high-level mountain-bike racing in the US, host a full-on Slopestyle competition? Sea Otter promoters think so. I an announcement last week, they hinted that, barring final details, the downhill set will have one more reason to gear up for Sea Otter.
"We're still ironing out the details at this point and hope to make an 'official' announcement in a couple weeks," says Sea Otter's Director of Athlete Services, Jeff Frost.
An announcement of competition details should come in December.
Singlespeed Arizona set for February
Semi underground early-season showdown Singlespeed Arizona, hosted by singlespeed honch Deejay Birtch, has been scheduled for February 10th, 2007. Birtch is only accepting 100 entries for the 40-mile, high-desert race/event, held in the Tucson, Arizona area. Email singleandfixed@hotmail.com for additional information.
Kabush joins Symmetrics in 2007
One of Canada's best mountain bike riders, Geoff Kabush, will be riding with Symmetrics Cycling on the road in 2007. Kabush, a multiple National champion in mountain bike and cyclo-cross, placed ninth at the 2000 Olympic Games and won the World Mountain Bike Relay Championships in 2004.
Kabush will ride for the team in select road events that complement his mountain bike schedule. "I've watched Symmetrics grow over the past couple years and I have really been impressed," he explained. "The Cunninghams have created an incredible team filled with great riders and, more importantly, great people. I'm really excited that I am able to fit in some road racing next year and there is no other team I would rather join up with."
Kabush has raced several top-level road events before, finishing 31st in the Tour of Georgia, as well as participating in international races like the Tour of Malaysia and the USPRO Championships. His climbing skills will be a definite asset to the team. "I'm definitely hoping to do some of the more difficult races with some hard climbing," Kabush said. "I am looking forward to the challenge of racing on the road again; I really want to help out the squad in whatever capacity I can. I know most of the guys pretty well - Pinner was my best man at my wedding."
New arrivals: Fox 36 Talas RC2
Fox's 36 TALAS RC2 looks like a monster,
Photo ©: James Huang

Cyclingnews Tech Editor, James Huang has been receiving boxes and boxes of 2007 product to test. In the mix, we found this plush new fork from Fox Racing Shox.
Along with the new Super D style of racing comes a new breed of mountain bikes and suspension forks, and Fox's 36 air-sprung TALAS RC2 epitomizes the category with up to 160mm of travel in a chassis weighing just 2.4kg (5.4lbs). The 36mm diameter aluminum stanchion tubes on our test fork combine with the massive magnesium lower leg casting and 20mm thru-axle to virtually guarantee accurate steering precision.
New for '07 is the three-position TALAS travel adjuster, which switches between 100mm, 130mm, and 160mm setting with a simple turn. Fox's proven RC2 damper allows for independently adjustable low-speed and high-speed compression damping, along with adjustable low-speed rebound damping.
See the entire November 15th edition of New Arrivals here.
Michigan MTB Association offers 'Frazz' jersey as fundraiser
The Michigan Mountain Biking Association (MMBA) is selling limited edition bike jerseys custom designed by Frazz comic strip creator and cartoonist Jef Mallett. "We wanted to develop a fun and unique MMBA jersey," says Bill Mayer, MMBA Vice President. "Having a Frazz theme was our first choice because we are all big fans of the comic strip and we share Frazz's enthusiasm for cycling."
These are the first ever Frazz jerseys and the MMBA's license allows only a limited number to be printed. The jerseys are available in men's and women's cuts and various sizes. They are manufactured by Voler. "When they're gone, they're gone!" adds Mayer.
Jef Mallett draws Frazz from his home office in Lansing, Michigan and was the first to own the jersey. He saw this as an opportunity to give something back to the mountain biking trails. "It's no secret that cartoonists live life through their characters," says Mallet. "Through Frazz I can ride trails I normally can't. And likewise, without the MMBA, I'd have even fewer opportunities to ride."
Dedicated Frazz comic strip readers may note that Frazz has ridden his mountain bike on Michigan trails such as Yankee Springs and Pontiac Lake, both of which were built and maintained by the MMBA.
The Frazz jerseys are available at www.mmba.org/frazz.
Fox offers IMBA fundraiser
Fox Racing Shox released their latest Free The Trail T-shirt this month (for which all proceeds from the sale of Free The Trail T-shirts will go to support the IMBA California office). "Fox Racing Shox is helping IMBA CA raise awareness and resources to fight for our access," said IMBA's California Director Tom Ward.
Fox commissioned renowned Bay Area artist Steve Smith to illustrate the newest shirt. The artwork features an idyllic mountain bike scene, behind bars and locked up, hence Free The Trail. "We had such great fundraising success with the first Free The Trail shirt, we knew we had to keep Free The Trail alive and continue its success," said Elayna Caldwell, Marketing Manager at Fox. "Whether you live in California, go on vacation here or hate it because it is full of fruits and nuts, the fact is that there are more mountain bikers in California than anywhere else and what happens here is generally a bellwether for actions across the nation, and that is why Fox supports advocacy, because we like to ride fun, legal trails."
The new Free The Trail shirts are available at www.foxracingshox.com.
(All rights reserved/Copyright Knapp Communications Pty Limited 2006)