First Edition Cycling News for November 7, 2006
Edited by Laura Weislo
Olaf Ludwig: more questions than answers
Olaf Ludwig
Photo: © KlaDi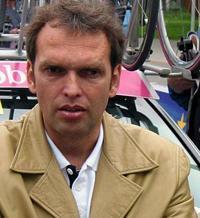 Olaf Ludwig is 46 years old, rode professionally for six years (bringing in 50 victories, an Olympic gold medal, the Tour de France sprinter's jersey and a World Cup), and worked in management for T-Mobile Team for an additional ten years, the last year as Team Manager - but all of that came to an end on October 31. "T-Mobile wanted to go in a different direction as far as team management was concerned, they had other ideas, and so the contract was canceled," he said bluntly. How did this all come about? Cyclingnews' Susan Westemeyer spoke with Ludwig about T-Mobile and what went wrong.
After all the problems this year, Ludwig is ready for a short break from pro cycling. He denied rumors that he will be joining another team or even starting his own team. "It is clear that there will be rumors. I have a good relationship with [former team manager Walter] Godefroot. I am not going to Astana and have no plans to start a new team in 2007."
There had been speculation that he would retain T-Mobile's ProTour license and use it to start a new team, but contrary to public perception, Ludwig himself never held a ProTour license. The license for 2005 and 2006 was held by Godefroot, and expires the end of December. Ludwig noted that he applied to the UCI in May 2006 for a license for 2007 - 2010. The UCI's deadline was August 20, and by that date, T-Mobile had changed management over to Bob Stapleton who received the license, leaving Ludwig without a main sponsor.
Even if he wanted to plan a new team, he saw the difficulties. "Things in sport aren't easy, if you were looking for sponsors in August. Right now I'm very disappointed, I need to think about things and take a short break."
Click here to read the full feature
Andriotti to Acqua & Sapone
Dario Andriotto formerly of the Liquigas ProTour team, will be joining his teammate Stefano Garzelli on the professional continental team Acqua & Sapone.
The 34-year old Andriotto did not have his contract with Liquigas renewed, and so finds himself on a team with Garzelli for the third time. The two were part of the Vini Caldirola team in 2004 before moving to Liquigas.
Susanne Ljungskog will remain with Buitenpoort - Flexpoint Team
Despite various speculations in different media lately, Susanne Ljungskog will remain with Buitenpoort - Flexpoint in 2007. A number of teams have been interested in signing Ljungskog this fall, but after careful consideration she have decided to stay. "I have had two fantastic years with this team and I'm really looking forward to the next season with some new faces in the team," says Ljungskog.
Swiss not impressed by Ullrich's defense
by Susan Westemeyer
Jan Ullrich may claim that documents produced in Operation Puerto have been falsified, and he may have turned in his Swiss cycling license in protest - but Swiss Cycling isn't impressed. Director Lorenz Schläfli noted that an "immediate withdrawal" is not only not necessary, but not possible, since a license runs through the end of the year, according to the Neue Züricher Zeitung.
If Ullrich has dropped out of the Swiss federation in the hopes of avoiding a hearing, he miscalculated, said Bernhard Welten, of the federation's antidoping committee. Under the UCI's rules, the responsibility belongs to the land from which the rider held a licenses at the time of the alleged violation . "That is, and remains, Switzerland," according to Welten. He hopes to forward the dossier to the disciplinary committee before the end of the year.
In addition, Welten says he knows nothing of falsified documents or documents that he is not allowed to use. No one has told him "officially" that he cannot use the information, he told the newspaper. He added that it is practically impossible to forbid him from using knowledge he already has. Welten further indicated that the material would not serve to acquit Ullrich, and it is likely that the Swiss disciplinary committee will be asked to hand down a lifelong ban for Ullrich as a repeat offender.
T-Mobile women staying in shape but off the bike
by Susan Westemeyer
Alternative activities
Photo ©: Hedwig Kröner

It's important that the women from the T-Mobile team stay in shape in the off-season - as long as they don't ride their bikes. Other forms of endurance training are needed now, according to team coach Petra Rossner, such as jogging, inline skating, cross country skiing or swimming. "The athletes also make a gradual start to strength training in the gym. Winter is a good time to work on the build the foundations for the season ahead and work on the vital conditioning needed. Then during the season the focus is on keeping the strength stable."
"It is dangerous and counterproductive when they don't get any real pause from racing and training," Rossner said on the team's website. Sometimes she even has to hold them back. "Especially those who are down in Australia, where they of course enjoy fabulous weather. They have to remind themselves on a daily basis not to do too much. You have got to hold them back, but is really a great pleasure to work with such a highly-motivated team, we telephone almost every day to discuss preparations."
It's even all right if the riders put on a little weight over the off-season. "It is a good thing when the riders add two or three kilos in winter. They can later draw on this for energy", Rossner noted . "But none of them have weight problems. Highly-tuned endurance athletes won't be long burning that off."
Cycling in Zimbabwe gets a boost
Cycling in Zimbabwe will be getting a much needed revival from the UCI and the Belgian company, Eye Works, reports the Zimbabwe Herald. Zimbabwe Olympic Committee (ZOC) chief executive, Robert Mutsauki, said that contracts with the International Cycling Union (UCI) and Eye Works will help bring the country's top cyclists to continental and international competitions.
Cyclists in Zimbabwe have not had the best results in continental competition in recent years, and Mutsauki hopes that by sending the athletes to more competitions, they will gain the experience necessary to find success. "The [cyclists'] final preparation program for the All-Africa Games consists of participation in the Africa Continental Championships and B World Championships," Mutsauki said.
Mutsauki said that aid from the two organizations will also help the country produce cyclists capable of participation in future Olympic games. "The future of cycling in Zimbabwe is promising in the run up to the All-Africa Games, the 2008 Beijing Olympic Games and the 2012 Olympic Games in London," Mutsauki told the Zimbabwe Herald.
Cycling in Zimbabwe wasn't always at the level at which it currently sits. In the 1970's, the late Samson Moyo was a cycling star who became a household name in the region, and made the sport one of the most revered disciplines. But lack of sponsorship and loss of interest have led to cycling's decline in Zimbabwe over the past decades.
Five Zimbabwean athletes, Conway Mohamed, Dean Hayes, Abel Muchenje, Dave Martin and Linda Davidson have been selected to take part in the program, funded with $15,000 US that was set aside by the ZOC, and will use the funds to prepare for the All-Africa Games in Algiers in July, 2007.
BikeJam on US national calendar
Kyle Wamsley
Photo ©: Fj Hughes

BikeJam featuring the Kelly Cup, Baltimore's only professional cycling race, will be a part of USA Cycling's national race calendar (NRC) for 2007. This will be the third successive year the event has been on the calendar. Not to be confused with the newly announced USA Cycling Pro Tour calendar, the NRC is in its 11th season, and will feature 25-30 events, excluding the major UCI races that make up the Pro Tour. The 2007 version of Bike Jam will take place on Saturday, May 26.
BikeJam is the Mid-Atlantic's largest cycling festival, and consists of 12 road races for riders from beginner to professional. Held in historic Patterson Park near Baltimore's famed Inner Harbor, the course is flat and fast, with an uphill sprint and some challenging, technical cornering.
The highlight of the event is the Kelly Cup men's professional race which features some of the country's best professional cyclists. This year, Kyle Wamsley defeated Hilton Clarke and Alejandro Acton to take home the title in front of over 5,000 spectators.
Bike Jam, now in its ninth year, not only features the races, but also a recreational bike ride, interactive games for the kids, live music from local bands, product sampling, a bike stunt show and an expo with all the latest cycling gear.
Paris-Roubaix film to debut
Scott Coady, maker of the film "The Tour Baby!" has released another cycling film about Paris-Roubaix called "Cobbles Baby!" The film, a documentary based upon the 2004 'Hell of the North', will premiere on November 16-21 at six theaters in northern California. Coady will attend the screenings, talk and sign DVDs.
"Cobbles Baby!" chronicles Scott Coady's adventures in getting up close and personal with one of the hardest one-day bike races. Along the way he has full access to George Hincapie and the U.S. Postal Service cycling team, and finds himself drinking in a pub with commentators Phil Liggett and Paul Sherwin when Irish cycle racing legend Sean Kelly wanders in for a pint.
Proceeds from the events will go to the NorCal High School Mountain Bike Racing League and the Davis Phinney Foundation.
(All rights reserved/Copyright Knapp Communications Pty Limited 2006)