MTB News & racing round-up for May 26, 2006
Edited by Steve Medcroft
World Cup #2 wrap-up
By Steve Medcroft and Rob Jones
2nd win in a row
Photo ©: Rob Jones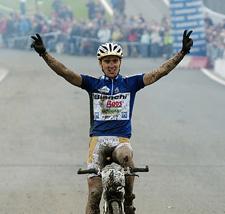 Thick mud and constant drizzle bathed the ridiculously-large 250 men and 100 woman fields at the UCI World Cup in Spa Francourchamps, Belgium last weekend. The conditions tormented favorites and pack-fill alike but for the second weekend in a row, current World and Olympic champions Gunn-Rita Dahle-Flesjaa (Multivan-Merida) and Julien Absalon (Bianchi-Agos) triumphed.
Dahle-Flesjaa has now earned a perfect 750 world cup points in the three races held this season so far and opened a 260-point gap over second placed Sabine Spitz (Specialized). Absalon now has a 225-point lead over Bart Brentjens (Giant).
With the field counts so high and conditions forcing racers to run long sections, most of the final selections were made in the first lap of the 5.5-kilometer circuit. The riders headed from the start up a climb on the famed Formula One track and straight out for almost two kilometres before swinging onto the course for the descent back to the start.
After a road-race start, Dahle-Flesjaa made it into the singletrack first and spent the rest of the race opening the gap over her challengers. She ended up more than two minutes in front of Irina Kalentieva (Topeak-Ergon). Marie-Helene Premont (Rocky Mountain-Business Objects) recovered from a poor start to move into third, just ahead of Sabine Spitz (Specialized), Lene Byberg (Bikin' Cyprus International) and Nina Gohl (Multivan Merida).
In the men's race, the huge field clamored for position at the start. Filip Meirhaeghe (Versluys) and Ralph Naef (Multivan Merida) managed to enter the singletrack at the front of a very long line, with Absalon, Jose Hermida (Multivan Merida), Roel Paulissen (Giant) and round one winner Bart Brentjens (Giant) just behind.
Missing from this front group were three key riders: Christoph Sauser (Specialized), Liam Killeen (Specialized) and Thomas Frischknecht (Swisspower). All three are strong in muddy and technical conditions. All three were caught out by the start, with Sauser going down and Frischknecht tangling wheels with another rider. Frischknecht dropped out of the race in frustration and Killeen, who has shown impressive form in the early season (Commonwealth Games and Sea Otter wins and sixth in Madrid), finished 22nd. More impressively, Sauser crawled his way back within sight of the lead group before double flats knocked him back down to seventh.
Absalon and Naef eventually worked themselves free of the lead group. The World Champion opened a comfortable 30-second gap on Naef in the final lap to win the race without the need to sprint for the finish.
Check out the full results, race report and photos from both the men and women's World Cup in Spa Francourchamps here.
Gripped films to make Eatough feature film
By Steve Medcroft
Jason Berry, Director of the mountain-bike movie Off Road to Athens (a feature documentary which follows eight American athletes competing world wide for the chance to be part of the 2004 U.S. Olympic team) says he swore to himself that he would not do another documentary. "ORTA (Off Road To Athens) had been a two-year marathon filled with uncertainty at every turn," he wrote on his online journal. "Would we have a decent story? Would I be able to pay my bills and still have money to fuel the film?"
After OTRA, which Berry made with producer Ken Bell of Gripped Films, was released to almost universally positive reviews and an unexpected win at the prestigious Vail Film Festival for Best Documentary, Berry says he thought maybe he would consider making another film someday.
Chris Eatough
Photo ©: Trek
It was the presence of seven-time 24 Hours of Adrenalin Solo World Champion Chris Eatough (Trek/VW) at a screening of OTRA in Baltimore that brought the next story to life. "I've known Chris for a few years and I've always been impressed by his abilities," Berry says. "Back in January, on a training ride with Chris, I had begun to think about how unbelievable it is that he's attempting to do something only Armstrong has done - a seventh consecutive title.
"At the screening, Chris mentioned that he was going to China after Sea Otter. I emailed Todd McKean (TREK's man in China) and suggested he have me come along to film the race. When he said yes, I figured it was all coming together and I'd just go ahead with the movie idea."
Although the arc of the film will be Eatough's 2006 endurance season, Berry says he hopes to introduce the general public to 24 hour racing with the movie. "We're committed to making films that appeal to people outside the sport," he says. "With ORTA our constant goal was to make a movie that a grandmother in middle America could watch and be entertained by. There's so much real drama and action in the sport and while it will be tough to keep 24 hour racing from looking like a freak-sport, it deserves the same kind of attention that events like the Tour and the Hawaii Ironman get."
Berry says shooting a feature documentary with one primary subject should be a lot easier than it was to round up footage on ORTA's cast of eight racers. "Imagine having 300 hours of footage including interviews from 15 different people in 8 countries and trying to piece it all together," he says. "ORTA was a nightmare in every aspect. This will be a dream in comparison."
Although some of the logistics of making the new film will be easier to manage than ORTA, Berry says it will still take an incredible effort to get the best and most usable footage to tell the story of Eatough and the 24-hour scene.' "There is pressure because we want to tell the whole story of 24-hour racing," he says. "We'll interview (John) Stamstead, Tinker (Juarez) and other endurance rock stars - as well as touch base with the stars from ORTA to get their take on 24 hour racing."
The other major difference between this and Berry's last project is his chosen video format. "I'm shooting on HD in wide-format this time. The technology is amazing and I can't wait until HD DVD's come out later this year. This will be the very first HD mountain biking film made."
During the China trip, Berry shadowed Eatough and filled up reels of digital video tape. "China was a dream come true," he says. "And then Chris went and won the race he was there for - it was perfect." Eatough was in China to support a Trek presence at the Shanghai Bike Festival and to race a marathon through the Huangshan region of China; the historically-preserved villages and terrain that served as a backdrop for the movie Crouching Tiger, Hidden Dragon.
Berry says he will continue gathering footage throughout the year and hopes to finish the film for a 2007 Sea Otter premier.
Photography
For a thumbnail gallery of these images, click here
Images by courtesy of Trek Bicycles
Meirhaeghe makes waves in Spa
Filip Meirhaeghe
Photo ©: Rob Jones

Former MTB world champion Filip Meirhaeghe caused a little bit of a stir at the latest round of the MTB world cup , held on home turf at Spa-Francorchamps on Sunday. Not that the Belgian did anything to bring it upon himself, but his presence at the race was a little too much for some, and he received some 'negative energy' from the crowd - and just a little from current world champion Julien Absalon, who won on the day.
Speaking to Canadian Cyclist's Rob Jones about sections of the crowd, who were yelling 'dopé, dopé', Meirhaeghe said, "The boos were expected, I knew they would happen. Those people have negative energy, and I don't accept that energy." He was confident that most people enjoyed him being there, however. "I think 99 percent of the people were supportive," he added.
Absalon, who extended his lead in the world cup standings with victory in Belgium, wasn't overly happy with Meirhaeghe being around when asked about his presence on the podium, and said that, "When he finished (retired) it was honest, and I thought that was good, but now he's back...and his suspension, I think it was so short, too short."
With the Fort William round of the world cup just a week away, sparks could be flying in Scotland; with both Absalon and Meirhaeghe in form, this little bit of flint from the Frenchman could liven the series up in a number of ways. Cyclingnews will have all the latest as the world cup makes its fourth stop for 2006 next weekend.
Entry date set for Mont 24 hour
Entries for the Mont Australian 24 Hour Mountain Bike Championships, the largest 24 hour mountain bike race in the world, will open online at 8am on Thursday June 15 2006
Held on October 7-8 in Canberra's Kowen Forest, the Mont 24 Hour and Australian Solo 24 Hour Mountain Bike Championships have 2750 spots up for grabs, and to avoid disappointment organisers are encouraging riders to enter early. The event sold out four months prior to last year's race and 850 riders missed out.
With fields boasting some of the best mountain bikers from Australia and overseas, keen interest in the event is guaranteed, and the weekend remains a highlight of the Australian mountain bike calendar.
For further information and online entries go to www.corc.asn.au.
Rocky Mountain Marathon Endurance Series
Endurance racers living in the middle-western United States have a new series to get excited about. The 2006 NORBA Rocky Mountain Ultra Marathon Endurance Series will determine the NORBA Regional Champions in the Marathon Discipline.
This new Marathon Endurance series tests the stamina and consistency of the athletes throughout a six race series. Six venues from Colorado, Utah and Wyoming make up the series, with each event bringing a unique flavor to the fast growing sport of endurance cycling.
Two of the races, the Breckenridge 100 and the Endurance 100, are also part of the six-race National MTB Ultra-Endurance series.
For more information about the Rock Mountain Marathon Series, check out their Web site at www.warriorscycling.com.
Rocky Mountain Marathon Endurance Schedule:
12 Hours of E100 Park City, UT June 24
Firecracker 50 Breckenridge, CO July 4
Breckenridge 100 Breckenridge, CO July 15
Laramie Enduro Laramie, WY July 29
Montezuma's Revenge Montezuma, CO Aug 11-12
Endurance 100 Park City, UT Aug 26, Series Finale
Global MTB racing round-up
X-Fusion adds additional cash to U.S. Nats
USA Cycling announced on Tuesday that X-Fusion has signed on as the title sponsor for its 2006 National Mountain Bike Championships this summer.
Scheduled for July 13-16 in Sonoma, Calif. as part of the Infineon Technologies Cougar Mountain Classic and expected to welcome approximately 1,500 competitive off-road cyclists from across the United States, the USA Cycling Mountain Bike National Championships brought to you by X-Fusion X-Fusion represents the culmination of the domestic mountain bike season as over 150 national titles will be on the line across a wide spectrum of ages, abilities and disciplines.
X-Fusion's support of the event, along with a supplemental contribution from Infineon Raceway, also means a $25,000 prize purse is up for grabs in the 12 men's and women's pro events. Competitors in the pro ranks of the Cross Country, Short Track, Mountain Cross, Downhill, Marathon and Super D will compete for a $1,000 cash prize to compliment his or her stars and stripes jersey, gold medal and title of national champion. Additional cash prizes will be paid out five deep - $500, $250, $150, and $100 respectively. An additional $1,000 bonus will be on the line for any pro rider that wins two national titles over the weekend.
With the new qualification system underway for the 2008 Olympic Games, the USA Cycling Mountain Bike National Championships brought to you by X-Fusion also plays an integral part in the number of start positions the United States will receive in the sport of mountain biking in Beijing. As a UCI-recognized national championship event, the winner of the men's and women's Cross Country disciplines receive 110 UCI points each – a figure that directly factors into the depth of the United States' presence at the 2008 Games.
X-Fusion will also provide suspension products for expert categories through a post-race lottery system amongst podium finishers.
For more information on the USA Cycling Mountain Bike National Championships brought to you by X-Fusion, visit www.cmclassic.com.
On test: Lake MXZ301 Winter MTB shoes
The Lake MXZ301
Photo ©: James Huang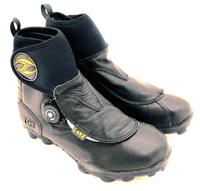 Lake's winter mountain bike shoes are sufficiently water-resistant that their use extends beyond just the coldest months, as James Huang found:
Just call me Imelda. These days my collection of cycling footwear seems to have gotten a little out of hand (although it likely pales in comparison to another CN contributor's army of $5 strappy sandals… you know who you are!). On any given day, I'm more likely to pull a pair of shoes out of the closet at random with some sort of cleat bolted on to the bottom than not, and I've already arrived at a trailhead on at least one occasion having packed the wrong shoes (Time ATAC cleats do not work in Crank Brothers pedals, in case you were wondering). In spite of the confusion, though, some shoes are still more appropriate in certain situations than others, and this statement is no more applicable than with Lake's MXZ301 Winter MTB shoes.
Winter… it's cold!
For those of you who have not experienced a Midwestern winter, let me fill you in: they're cold. They're long. They're often wet and perma-slushy, and the sun can disappear for weeks on end. Did I mention they're cold? Riding through one of these is difficult to say the least, and while proper clothing makes the experience much more tolerable, protecting your extremities is a perpetual battle. Heavy gloves and hats are no-brainers, but shoes are a bit trickier as they are not only pieces of apparel, but also pieces of equipment. And let's face it: heavy socks tend to cut off circulation to your feet (unless you deliberately wear shoes that are a bit big) and booties sometimes don't work well in off-road situations and they've invariably a bit of a chore to put on.
Read the entire Lake MXZ301 Winter MTB shoes review here.
(All rights reserved/Copyright Knapp Communications Pty Limited 2006)