MTB News & racing round-up for May 19, 2006
Edited by Steve Medcroft
World Champion is as World Champion does
By Steve Medcroft and Rob Jones
In round two of the UCI cross-country Word Cup (Madrid, Spain May 13-14) reigning Olympic and world champions Julien Absalon (Bianchi Agos) and Gunn-Rita Dahle-Flesjaa (Multivan Merida) did their rainbow-striped jerseys proud in front of huge groups of racers. After a six-week gap from the Curacao World Cup opener, over 200 men and 110 women lined up to run circles around a 7.5-kilometer loop in Casa de Campo park on the outskirts of the city centre.
Gunn-Rita Dahle zips up, ready for the finish
Photo ©: Rob Jones

Norwegian Dahle-Flesjaa continues to make mountain-bike racing look easy. She started fast, benefiting immensely from her front-line starting spot as the riders behind her clogged up into the first set of singletrack. Only two women ever made her nervous after the start.
In the first lap, Spaniard Marga Fullana (Spiuk Illes Balears) nipped at the UCI champs heels before slipping in a corner and falling behind. Then Canadian Marie-Helene Premont (the only rider to beat Dahle-Flesjaa in World Cup racing in over two years) hovered as close at twenty-five seconds back through much of the rest of the race. "I was nervous with her on my back wheel," admitted Dahle-Flesjaa. "One little mistake would be all it would take for her to catch me."
Luck worked against Premont though. "There was a lot of glass on the course and it punctured my tyre," she said afterwards. "It was a slow leak at first and I tried my CO2 cartridge but it wouldn't keep the tire up. Then in a corner the tire came off and I crashed. So I had to run for a long time (to the technical zone); maybe almost two kilometres. I was feeling so good, I would have had second for sure." Premont ultimately placed tenth.
Julien Absalon
Photo ©: Rob Jones

In the men's race, Absalon had wheel-suckers up until the very last lap. While riders who couldn't complete the short course in greater than 80% of the leader's time were being pulled with one and two laps to go, an elite group was forming up front including Julien Absalon (Bianchi Agos), Christoph Sauser (Specialized Factory Racing), Ralph Näf (Multivan Merida), Jose Hermida (Multivan Merida), Curacao winner Bart Brentjens (Giant), Roel Paulissen (Giant), Fredrik Kessiakoff (Cannondale-Vredstein), Michael Weiss (SRM Simplon Team) and Seamus McGrath (Felt-Canadian National).
The speed remained high through the seven-lap race and by the final spin around the course, Absalon had only Ralph Näf and Christoph Sauser left to deal with. All three riders knew that it would be critical to be first to a final climb that dumped out onto the finishing straight.
"It was a tactical race, an exciting race, where you always had to be attentive - one mistake and you were finished," explained Absalon. "On the last lap, I attacked on the first climb and Ralph was gone. Sausie (Sauser) was strong; we were both attacking but always together, never able to drop each other. So in the last 500 meters my manager yelled to me 'Pass here, it is the last place to pass'. It was true, because there were corners after that where it was not possible for him to pass me."
The move proved decisive. "We were never more than a few wheels apart," said Sauser after the race, "always watching each other, always aware that the other was the strong rider (in the break). This should make it an exciting year, I think, with both of us riding so well."
View results, race reports and photography from the UCI World Cup #2 in Madrid here.
With the wins, Dahle-Flesjaa increases her lead in UCI standings over second-placed Petra Henzi and Absalon takes over the top of the men's standings from Bart Brentjens (who slipped to seventh). World Cup cross-country racing continues this weekend in Spa Francorchamps, Belgium. Stay tuned to Cyclingnews for results, photos and race reporting from Rob Jones.
NORBA National Series schedules adjusted
By Steve Medcroft
With the change in the U.S. National Championships venue from a snowed-in Mammoth Lakes, California to what was originally scheduled to be stop five in the NORBA Series (at the Infineon Raceway in Sonoma, California), the NORBA National Series schedules have all been adjusted.
Essentially, the Sonoma stop has been edited out of the series for all five NORBA disciplines (cross-country, short-track, downhill, mountain-cross and marathon). Those Sonoma events will now become the National Championships competitions.
The event most heavily impacted NORBA series is the four-race, no drop marathon. With two races already in the books (March 24 in Phoenix, Arizona and May 5 in Southridge Park, California), series contenders have only the Park City, Utah (July 8-9) and Brian Head, Utah (August 5-6) to make up ground on series leaders Troy Misseghers (Mountain Bike City) of Alberta, Canada and Jennifer Smith (Trek/VW) of Gunnison, Colo.
Hendershot wins 12 Hours of Addison Oaks
It was a soggy Mother's Day weekend in Michigan as racers lined up for the 6 and 12 Hours of Addison Oaks on May 13th. Three days of continuous rain and the promise of two more to come gave a gloomy start for the solo and team riders. "The weather radar looked like someone flushed a toilet over Michigan," said Santa Cruz Syndicate endurance pro Mark Hendershot.
Hendershot scored a decisive win in the 12-hour, completing 17 laps of the 5 mile course. "This course is basically flat and usually fast, but today it was pretty slow," he said. "The mud was absolutely horrible. I've never seen so many broken derailleurs."
Global MTB racing round-up
The Scott Scale 10; all-pro carbon hardtail
The Scale 10 is Scott's off-road equivalent of the CR-1 road bike - a very light, stiff carbon fibre frame designed for one thing and one thing only: going fast. Cyclingnews MTB Editor Steve Medcroft has been giving the Scale 10 an extended test ride:
Scott Scale 10
In the age of bicycle specialization it sometimes feels like some bike formats receive more attention than others. An expanding selection of frame materials, advancements in component and wheel technology and reductions in frame and component weight have made the road bike a slim, powerful shell of what existed only ten years ago. In mountain biking, adaptation of suspension and braking technologies from other industries has upped the performance and dropped the weight of full-suspension off-road bikes so much that it seemed the traditional hardtail was about to be placed on the endangered-species list.
But riders (especially in the elite racing ranks) will tell you that for certain terrain and situations, there's nothing better than a light, stiff, snappy little hardtail to get you around the track so Scott USA, by listening to the needs of pros like Thomas Frischknecht and Walker Ferguson, and bringing every available technological advancement to bear, has stepped in to produce a proud family of racing hardtails; the Scales.
Eight is enough
The Racing Scale family has eight siblings. From the sub $1,000 aluminum Scale 70 with a Rock Shox J2 fork and Shimano Deore RapidFire to the $6,000 Scott Scale Carbon Limited made with CR1 HMF Technology and spec'd with a Rock Shox Reba and top-of-the-line Shimano XTR kit, there's a member for anyone. For our test, Scott sent us a Scale 10; the closest family member on the list to the Limited but with a slightly more affordable build.
The very fist impression the Scale makes is in how light it is. Out of the box and built, pedals and all, the bike weighs a scant 21.6 pounds and feels like nothing to lift onto a roof rack. Most of this weight savings is in the frame (985 grams). Made from the process and material that Scott used to create what they call the world's lightest production road bike (the CR1, which refers to Scott's Carbon for Racing frame tubing and construction process using their proprietary Ten-Tech Composite), the frame is a thing of beauty.
Read the entire Scott Scale 10 review here.
Round three of Sunshine Series this weekend
The future champions in one of the most exciting Olympic sports will go on show this Sunday May 21st at Hinze Dam, Queensland, Australia when the Gold Coast Mountain Bike Club hosts round three of the MTBA Sunshine Series. More than 200 of Queensland's most talented cross-country mountain bikers are expected to line up for the Gold Coast round, with the host club sure to feature prominently in the results across all divisions.
The Gold Coast Club showed its class at the recent Merida 24 Hour, when the team anchored by junior sensation Daniel Hallam and Masters warhorse Brett Stevens beat all comers to win the prestigious endurance classic."There's no question the Gold Coast is a great nursery for mountain bike talent and Sunday's race is all about showing what our riders are capable of," said race director Guss MacAnally.
Sunday's races will be staged entirely on a specially crafted single-track (recently featured in Australian Mountain Bike Magazine) which snakes its way through thick forest country, combining technically challenging switchbacks, hillclimbs, descents and creek crossings. The terrain will suit riders who possess both technical skills and stamina, with the Gold Coasters, who know the course intimately, sure to have a hometrack advantage.
Racing kicks off at 8.30am Sunday May 21st with junior divisions, the elite shortcourse sprint event at 10.00 a.m. followed by the elite cross-country event. Details of the Sunshine Series program are available at www.twowheelpromotions.com.au
Yeti 'Tribe' gathering set for August
Yeti Cycles has announced the dates for its 5th Annual Yeti Tribe Gathering. The event, an annual pilgrimage for the Yeti faithful that includes epic rides, great food, cold beer, and planned stupidity (like bike barrel racing, chug-o-cross, and mullet-man chasing the husky fella in the Yeti costume) is to be held in Steamboat, Colorado August 18-20th.
This year's event will be capped at 125 people, so mark your calendar and look for the sign-up on Yeti's new website in the next couple of weeks.
IMBA conference draws International crowd
Early registration for the 2006 IMBA Summit/World Mountain Bike Conference (June 20-23 in Whistler, BC) indicates the event will be truly global affair. From Australia to Sri Lanka, a diverse gathering of nearly 300 attendees has signed on for the three-day program, which includes seminars on mountain bike tourism, trail design and other topics related to the high-growth sport of mountain biking.
The Summit/Conference will be jointly hosted by the International Mountain Bicycling Association (IMBA), headquartered in Boulder, Colorado, and North Vancouver's Shore Events. Nations other than the host country that will be represented at the Summit/Conference include Australia, Belgium, Chile, Nepal, Netherlands, South Africa, Sri Lanka, Switzerland, Trinidad, United Kingdom and the United States.
Litespeed Bicycles 24 hour womens solo MTB team
Litespeed Bicycles and Open Road Bicycles is pleased to announce the formation of a new women's 24 hour solo mountain bike team for 2006. Riders Sandra Tomlinson (current World Champion 35-39 and a mother of three children) and Karen Masson (winner of the Trans-Rockies). Handling the team for 2006 is the "panic mechanic" Phil Marino.
The pair will be riding Litespeed Sewanee bicycles equiped with Shimano XTR components and Kenda tires, WTB saddles and grips, Xpedo pedals, Koolstop brakes pads, Thomson seatposts and stems, Light and Motion lights and Pedros lubricants.
The women will compete in key races across the U.S. to prepare for the U.S. National ( (to be held at the 24 Hours of 9-Mile in Wassau, Wisconsin July 29-30) and World championships (October 7-8 in Conyers, Georgia).
Kona named Whistler's official bike
For the seventh straight year, the Kona Bicycle Company will be the official supplier of mountain bikes to the Whistler Mountain Bike Park in Whistler, B.C. As the official bike supplier, Kona will furnish the Whistler Mountain Bike Park with 210 high-performance, special edition Garbonzo series downhill bikes. The Garbonzo series bikes are built around the Kona Stab Supreme, Stinky and children's Stinky 2-4 frames and outfitted to meet the unique demands guides and park visitors will place on the fleet. The park's rental fleet will also include the Scrap, Coiler, Lanai, Hula, Makena and children's Stuff 2-4 bikes from the Kona lineup.
Kona will also continue as the official bike sponsor of all Whistler events, including Crankworx, Huckfest, Mudfest and the Loonie Race series, and John Cowan's famous Kona Jump Farm will be enhanced with a new section for expert riders in the lower park and an expanded beginner area in the original location near mid-station.
"We're very excited to be continuing our relationship with Whistler," said Kona's North American Bike Park Guy Kelly Steelman. "By assisting Whistler with bikes, event sponsorship and terrain development, we're able to draw greater numbers of riders to the park and grow freeriding as a sport. That benefits us all."
Back At'er; the Geoff Kabush diary
Riding with Shonny Vanlandingham at the end of NORBA 1
Photo ©: Harlan Price
My last significant stretch of time off for the rest of the summer is over, an incredible three weekends in a row, and now I'm back up and at 'er racing again. After being sick and dizzy with the ol' ear infection for a month I have never been so glad to have a break. Got back to the homeland for about ten days to make sure things were still standing; went to get my townie to ride into downtown for breakfast and found it stolen....bummer, did my taxes...arrrrgh, got on the scale...ouch, turned 29...yikes, got a cake and a visit from my parents...sweet, got a bunch of money back from my taxes....nice, got to ride my 5spot a bunch on the Victoria trails...sweet as, started to feel fit again...alright.
So things were starting to come around and I headed back to the US; I avoided border patrol once again on my way to Colorado Springs to meet Keri and my new girlfriend Tallulah (a little Weimaraner pup).
She's a little sweetheart and hopefully she has learned to pee and poo outside by the time I get back. Got to spend a couple weeks in Albuquerque where the weather was absolutely perfect for bike practice. This is where I started to really feel like I could push the pedals again; at least that's what I thought as I pedalled up to the 10,600ft Sandia Peak in shorts and jersey listening to AC/DC. The only bad story from Albuquerque is when I slipped and fell carrying Tallulah's poo and broke one of our hardwood stairs; I cussed a few times after that. Oh yeah, and the fact someone tried to rip off our bank account with fake cheques; good ol' Albuquerque.
Read the entire Geoff Kabush diary here.
Three days in the LA basin; the Chris Davidson diary
Greetings cyclingnews.com readers, Chris Davidson here at NORBA #1 for 2006.
Home sweet home
Photo ©: Chris Davidson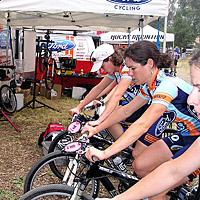 In sunny, smoggy southern California the first race of the series this year is in a city park, within an hour's drive of like 10 million people. Definitely different than the standard ski resort-style venue - different for sure. Right now it is Sunday night and I am typing this in the Ontario airport waiting for the flight home. Seems like I was here in the same seat, waiting at the same gate, in the same place just a month ago. Oh well, due to lack of internet connectivity at my hotel I will recap the weekend, so here goes...
Friday: Pre-race prep and a little STXC for me
The race course is in a city park. Grocery store across the street. Elementary school next to us. We are set up on a tree lined section near the small set of ridges in the park. In general I would say that we are a little more compressed that the standard NORBA tech area. It is real dusty here - real dusty. The dust is really fine, but for my sake it washes off the bikes really easily. Some places the dust is really tenacious and you have to scrub for hours, but the bike wash here has been really simple; minutes instead of the hours it took at Sea Otter. Everyone is choosing fast tires for tomorrow, i.e., almost no knobs.
Due to the small nature of this park, the courses are kinda short. I talked today to a downhiller friend of mine, Pete Schafer (Blue Dart Racing) and he thinks that the winning time for the semi-pro downhill will be less than two minutes. That's short. The XC loop is seven miles, but the square area that it covers is pretty small.
Friday night I raced the expert STXC as my first race outing for 2006. It hurt to hold it in the red zone for 20 minutes plus 3 laps. There were lots of SoCal boys up front that have been racing since the first week in January. For me the Utah weather what rather wintery until late, so I am getting a late start to the season. It was fun as there were other pro team mechanics in the race too - we joked about working all day then racing at 6:00pm.
Read the entire Chris Davidson diary here.
(All rights reserved/Copyright Knapp Communications Pty Limited 2006)