MTB News & racing round-up for May 14, 2006
Edited by Steve Medcroft
Madrid World Cup Cross-Country
Gunn-Rita Dahle got the win here in 2005
Photo ©: Rob Jones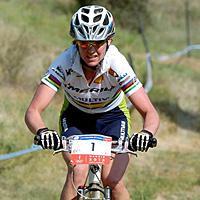 By Rob Jones, Canadian Cyclist, in Madrid
The cross-country mountain bike world cup could almost be considered to be starting up for a second time tomorrow in Madrid, after a six week break from the season-opener in Curacao at the beginning of April. The long gap has meant that it's difficult to know who is in good form, with many riders having gone from Curacao (or Sea Otter right after) to training, and having no results to show. Extremely large fields and a very hard, fast course also mean that a good start (and start position) will be crucial to doing well.
The Madrid circuit is extremely fast and dusty. Held in the Casa de Campo park, it's just on the outskirts of the city centre with the Metro making it easy for thousands of fans to get to the race. Some of the descents are so hard packed that there are literally black rubber skidmarks on the dirt. The removal of a set of stairs that riders usually bounce down towards the end of the lap have added to the speed. The stairs were removed because park authorities felt that too much damage had been done in the past.
A few other minor modifications have also been made to the course, all resulting in a 7.5 kilometre loop with almost nowhere to rest. The number of laps will not be known until the manager's meeting, but the expectation at this point is that the men will do seven laps and the women six.
The fields are almost among the largest ever seen at a world cup, with over 110 women and at least 225 men on the start list. The UCI is no longer holding qualifying races for the men, so all 225-plus riders will start. To thin out the field, an 80% rule is being used on the first lap - riders not within 80% of the first placed rider's time for the first lap will be cut. So, a mechanical, flat or crash on the first lap by any of the top riders could result in a very short day at the races.
Read the entire preview here. And stay tuned to Cyclingnews.com for results, pictures and a full report after the race.
USA Mountain Bike Nationals move to Sonoma
USA Cycling has announced that Infineon Raceway in Sonoma, California will host the 2006 USA Cycling Mountain Bike National Championships, July 13-16, as part of the Infineon Technologies Cougar Mountain Classic.
Originally planned for the following weekend, the 2006 USA Cycling Mountain Bike National Championships have been moved up one week after a record amount of snowfall forced the event's relocation from Mammoth Mountain last month.
Initially designated as the fifth round of the 2006 National Mountain Bike Series, the event has been removed from the series calendar and will no longer factor into the overall series standings. Instead, the event has been designated as the stand-alone, American-only national championship for all levels and disciplines of mountain biking.
"Infineon Raceway is one of a handful of established venues capable of hosting a national championship-caliber event in a short amount of time," commented Steve Johnson, chief executive officer of USA Cycling. "We had hoped to maintain the original date that was designated for our national championships, but ultimately a decision had to be made so that we can move forward with the organization of an event consistent with the level of quality that our membership has come to expect. After discussions with several potential venues, it was determined that Infineon Raceway on the new date provided the best-possible scenario."
New U.S. National Series schedule:
May 5-7: NORBA # 1 , San Dimas, CA
June 10-11: NORBA # 2, Sugar Mountain, NC
June 17-18: NORBA # 3, Mount Snow, VT
July 8-9: NORBA # 4, Deer Valley, UT
July 15-16: USA MTB National Championship, Sonoma, CA
Aug 5-6: NORBA # 5, Brian Head, UT
Aug 12-13: NORBA Finals, Snowmass, CO
Paulissen injured in training race
Belgian mountain-biker Roel Paulissen, riding for Giant Racing Team, injured his hand seriously in last week's E1 Bundesliga race (won by Fredrik Kessiakoff, Cannondale-Vredestein) in Heubach, Germany.
Paulissen was sitting second position in the lead group when he punctured his tire. While he was fixing it, some others competitors overtook him so once back on the bike, Paulissen hastened to make up ground in order to chase them down. He went too fast over a metal bridge, his front wheel slipped away. He crashed and got stuck with his little finger from this left hand in a hole of one of the metal plates the bridge was made of. With the speed Paulissen had, the finger was pinched and tail and tip came cut off.
Paulissen was immediately taken to the closest hospital where he had to have several stitches. With an infection likely, the doctor explained to Roel that amputation of the finger is a possibility.
"Let's hope nothing worse is going to happen," Paulissen said after the race. "When I saw my finger right after the crash, and cyclists are used to bad crashes and injuries, I almost had to vomit. It hurts like hell. But what hurts most is that there is the first of three World Cups in a row in Madrid taking place. I am - or was before that crash - in really good shape and the course in Madrid fits me well." It is unknown whether Paulissen will be able to start the MAdrid World Cup but he said after the accident that he would focus all his attention on being ready.
Alison Sydor extends short-track win streak
The 2006 US National Mountain Bike Series opened in Southern California for the season opener on May 6 & 7 and three-time world champion Alison Sydor (Rocky Mountain/Business Objects) continues to show world-class performance. In Saturday's dusty cross-country race, Sydor rode consistently to take second place behind 2005 series winner Shonny Vanlandingham of the US. The following day, Sydor would once again display her incredible prowess in short track cross country racing.
The short-track win means that Sydor has now won every US NORBA short track race that she has entered as a Rocky Mountain Business Objects racer (since 2003).
On May 14 Sydor will accompany Marie Hélène Prémont, Pia Sundstedt, Marty Lazarski and Karl Platt at the World Cup Cross Country in Madrid.
Tech News; a Camelbak bottle and more
Over in the Tech New section, James Huang writes about a bearing upgrade for the Klein Palomino and a new bottle from Camelbak:
A bottle from Camelbak?

From the company that brought you the "Unbottle" comes… a bottle! Camelbak's new bottle integrates its Big Bite Valve into a handy flip-top which is then connected to a convenient hose that ensures you can get the last drop of liquid sitting at the bottom. Thankfully, all of the associated little bits are easily detached for dishwasher-safe cleaning. Polycarbonate construction promises good durability for the inevitable impromptu "drop test" and should keep contained liquids from tasting like plastic. In a clever touch, the top also uses industry-standard Nalgene threading which not only means cross-compatibilty with their bottles but also with Nalgene-compatible filters and other accessories. Bottles are currently only available in a 0.75l size but are offered in nine different colours, including the currently requisite pink. Half-litre and full litre sizes will be available in late fall. MSRP is US$10, US$12, and $14 for the 0.5l, 0.75l, and 1l sizes, respectively. Sip away.
Read all the latest Tech News here. And while you're over there, check in on the New Arrivals section where there enough new MTB stuff on our tech editors desk to make you wish you had his job.
More info: www.camelbak.com
Three days in the LA basin; the Chris Davidson diary
Greetings cyclingnews.com readers, Chris Davidson here at NORBA #1 for 2006.
Home sweet home
Photo ©: Chris Davidson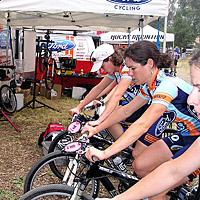 In sunny, smoggy southern California the first race of the series this year is in a city park, within an hour's drive of like 10 million people. Definitely different than the standard ski resort-style venue - different for sure. Right now it is Sunday night and I am typing this in the Ontario airport waiting for the flight home. Seems like I was here in the same seat, waiting at the same gate, in the same place just a month ago. Oh well, due to lack of internet connectivity at my hotel I will recap the weekend, so here goes...
Friday: Pre-race prep and a little STXC for me
The race course is in a city park. Grocery store across the street. Elementary school next to us. We are set up on a tree lined section near the small set of ridges in the park. In general I would say that we are a little more compressed that the standard NORBA tech area. It is real dusty here - real dusty. The dust is really fine, but for my sake it washes off the bikes really easily. Some places the dust is really tenacious and you have to scrub for hours, but the bike wash here has been really simple; minutes instead of the hours it took at Sea Otter. Everyone is choosing fast tires for tomorrow, i.e., almost no knobs.
Due to the small nature of this park, the courses are kinda short. I talked today to a downhiller friend of mine, Pete Schafer (Blue Dart Racing) and he thinks that the winning time for the semi-pro downhill will be less than two minutes. That's short. The XC loop is seven miles, but the square area that it covers is pretty small.
Read the entire Chris Davidson diary here.
Good racing in Nals; the Gunn-Rita Dahle-Flesjaa diary
The Sunshine Cup at Nals in Italy was a tough experience on a demanding course, including lots of climbing and tough descents. Even though I'm not feeling totally on top of things physically, I still felt strong and managed to achieve my goals for the day very well. Many of the best riders were not present at the start, but it was still a great experience for me to win the race.
We're back in our little apartment in Heubach-Lautern which is to be our base for these two weeks. The actual race in Nals had a great atmosphere, was well organized and was a very demanding and exciting track. The race time of only one hour and fifteen minutes was possibly a little short, but still ok because of all the tough climbing which requires many more days of rest afterwards than a flatter course.
Tough experience
We drove to Nals in our great Multivan car last Friday around lunch time together with our mechanic Ralf, and it took just under five hours. We got to do a couple of rounds on the race track on Saturday morning, and had an otherwise relaxing afternoon with massage and a bit of time for the press and talking with other cyclists. It's a true pleasure to be invited to take part in races in Italy like the Sunshine Cup, where the organization can offer very exciting race tracks, a good setting and very good prizes.
The last week has been a tough one in terms of training. We've had to adjust it slightly so my legs wouldn't get too worn out, and it worked - the race was a positive experience, with a feeling of strength in my body. I also managed to work on some areas for improvement that Kenneth and I had agreed upon before the race.
It's a great feeling to feel strong while racing despite fatigue in my legs and muscles because of the tough training schedule. Then it's extra nice to see that I can still improve on small details throughout a race like the one at Nals.
Read the entire Gunn-Rita Dahle-Flesjaa diary here.
(All rights reserved/Copyright Knapp Communications Pty Limited 2006)