MTB News & racing round-up for May 11, 2006
Edited by Steve Medcroft
NORBA overruns California community park
By Steve Medcroft and Harlan Price
Geoff Kabush (Maxxis) and Shonny Vanlandingham (Luna Chix)
Photo ©: Harlan Price
The full NORBA schedule officially opened with an all-disciplines event in Fontana, California this past weekend. Located in Southridge Park - an urban park surrounded by some seven million people and located about fifty miles from the traditional California NORBA opening spot at Big Bear Lake - the venue offered an unusual break from NORBA's usual ski resort and mountaintop courses. The shaded and grassy Southridge community park provided an oasis for riders to escape to after spending hours racing in clouds of desert dust in the bordering foothills. The technical, seven-mile XC race course crossed concrete drainage ditches, paralleled new housing developments and provided heavy equipment operators the chance to watch spandex-clad racers go around in circles for hours.
Spectators and competitors alike were treated to marathon, mountain-cross, Super D, downhill, cross-country and short-track racing from Friday to Sunday.
The usually dominant Canadians flexed their muscles in the cross-country disciplines and as perennial NORBA dominator Geoff Kabush (Team Maxxis) swept the men's short-track and cross-country events. He managed to stay ahead of a last-lap pile up between lead group members Jeremy Horgan-Kobelski (Subaru / Gary Fisher) and Todd Wells (GT / Hyundai) to win the cross-country. On Sunday's short-track course, which designers routed up a steep section of the previous day's mountain-cross course (a similar layout to last year's US MTB National Championships), Kabush hovered near the front and proved that he's recovered from whatever ailed him during the Commonwealth Games through Sea Otter and has regained that uphill kick he's always used to put a final-lap gap on the rest of the field.
Kabush may have seen the tactical advantage in that steep uphill while watching fellow Canadian Alison Sydor (Rocky Mountain / Business Objects), who used it for her own win just an hour before. Sydor, who has been talking about retirement for at least the past three years but keeps coming back to the sport season after season as strong as ever, also took second in the cross-country race behind Shonny Vanlandingham (Luna Chix).
A Canadian even won the marathon; Troy Misseghers spent three hours, fifty-three minutes completing seven laps of the dusty Fontana cross-country course to hold Chris Eatough (Trek/VW) off by two minutes and win the second NORBA marathon of the year. Since Misseghers came second in the marathon opener (held in March on the competitive race loops at McDowell Mountain Park in Fountain Hills, Arizona) to countryman Kris Sneddon (Kona Les gets), he now sits on top of the seven-race men's marathon series standings. To win the series, he needs better cumulative results than any other rider in five of the seven races (a winning criteria modified from the original no-drop rule). Kiwi Jennifer Smith (Trek/VW) took the women's marathon 3.36 ahead of Melissa Thomas (Rocky Mountain / Business Objects).
American downhill national champ Cody Warren (Haro) won the men's downhill after he flatted in qualifying and posted the slowest preliminary run. Since he qualified with the slowest time he was sent down the run for the finals first and had to wait while forty-five other riders finished before knowing his fate. South African downhiller Joanna Petterson (Morewood) beat April Lawyer (Team Maxxis) and Wendy Reynolds (Beqar Nake) for the women's win.
The NORBA series stops next in Banner Elk, North Carolina (June 10-11); a first-time venue for the series. For results, race reports and photos from round one of the NORBA series, check out our Fontana coverage section.
Hannah Takes top honors in Vigo
Australian Mick Hannah (of the Cannondale-sponsored The Cut) kicked off the UCI World Cup series at Vigo, Spain with a huge victory taking top honors by winning the pro men's downhill by nearly a second. After a hard crash in practice where he knocked the wind out of himself, Hannah came back hard and set the fastest qualifying time on Saturday and set the stage for Sunday's main event. Hannah's time was 2.22.942 coming in almost a second faster than fellow Aussie Nathan Rennie (Santa Cruz Syndicate) and enough for his first-ever World Cup win.
"I felt great all weekend. Everything fell into place for qualifying and I was pumped to race," Explained Hannah. "During my race run I hit all the corners fluid and perfect. The course was quite technical, but the Judge handled it smooth."
Tracy Moseley (Kona Les Gets), Factory Team took the women's win with just under two seconds ahead of Sabrina Jonnier (Fra) and Emmeline Ragot (Fra). Qbikes.
World Champion Jill Kintner worked her way through the brackets to open her 2006 World Cup campaign with a win in Mountain Cross also above Frenchwoman Sabrina Jonnier. Czek rider Michal Prokop won the men's mountain cross. in Vigo.
Bart Brentjens interview; keeping that winning feeling
Now a spry 37 years of age, Dutchman Bart Brentjens started making an impact in mountain biking more than a decade ago when he won the 1995 world championships, following it up by winning the first Olympic mountain bike gold medal in Atlanta in 1996. He secured a second world championship title in the same year to become the world's best mountain biker during the mid-nineties. Brentjens spoke with Cyclingnews' Steve Medcroft about winning races at an age where most pros would have retired long ago:
On the podium at the 2004 Olympics
Photo ©: Rob Jones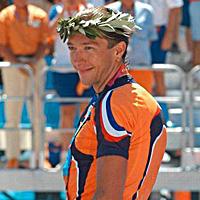 After nine more seasons in the lead pack in both cross country and the growing discipline of marathon (in which he earned a silver medal at the 2005 world championships), you'd think a veteran of Brentjens' age would start slowing down. But no chance, says the Team Giant rider, who has won the world cup opener in Curacao and placed third in the Sea Otter omnium behind Frenchman Jean-Christoph Peraud and Englishman Liam Killeen so far this season. "I was healthy the whole winter so I didn't miss any training," Brentjens said from his home in central Holland in early April about his early-season successes. "I did more gym training – twice a week with weights – and I feel like I have a little bit more power in my legs."
Brentjens says he hopes to use that power in his quest for the marathon world championship. But, if his first few match-ups against the world best cross-country racers are any indication, he might want to set his sights on the cross-country championship as well.
Cyclingnews: As ambassador to mountain biking for the Netherlands, there was a lot of publicity that you had a hand in designing the Curacao [in the Dutch Antilles islands - ed.] course. Did that give you an advantage in the race?
Bart Brentjens: I actually didn't have much to do with the design of the course; I just gave some advice. It was a good course though. The short climbs and the heat fit me - I did a small race there in November so I knew it a little bit.
Read the entire Bart Brentjens interview here.
Bakker banned for life
Mountain biker Erwin Bakker was given a life-long ban from racing by International Court of Arbitration for Sports in Lausanne. Bakker was tested positive for performance-enhancing products twice last year: once in March in the Vuelta a Valladolid for testosterone, then again in Canada in June for EPO. He is currently sitting out a two-year ban for his offenses, but competed nevertheless in the Vulkan Bike Marathon in Germany last week-end, under the name of his brother Jarno, and won the race. A German journalist recognized Erwin Bakker on the podium picture later, and the game was up.
Minnaar crash leads to slow start in World Cup
The UCI Mountain Bike Downhill World Cup once again chose the north eastern Spanish city of Vigo to kick off the new international race season, and once again the two and a half minute trail (slightly shorter this year) took its toll on the world's best downhill racers and provided some unexpected results. 2005 World Cup Champion Greg Minnaar (RSA) crashed heavily in the final and was lucky to escape serious injury after a small tree stump caught his front wheel in a high-speed section of the course.
In the semi final, Minnaar took to the course first as the reigning World Cup champion, and crossed the line with a time of 2m 28.951secs but he was a little disappointed knowing that there were a few areas where extra time could have been found. He finished seventh .
Minnaar's major crash was his first in a World Cup final in four years that was to take him out of contention for the day. Coming into a fast chicane in the top half of the course, where he needed to flick the bike from right to left at high speed, his front wheel seemed to hook up on a tree stump as he turned from left to right, and at high speed he flew over the handlebars landing on his head.
"I'm incredibly disappointed by this crash," Minnaar said. "I felt really fast at the top and I was really on the limit. In this section where I crashed, I'd really got it dialed during practice. I'd seen the tree stump there before but in the final I must have just clipped it after running a little wide due to the speed I was carrying from the previous section. I was really nervous carrying the number 1 plate at the start of the new season and meeting so many expectations, not the least of which were from myself. I feel pretty disappointed not to have a achieved a strong result to build upon, and not to have backed up all the great work down by the team to get us so competitive this week."
His left wrist took some of the impact away from his head and neck, and he rolled down the track. Quickly getting to his feet and remounting his Honda RN01 to find only the seat nose broken, he continued on to finish 19th. His time for the second half of the course was equal to that of third place finisher Steve Peat.
The largest 24 hour Mountain Bike event in NZ
Two thousand mountain bikers are about to descend on Rotorua, New Zealand (May 12-13) for the largest 24 hour mountain bike event in the country; the Cateye Moonride.
Held in the Whakarewarewa Forest on the doorstep of Rotorua city, individuals or teams of four/five will be competing in either the Avanti 12 Hour event which runs from 10am – 10pm Sat or the Specialized 24 Hour event which starts 10pm Fri night and runs right through to 10pm Saturday.
Riders must complete as many laps as they can on the spectacular 8km World Championships course.
For the third year running the Moonride is a sell-out with a maximum field of 2000 riders. Event Directors Murray and Ingrid Fleming from Taupo's Event Promotions are thrilled with the response and add that the competition will be as hot as ever with riders from all over the country, Australia, Asia and the USA competing for a huge selection of medals and prizes.
Global MTB racing round-up
Raleigh Factory MTB Team announced
2005 Raleigh Factory Team
Photo ©: Raleigh USA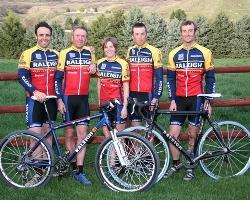 As part of its ongoing race sponsorship program, Raleigh America Incorporated has announced its sponsorship of the Raleigh Factory Racing Team. The new look Raleigh squad made its debut at the NORBA NMBS # 1 in Fontana, CA last weekend.
Previous title sponsor Biogen-Idec pulled its support for the program at a late hour due to a change in marketing focus, which forced the bicycle manufacturer to find creative ways to continue racing. "It's hard to take such a financial hit when plans for the season are nearly finalized, but fortunately for us the core group of athletes are extremely loyal to Raleigh, and we are able to keep almost everyone on board," said Norm Krisher, Raleigh's marketing coordinator.
Pro riders Eric Jones, Bart Gillespie, Sally Warner, and Susy Abbene will be returning for the 2006 season, while top amateur riders Linde Smith and Roger Gillespie round out the roster. These riders have posted some impressive results in the past two seasons, including Eric Jones' fourth place finish in the 2004 US National Mountain Bike Championships and MTB stage win at the 2004 Iron Horse Classic. Bart Gillespie has posted numerous top-twenty NORBA finishes and a top-ten result in the 2004 US Elite National Cyclocross Championship. Sally Warner won gold at the 2004 Masters World's Championships and has posted several top-twenty NORBA finishes. Susy Abbene won the 2005 Utah State Mountain bike championship and posted an 18th place NORBA XC finish as a first year pro.
Team Raleigh riders will participate in 2006 NORBA National Mountain Bike Series and numerous road, mountain and cyclocross events throughout the year.
Bikes Belong Awards $42,000 in Grants
Boulder, Colorado-based Bikes Belong will award $42,000 in grants this month to six exciting bicycling projects. The urban programs, community pathways, and mountain bike facilities supported by this round of grants will increase ridership in cities, towns, and parks throughout the country, putting more people on bicycles more often.
At the top of the list, Concerned Long Island Mountain Bicyclists (CLIMB), of Cunningham Park, NY, will receive $10,000 to help build a network of beginner, intermediate, and advanced mountain bike trails in Cunningham Park, in the New York City borough of Queens. Because of the group's success with other trail projects and programs, New York City Parks & Recreation has given CLIMB permission to build and maintain the mountain bike trails in the park. When complete, these trails will form the first mountain bike facility in New York City.
$10,000 awards will also go to programs in Chicago, Il (Chicagoland Bicycle Federation - Sunday Parkways) and Kansas City, KS (Community Connection Trail Coalition - Community Connection Trail).
Other awards will be granted to Bicycle Boulevard Campaign in Oregon, the North Branch Park Mulit-Use Trail in Montpelier, VT, and the Historic Union Pacific Rail Trail in Park City, UT.
For more information about Bike Belongs, check out the organization's Web site: bikesbelong.org
(All rights reserved/Copyright Knapp Communications Pty Limited 2006)