MTB News & racing round-up for March 3, 2005
Edited by Steve Medcroft
Welcome to our regular round-up of what's happening in the dirt. Feel free to send feedback, news and gossip to mtb@cyclingnews.com
Dave Harris' 26 vs. 29 inch challenge
By Steve Medcroft
Dave Harris contemplates the 26in vs 29in conundrum
Photo: © teamhealthfx.com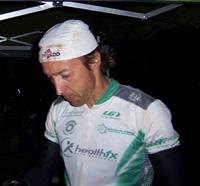 Twenty six or twenty nine inch wheels - which is the better format for cross country mountain biking? Endurance racer Dave Harris (Team HealthFX) decided to settle the question for himself by putting two of his own bikes to the test at the 24 Hours in the Old Pueblo (February 18 and 19, 2006). Armed with a Trek Top Fuel and a Salsa Dos Niner, Harris used a Power Tap integrated hub system to gather data about his performance on the mostly rolling desert course in Oracle, Arizona (about thirty miles Northwest of Tucson).
He got the idea to do the comparisons two years ago. "I'm a competitive racer and I take it seriously," he says. "Once I turned to racing endurance events, you can't help but notice the popularity of two-niner bikes; the Fisher team (Nat Ross and Cameron Chambers) do really well with them. I got intrigued. I looked around for some research to see if the claims I heard about their performance was true but all I found was an abstract from a study which provides no information about the conditions under which the study was performed and ravings on two-niner forums. But it's like going to the Catholic Church and asking if God exists so I bought two last year to figure it out for myself."
Harris says that after several months of riding he worried that he wasn't gaining in performance. "As an engineer [Harris works for a Virginia-based engineering consulting firm], I needed objective evidence to support what I was feeling" Which was? "I just didn't feel that my two-niners were as fast as my Fuel. They're more fun to ride but I was getting the sense that I was going slower." Which was a paradox. "Since that went against everything everyone said, I knew I couldn't just trust my perception. Since I've been training by power for a long time, I set up a 29in inch wheel with a Power Tap hub and decided to test my bikes side by side."
Harris says that although his was not a fully-funded scientific test, he took the experiment seriously enough to set the bikes up in similar ways. "Both bikes weigh 25.5 pounds," he says. "They both have Specialized Fast Trak tires." Because a two-niner wheel has a ten percent larger circumference than a two-sixer and front and rear cogset combinations would have produced different gear-inch measurements, Harris even tried to normalize the drivetrains. "I put a smaller middle ring on the Dos Niner."
The 24 hours in the Old Pueblo wasn't the first time Harris had done side-by-side comparisons of power measurements from his two bikes. In the first test - on a relatively smooth forest service road (a constant climb) in January - he gave the Fuel a slight edge. In early February, on a 3.2-mile competitive mountain bike loop at McDowell Mountain park in Fountain Hills, Arizona, he declared the competition a tie After careful analysis of some minor differences in the power meter readings between the two bikes (recorded five days apart) after the second test, he chalked up the better readings from the Fuel as his just 'feeling' better during the Fuel test run. Old Pueblo, with its constant conditions and multiple laps of data to analyze, seemed like a better laboratory for his experiment.
The day after he finished the Arizona 24-hour epic, Harris sat down with the power data from his daytime race laps (although he traded the lead with ultimate winner Tinker Juarez into the night, vision problems caused Harris to sit out the early morning hours so he dismissed night laps from the test) and created some scenarios on his computer.
"There were a lot of different ways to look at the data," Harris said about how he broke down the results. "But people have enough difficulty understanding power in general so I kept it simple and looked at lap time versus average power." Simply put, he wanted to kow how much power was required to drive each bike around the course and if there was a difference between the bikes.
Based on that data, Harris concluded that his Salsa required more average power to achieve the same lap times over the same terrain in the same conditions as his Trek (175 watts for the Fuel, 188 for the Dos Niner). He says that by his measure, if he rode both bikes at the same power output (presumably a limitation of his physique and fitness), Harris calculates that his two-niner lap times would be about two minutes slower. "I think I can attribute some of the difference to the power required to accelerate each bike," he says. But adds, "I can only base this on impressions. And my impression, my sensation, is that Dos Niner does not accelerate as fast as the Fuel."
Harris says he realizes that his test was about his performance on his bikes and not in indictment of the two-niner format. "I haven't tested the bikes on descents and technical, rocky terrain," he adds. "I think that if I do, the Dos Niner will shine on rocky terrain." But for now, the experiement at the 24 Hours of Old Pueblo has him wondering if anyone's looking to buy a Salsa Dos Niner with a Power Tap hub.
Forty year old Dave Harris is an ultra-endurance mountian-bike racer based in Durango, Colorado. He won the West-coast based Endurance 100 endurance series last year and plans to mount a serious challenge for the Trans-Rockies co-ed title with teammate Lynda Wallenfels. He writes a blog on his team's Web site at teamhealthfx.com.
The crocodile man cometh; Adam Hansen interview
Adam Hansen
Photo ©: John Flynn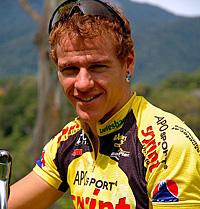 Australian cyclist Adam Hansen has twice won the Crocodile Trophy, one of the hardest multi-day races the fat tyre world has to offer. This January he made the road world sit up and take notice when he placed fourth in the Australian national championship road race. John Michael Flynn finds out that there's a lot more to this talented young rider than bashing across the Outback.
Since its inception, the brutal Crocodile Trophy has become probably the hardest bike race on the planet - a bit like cycling's answer to the Dakar Rally. It involves fifteen days of slogging it out in bulldust, corrugated tracks and creek crossings in stifling tropical heat. When each stage is over, the riders pitch tents at night and hand-wash knicks before the next day's torture. They endure conditions that only can be fully appreciated when one is stranded in such an environment.
Of course, it demands the question 'why?', but philosophical dilemmas aside, we can simply say "character-building". But the other question that many have pondered is this: just how good are these intrepid men and women who tackle it each year?
The race has seen very well-credentialed roadies enter the race, like none other than Australia's greatest road cyclist, Phil Anderson. Some have finished, others have not. But Phil was a long-retired rider when he entered the 'Croc', and so the dilemma remained of placing the event in a modern competitive context.
But that question was answered last month in an important road race outside of Adelaide, in South Australia.
Although it is held early in the season, the Australian Open Road Championship (AORC) sees many of the country's top riders have a very serious dig at securing the national champion's jersey.
Read the entire Adam Hansen interview here.
Nalgene Polaris Challenge
Next weekend, some 500 mountain bikers from across Australia will set off from the Delegate/Bendoc region of Southern NSW/NE Victoria for the 2006 Nalgene Polaris Challenge. The event is a two-day overnight race combining mountain biking with navigation, bush skills and touring.
Self-supported teams of two ride between checkpoints scattered over a large area of rugged country (approx. 25km x 25km). Each checkpoint has a score and the aim is to accumulate as many points as possible within each day's time limit. Distant and hard-to-access checkpoints carry higher scores and there are tough penalties for exceeding the time limits.
The Challenge attracts all kinds of riders; from the serious competitor to those in it just for a fun weekend. The event moves to a different location each year. In 2006, the race's tenth anniversary, the Challenge terrain straddles the recently proclaimed Black-Allan Border Line with half the map area in Victoria around the village of Bendoc and half in NSW.
For further information, visit www.wildhorizons.com.au.
Cannondale signs freerider George Ryan
After a breakthrough season, dropping the jaws of the freeride world at the end of "Counterparts" DVD, George Ryan joins Aaron Chase, Mick Hannah, Chris Van Dine, Carlo Deickman and Wayne Goss on the 2006 Cannondale freeride team.
Unlike many other trick rider (whoc some from BMX or motocross backgrounds), Ryan is a true two-sixer. A Long Island native, everything George knows comes from mountain biking. Along with his freeride reume, Ryan comes to Cannondale with two New York State Downhill Championship titles in his portfolio.
For 2006, Ryan will ride Cannondale's new Judge DH (with 220mm of staged travel) along with a Prophet MX and Chase—all built to his spec.
(All rights reserved/Copyright Knapp Communications Pty Limited 2006)