MTB News & racing round-up for June 24, 2006
Edited by Steve Medcroft
Deep fields for popular Canadian World Cup round
Marie-Hélène Prémont took top honors in 2005
Photo ©: Rob Jones

Saturday, professional riders from all three disciplines of mountain biking - cross-country, Downhill and four-cross - will take part in the Mountain Bike World Cup, in Mont Ste Anne, Quebec. This is the fourth round for the downhill and four-cross, and fifth for the cross-country. Mont Ste Anne is the only venue to have been part of the World Cup every year since the start of the series; proof of the high regard with which the venue and the organizers - Chantal Lachance and Patrice Drouin of Gestev - are held.
On Saturday the gravity riders are front and centre, starting with the downhill during the day and the four-cross in the evening. The downhill course is approximately 40 percent new, according to Lachance, with a long straight open drop section in the middle replacing some wooded portions. Riders are saying that the course is very fast, and that this in itself is making the run technical, since it requires complete concentration to avoid making mistakes at high speed. It has been raining consistently for the past few weeks, but the ground drains quickly at Mont Ste Anne, and the weather is currently sunny (and expected to remain so). The top men are expected to complete the 3.2 kilometre run in under five minutes.
Read the entire Mont Sainte-Anne preview here and check back on Cyclingnews throughout the weekend for results, photos and race reports.
Chris Davidson; the King of Dickies
Cyclingnews.com diarist Chris Davidson has been selected as a finalist in the Dickies American Worker of the Year competition; a contest in which the worker (of five selected finalists) who receives the most online votes, wins a prize package which includes a spanking new 4X pickup truck.
Cycling style - the Park Tool work shirt
is made by Dickies
Photo ©: Park Tool Company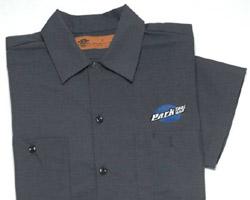 Davidson, 36, of Salt Lake City, Utah, is the team mechanic for Ford Cycling, a US-based women's MTB team. He travels with the team to domestic events providing full technical and, sometimes, moral support.
In his diary entry following the Sugar Mountain NORBA stop, Davidson wrote "Some of the nice folks at Dickies clothing came out to film me working on the Ford Cycling Team bikes on Friday. I have worn their clothes for a long time now while working on bikes... it was an interesting day, with spotlights and all."
But what are Dickies you say? You know, the tough, blue-collar chic and functionally stylish clothing used in the uniforms of both hard-working people worldwide and teenage lay-abouts who want to do anything but work.
As for the contest, the five finalists were selected from among thousands of entries collected online and through the Dickies American Worker of the Year Mobile Tour presented by the Professional Bull Riders, which made stops at PBR events, job sites and retailers as it crisscrossed the nation. Entrants were asked to make audio recordings or write 100 words or less about why their nominee represents "the spirit of the American worker."
The top vote getter will receive a brand new 2007 Ford F150 truck equipped with a special suspension by FabTech, along with a custom-painted BMC Chopper, an "Ultimate Grill Setup" from Johnsonville Brats, boots from Rocky Boot and a VIP stay at the Mandalay Bay for the PBR World Finals in Las Vegas.
Read more about the contest, view short videos of the selected finalists and, most importantly, vote for Chris online from June 23 through October 7 at www.workeroftheyear.com. Voters are eligible to win a free trip to Las Vegas, Nevada; presumably to attend the final awards ceremony at in the City that Never Sleeps.
Sawicki injured in marathon crash
Diggin deep in Canada
Photo ©: Team MATA

Ultra endurance mountain biker and triathlete Monique Sawicki (Team Mata/Sho-Air International) was rushed to the hospital during the June 17th World Cup marathon in Mont Sainte-Anne, Canada after flipping head first into a boulder.
"On a fast rocky descent she came over a boulder," says team manager and Sawicki's husband Ron by email," and was completely stopped by a large gap between the rocks which threw Pua face first into another boulder in front of her."
Sawicki says his wife's helmet and sunglasses saved her head and eyes although there was quite a bit of injury to her face and mouth. "After x-rays, a CT Scan and many hours in the emergency room, the doctors decided to take her into surgery to repair the lacerations on her face and the extensive damage inside of her mouth."Doctors found no fractures on her face, neck or back," Ron Sawicki said, adding that his wife is recovering and they hope to attend the NORBA stop in Deer Valley, Utah ( July 8-9).
$40,000 Powerade Race Series opens at Snowshoe
Snowshoe Mountain (West Virginia, USA) will kick-off one of the richest mountain biking race series in the country this weekend. Over four weekends throughout the summer, the region's best riders will compete in the Powerade Race Series 2006 for a total of $40,000 in cash and prizes. Both dual slalom and downhill mountain biking disciplines will take place on different trails each of the competition weekends.
The series will consist of a variety of categories including: intro (first time racing), amateur (previous race experience) and elite (expert, semi-pro and pro rider status) in both men's and women's divisions. Sub-divisions, based on age will also be offered. The races will take place June 23 - 25, July 21 - 23, August 18 - 20 and September 8 - 10 The final weekend will act as the series finale and will run in conjunction with Snowshoe's Mayhem in the Mountains Mountain Bike Festival.
Cash prizes will total $25,000 (with merchandise ranging from a Snowshoe season trail pass to a Kona downhill or freeride bike raising the total value of prizes to $40,000) with up to $2,500 up for grabs for the winner of a single race in select categories.
For more information on Snowshoe Mountain, check out their Web site at www.snowshoemtn.com.
National MTB Ultra Endurance Series launches new website
Based on the success of the National MTB Ultra Endurance Series, promoters have launched a new consolidated series Web site as an enhancement to the individual race Web sites.
The new site lists the latest series standings in the four categories (Open Men, Women, Singlespeed and Master's), provides a forum and blog for racers and fans to post comments and pictures on the races in the series and provides a central portal to each of the individual race's Web sites.
The new National MTB Ultra Endurance Series Web site can be found at www.usmtb100.com.
Kintner and Prokop headline Jeep KOM line-up
Ranging from American Jill Kintner to the Czec Republic's Michal Prokop, the Jeep ® King of the Mountain Series (www.jeepsports.com) unveiled its 2006 competition line-up this week.
The Jeep King of the Mountain Series, features 16 of the world's top riders competing head-to-head for a share of the richest cash payout in the sport, topping $100,000, and the keys to a new 2007 Jeep Compass. Each event in the 2006 season, spanning July through September, will be televised to a national audience on CBS Sports .
The series is comprised of three races scheduled July 8 in San Luis Obispo, Calif, Aug. 12 in Elkhart Lake, Wis and Sept. 3 in Beaver Creek, Colo.
Vasquez wins Spanish DH Nationals
27 year old David Vazquez (Maxxis-MSC) won his fourth National Championship last weekend, winning the Downhill Spanish title in Bilbao, and also picking up a handy silver medal in the 4X as well, beating many pre-race favourites.
The national championship downhill course was brand new for the event, contained man made obstacles - like big berms, jumps and a big bridge to cross - but was short and required pedaling. Vasquez was the only rider to go under 2mins 30secs all day and took a well deserved win.
Haro demo tour in Southern California
On Sunday, July 9th, the Haro demo crew will be at Aliso Woods Canyon in Orange County from 8am till 2pm. The crew will have a fleet of Haro Sonix VL120, Sonix VL120s, and Werx 5/VL120 bikes for anyone to test, free of charge.
The Haro Sonix features brand-new, patent pending Virtual Link suspension technology. All you need to ride is a helmet, pedal of choice (if not Shimano SPD), your driver's license, and a credit card (held just for collateral).
A highly-qualified support crew; the Kristin Danielson diary
I hadn't experienced the jet that sometimes serves that route but it sure beats the one hour ride in the propeller plane that I am use to - it took 37 minutes, last Tuesday morning, to fly from Denver to Durango. Tom and I had just arrived home to the usual crystal clear blue skies of Durango from our latest cycling quest. This time it was centered around me. Since I have traveled to many of Tom's races and training camps he decided to support me the past couple of weeks as I competed in the east coast NORBA races.
Sugar Mountain short track
Photo ©: Tom Danielson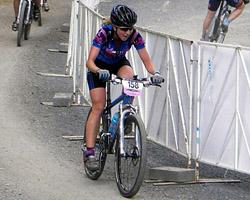 We tried to start our trip on Thursday before the cross country race at Sugar Mountain in North Carolina . We made it as far as the Durango airport before our flight was cancelled. Being a, sometimes, picky bike racer I started to get a little disgruntled as I had hoped to preride the course on Friday in attempts to tune up my nonexistent east coast technical skills.
We tried again on Friday, this time making it to Charlotte and then driving into the hills of Boone. As we rolled into Boone the sun was starting to set and it looked like I wasn't going to get that pre ride in that I was hoping for. Tom and I found our condo that was 2 minutes from the venue and started to unpack. Tom looked at me, as he put my mountain bike together, and asked if 'it felt like I was in that seventies show?'. Our condo was straight out of that seventies show complete with orange curtains, white pleather chairs, a unique round hanging light decorated with yellow and orange diamonds plus more seventies memorabilia.
I decided to get up early and ride the course the morning of race day. It was great to get out on the deserted course; the morning air was crisp and woke my mind and body up for the competition. Later, when the announcement for the 'women's pro staging' rang out over the microphone I felt the butterflies fluttering in my stomach. The national anthem was played and then we were off in a flurry of dust.
Read the entire Kristin Danielson diary here.
(All rights reserved/Copyright Knapp Communications Pty Limited 2006)