MTB News & racing round-up for June 9, 2006
Edited by Steve Medcroft
Stormy weather; the Mohican 100 launches the National Ultra Series
By Steve Medcroft
The 100-mile stare
Photo ©: Ryan O'Dell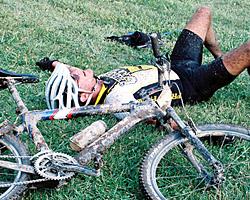 The first race in the new National MTB Ultra-Endurance season was held at the Mohican 100 in Michigan last weekend. After some confusion caused by the sabotage of a handful of course markings, Harlan Price (Independent Fabrication, open class), Tricia Stevenson (women) and Dan Jansen (singlespeed) became the first leaders of the series.
After they rode together most of the day, Price finished a slim four minutes ahead of Brad Cole. Still recovering from an injury he suffered on a training ride just ten days before the race, Jansen finished thirty minutes on second place in the singlespeed class and with a good enough time to place third overall. Stevenson managed to escape from Independent Fabrications endurance specialist Tiffany Mann to win by twenty-three minutes.
Since scoring for the series overall is based on the amount of time a racer finishes behind the winner in a race in which they compete, these first three results have set the bar for competitors in the next series race; the Lumberjack 100 in Michigan on June 17th.
Sabotage and mud play
Before Saturday, promoters weren't sure if the Mohican 100 would even go off. The local storm warning team, the ICA radio club based in a small room in the back of Best Bike in Mansfield, warned of two storm fronts moving quickly through the Mohican area on Thursday June 1st. Promoter Ryan O'Dell says his team gathered nervously around the club's weather monitors as they watched funnel clouds after funnel cloud develop.
But all they could was watch as torrential rains and up to 70mph winds whipped through the five counties that collectively make up "Mohican Country."
The weather wreaked havoc with the course. The Mohican/Malabar Bike Club, who design and maintain new trails in the forest, cleared downed trees and worked trouble areas, including constructing a new bridge and 30-foot boardwalk across a wetland, up until just days until the race.
Luckily, the non-stop, soaking rains that began on Thursday and continued into Friday morning stopped on Friday afternoon and by Saturday morning, the course had drained enough to provide a slick but rideable hundred miles. 168 of the 175 registered racers showed up on race day.
Read the full Mohican 100 race report, results and see pictures here.
Peaty wins Willingen World Cup
Steve Medcroft
Steve Peat (Santa Cruz Syndicate/SRAM/Rock Shox) took the World Cup downhill in Willingen, Germany last weekend finishing just over one second faster on the cold course ahead of Greg Minnaar (Team G-Cross Honda). Gee Atherton (Team Animal/Giant) and Peat's teammate Nathan Rennie finished third and fourth respectively. With the finish, Peat moves into the lead of the UCI World Cup points series.
At first, it looked like previous series leader Sam Hill was tuned for another standout day; his 2:07.25, equaled his practice timed run. But rider after rider beat the time. Peat set the qualifying mark at 2:0244. Times improved for the final with peat managing to oust Minaar on his final run.
"I'm absolutely stoked to finally win this year," Peat said after the race. "I felt really good, and the end result showed that. I knew for the final the track had dried out and that I would have to push pretty hard and it paid off, even though I had a few sketchy moments. I'm stoked to win and get some good points."
Tracey Moseley (Kona Les Gets) won the women's downhill. Jill Kintner and Jared Graves (Yeti Fox Racing team) won the mountain-cross competitions.
For complete Willingen World Cup results, click here.
North Carolina NORBA series preview
For the first time in series history, the National Mountain Bike Series (NMBS) heads to the Sugar Mountain Resort outside of Banner Elk, North Carolina on June 10-11, 2006, and the locals are all fired up. "We're super stoked to have the National Mountain Bike Series come to Sugar Mountain. It brings a whole new level of competition to the region," says local bike store owner Shaw Brown of Boone Bike and Touring who will be on hand to help run the Kid's Rodeo and kid's races.
Longtime USA Cycling official and local Sandy White is proud to see the Sugar Mountain venue take the spotlight at the elite level -- and while remaining neutral like a good official -- he references his experience at numerous national events by saying, "there's always somebody back in the woods ready to come out and shine."
To this end, Mr. White touches upon the story of Subaru-Gary Fisher pro female XC rider Willow Koerber and her entire bicycle racing family – which includes her expert XC racing mother and father, her sister and her two brothers – all of whom are from nearby Asheville, N.C.
Despite now living in Whistler, B.C., Willow herself proclaims "Watch out for the Koerbers!" when asked about "locals" to keep an eye on.
"Having the NMBS at Sugar Mountain brings the highest level of racing close to the cities in the South. And riders, like myself, who are from the Southeast are excited that we get to have a national race close to home this year," says Pro four-cross and downhill racer Chris Herndon of nearby Brevard, N.C., who finished 1st in the Sugar Mountain event last year.
Though he's been racing at Sugar Mountain for about 10 years, Herndon points out that the various courses for the 2006 NMBS will be almost completely new from previous races. "I know the downhill won't be the traditional course. There will be new trail sections and a lot different terrain than on the West Coast," says Herndon.
Mr. White lights up when he talks about the new downhill and cross-country courses. "For the first time in the event's history, the downhill starts all the way at the top of the mountain and it goes down past the parking lots, past where the skiers stop. The cross country course will have a big grind to the top, technical zig zags down the ski slope, and the famous local slick, sloppy, black bog that lies on the ground under the perennial canopy. There are some awesome spectator spots and the woods just come alive out there.".
"The climbers will enjoy the opening run up Little Nell and Main Street Trail but the better descenders will get their revenge later through the technical Cakewalk and Tunnel sections on the harrowing front side descent. The full loop is 6.6 miles of exciting terrain," reads race director Kim Jochl's cross-country course description.
Kim Jochl, who is also the marketing director for Sugar Mountain Resort, literally helped build the 'Showdown' starting in 1994 by blazing trails with help from the local bike community.
The 'Showdown' and the local series which the race is part of have survived with the help of Mr. White who was instrumental in bringing Cane Creek on board a few years ago as the title sponsor for the series which is now called the Cane Creek Cup.
While there will be a lot of new faces thanks to the NMBS designation, the 'Showdown at Sugar Mountain' heads into its 13th year as a NORBA sanctioned event which usually draws racers from up and down the east coast and as far west as Texas.
Sugar Mountain Resort is located only a few minutes from Banner Elk, North Carolina, a small town nestled in the Appalachian range which has an array of lodging, food and supplies. In close proximity to the event site, The Village of Sugar Mountain has numerous lodging and shopping opportunities as well as grocery stores and dining.
Stay tuned to Cyclingnews for race reports, results and photos from Sugar Mountain.
Solo showdown on tap for 24 Hours of Big Bear
Two of the 24-hour solo world's stars will be racing head-to-head at the 24 Hours of Big Bear this weekend (June 10th & 11th, 2006, Big Bear Lake, Hazelton, WV. Ernest Marenchin and Cameron Chambers (Subaru/Gary Fisher) are both on the registration list for the solo category. Marenchin finished second to six-time 24 hours of Adrenalin Solo World Champion Chris Eatough (Trek/VW)at the 2005 worlds in Whistler, British Columbia, Canada. Chambers is the reigning US National Champion in the solo 24-hour discipline.
Although it doesn't include other endurance solo standouts like Nat Ross (Subaru/Gary Fisher) and Mark Hendershot (Santa Cruz Syndicate), the 24 hours of Big Bear showdown could be a good precursor to how the action will look at July's 24-hour solo national championship at 9-mile in Wassau, Wisconsin (July 29 and 30).
Global MTB racing round-up
Vaude Highland Fling registration opens Sunday
Wild Horizons, organizers of the 2006 VAUDE Highland Fling MTB Marathon announced this week that entries for the event will open on June 12. Entries are limited to 1100 riders. Riders can enter as a Full Flinger (100km), Half a Fling (55km) or relay team Flinging Threesome. The VAUDE Highland Fling is taking place on the 12 November in the Southern Highlands of NSW. New elements in addition to the 100km race 2006 include:
The Bundanoon Dash - A 6km fundraising race on the evening of Saturday 11 November to stretch the legs before the big race on Sunday. The Dash is not compulsory!
The 100mile Fling - A limited entry field 100mile Fling (160km) is being trialled in 2006
A Singlespeed Category - Is being introduced for the Full Flinger race
A creche is planned to be introduced to allow both parents or single parents to race while we look after the kids
Updated details on the 2006 VAUDE Highland Fling are now on the Web site at www.wildhorizons.com.au.
The Cyclingnews MTB wheel size comparison; the groundwork
Two-niner this, 29-inch that… what's the deal with those big wheels, anyway? Once dismissed as a passing fad, the 29-inch-wheel "revolution" has taken a firm hold on the mountain bike world. Even the geometrically challenged can see that the wheels are substantially bigger than the 26-inch standard, but what exactly is it about these giant hoops that has everyone all up in arms? James Huang takes an in-depth look at the issue through an engineering lens to figure it out once and for all in Part One of this two-part feature.
Two options, but which is best?
Photo ©: James Huang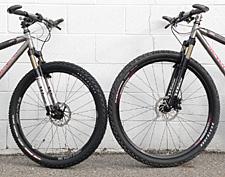 What's the best wheel size for an off-road bike? It's not a new question. In the 1980s a couple of manufacturers - notably Cannondale - offered mountain bikes with 24-inch rear wheels, and in the 1990s GT briefly dabbled with an all-purpose, intermediate size called 700D. More recently, some downhillers have used 24-inch wheels to allow fatter tyres in more-or-less conventional frames. But the biggest controversy has come about as a vocal group of bike makers and riders have adopted bikes with 700C-sized rims, and two inch tyres, a combination that has become known as a "29-inch" wheel for the overall diameter of the combination.
Two-niners, as they are also known, are currently among the hot topics in the MTB world with riders of all disciplines extolling their claimed virtues over the well-established 26-inch standard. According to two-niner proponents, the larger wheels carry more speed, are better able to roll over obstacles, and provide better cornering and climbing traction in spite of their greater mass. In spite of the heated debate over the benefits, new two-niners are popping up in all corners of the industry, particularly among the smaller niche builders as witnessed at the recent North American Handmade Bicycle Show.
Revolution or not, do 29-inch wheels actually offer any real tangible advantages? Dave Harris, an ultra-endurance mountain bike racer on the Team HealthFX squad, recently conducted his own quasi-scientific study to answer the question for himself. In contrast to what many believe subjectively (and often passionately), Harris found that his two-niner required more power to propel and, more importantly, produced slightly slower lap times as compared to his 26-inch-equipped rig.
Read the entire 26 vs. 29 article here.
US qualifying procedures for Masters MTB Worlds
Qualification procedures are now available for the 2006 UCI Mountain Bike Masters World Championships at Sun Peaks Resort in British Columbia August 30 through September 3.
The top-five finishers in each of the master age classes in expert cross country and expert downhill events at each of the 2006 National Mountain Bike Series events and the 2006 US National Championships will be named to the team as qualified riders.
Any pro or semi-pro cross country and downhill riders age 30 or older will automatically be named to the team should he or she choose. Pro riders who compete at the 2006 UCI Masters Mountain Bike World Championships will no longer be eligible to compete in the elite events at any UCI World Cup during the same calendar year. Semi-pro and pro riders will not be required to race down categories at the qualifying events in order to automatically qualify.
A list of automatic qualifiers will also be announced on www.usacycling.org.
Fat Possum freakiness; the Keith Bontrager diary
Dear Diary...
Sorry I've been silent for so long diary. Work's been very demanding all winter and spring - I've been travelling a lot.
I do try to stay fit in these situations so that I will be able to get into racing shape a little quicker, though the approach is pretty different from all of the training camp stories the other pros put up. I managed to walk around the Shinjuku area of Tokyo for six hours in the rain, getting lost, eating yakitori, and checking out bike shops. I did the same sort of thing in Bangkok. Call it improvised base miles. Both are amazing places, and the street food rules - it's the best I can do under the circumstances.
I've also been under the knife, or laser I guess. I had Lazik surgery on my eyes a month and a half ago. Seeing where I am going is very likely to be a good thing for my eroding descending skills, and it's nice to be able to see in everyday situations too. It's a pretty amazing process, painless, quick, and accurate. I read a magazine the next morning without glasses and went running two days afterwards. My vision has been good ever since too. I am stoked.
It has been interesting work and the travel is almost always good. I've seen some new places and things, including a short visit to Tokyo and Nagoya, and a visit to the LTT tyre factory in Thailand. I have some pictures of them making tyres and I thought I'd put some up here a little later. It's pretty cool to see how they are made.
Read the entire Keith Bontrager diary here.
(All rights reserved/Copyright Knapp Communications Pty Limited 2006)