MTB News & racing round-up for July 28, 2006
Edited by Steve Medcroft
US 24 Hour Solo Nationals this Saturday
By Steve Medcroft
Cameron Chambers at 2005 National 24 hour MTB champs
Photo ©: Sam Rosenau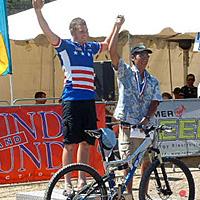 The 24 Hours of 9-Mile, in Wasau, Wisconsin, will host the NORBA 24-Hour Endurance National Championships this weekend. Men's solo, women's solo, junior, masters 30+ (4 riders, all 30+), men's team (4 riders) and women's team (4 riders) championship jersey's will be awarded.
The race begins LeMans-style at 10:00 a.m. Saturday July 29 and ends at 10:00 a.m. on Sunday July 30. Racers will be timed, on a course put together from trails on the Nine Mile County Forest Recreation Area, with electronic chip technology.
Cameron Chambers (Subaru/Gary Fisher) will be on hand to defend the jersey he earned in the men's division at the Round and Round 24-Hour race in Spokane, Washington in 2005. In that race, excessive temperatures knocked favorites like Tinker Juarez (Cannondale), Nat Ross (Subaru/Gary Fisher) and Chris Eatough (Trek/VW) out of contention leaving the door open for the relative newcomer to score a major career victory.
9-Mile doesn;t have the arrid desert terrain of Spokane so Chambers' will have to rely on pure endurance and speed to retain the jersey because six-time Solo 24-Hour world champion Chris Eatough was on site Thursday pre-riding the course, former national champion Nat Ross (Subaru/Gary Fisher) is confirmed, as is runner up to Eatough at 2005 Worlds Ernesto Marenchin (Sologoat). And a growing number of high-performing endurance-focused racers.
The only sure bet for Chamber's is that he won't to deal with Tinker Juarez; after a solo attempt at RAAM, Juarez is said to be on his honeymoon - celebrating marriage instead of endurance racing this weekend.
Check back on Cyclingnews after the race for results and a race report.
Ultra Series round four also Saturday
By Steve Medcroft
As if there wasn't enough endurance racing this weekend, round four of the National Ultra MTB Series is scheduled for Saturday July 29 as well.
Launching from Coburn Park at 7:00 am and run on a network of rocky State College-area trails, the Wilderness 101 promises to be one of the most technical races in the series. "The course is fast at the start until racers get past aid station 2 (about 40 miles in)," says promoter Chris Scott. "Then there's a section of bigger climbs and the downhills start to get a bit rougher as the race stretches on."
First run in 2000, The Wilderness 101 is one of the older races in the series. Six-time 24 Hours of Adrenalin Solo World Champion Chris Eatough set a blistering course record in 2005. "It is unlikely that anyone will break Eatough's 6:59:48 finishing time," Scott says.
Among those who will take a crack at Eatough's record is Trek/VW teammate Jeremiah Bishop. The NORBA pro who most recently placed third in the US National cross-country championships and is in the middle of an intense training block that included a win last weekend in the Off Road Assault on Mt. Mitchell (11,000 feet of climbing in 55-miles, a race in which he holds the course record), announced in his blog that he plans to race the Wilderness 101. Although he's not a contender for the Ultra series, Bishop is at home on the rocky terrain and is a favorite in the race. His presence alone will lift the pace for the Series' challengers.
And there will be challengers - series leader Harlan Price (Independent Fabrication) says that even though the Wilderness 101 is scheduled the same weekend as the US 24 Hour Solo National Championships, he doesn't expect there to be a lighter-than-normal field. "We're still going to have most of the heavy hitters from the series." He adds that Bishop's presence will add a dynamic to the race. As will the presence of a rider he calls 'someone to watch' - twenty-one year old (Bear Naked/Cannondale team rider) Brandon Draugelis. "He's a local and has been tearing it up this year so everyone will have to watch out for him."
Price is comfortably in control of the Open Men's category of the series having raced all three races so far and placing highest of series contenders at each (even winning the Lumberjack 100). But he is careful not to let himself get too comfortable. "(The lead) is not safe," he said by phone on Thursday evening. "Anything can happen. But if can keep ahead of everyone I've been ahead of so far in the series at this weekend's race, I should be okay." Okay because with four races and four high results, he could mathematically be the series victor.
As for his chances on Saturday, Price says the Wilderness 101 is like a home race to him. "This type of terrain is more my style. It's more technical than some of the other races and has a nice mix of big climbs and technical terrain.
Stay tuned to Cyclingnews for news and results from the Wilderness 101
Falling (literally) for Shimano's new group
The introduction of Shimano's new M970 XTR has, so far, consisted primarily of official press releases, rumor, and the occasional sighting and/or brief test ride of a so-equipped pro bike. Those days have past as Shimano invites James Huang to their Japanese headquarters to ride the new gear in their home arena:
XTR parts
Photo ©: James Huang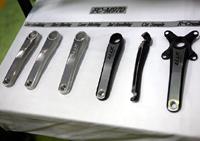 "Shimano M970 XTR". Picture those letters in large-scale blinking neon on Times Square marquis and that about sums up the hype surrounding Shimano's most significant off-road offering in years. Up until now, though, hype is all it's been as the theatre doors have been shut while the cast prepared inside. Shimano has a lot riding on this fourth installment of the XTR series, particularly as the dark gray mid-90s version was an undisputed blockbuster, but its sequel was somewhat of a letdown.
After a fairly lengthy wait, the stage has finally been set and the curtains have been pulled, and this particular viewing is a rather special one. While it's fairly typical for media to get first crack at new gear, the usual routine consists of opening up a package (Christmas arrives often around these parts), bolting on some gear, and heading out to some local test grounds. In this case, Shimano invited five North American journalists directly to its headquarters in Osaka during Japan's rainy season in late June for the first showing. Not only were we to ride the new group on Shimano's home turf, but a slew of engineers were on-hand to assist us in installing the components on our own frames.
Read the entire Shimano 2007 XTR tech article here.
USA Cycling Western Regional Junior MTB development camp held
Campers test themselves in a 9-mile TTl
Photo ©: Austin McInerny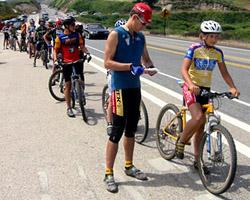 Top juniors gathered June 26-30 at UC Santa Cruz for USA Cycling's annual West Coast Junior MTB Development Camp. Based on their strong performance during the season, fifteen boys and three girls from the western United States were invited to a camp staffed by coaches from the NorCal High School Mountain Bike League, including Austin McInerny (Berkeley High School Coach), Matt Fritzinger (NorCal League Director), Nadine Budbill (NorCal League Board of Directors), and Steve Smith (Santa Cruz Bicycles).
The riders were challenged daily with assorted time trials, cross county racing, endurance rides, and race mechanical simulations. An overall placement similar to a stage race format was implemented to rank the riders. This scoring was designed to assess ability and experience which would then help determine selection to the endurance camp at the Olympic Training Center in August.
To supplement the time spent on the bike the campers attended lectures and demonstrations on various race and health related topics. The guest speakers included Emma Worldpeace (UC Berkeley) who spoke on the rigors of collegiate racing; Michael Smartt (Whole Athlete) provided guidance on proper bike fit and periodization training; Al Painter (Los Altos Training Studio) led a course on core body strengthening; and Lisa Goddard (Clif Bar) oversaw a yoga and cycling-specific stretching routine. In addition, campers were thrilled to be joined by pro rider Barry Wicks (Team Kona) for the 9 mile time trial event and a lecture on the reality of racing professionally. Lastly, campers were treated to a tour of the Giro/Bell helmet testing facility and of the Santa Cruz Bicycles factory.
The riders, who come from California, Arizona, Colorado, and Washington, rode strong all week and gained valuable insight in the challenges of elite level racing. One rider commented, "The camp has made my goals more specific. Before camp, I didn't know where I could go in mountain biking, but now I have an idea and am going to work towards that."
For more information about USA Cycling's junior development camps, visit their Web site at www.usacycling.org. For more information about the NorCal High School Mountain Bike League, go to www.norcalmtb.org.
Photography
For a thumbnail gallery of these images, click here
Images by Austin McInerny, USA Cycling Western Regional MTB Development Camp
Top names confirmed for Berne Swisspower race
The European equivalent in prestige to the US NORBA series, the Swisspower Cup, with mountian-bike races in twelve Swiss cities during the 2006 season, is holding it's series finale in Berne August 6th.
With €25k in total prize money on the line, the race has already confirmed the start of a who's who in European mounatin-biking: Julien Ablsalon (FRA), Jose Hermida (ESP), Fredrik Kessiakoff (SWE), Christoph Sauser (SUI), Roel Paulissen (BEL), Kashi Leuchs (NZL), Florian Vogel (SUI, Ralph Näf (SUI), Liam Killeen (GBR), Nino Schurter (SUI), Oliver Beckingsale (GBR), Lado Fumic (GER), Martin Kraler (AUT), Thomas Frischknecht (SUI), Manuel Fumic (GER), Gunn Rita Dahle (NOR), Sabine Spitz (GER), Lene Byberg (NOR), Petra Henzi (SUI), Tereza Hurikova (CZE) and Pia Sundstedt (FIN) have all comitted to race so far.
Observed Trials Nationals to be held at NORBA finals
USA Cycling and the National Mountain Bike Series (NMBS) finals will host the Observed Trials National Championship at 9 a.m. Aug. 12 at the Snowmass Village Mall in Snowmass Village, Colo.
As part of the three-day mountain bike competition, riders from junior classifications starting at age 10 through modified and pro will compete for national championship titles. Registration for the event can be completed online by visiting www.snowmassnational.com.
UCI awards 2008 MTB World Championships
The UCI Management Committee met in Lausanne earlier this month to decide the location of venues for upcoming World Championships. Opened by Mr Jacques Rogge, President of the International Olympic Committee, the session in particular awarded the following UCI World Championships:
2007-2009 Masters Mountain Bike: Pra Loup (FRA)
2008 Mountain Bike/Trials: Val Di Sole (ITA)
The Australian Capital Territoy region (home territory of Canberra) has put in a strong bid to host the 2009 Worlds and announced that it feels confident the bid will be successful. It had to withdraw its bid for the 2008 championships dues to the fact that scheduling conflicts with the Olympics would have put 2008 Worlds in the middle of the Australian winter.
Big crowds expected at Wisconsin Jeep KOM stop
When the Jeep® King of the Mountain Series (www.jeepsports.com) hosts the second leg of the 2006 Mountain Biking World Professional Championships on Aug. 12 at Road America in Elkhart Lake, Wis. before an expected series-record audience of 7,000-plus participants as part of a weekend-long Camp Jeep off-road driving program. The billing for the entire Camp Jeep weekend includes also includes demonstrations by Tony Hawk, the biggest name in the history of skateboarding, a concert by the Blues Brothers and a WWII Air Show featuring most dynamic aircraft to ever grace the sky.
Michael Prokop and Jill Kintner currently lead the KOM series after winning the first event in San Luis Obispo. The series concludes in Beaver Creek, Colo. Sept. 3.
2007 Trans Himalayas open for registration
The second edition of India's first and only moutain-bike race, Trans Himachal, is scheduled for October 4 to 30, starting in Shimla, the capital of the Indian Himalayan state of Himachal Pradesh. The race finishes nine days and 650-kilometers later in Manali, the popular tourist destination in the Himalayan ranges of Bara Banghal and the central Lahaul massif.
Riders will cross multiple Himalayan passes for a total of more than 12,000 meters of climbing. The course winds its way through singletrack, doubletrack, and broken tarmac, tarmac and sometimes just footpaths. There are long downhills and grueling uphills, as there are straight stretches, there are sections of hike and bike, and there are fast paced gravel roads.
For more information or to register for the event, please visit www.mtbhimachal.com
Knocking heads at Nationals; the Geoff Kabush diary
Kabush by a nose
Photo ©: Susan Candee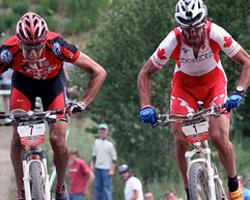 Since last race report I have been racing a bit, but with kind of average performances - which makes it hard to get the motivation to write a race report. I'm just not quite where I want to be.
But I did the NORBA in Vermont; XC was pretty average, got spanked for a 6th. STXC was actually pretty decent and got 2nd in a sprint after watching Trebon take a pretty impressive flyer for his first win. Highlight of Vermont was probably the golf game on the way up in Hartford and meeting Lou from Fender who gave me a sweet new guitar and goodies; I got a nice resonator guitar that has a pick-up which I got a cool mini-amp to plug in so I can really annoy my teammates.
After that was Mt. St. Anne World Cup. Again, a pretty average performance. Had a good start but had to make a couple pit stops and lost 30 spots which kind of takes the fire out of your belly. It was good to see my teammate Mat (Mathieu Toulouse) back at the races after a month and a half on the injured list. The bummer is that it wasn't even hot enough to go hit the ice cold waterfall; we actually got lucky with the weather on the east coast this year which actually made it kind of boring.
Read the entire Geoff Kabush diary here.
RAAM - alien cultures and headwinds; the Nat Ross diary
Chasing Team Type 1 at RAAM
Photo ©: Nat's Dad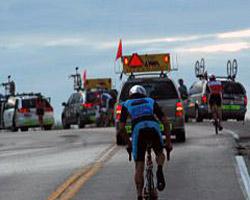 In a departure from my typical racing season, which is usually filled with mountain-bike endurance and NORBA races, I took part in the Race Across America (RAAM) in June. The race started in Oceanside, CA and finished in Atlantic City, NJ, 3,043 Miles and 108,600 feet of climbing later. I rode in the four-man team competition on Team Beaver Creek-Vail with Zach Bingham, Jimi Mortenson and Mike Janelle.
Start: Tuesday, June 13th 5PM EST: Our four-man team was divided into two units of two riders each for maximum efficiency. Jimi and Zach teamed up for four hour legs during the day and five hour pulls at night. Mike and I rested in the RV while they were racing - until we relieved them of duty so they could put their feet up while we put the miles in. This was Jimi and Zach's third RAAM and Mike's second, I was the lone virgin on the team. We were by far the tightest team racing. Not only do we ride, train, and race together all summer, we play hard together all winter as well.
The race started in Oceanside, California on Tuesday, June 13th at 5PM EST with a police escort for thirteen miles to the time trial station. Jimi rode this stint into the time trial (one every thirty seconds) into an eight-mile neutral support zone. Zach took over from here and started to lay down the law.
Read the entire Nat Ross diary here.
(All rights reserved/Copyright Knapp Communications Pty Limited 2006)