MTB news & racing round-up for December 16, 2006
Welcome to our regular roundup of what's happening in mountain biking. Feel free to send feedback, news and releases to mtb@cyclingnews.com.
Edited by Sue George
Ross gears up winter training with eye toward 2007
Nat Ross
Photo ©: Xavier Fane

Nat Ross (Subaru-Gary Fisher) racked up countless hours of endurance racing during a successful 2006. The endurance racer won the 24 hour National Point Series thanks to race wins at the 24 Hours of Moab, Landahl, and Temecula. In between the 24 hour races, Ross found time to compete in the Race Across America (RAAM).
Ross, with his affable, easy-going personality, spoke to Cyclingnews about 2007, which will be his fifth season with the Subaru-Gary Fisher team. He will focus on 24 hour races and repeating the 24 hour series title. He'll also mix in some shorter, grassroots events.
"I'm very excited for the upcoming season. My team's philosophy for me fits perfectly with my program. In the shorter races, I get fit and in the longer races, I try to do well," said Ross. "I found myself racing 170 days per year, but that was too much, so now I don't race both types as much. I do a lot of grassroots races and festival-style races to cover that scene for Fisher."
Ross was returning from a weekend of cross-country ski racing. The versatile athlete is planning some interesting off season activities. He hopes to go to winter triathlon worlds in Italy for a race comprised of cycling, cross-country skiing, and running.
"I'll get a lot of riding in during the winter on my mountain bike. I just moved to Golden, Colorado, and I'll do some fun, long rides to explore my surroundings," said Ross, who made the move to focus more on cycling, in particular, his speed and power.
Ross will ride his 29'er in 2007. He's looking at the NORBA ultra-endurance races, the 24 hours of Old Pueblo, Leadville, the Firecracker 50, and he said, "I'd like to go back to Moab."
As for the road, Ross said, "I'm also doing the Race Across America. It wasn't on my calendar before last year because I used to spend June in Europe. I'll do it again next year. But I'll never do it solo, only as part of a team."
Don't expect to see him at any 100 milers. "I don't particularly enjoy the 100 milers. You go as hard as you can for 9 hours, and I find I can either do that for 3 hours or 24 hours, but not that middle distance. I also have a huge support crew for the 24 hours, but I don't drag them to the 100 milers. I don't want to burn them out, and so I'm on my own."
Mountain Bike worlds worth $33.5 million to the economy
Defending men's XC champion Julien Absalon
Photo ©: Rob Jones

The UCI mountain bike and trials world championships, held in Rotorua in August, had an economic impact of NZ$33.5 million. Studies undertaken by Market Economics and Waiariki Institute of Technology show that the championships generated NZ$12.2 million in direct new money spent in Rotorua that would not have occurred otherwise. At a national level, an additional NZ$17.7 million was attributed to the UCI MTB World Champs. Once the flow on effects are assessed, the contribution to GDP rises to NZ$21.1 million nationally.
The Waiariki Institute study estimated that visitors to the World Championships spent NZ$2,712,533 per day in Rotorua, and this did not include the money by the competitors and those directly involved in the event.
"This is a great result," said event director, Arthur Klap. "The initial feasibility study, in 2001, estimated an economic impact around $9 million. It is a wonderful that the actual results have far exceeded this."
The worlds impact translated into sustaining the equivalent of 143 full-time workers for a year based on the money spent in Rotorua. Nationally, the spending correlated to sustaining the equivalent of 191 full time workers for a year. Again, factoring in flow effects, the numbers are more like 219 fulltime workers for a year in the region and 340 nationally.
Klap was delighted to learn that Rotorua benefited to such an extent and that there is likely to be a long term benefit from the event. "More importantly, there was a great atmosphere throughout the week and Rotorua was able to promote itself on the world stage as a premiere mountain biking destination. This will drive future tourist dollars to the region." Klap said.
The New Zealand Community Trust estimated that the worlds attracted 40,000 spectators over the six days, 538 riders from 36 countries, and 1,818 accredited visitors, including 246 media.
Australia national mountain bike resumes this weekend with Round #3
Sid Taberlay
Photo ©: Mikkeli Godfree

Cross country racing returns to Thredbo this weekend as part of round three of the National Mountain Biking Series. After five years, the ski slopes will once again see riders like Olympian Sid Taberlay of Tasmania and fellow Commonwealth Games star, Chris Jongewaard of Adelaide racing at altitudes over 1350m. A win for Taberlay would give him the series lead since the current leader, Aiden Lefmann, will be absent. The 2005 Series Leader, Dylan Cooper is currently in the third spot with fellow Canberra rider Shaun Lewis sitting poised in fourth. Jongewaard is ranked eighth, and a podium placing could mover him into contention.
Lachlan Norris from Bendigo leads the Under 23 division with Ben Henderson from Canberra close behind. Henderson's younger sister, Rebecca has had stunning performance this season and at just 15 years-old is leading the Under 23 women's division.
Nathan Rennie
Photo ©: Mikkeli Godfree

Women's elite racing is being dominated by Tory Thomas. However, two riders being developed as part of the "Dirt Roads to London" program, Zoe King and Renee Fortunato are sitting in second and fourth respectively. Caroline Jackson, a former English champion is third on the points tally while Rowena Fry from Launceston has consistent rides to place fifth overall.
The course in Thredbo has received good reviews by cross country riders with a vertical rise of 200m every lap. Elite women will race four laps beginning at 9:30 am The elite men and under 23 division will race six laps of the 5.75 km course starting at 12:45 pm.
Cross country riders take a back seat Sunday as many of the world's best downhill riders take to the ski slopes in round 3 of the National Series. World bronze medalist, Nathan Rennie will race current series leader and winner of the last round Amiel Cavalier.
Subaru-Gary Fisher announces 2007 roster
JHK, Irminger, Koerber, and others renew
Jeremy Horgan-Kobelski (Subaru-Gary Fisher)
Photo ©: Susan Candee

Subaru-Gary Fisher announced its 2007 roster. The team's core will return; Jeremy Horgan Kobelski, Nat Ross, Heather Irmiger, Willow Koerber, Jenny Copnall, Ken Onodera, Asa Erlandsson, and Dror Pekatch have renewed their contracts. New riders for 2007 include current U23 US champ, Sam Schultz, and Great Britain's Phil Spencer.
Next year's team is looking to build on past success. In 2006, Horgan-Kobelski captured the overall NMBS cross country title in the US, and Ross pulled in the overall National Point Series 24 hour solo title in addition to finishing the Race Across America (RAAM).
Horgan-Kobelski's wife, Irmiger, and Koerber round out the American women's roster. Irmiger finished second overall in the NMBS Series that included a first place finish at the Brian Head NORBA series race for a second straight year and a first at Deer Valley NORBA series race. Koerber looks to build on her international momentum from 2006. She finished as second overall American in the World Cup series and fifth overall in the NMBS standings in 2006.
In fact, the Subaru-Gary Fisher team has two divisions: a National Team and a Global Team. The National Team will race largely in North America with a focus on the US National Mountain Bike Series (NMBS), World Cups, premier domestic events, and select international races.
On the global side, Copnall won the British women's overall cross country title. She returns to Subaru-Gary Fisher for her fourth season after finishing as the British National XC Champion, British National Marathon Champion, British National Points Series Champion and ranked first in the British National Rankings. Her teammate Asa Erlandsson took the Swedish women's overall marathon win in 2006.
23-year-old Spencer was the third-ranked British cross-country racer on the UCI circuit in 2006. The 21-year-old, Japanese Onodera, Swedish Asa Erlandsson, and Israel's Dror Pekatch round out the men's Global team.
On test: Formula Oro Puro disc brakes
Lightweight stoppers with plenty of bite
Formula's new Oro Puro hydraulic disc brake is a true lightweight,
Photo ©: James Huang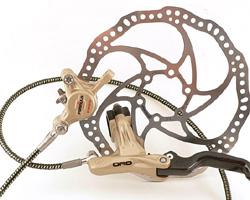 Few components demonstrate the trade-off between light weight and performance more plainly than disc brakes, but Formula somehow manages to walk the line to deliver a package that is not only easy on the scale, but offers impressive clamping power.
Formula has had a bit of a tough time in the hydraulic disc brake world. Although it has had its share of standouts, including the ultralight, but somewhat fragile, B4SL+, things just never quite caught on and the company was left standing squarely on the B-list while others gobbled up market share and race wins. Formula clearly wasn't content to stay on the lesser rung, though, as it introduced an entirely new brake last year that was a dramatic departure from its previous offerings.
Keep it in the family
Instead of introducing just one new hydraulic disc brake, Formula saw fit to launch a whole new platform. The Oro line consists of four distinct models: the wallet-friendly K18, the mid-level K24, the top-end Puro (caught on to the naming convention yet?), and the so-chromed-out-that-your-retinas-bleed Greg Minaar signature-edition Bianco.
Each member of the family shares the same basic ingredients but varies in features, materials, finish… and, of course, cost. On the whole, the Oro is a pretty slick-looking design. Common architecture includes a compact flip-flop master cylinder with a cleverly concealed reservoir for the DOT 4 hydraulic fluid, a tidy two-piece, two-piston aluminum caliper, and a full range of stainless steel rotors that start at 140mm in diameter (for rear only) and go all the way up to a pizza-sized 220mm. With the exception of the base-model K18, all Oro brakes also include Formula's neatly concealed Feeling Control System (FCS), which adjusts the pad contact point a la the Speed Dial on select Juicy models from Avid.
To read the complete review, click here.
To read other mountain bike tech news, click here.
USA Cycling awards US$5,000 to local mountain bike clubs for trail improvement
USA Cycling announced the recipients of the 2006 USA Cycling/International Mountain Bicycling Association (IMBA) Trail Tune-Up Grants.
Funded by USA Cycling, two US$1,000 grants and six US$500 grants were awarded to several groups seeking to jump-start trail improvement projects with an emphasis placed on trails used for competitive racing.
After receiving applications from all corners of the United States, USA Cycling and IMBA selected recipients from Virginia, Colorado, Wisconsin, California, Ohio, Alabama, and New York. In order to be eligible for the funding, clubs had to be members of both USA Cycling and IMBA.
The Shenandoah Mountain Bike Club in Harrisonburg, Virginia, and the Chequamegon Area Mountain Bike Association in Cable, Wisconsin were awarded US$1,000 each.
The Shenandoah Mountain Bike Club, in partnership with the Massanutten Four Seasons Resort, is in the process of completely rebuilding a 2.5-mile section of trail featured prominently in the Massanutten Hoo-Ha mountain bike race. The funds awarded will be allocated to help road-to-trail conversions of old logging routes, leaving behind environmentally-sustainable trails full of table-tops, berms, and hand-constructed rock gardens.
The Chequamegon Area Mountain Bike Association is home to the nationally-recognized Chequamegon Fat Tire Festival, a 40-mile race that caters to 1,800 riders annually. The funds will be used for a trail construction initiative proposed by the club in order to take better advantage of the active Midwestern racing scene. The construction efforts will be centered around the community of Hayward, Wisconsin, where a 29-mile cluster of trails will be groomed to increase racing opportunities.
The six US$500 grants were awarded to the Platte Canyon High School Mountain Bike Team in Bailey, Colorado, the Bicyclists of Nevada County/Nevada Union Independent Mountain Bike Team in California, the Miami (Ohio) University Cycling Team, the Trail of Legends Association in Wetumpka, Alabama, the Elkhorn Valley Cycling Club/Andrew Bicycle and Fitness, and the New York-based Westchester Mountain Bike Association.
The Platte Canyon High School Mountain Bike Team will use the funds to purchase trail construction tools that will assist in the construction of a competition-oriented course for the team.
Bicyclists of Nevada County/Nevada Union Independent Mountain Bike Team will use the money to improve existing race courses at the Old Nevada City Airport in Nevada City by installing permanent trail signage and undertaking additional maintenance activities.
The Miami University Cycling Team, in conjunction with school's engineering department, will construct two trailhead kiosks, an additional 2.5 miles of trail and five small bridges in Hueston Woods State Park, its primary training ground.
The Trail of Legends Association plans to re-route and lengthen sections of the course used in the Attack on Swayback race.
The Elkhorn Valley Cycling Club and Andrew Bicycle and Fitness are teaming up to support trail improvements of the Maskenthine Lake Mountain Bike Trail. The improvement will feature an extension of the trail system used for a race in the Nebraska Psycowpath Mountain Bike Race Series.
The Westchester Mountain Biking Association plans on using the funds to permanently mark the course used in the Chainstretcher Mountain Bike Race and assist in the promotion of the riding and racing opportunities provided by the club.
24 hour solo film enters post production
Chris Eatough
Photo ©: Bill McCarrick

Directors of the film 24 Solo announced the film has moved into post-production. Some highlights of the film which follows Trek/VW's Chris Eatough's bid for a seventh consecutive 24 hours of Adrenalin world solo championships, includes helicopter shots of Eatough training and night-vision shots of the race course.
The film will make its world premier on April 13, 2007, in Monterey, California during the Sea Otter Classic.
Kranked 6 draws mainstream attention to mountain biking
Video footage from Progression - Kranked 6 was loaded onto the first two million copies of Microsoft's Zune™ Digital Media Player. The device, which retails for US$249.99 went on sale to the public in mid-November.
Besides mountain biking footage, it comes with a variety of songs, videos, films and images, the device. So why mountain biking? David Paleschuck of Microsoft said, "We selected the video trailer of Progression - Kranked 6 because we wanted to give our consumers some fresh and exciting material that they will want to share with their friends. We're infusing the spirit of discovery and sharing into everything we do-from the experience we crafted around the device and service to pre-loading music and videos on every device to expose people to something new."
The Kranked 6 video features footage of Ben Boyko, Ryan Leech, Jamie Goldman, James Doerfling, Mike Kinrade, Steve Romaniuk and Eric Porter.
Registration opens for 2007 Australian Mountain Bike Championships
Registration is now open for the 2007 Australian Mountain Bike Championships for four mountain biking disciplines: cross country, downhill, mountain cross, and trials. The championships will be hotly contested on the newly established courses at the purpose-built AUS$6 million Stromlo Forest Park in Canberra from January 24 - 28, 2007. Over 1,500 competitors and 10,000 supporters and spectators are expected during the four days of competition. The venue is conveniently located only 10 minutes from a major city.
On the back of winning Cycling Australia's highest honour for cycling events for the 2006, the SCOTT 24hr Australian Mountain Bike Championships, CanberraOff-RoadCyclists (CORC), and Apis Events will again join forces to host the nationals.
Mountain Bike Australia Executive Officer Tony Scott said "Australia's top riders will contest the nationals with an eye on winning the Australian title in their respective discipline. Success at the pinnacle of Australian MTB competition will open up the possibility to be selected on the Australian team to contest the World MTB Championships, which in 2007 will be held in Fort William, Scotland."
Dellys Starr at last year's Australian Nationals
Photo ©: Mikkeli Godfree

CORC president Anthony Burton said that while the elite categories will attract Australia's best riders, the event is open to all riders from junior (under 15) through to masters and super masters in the over 50's. "You don't have to be a professional rider to compete in the nationals," Burton said.
Glen Jacobs, internationally renowned course designer, created the course, which is also the proposed home of the 2009 UCI Mountain Bike and Trials World Championships.
CORC and Apis Events, who form the provisional organising committee for the potential world championships, will discover during the event if Canberra's bid has been successful. Burton said, "Fingers are crossed that we will be celebrating more than just national titles over the Australia Day long weekend."
Organizers are also looking for volunteers to fill a variety of roles for the week prior to the event, the week of the event and the week following. Volunteers will perform a wide range of important tasks including course marshals, parking and traffic control, race and event installations, administration, timing, merchandise sales and general duties.
For more information, visit www.nationalseries.com.au or email eventcoord@apisgroup.com.au.
Friberg signs with SRM Simplon Team
The 25-year-old Calle Friberg, a top Swedish rider and former national U23 champion, signed with the German based SRM Simplon Team. He is the first international rider to join the German squad. Looking to 2007, Friberg will race the Swedish national championships, the German Bundesliga series, the European World Cup races, and various races in Austria and Switzerland. Long term, he is looking toward a spot on the Swedish Olympic Team for Beijing 2008.
Friberg will head to Mallorca/Spain for some winter training and will begin racing in Cyprus in March.
Swisspower partners with DT Swiss
Thomas Frischknecht (Swisspower/ Scout Team)
Photo ©: Rob Jones

Scott USA announced that its Swisspower team will ride DT Swiss suspension front and rear this season. Scott and DT, both Swiss companies, will extend their developmental partnership to include team sponsorship.
DT Swiss entered into a two-year agreement with the team, and will use input from the riders to further develop the Nude rear shock for Scott, as well as its new front suspension offerings. Swisspower team riders Thomas Frischknecht, Nino Schurter, and Florian Vogel will compete on the brand new Scott Spark, which is already the lightest XC race bike available.
"We're really excited about the partnership," said Adrian Montgomery of Scott USA. "The Nude project allowed us to share the traction control function with a suspension company. Having three travel modes available at your fingertips is a distinguishing characteristic of Scott bikes."
Dirt Devils to host first Tasmanian 24 hour race
Hot off the success of hosting round #2 of the Australian National Mountain Bike Series, the Hobart Dirt Devils will be presenting Tasmania's first ever 24 hour Mountain Bike endurance event.
The action will take place on May 5, 2007, at Kellevie in Tasmania's South East. Located in the Sorell Municipality, Kellevie is only 25 minutes from the Hobart International Airport.
Planning is well underway for this event with the promoters continuing to build quality tracks and develop the race venue. There is a myriad of tracks and places to camp in the area, but further logistical details will be posted on www.kellevie24.com
13th Annual Onabike Cup slated for this weekend
Britain's longest established downhill race, the Onabike Cup happens again on December 17th in Ashcombe. It was established in 1994. Over the years, the course and the bikes have evolved. At the 1994 edition, only four racers rode full suspension, including the winner Steve Kitchen.
The race has been held at Ashcombe every year and was originally a one-off downhill race. It now wraps up the South West downhill series, with its regular near-Christmas, season-ending date.
Ashley Mullane won the even the last two editions in 2004 and 2005.
NMBS heads into 2007 with team, industry alliances
The 2007 National Mountain Bike Race Series (NMBS) is set to run from March through August of next year, with six stops in five US states. The series will operate in conjunction with, and constitute a major portion of, USA Cycling's new mountain bike national calendar, which seeks to replicate the success that the National Racing Calendar has enjoyed in the American road racing scene.
"USAC has a new initiative, but for the NMBS, nothing has changed," says co-owner Jeff Frost. "We maintain the same priorities that we have done throughout the years of running the series. Those priorities are: the growth of the sport of mountain bike racing through provision of good courses and venues in accessible locations, the support of the elite athletes, teams and manufacturer in the sport, and the entertainment and involvement of the amateur riders and fans."
The NMBS was once known as the "NORBA" National Championship Mountain Bike Series, but now it is owned partly by Tom Spiegel of Team Big Bear, an event organizer from the early days, and the ubiquitous Jeff Frost of BlueWolf Events. The series visits Arizona, California, Colorado, North Carolina, and Utah and is geared toward racing professionals, enthusiasts, and industry leaders alike.
(All rights reserved/Copyright Knapp Communications Pty Limited 2006)