MTB news & racing round-up for August 25, 2006
Edited by Steve Medcroft
2006 World Championships so far
Marosi tries to cut in on Lopes
Photo ©: Mikkeli Godfree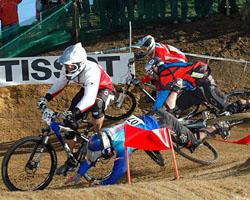 The 2006 MTB World Championships are well under way in Rotorua, New Zealand. With seven races in the books, it appears Switzerland came the most prepared to succeed. With wins in the Team Relay, Women's Trials and a sweep of the podium in the Junior Men's race, the Swiss have grabbed the greatest share of medals so far.
But not every new champion is Swiss. The People's Republic of China went one-two in the women's U23 competition (Ren Chengyuan and Ying Liu) proving that they are taking success at the 2008 Beijing Olympics seriously and Slovenian Tanja Zakelj scored that country's first-ever World Championship in mountain biking.
And there was not a Swiss rider in sight in the Four Cross competition. American Jill Kintner was there and successfully defended her World Champion status and Michael Prokop, the 2004 champion, got in front of a tumble that took down 2005 World Champion Brian Lope (USA) to grab back the jersey for himself.
Elite Downhill and Cross-Country titles will be settled through the weekend. Stay tuned to Cyclingnews for complete results, race reports and photography from New Zealand.
Results to date:
Hermida goes home
Spanish cross-country mountain bike racer Josť Antonio Hermida has returned home early from the mountain bike world championships, his team announced late Monday evening. Hermida was a favourite for Sunday's men's cross-country race and was a member of the victorious Spanish team relay squads in 2005, 2000 and 1999.
Neither Hermida nor his Multivan Merida team have offered an explanation beyond "important personal reasons" for his early return to Spain, but the team said it would have more information Tuesday afternoon.
Merida team demands to see Operacion Puerto files
After mountain biker Josť Hermida has been ordered back from the world championships in New Zealand by his national federation prematurely, his team Multivan-Merida demands a comprehensive look into the Operacion Puerto files that allegedly relate to the rider. "So far, neither sufficient reasons nor any proof has been given for Josť Hermidaís suspension," the team management said in a statement. "Neither the team nor the UCI have received any information on this matter. For this reason, legal measures have been taken to ensure a look in the files."
Josť Hermida himself "has demanded this look from the start and moreover has been asked by his teamís management emphatically to do his utmost to participate actively in the clearing up of this matter." Moreover, the team stated that it does not see the need to take any action against Hermida at this point. "As long as the Multivan Merida Biking Team has no additional information on Josť Hermidaís suspension at hand, the team sees no need to act at the moment. Still, the teamís management stresses its zero-tolerance strategy regarding doping offences," the statement concluded.
Australian MTB world's rider hospitalised
Queensland cyclist Renee Junga, 20, has been airlifted to Auckland City Hospital suffering suspected spinal injuries after a training accident ahead of competition at the MTB World Championships in Rotorua, New Zealand, according to Cycling Australia.
Junga, who is also a member of the BMX High Performance Program targeting the Beijing Olympic Games, crashed during training on the four-cross course on Tuesday afternoon.
The Championships' medical team was quickly on the scene and she was initially taken to Rotorua Hospital. After extensive tests, including an MRI, CT scan and x-rays, doctors decided to transfer her by helicopter to Auckland City Hospital.
Her mother, Sallie Howie, was notified immediately after the accident and was on the first available flight to Auckland. She arrived shortly before midnight local time.
Doctors determined on Thursday that Junga has broken the C1 and C2 bones in her neck and has suffered spinal trauma at T6. She has also suffered two broken ribs and a fractured sternum. Surgeons will operate on Friday to screw together the C1 and C2 bones. They will also operate on her back to stabilise her spine.
Renee, who won the silver medal at last year's BMX World Championships in France, was the 2005 Australian Female BMX Cyclist of the Year.
Aussie Wade Bootes also injured at World's
Australian National Mountain Cross Champion, Wade Bootes, 32 was released from Rotorua hospital today after doctors kept him in overnight after crashing during the warm up for qualifying on Wednesday.
Although Bootes has a break in his right collarbone he can still move his arm. "It's the hardest I've ever hit my head," said Bootes. "I was practicing for the qualifying rounds and came up short in one of the jumps. Because it's a downhill course it is a long way down," explained Bootes.
Bootes was expected to race in America in the Jeep King of the Mountain race and the BMX Supercross over the upcoming weeks. "Basically it's made me have a forced break," he added. Doctors will recheck Bootes neck injury on his return to Australia to see if it is a result of this incident or an old injury.
The racing accidents have forced last year's Silver Medallist, Katrina Miller, also from the Gold Coast to withdraw from the Mountain Cross event which she was intending to be her final World Championships.
And one more injury
Nico Vink of the Dolphin Bike Team will also not start his race at the world championships in Roturoa. After a crash in training in France, the Belgian rider kept on having pain in his back. A CT-scan at the hospital showed that there was a crack in his backbone between the 12th and 13th spine. Recovery is expected to take at least three weeks. Vink says he will shift his focus to the final UCI World Cup in Austria.
National Ultra Series heads for Park City, Utah
By Steve Medcroft
The National MTB Ultra Endurance Series moves to Park City, Utah this weekend for it's fifth stop. Being both at altitude and containing more climbing than any of the other series races, the E100 could provide challengers to series leaders Harlan Price (Open Men), Tricia Stevenson (Open Women), John Majors (Master's) and Dan Jansen (Singlespeed) an opportunity to make up points in the series.
Starting at 6am at The Canyons Resort, the E-100 climbs through Park City Mountain Resort, Deer Valley Resort, the Deer Crest Development and portions of Park City's municipal trail system before returning to the finish area at The Canyons. Along the way, riders will have climbed a total of 18,627ft.
Promoter Boris Lyubner says he's made only one last-minute change to the course. Due to the construction in the city's resorts, Lyubner has included a new section of the Bow Hunter trail which is supposed to include incredibly narrow singletrack and views that make it hard for a rider to keep their eye on the trail.
Capped at 499 riders, the course record for the E-100 (10:09:07) was set by Utah rider Bart Gillespie.
Time for luck to change; Steve Peat Interview
Steve Peat is one of the favourites for the downhill gold medal at the world championships in Rotorua, New Zealand. Mikkeli Godfree caught up with the Englishman to find out how his preparation is going for his pet event:
Steve Peat (Santa Cruz)
Photo ©: Santa Cruz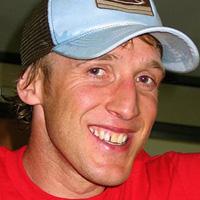 Less than a week remains before Peat's world title race but he seems far from tense. "[I'm feeling] pretty good, just been walking the track, checking it out. We've been here a while. We got here last Wednesday and have just been chilling out, soaking up what the town has to offer and just getting used to being here. I'm feeling alright," said Peat.
"It's a one day race and you become World Champion... That tends to make people crazy."
-Steve Peat is aware that he needs to stay composed on the downhill course in Rotorua.
Peat's preparation has been going according to plan, "It's been good actually. We've had a big break since the last World Cup. It was nice to be home and actually have a base to train from. There's enough good riding there to help me stay sharp. I've got everything I need there. We've got small hills but good tracks I can ride there. That's how I prepare in the winter," he said. In fact, his preparation has actually been better than in previous years, "the season's been good, the new Santa Cruz bike is awesome so I think I'm pretty well prepared."
This year has been a bit different for Peat in that he has had more time to prepare for the Worlds, "I've had a lot more time to focus on this event - usually I don't focus on the World Championships, I just take it like any other race but this year it's different," he said. The situation is the same for most of the top downhill contenders so it's possible that his competition will be more keyed up this year. "Everyone's had a bit of a gap. There are some exceptions, [Greg] Minaar has been doing the NORBA races in the US and so has Sam [Hill]," said Peat.
Read the entire Steve Peat interview here.
The Luna Build; Georgia Gould's Orbea Alma
By Steve Medcroft
Georgia Gould's Orbea Alma
Photo ©: Steve Medcroft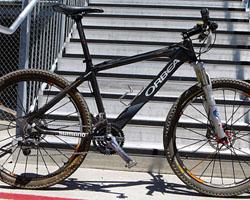 On July 14th in Sonoma, California, Georgia Gould (Luna Chix) rode her Orbea Alma carbon hardtail to her first-ever elite cross-country national championship. The win was somewhat of an upset. Her teammate, Shonny Vanlandingham, had been almost unbeatable in cross-country in the domestic 2006 season. But a fast, exposed racecourse with plenty of long, hard-surfaced sections, opened the door for a rider with a huge engine and the power to drive a strong tempo to take the Stars and Stripes jersey for herself.
Two morning's later, an hour before Gould would ride the short-track cross-country race, we cornered Luna Chix team mechanic, Chris Mathis (who lives down the California coast in San Luis Obispo), for a run-through of Gould's team-issued Alma.
Orbea manufactures the Alma using a monocoque carbon layup process and broad, flat-sided tube shaping. The result is a 1,200-gram (in the 18-inch size), boxy hardtail frame that includes more than one innovative element. The one that's gets the most attention though is the unusual shaping of the rear triangle. Where most bicycle designs call for a joint between the seat stay and chain stay, meeting at the dropout, Orbea adds a fourth angle to their one-piece rear-end. Dropout and replaceable derallier hanger are mounted with a collar around this angled tube rather than lugged into the frame. Mathis says "(the design) lets Orbea keep the bike carbon all the way back. They tell us this is the strongest way they can have it; so people don't rip this piece off or have the frame separate. It works really well for us."
Read the entire Georgia Gould's Orbea Alma Pro Bike article
Ellsworth Truth review
James Huang spends some quality time aboard Ellsworth's premier cross-country suspension mountain bike:
Ellsworth Truth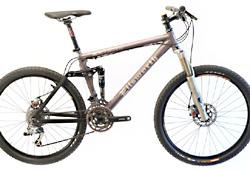 Mountain bike rear suspension has evolved in leaps and bounds over the past dozen or so years. Plenty of mistakes were made early on and some designs bordered on comical. However, a handful of those early themes, plus some new ones, have managed to survive the evolutionary cull including the ubiquitous four-bar linkage. True four-bar linkages are just about everywhere these days, but a common misconception is that they all work about the same. Pivot placement is critical in determining not only how the suspension reacts to trail features but also how it reacts to other input. In an ideal world, the rear end is always free to react to bumps and is completely immune to pedaling or braking forces but few designs manage to achieve this goal.
Like so many others, the Ellsworth Truth uses the ubiquitous four-bar linkage design but with a unique twist called Instant Center Tracking. This precise manipulation of pivot points is specifically designed to almost completely eliminate pedaling- and braking-induced suspension movement while retaining excellent bump compliance in all conditions. These are rather heady claims for sure as they represent the ideal case, but after a healthy dose of test time on a Truth, I suspect Tony Ellsworth really may really be on to something here.
Anatomy of the Truth
The Truth is designated as Ellsworth's premier cross-country/endurance racing frame with four inches of rear wheel travel. This is a true four-bar linkage design complete with the critical Horst Link pivots just ahead of the rear dropouts. All of the pivots rotate on sealed cartridge bearings and movement out back are controlled by either a custom-tuned Fox Float R or Manitou Swinger 3-Way Air shock. Note that neither of these shock options is equipped with a manual lockout, nor is there another option for one that is so equipped (we'll revisit this subject later).
Read the entire Ellsworth Truth review here.
Erwin Bakker responds to criticism
By Steve Medcroft, MTB Editor
After running a story in last Friday's MTB News that doping-suspended mountain biker Erwin Bakker had been barred from competing in a non-sanctioned marathon in Switzerland (as a follow up to his being caught racing in his brother's name in Germany earlier this season), Bakker responded by email to complain that he is being misrepresented in the media.
Bakker says the characterization that he was 'caught' trying to enter races despite his ban is misleading. "Now itís totally true that I used EPO last year and I got my deserved ban," he wrote, "What they publish now in the media is totally not true.
"Early this year I did ride some marathons with open registration (non-UCI events). After several comments from other riders, I decided to quit riding. The story that I entered with my brother's name is true but itís also published in a very sensational way."
About the most recent news that organizers of the Grand Raid Cristalp marathon in Switzerland found Bakker's name on their registration rolls and struck him from the participants list before the event, Bakker says "(I signed up in) February this year. Two weeks ago there was a big commotion about a Swiss rider who refused an out of competition test. After that, there were (as expected) questions about my registration. The organization send me a mail that they decided I could not ride, and so I will not."
Instead of looking for new ways to compete in a hostile competitive environment, Bakker says he's trying to put elite-level mountain-biking racing behind him. "Iím working full-time in my brother's bike store and donít even have time to ride," he wrote. "I'm focusing on a new target and that is not riding competition.
Australian MTB Marathon Championships
Australia's best endurance mountain-bike racers will get the chance to compete for the Flight Centre Cycle Epic Australian MTB Marathon Championships September 3rd. Starting at Preston Peak Winery (south Toowoomba) and travelling through to Peppers Hidden Vale Homestead, the Championship race will start at 7:30am. Additional information is available at http://www.nationalseries.com.au/.
Global warming is not my thing; the Keith Bontrager diary
I took me a while to get to this, for all the reasons that you'd imagine.
I'd recovered well and felt good the next morning. I was like a water balloon, full of fluids, salt and minerals. We started at a modest pace because there was a 1000 metre climb in the first 20 km or so. That all went well.
Then I popped again. I'd been drinking and eating to the plan. Things were fine until I got past the second control station, about 55 km in or so, on a hot exposed climb. I lost power, got nauseous, puked, couldn't eat or get my mineral supplements down. I sucked on a salt tab like a lozenge and sipped water. In that state I rode as I could to the finish but ended up cramping badly for two hours. My team-mate Richard was helping me with my bike on the steep hiking sections late in the race. I was a mess.
There has to be a solution
Photo ©: Keith Bontrager

I collapsed on a cot after finishing and my legs were locking up repeatedly. I couldn't get back up without cramping. It was comical I suppose, in a dark sort of way, ghosts chewing on my quads. But I've had this happen before and the damage it does to my legs is not something that goes away overnight. It's like the day after the first day back lifting weights - only many times worse. That was that.
Global warming is not my thing.
It was tough being around the race after that. I just wanted to get away and move on to the next thing. I do hope to salvage something decent to end this season with.
There is a lot of racing left to do and it should be OK even if it is hot. All of the races are 24 hour races or one day events. I am going to have to pass on the Kona Global Series 24 hour race in Winter Park, which is unfortunate. It's a good event and I wanted to get there. There is a new 24 hour race in Landahl Missouri that I am going to race in with some fast masters racers, then the 3 Peaks cyclo-cross followed by a new event in Arizona called the Tour of the White Mountains and then the 24 Hours of Moab will end it.
Read the entire Keith Bontrager diary here.
Ready for a new World Championship; the Gunn-Rita diary
We're all set for a new World Championship in Cross Country, and this time we'll be competing on the soil of New Zealand. Our preparations have gone as expected, and I'm in good shape. The countdown has started, and I feel excitement and nervousness increasing every day that passes.
It was a long trip down to New Zealand, but with a new World Championship gold medal in my luggage, it was an amazingly easy flight. We travelled non-stop for around 30 hours, so we were pretty worn out when we were fetched at the airport in Auckland, and then driven to Rotorua where we're presently staying. I've spent some time getting used to the new time-zone, but it's starting to get better now.
I've been out on the track today and had my physical condition confirmed, my legs and body are ready to do battle on Sunday. We women will be starting at 10:00 on Sunday morning, or Saturday night at 24:00 European time.
The track down here consists of a lot of climbing, both long and steep hills, plus rapid descents, not too technically demanding, but with lots of bends and turns. The weather report is for rain this weekend, but the downhills will be a rather different story from what they are today. The ground usually dries quickly here, but if it rains nonstop, the track will end up as incredibly slippery clay.
Read the entire Gunn-Rita Dahle-Flesjaa diary here.
(All rights reserved/Copyright Knapp Communications Pty Limited 2006)