MTB & Cyclo-cross News & racing round-up for August 11, 2006
Edited by Steve Medcroft
All about the doubles at Brian Head NORBA
By Steve Medcroft
Irmiger and JHK
Photo ©: Susan Candee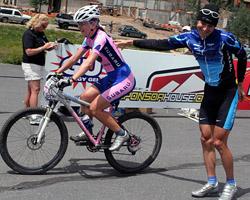 There were doubles everywhere at the NORBA stop in Brian Head, Utah last weekend. Melissa Buhl (KHS) went two-for-two in Downhill and Dual Slalom, Sue Haywood (Trek/VW) doubled up in Super D and Short Track and Jeremy Horgan-Kobelski (Subaru/Gary Fisher) took cross-country and short track.
But the most newsworthy double of the weekend was Horgan-Kobelski and wife Heather Irmiger's victories in cross-country. Horgan-Kobelski scored first, finishing more than three minutes ahead of chasers Geoff Kabush (Team Maxxis), Jeremiah Bishop (Trek/VW) and Todd Wells (GT/Hyundai). Irmiger came in next, with a pat on the back from her husband as she crossed the finish line, in front of Luna Chix teammates Katerina Nash and Shonny Vanlandingham.
It was the couple's second double-victory. The pair claimed double first-place finishes at the 2005 Brian Head NORBA when Irmiger picked up her first career NMBS win.
For complete results, race report and photos, check out each day's coverage:
2006 NORBA Finals set for Snowmass Village
NZ Worlds team member Liam Panozzo in '05 Snowmass NORBA DH action
Photo ©: Robbie George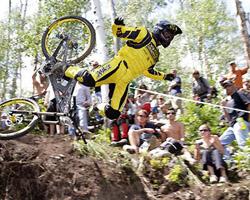 The 2006 National Mountain Bike Series culminates a year of big ups and screaming descents August 10-13 in the beautiful alpine mecca of Snowmass Village, Colorado. Coming off a weekend of similar high-altitude racing in Brian Head, Utah, the world's top mountain bike racers will again compete in Cross-Country, Short Track, Downhill, Super D, and Dual Slalom with Mountain Cross replacing the Marathon event to round out the six competitive disciplines.
"Snowmass Village welcomes the National Mountain Bike Series, participants, fans, and spectators for the third year. Between the village staff and the crews building the courses, it's been a real team effort to support and enhance this world-class event," says Susan Hamley of Snowmass Village."
Colorado-based husband and wife pair (and Subaru/Gary Fisher teammates) Jeremy Horgan-Kobelski and Heather Irmiger are expected to be the favorites for the top podium spots in the men's and women's Cross-country races on the 12-mile loop course that advertises 2300 feet of climbing -- per lap."
Horgan-Kobelski (current men's series point leader) and Irmiger (currently with the second most points among women) took top XC honors in the thin air of Brian Head, Utah.
"The Fox Racing Shox Banzai DH is full-throttle wide-open rough ski run madness dropping over 2500 feet in 2.6 miles of Rocky Mountain nastiness," reads the Snowmass National Web site regarding the gnarly downhill course. The DH description also touts that another 500 feet of vertical have been added along with some new features "just for fun".
'Fast and furious' will be the theme for most of the events, not the least of which will be the conclusion to the always-exciting Short Track series in which riders attack and counter attack around a one-mile course at a lung-busting pace right in the middle of the Snowmass venue.
Check back on Cyclingnew.com for full coverage of the NORBA Finals at Snowmass Village.
Jeep KOM round Saturday
While there's clearly no substitute for first place, elite American mountain bike racers, Brian Lopes and Melissa Buhl, have to like their current position heading into the second stage of the Jeep® King of the Mountain (www.jeepsports.com) 2006 Mountain Biking World Professional Championships, set for Aug. 12 at Elkhart Lake, Wisconsin.
Though Lopes, 34, from San Clemente, Calif., and Buhl, 24, from Chandler, Ariz., are 10 years apart in age, both have distinguished themselves with national and international championships and are savvy enough to know that one great day of racing separates them from first place in the overall standings. Claiming first place will be no easy task, however, with the world's two top racers, Michal Prokop of the Czech Republic, and Jill Kintner of Seattle, Wash., currently holding onto first place and vying to defend their Jeep King of the Mountain 2005 World Professional Champion titles. With a first or second place finish by Lopes and Buhl in Elkhart Lake, the title of World Professional Champion would be completely up for grabs when the series' grand finale takes place on Sept. 3 at Beaver Creek, Colo.
"I am healthy and I have been around the block for some time now, which is a great advantage," said Lopes, a three-time World Champion, five-time World Cup Champion and nine-time National Champion. "I know what it takes to put together a good race run, and now I just need to go out and make it happen."
The 2006 Mountain Biking World Professional Championships from Elkhart Lake will air on CBS Sports on Sept. 24, from 5:00 - 6:00 p.m. EST.
Kiwi relay team for Worlds
The New Zealand team to compete in the opening event of the 2006 UCI Mountain Bike and Trials World Championships on August 22 in Rotorua has been announced. The team relay competition is the first event of the world championships. The team must consist of one rider from each of four categories - elite men, elite women, under 23 men, junior men.
New Zealand MTB Worlds cross-country relay team:
Kashi Leuchs (Dunedin)
Rosara Joseph (Christchurch)
Clinton Avery (Rotorua)
Carl Jones (Whakatane)
Strathspey Shenanigan returns for 2006
Once an annual fixture on the Scottish calendar, the Strathspey Shenanigan, a sponsored mountain bike cycle throughout the beautiful 'Monarch of the Glen' Speyside area of the Scottish Highlands is returning September 23rd, 2006. 38 or 17 mile routes, for cycling enthusiasts as well as for families, casual and tourist riders ara available starting in Kingussie and finishing by Loch Morlich nr. Aviemore. The routes are mostly gravel forest road but also includes grassy and occasional rough tracks and a river crossing. Proceeds from the event will benefit the Highland Hospice caring for adults coping with the trauma of terminal illness. To take part, email b.harder@highlandhospice.org.uk.
A change to the AUS Worlds team
Cycling Australia today confirmed two changes to the Australian team to contest the 2006 Mountain Bike World Championships being staged in Rotorua, New Zealand from August 22 to 27.
Jared Graves and Michael Robinson have withdrawn from the team and will be replaced by Liam Panozzo (Elite Men Downhill) and Alex Lloyd (Elite Men 4X). Graves is injured but will attend as a spectator while Robinson has BMX commitments which have prevented him from racing in New Zealand.
Off Road to Athens wins Vail Film Festival
Off Road to Athens surprised many critics and film makers by winning the prestigious Vail Film Festival this Spring. Sam Chafos, the director of the festival said, "We had over one thousand films submitted to the this year's festival... I am proud to announce that the winner of Best Documentary was my personal favorite and what I believe is the best of the best, Off Road To Athens!" The honor represents the first time an indie cycling film has gone head-to-head with Hollywood budgeted films and emerged victorious.
Verge Mid-Atlantic Cyclo-cross series back for another season
The 2006 Verge Mid Atlantic Cyclo-cross Series announced its 2006 campaign this week. Verge MAC, the East's largest cyclocross series, will once again span some of the world's largest media markets, including New York, Philadelphia and Washington, DC, including a new venue in New Hope, Pennsylvania, where races will be held on two consecutive days on a private estate. The series also returns to the "Amphitheater of Pain" in Bridgeton, NJ -- where last year the sports pages of the Press of Atlantic City gave the race top billing over NASCAR and Michelle Kwan's attempt at another National Figure Skating Championship at the nearby Atlantic City Conventions Center.
The series also introduces a new category; the "Elite Masters" class, one of 14 amateur and professional individual championships (and one team championship) on the line for this year's campaign. According to Verge MAC Series Director Mike Hebe, "With the inception of the new Elite Masters class, Verge MAC is recognizing the depth of talent that toes the line for our races. At any race last year, there were nine different riders in the Masters field who had won at least one event in the greater Mid-Atlantic region in the previous year. With that high level of talent, we wanted to recognize and highlight what is a very deep and fast field and hopefully the addition of a deeper prize list for the fastest 35+ racers will meet that end."
With Verge MAC's Elite, International orientation, it's only fitting that the series starts with an international classic -- the UCI C1 "Cyclocross @ Granouge" on October 21. All told, six of this year's Verge MAC races are on the UCI's International Calendar. Every Verge MAC races will start at 10:00am with the combined race for C-Men, B-Women, -Masters 35+, Masters 55+ and U19 Juniors. 11:00 am will see the "Killer B's" take center stage followed by the exciting new "Elite Triple-Header" -- Elite Masters at 12:15, Elite Women at 1:30 and Elite Men at 2:30
For more information, see Verge MAC's new Web site, www.midatlanticcross.com.
MABRA 'cross series raises the bar for 2006
the Mid-Atlantic Bicycle Racing Association (MABRAcross) released its 2006/07 schedule this week.
A recognized Local Association under the umbrella of USA Cycling, MABRA begins its series with the traditional east-coast curtain raiser, the Charm City Cyclocross, in Baltimore on September 24. New this year is the early scheduling of races - four of the six races take place before the end of daylight savings time - which should make for beautiful weather.
But isn't the classic vision of cyclocross a cold and rainy day with mud-up-to-your-knees, rather than beautiful weather? MABRAcross series director Chip Sovek, says it doesn't have to be. "Classic cyclocross weather sucks," he laughed, "Absolutely, bad weather is part of bike racing, and 'cross especially - but so are crashes and injuries, and we don't go looking for those, do we? Being soaked to the bone in 35 degree weather is only romantic when you're reading about it." Besides the better weather, the early schedule has other benefits as well, "Only two of our races have any conflict with local NFL football teams, and there is only one partial conflict with the NFL during daylight savings time when we are trying to establish a spectator base."
For more information on the MABRAcross series, see their Web site http://mabra.org or contact MABRAcross Media Director Ken Getchell at kenmacpr@yahoo.com.
2006 MABRAcross Schedule
Sep 24, Baltimore, MD: "Charm City Cyclocross"
October 1, Buckeystown, MD, (Baltimore and Washington DC Media Markets): "Ed Sander 'Cross at Lillypons"
October 7, Hagerstown, MD: "AVC Cyclocross"
October 14, Carlisle, PA (Harrisburg Media Market): "Iron Cross Lite"
November 4, Leesburg, VA (Washington DC Media Market): "Squadra Coppi 'Cross"
Novemer 5, Eldersburg, MD (Baltimore Media Market): "Race Pace Cross"
Alan Factory 'cross team for 2006/07 season
Bjorn Selander at '06 Worlds
Photo ©: Luc Claessen

The Alan Factory Team, presented by EMG (Euromedia Group) announced its final rosters and sponsor lineup for the 2006/07 Cyclocross Season this week.
Based out of Minneapolis, MN but covering 14 regions around the U.S., the team will be lead by elite team riders with grassroots programs in each of the regions. Look for the Alan Factory Team at all the USGP CX races, National Championships and in your local race scene.
Grassroots sponsorships are still available nationwide and some regions are still open for elite team leaders. Contact EMG at: euromedia@comcast.net for more information.
Full roster:
Matt Kelly - Madison WI – Elite Racer (Former Jr. World Champ)
Jed Schneider - Columbia, SC – Elite Racer (Former National Champ)
Samantha Williams - Columbia, SC – Team Leader (GA State Champ)
Nick Weighall – Seattle, WA – Elite U23 Racer (TX State Champ, National Off-Road Du Champ)
Kevin Hankens - Portland, Maine – Team Leader (Iowa State Champ)
Renee Callaway - Madison WI - Team Leader
Kristopher Auer - Baltimore, MD – Team Leader
Matt Kraus - Boston, MA – Team Leader/Elite Racer
Troy Barry - Santa Rosa, CA – Team Leader
Paul Schoening - Minneapolis, MN – Team Leader/National Team Director
Bjorn Selander - Hudson, WI – Elite U23 Racer (Former National Champ)
Dag Selander - Hudson, WI – Elite Master's Racer
Logan Loader – San Francisco, CA – Elite Jr. Racer
Marc Swart - Durango, CO – Elite U23 Racer
Ryan Rish – Cincinatti, OH - Team Leader
Shawn Adams – Cleveland, OH Team Leader
Ali Goulet – Park City, UT - Team Leader
Kirk Olson – Denver, CO - Team Leader
Scot Van Asten – Philadelphia, PA - Team Leader
Patrick Morrissey – Albuquerque, NM - Team Leader
Morgan Gerlak – Baltimore, MD – Elite Jr. Racer
California Giant Berry Farms 'cross team for 2006/07
Justin Robinson at '05 Nats
Photo ©: Ed Collier

California Giant Berry Farms of Watsonville California and Specialized of Morgan Hill California are teaming up for the 2006-2007 U.S. Cyclocross season and expanding cyclo-cross sponsorship program from last year. Two elite women riders and one under 23 athlete will be joining 2005/2006 Master Men 30-34 National Champion Justin Robinson and Specialized R&D Engineer Andy Jacques-Maynes. The new Women riders are two-time Collegiate National Champion Melodie Metzger and 2005 U.S. National silver medalist Josie Beggs. Also new to the team is 2006 U.S. Worlds team member and winner of the San Francisco Grand Prix of Cyclocross Chance Noble, who will be racing the under 23 category.
Full 2006/07 Roster
Andy Jacques-Maynes Capitola, CA
Justin Robinson Santa Cruz, CA
Josie Beggs Capitola ,CA
Melodie Metzger Berkeley, CA
Chance Noble Camarillo, CA
Henry Kramer Menlo Park, CA
Todd Hoefer Watsonville, CA
Gannon Myall Lafayette, CA
Bikes Belong awards $40k in grants
Bikes Belong will award $40,000 in grants this month to five great bicycling projects. The funding support for these paths, trails, and programs is intended to enhance communities across the country, effectively putting more people on bicycles more often. The following programs recieving grants are:
The B & O Trail Association will receive $10,000 to help purchase a 13-acre stretch of abandoned rail corridor in Hendricks County, Indiana. This path will be the first bike/ped connection between downtown Indianapolis and three nearby state parks, providing a recreation and transportation route for active Hoosiers.
Venice Area Beautification, Inc. will receive $5,000 to help build the final segment of the Venetian Waterway Park, a multi-use path on the west coast of Florida.
The Chequamegon Area Mountain Bike Association will receive $5,000 to help construct the first singletrack in the Hayward Cluster. The new 8-mile trail—the first of three planned singletrack trails in the cluster—will provide exciting routes for mountain bikers and help boost bicycle tourism.
The Adventure Cycling Association $10,000 to help establish the corridor plan for a U.S. National Bicycle Route Network. This system of bike routes, modeled after successful networks in Europe and Canada, will make bicycling a more visible and viable means of transportation and recreation on U.S. roads.
Columbia, Missouri's PedNet will receive $10,000 to launch the pilot of their bicycle safety and education program, "From Proficiency to Practice." This three-stage program will begin this fall by teaching bicycling basics to 600 fourth graders, training children in safe bike handling through an after-school program, and establishing a Bike Train for kids who want to ride to school.
Previous News Next News
(All rights reserved/Copyright Knapp Communications Pty Limited 2006)