MTB News & racing round-up for August 5, 2006
Edited by Steve Medcroft
Fullana tops Dahle and Absalon scores at Euro Champs
By Steve Medcroft
Marga Fullana (Spain) and Julien Absalon (France) were crowned European Mountain Bike Champions last Sunday in Chies d'Alpago, Italy. Runner-up to defending European Champion Jean-Christoph Péraud (France) in 2005, Athens Olympic Gold medalist and reigning world champion Absalon held off Christoph Sauser (Switzerland) and Ralph Naef (Switzerland) by 28 and 36 seconds respectively to claim his European championship jersey.
Fullana managed to upset the seemingly unbeatable Gunn-Rita Dahle-Flesjaa (Norway) on her way to victory, proving that the most dominant female mountain biker in recent history is vulnerable to a strong and determined competitor. The victory also represents a return to top form for Fullana, who earned a silver medal at the 2000 Olympics in Sydney but struggled to reach the same peak in seasons since.
Fullana says that she managed to slip ahead of Dahle-Flesjaa in the climbing sections of the course. Dahle-Flesjaa was unable to make up the gaps on the descents an Fullana eventually won with a 1:31 advantage over the reigning world champion. "I dedicate this win to all those that have continued believing in me," she said on her Web site. "I have demonstrated that I am still here, that I am totally recovered and confident that I can return to the top of the podium in all the races that I compete."
Sabine Spitz (Germany), finished third.
For complete results from the Elite European Championships, click here.
Barel out of Worlds with broken foot
An exultant Barel at '05 worlds
Photo ©: David Olle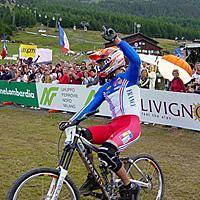 A broken foot has made for a very unfortunate end to a tough season for reigning World Champion and Kona Les Gets Factory Team rider Fabien Barel. Due to the injury, Barel's quest for a third straight world championship title is no longer a reality.
The injury occurred during a Downhill race at the Kona Groove Approved Levi Bike Park in Finland. Barel slipped out of one pedal and caught his foot between the pedal and the ground. Medical tests proved that Barel broke a small weight-bearing bone in his foot. While the bone is small, the seriousness of the injury is not.
The recovery requires that Barel not bear any weight on the foot for two months. If not allowed to heal correctly, the bone will die and the injury becomes even more acute and surgeries and bone graphs will be required. It will likely be at least three months before Barel will be able to get back on the bike.
Barel was of course extremely disappointed. "It's been a very tough season mentally," he said. "I feel like I have been riding very well but have no paper to show for it."
Team Manager Mark Peterson said, "At this level of the sport it is bound to happen sometime during their career, you just hope it's not something that will end their career. Fabien will be back next year in Kona colors and I'm sure he'll be on a mission to prove he remains one of the best riders in the world."
The NORBA series gets back to its roots with alpine racing
The NORBA National Mountain Bike Series returns to its regularly scheduled all-mountain action August 4-6 at the Brian Head Resort in Brian Head, Utah this weekend. "This venue is for the racers. There's not a lot of glitz like in Park City, but if you like to race your bike, Brian Head is the place," says co-race director Tom Spiegel of Team Big Bear.
Nestled well off the main highway in a town of only 80 full time residents, Brian Head will once again host some "old school" mountain bike racing in the Cross-Country, Downhill, Short Track, Marathon, Super D, and Dual Slalom disciplines.
The XC course in Brian Head is a 28-mile loop that begins at the breathtaking elevation of roughly 9,000 feet and climbs to nearly 11,000 feet before descending through some amazing singletrack. "It's a classic 'old school' single-distance, one-loop race where everyone -- the pro men and women, the experts and the amateurs -- will ride the same course and go the same distance. And the scenery is phenomenal," adds Spiegel.
For a full preview of the Brian Head NORBA, click here.
Schedule
Race 1 - August 4: Super D
Race 2 - August 5: Cross Country
Race 3 - August 5: Dual Slalom
Race 4 - August 6: Downhill
Race 5 - August 6: Short Track
The Transrockies countdown has begun
The 2005 Transrockies Finish line
Photo ©: Paul Done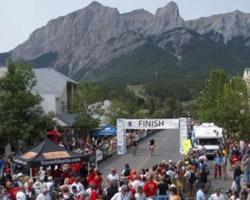 The fifth edition of the TransRockies Challenge is set to start this Sunday August 6th when 450 racers from over 20 countries will set out from Fernie, British Columbia. The will embark on a seven-day epic trek which will take them over the Continental Divide twice before they reach the finish line at Panorama Resort.
Between the time that the riders roll away from Fernie's historic downtown and the celebratory ride down into Panorama Resort where friends and family will be waiting, the racers will have tackled nearly 600km of riding. That includes nearly 12,000 vertical metres of climbing, endless singletrack and the real Rocky Mountain wilderness experience which has helped the TransRockies triple in size since it began in 2002.
"We are so excited about this year's event," said TransRockies Co-founder Chester Fabricius. "When we came here, we had a vision of this race becoming something really special and with riders coming here from all over the World to take on these trails, it is everything that we imagined."
Even for the handful of riders attempting to complete their fifth TransRockies Challenge, this year's route will present a very new challenge with a spectacular new course through the Kootenay Rockies which includes visits to new host locations like Invermere and Nipika Resort. The toughest day in this year's event is likely to be Stage 3 from Blairmore, Alberta to Elkford, British Columbia which covers 109km with over 2600 metres of climbing including two major passes. Then again, anyone who has ridden the TransRockies before can attest that the changeable conditions in the Rockies mean that any stage, no matter how short or simple on paper, can quickly turn into an epic.
For a full preview of the 2006 Transrockies Challenge, click here.
Schedule
Race 1 - August 6 : Fernie, BC To Sparwood, BC,
Race 2 - August 7 : Sparwood, BC To Blairmore, AB,
Race 3 - August 8 : Blairmore, AB To Elkford, BC,
Race 4 - August 9 : Elkford, BC To Whiteswan Lake, BC,
Race 5 - August 10 : Whiteswan Lake, BC To Nipika Resort, BC,
Race 6 - August 11 : Nipika Resort, BC To Invermere, BC,
Race 7 - August 12 : Invermere, BC To Panorama Mountain
Brentjens faces challenge in this weekend's Dutch National Champ
The Dutch national mountain-bike championships is set for the August 6th in Noorbeek, the Netherlands. Speculation about who can challenge perennial champion Bart Brentjens involves riders like Jelmer Pietersma of the Dolphin Bike Team and some dangerous outsiders like Bas Peters, Gerben de Knegt and Thijs Al. Another contender for the overall win in Sunday's championship men's race, although he rides in the espoir category and is not classified as an Elite, is Rudi van Houts. Van Houts won a tremendous silver medal at the European Championships in Italy and is one of those riders that will be able to mingle into the medals for the pro elite as well.
Brentjes will certainly not get the championship as a present if it's up to the youngsters. It promises to be an exciting race.
Australian Worlds Team announced
Mountain Bike Australia announced its selections for its 2006 World Championship team this week. Included in the squad is Australian cross-country champions Sid Taberly, World Cup downhill phenom Sam Hill and brother-sister downhillers Mick and Tracey Hannah. Katrina Miller and Jared Graves headline the four-cross squad..
For the full roster of the Australian MTB National Team, click here.
Star Crossed cyclo-cross returns to Marymoor
Star Crossed, America's first and only twilight cyclo-cross criterium, is returning to King County's Marymoor Park in Redmond, WA for the fifth consecutive year September 30th. Dubbed "the Daytona 500 of cyclocross," Star Crossed kicks off the US 'cross season in style under the bright lights of the Group Health Velodrome. "Star Crossed is based on a few simple key ingredients - national caliber racing, a spectator friendly course, beer, music and unabashed champagne toting podium girls!" says race promoter Jonny Sundt.
Star Crossed will also feature the always popular beer garden, live DJ, spectator free raffle and giveaways including a Ridley Crossbow frameset, unique course obstacles featuring the Sliderule rider-over-bridge, and a new industry expo area.
Vermont Gran Prix of 'cross opens U.S. UCI season
The Magic Hat Brewing Company, Ben & Jerry¹s Ice Cream and Louis Garneau present the first annual Vermont Gran Prix of Cross, September 23 and 24th at the Catamount Family Outdoor Center in Williston, Vermont. The weekend's slate of races will culminate with a UCI-sanctioned 'cross race on Sunday, September 24th; the first of the U.S. domestic season.
In Euro 'cross style, the Vermont Gran Prix of Cross will feature a beer tent stocked with Vermont's own Magic Hat beer and free ice cream from Ben and Jerry¹s for children and adults alike. "We're tring to bring a little bit of Belgium style 'cross racing to Vermont," says Erik Bowker, race director.
Racing begins on Saturday with a non-sanctioned UCI 'cross event and a UCI (Cat. 2) event on Sunday. Each race will be held on a separate course to give riders and spectators two different experiences. In addition to individual race winners, racers will be vying for overall omnium titles.
2007 Oceania Mountain Bike Champs to Thredbo, NSW
Mountain Biking Australia announced this week that the 2007 Oceania Championships will be held in Thredbo, New South Wales, Australia. Downhill, four-cross and cross country will be incorporated as part of the third annual Australian Open of Mountain Biking from March 22-25, 2007. Elite Oceania-region will be competing for over $10,000 in prize money.
"The Oceania's represent the last opportunity for Australian, New Zealand and some Pacific basin elite riders to contest an international event in our region before the IOC (International Olympic Committee) allocates the number of riders each country can send to the 2008 Beijing Olympic Games, " said Tony Scott, CEO of Mountain Biking Australia.
Each country can nominate up to 3 riders, depending on the nation's UCI ranking which is determined by the points accumulated by the top three riders from each country. Australia expects to have over 50 riders attending from New Zealand and other Oceania Confederation Nations. "The level of competition will be fierce across all disciplines." said Scott.
"The village of Thredbo is right behind this event," said Event Director Colin Battersby. "The race courses and organisation will be tested and fine-tuned at the second round of the MTBA National Series Round 2 this December 16-18."
Argentinian MTB Federation attends World Cycling Centre
Argentinian mountain biking specialists are staying in Aigle from 17 July to 8 August to attend a course as part of a mountain biking development project in Argentina. Supported by the National Federation and the Minister for Sport in this country, the course is being lead by Mr Dario Linkowski, trainee coach at the World Cycling Centre in 2005.
Argentina is one of the eight countries in South America that factor in the UCI country ranking, behind Colombia, Chile and Brazil. Argentina is currently in 32nd place out of 43 ranked countries.
Hans Rey releases classic video collection
Freeride pioneer Hans 'No Way' Rey announced the release of a a DVD collection of his early adventue/mountian biking videos called Hans Rey's Classic Videos Collection (1992 - 1997). These collectors edition contains Hans Classic 4 Videos, plus a recent interview about the making of these films.
The DVD includes Rey's original freeriding videos, which inspired many of todays top riders. These videos were the first of its kind, completely unlike the mountain-biking videos of the time (mostly short racing videos of cross-country and downhill races). "It used to be more interesting to watch grass grow than watch those old racing flicks," Rey said about the inspiration for his original series of films. "My videos were inspired by extreme skiing videos and surf films, etc.... a lot of the action and riding was quite ahead of its time, like riding skinies (log rides), tree rides, wall rides."
Included in the four-film set is "Level Vibes" in which Rey rides up the Dunn's River Waterfall in Jamaica, "Superb Urban" Riding in San Francisco and Laguna Beach, "Monkey See - Monkey Do" a how-to where Rey's student was mountain bike riding Chimpanze Mr. Jiggs and "Big Five," which includes a classic bike safari in Africa with Greg Herbold and a cutting edge urban session with Freestyler Pro Dave Voelker
For more information or to order the collection, visit Rey's Web site at www.hansrey.com
The nearly 24 Hour NORBA Nationals; the Nat Ross diary
And they're off
Photo ©: Mike Reed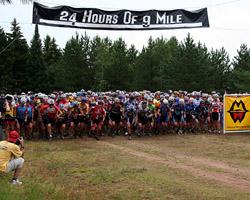 Hey fellow endurance followers -the National 24 Hour Championships was called off early due to a horrific storm. Despite only getting to race for 19 1/2 hours, my body is still completely trashed. So I'm sitting in the lobby of my Hotel in Wausau, Wisconsin the morning after the race and it is still dark outside. My crew is in a well-earned deep sleep and I'm wide-awake. What's up with that? My internal clock gets so messed up after a solo 24 hour race that it takes a good week to get back into my normal nine to ten-hour sleep schedule.
The National Championships got down to business at 10AM as opposed to noon like most of the races in the states. I have to say that I was a virgin 10AM starter going into this one. Most of the races in Europe start at 2PM and Montezuma's Revenge starts at 4PM. I was really looking forward to finishing at 10AM, but thanks to mother nature the race was called off way earlier at 5:30AM. I actually don't care one way or the other, but I can say that it will be easier to recover from not having to go the full distance. My second place was pretty much locked in and there was no way I was going to catch Chris Eatough (Trek/VW), the new National 24 Hour Champion.
My teammate Cameron Chambers (Subaru/Gary Fisher) held the stars and stripes jersey until now. His race did not go nearly as good as it did for him last year and he was very disappointed with his15th place finish. These races are so tough both physically and mentally. Cameron was bummed out that his body wasn't up for the battle, but this kind of racing is brutal and he'll be ready to rock in no time.
To read the full Nat Ross diary, click here.
Tough struggle for medals; the Gunn-Rita Dahle-Flesjaa diary
[Translation: Crispen T.P. de Lange]
It was a very tough struggle for the medals at the European Championships today. After two days of suffering with diarrhea, I was lacking a lot of power in my legs and I could feel it right from the start of the race. So on a difficult day, this was a very uplifting result.
I didn't have a totally optimal period of preparation for this major championship, but still I managed to fight my way to a great silver medal. We've been eating very good food here in Italy, as usual, for the last two weeks. But a small aperitif on Thursday evening knocked my digestive system out of balance. Kenneth, Ralf (the Merida mechanic) and I have been suffering with a lot of stomach pains, tiredness and multiple visits to the bathroom these past days and it's doubtlessly drained us of some of our energy.
I quickly recovered after the European Championship Marathon race last weekend and have had great legs and a good feeling the whole week. Our exercise stint on Thursday out on the track, during which we usually bomb around the track at high intensity and then rest, went as planned and proved to me that my top gear was in place as we had hoped. I would never have managed to take the silver medal if I hadn't been in top shape.
For the complete Gunn-Rita Dahle-Flesjaa diary, click here.
(All rights reserved/Copyright Knapp Communications Pty Limited 2006)