MTB News & racing round-up for August 3, 2006
Edited by Steve Medcroft
Sundsted and Paez seal the 2006 Marathon World Cup
With their placing in Val Thorens, France, at the final UCI World Cup Marathon race of the 2006 season, Pia Sundstedt (Finland; Rocky Mountain/Business Objects) and Colombian Leonardo Paez locked up victories in the series. Sundstedt won the women's race at Val Thorens, more than minutes ahead of Elena Giacomuzzi (Italy) and more than ten minutes ahead of Rupp Dolores Machler of Switzerland. Paez finished seventh in the men's race, almost twenty minutes behind Kiwi Kashi Leuchs.
For full results from Marathon World Cup #4, click here.
Eatough regains National Championship jersey
By Steve Medcroft
The 24 Hours of 9-Mile in Wasau, Wisconsin, host to the 2006 NORBA National 24 Hour Endurance National Championships, was called Sunday morning after twenty hours of racing. Chris Eatough (Trek/VW) became the 2006 Solo 24 Hour National Champion when severe thunderstorms rolled into the region and threatened the safety of competitors, crews, volunteers and spectators. At the time, Eatough had essentially lapped the entire solo men's field. Nat Ross (Subaru/Gary Fisher) was second on the trail.
Staged in and around a nordic ski park, the 2006 edition of 24 Hours of the 9-Mile was Eatough's first visit to the Wisconsin racecourse. "I liked it," he said by phone on Thursday. "It had a lot of singletrack and suited me." Suited him because although Eatough first thought he would race conservatively, the extended stretches of singletrack gave him an opportunity to open gaps on his closest competitor. "I planned to start out conservatively and follow people. But it worked out that I could ride the singletrack quickly without using up a lot of energy."
The only racer who Eatough needed to shake was eventual runner-up Ross. "I wanted to be up front with the team riders in the first lap," Ross said during the fourteen-hour drive home to Vail, Colorado on Monday. "You have to have a good run or work your way through the field to get there though. I had a good run and was top four or five. Chris was ten seconds behind me after the first lap." The pair got together for the second and part of the third lap. Then Eatough upped the pressure. "Chris started attacking me on the singletrack and I never saw him again," Ross said.
For results and a full race report from the US NORBA 24 Hour National Championships, click here.
Price extends Ultra series lead with Wilderness 101 win
Harlan Price
Photo ©: Cathy DeSanto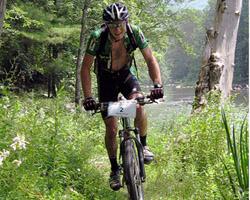 By Chris Scott, Steve Thorne, and Matt Ferrari
Harlan Price (Independent Fabrications) has won his second National Ultra MTB Series race this weekend at the Wilderness 101. The win, combined with his high placings in two other series races, means the Pensylvannia native has all but assured his series win. All he needs to do is finish the finale at the Shenandoah Mountain 100 September 3rd.
Starting and finishing in Coburn Pennsylvania, the Wilderness 101 was the first east coast ultra endurance backcountry mountain bike race. Running through the hardwood forests of the Appalachian Mountains, the course follows a single 101 mile loop along fire roads, jeep track, and elegant sections of challenging single track. Also included are extended single track climbs, technical rock-strewn descents, creek crossings over narrow foot bridges, and passage through two long, very dark abandon train tunnels. Riders enjoy over 12,000 feet of elevation gain, concentrated into multiple episodes of more than 1,000 feet of sustained climbing. The Wilderness 101, the fourth event in the inaugural year of the National Ultra MTB Series is considered the most technical course of the series.
For this 2006 race, the weather was beautifully clear but for most riders, too hot and humid (high temperature for the day was reported to be 91 degrees). Many complained of insistent cramping and the ratio of DNFs was an all time high (roughly 1/3 of the 280 + starters).
For full results, photos and a race report, click here.
Team Merida wins Race Face 12 Hour
Team Merida
Photo ©: John Flynn
By John Flynn
Sporting one of the highest calibre team rosters yet to feature at a Two Wheel Promotions event, the classy Team Merida lived up to expectation, claiming both the four person teams category and the overall race win in Saturday's Race Face 12 Hour at Kooralbyn.
Boosted by the inclusion of in-form Gold Coaster Davey Whitney (winner of the recent MTBA Sunshine Series Round) and former national club road champion Tony Mann, the early favourites for overall honours produced a performance on par with expectation, in what turned out to be an ideal day for off-road bike racing.
Freshly returned from international duties at China's Tour of Qinghai Lake where he was racing with the FRF Couriers Caravello Team (U.C.I. Oceania Tour), Mann showed he could handle the mountain bike just as capably as the road bike and was ably supported by Whitney, Jodie Zerbst and David Newnham.
"It's an awesome concept, I've never done a twelve hour before, this is just so much fun," a relaxed Mann said at race end.
For results, photos and a complete race report, click here.
Specialized gets brainier in the dirt
Our coverage of Specialized's 2007 product line launch continues with the company's extensive mountain bike offerings. Integration is the word of the day here, and James Huang heads off from Holzkirchen, Germany up into the Bavarian highlands to sample the new wares:
This certainly isn't your dad's Enduro!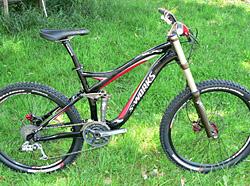 For nearly a decade, Specialized has unwaveringly championed its Horst Link-equipped four-bar linkage rear suspension designs. Multiple refinements and tweaks have abounded since those early days to yield today's versatile and capable setups but Specialized now takes a big leap forward in the system's development for 2007 with a line of house-branded suspension components and the first major change in the FSR system since acquiring it from Horst Leitner all the way back in 1998.
'Total Suspension Integration' or 'Mike McAndrews earns his keep'
When Specialized added legendary suspension designer and engineer Mike McAndrews to its roster last year, speculations ran wild as to what Mike Sinyard had in mind for his old friend and former employee. After all, 'Mick' has a long and storied career in both motorcycle and bicycle suspension: he headed up Rock Shox's research and development program for six years in its early days, started the fork program at Fox Racing Shox, worked with Paul Turner (again) at Maverick American, and developed the Brain that graced Specialized's then-revolutionary Epic full-suspension bike. With that kind of history, something big was in store.
Read the entire Specialized 2007 MTB tech article here.
Craig primed for repeat at UK Marathon Champs
It's time for the UK's 2006 Marathon National Champ to be crowned and on Sunday in Newnham Park, Plymouth. Nick Craig (Scott UK) will be hoping to retain the jersey he earned in the country's inaugural marathon championships and after blitzing the National Marathon Series so far, is the hot favorite to take top spot once more. Rob Seymour (Endura/Voodoo/Singletrack) has been Craig's closest rival in series competition so far in 2006. Other riders in the mix include John Veness (Kona) and Will Bjergfelt (Kona).
The marathon championships isn't the only race happening over the (Aug 5-6) weekend. There is round four of the National Points XC on Saturday and with no Oli Beckingsale you could be forgiven for thinking that there is no favourite. Liam Killeen has changed all that though, announcing that he will be showing for his first NPS of 2006 after that astonishing Gold medal winning performance in March at the Commonwealth Games among.
Off Road to Athens showing to benefit LAF
Lance Armstrong Foundation fundraising member Rusty Wells, in conjunction with Rainbow Cycles of Southern Pines, will host a premiere showing of the MTB documentary "Off Road to Athens" in support of the Lance Armstrong Foundation. The event will take place on August 3, 2006 at the beautiful Sunrise Theater in downtown Southern Pines, North Carolina and will feature a LIVE auction and reception after the show.
Off Road to Athens is a documentary covering the tumultuous path taken by 8 athletes hoping to make the US Mountain Biking Team headed to the 2004 Olympic Games in Athens, Greece. The film is fueled by the high-energy, high-stress world of Professional Mountain Biking but also covers the personal struggles and sacrifices of four men and four women who are vying for only three available spots on Team USA. The viewer is taken on a ride from the jungles of Ecuador to the Highlands of Scotland, from historic Belgium to scenic Canada and many places in between.
Tickets can be purchased online at www.ticketleap.com (keyword "athens"). Cash and check donations will be welcome after the show with all proceeds benefiting the Lance Armstrong Foundation.
Home remedies cut the cost and pain; the Keith Bontrager diary
The essential ingredients
Photo ©: Keith Bontrager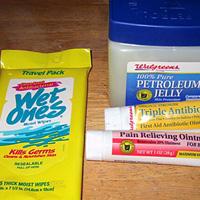 I'm sitting here a week before the Transrockies starts looking like I got punched in the face. I've got the mother of all toothaches, and one side of my face is massively swollen. The dentist put me on antibiotics for a few days. He said they would cut the infection back a little so the pain killer would work when he pulls it. Otherwise, he said, he'd be peeling me off the roof afterwards. I'm in.
So, instead of riding, like I want to be, I am sitting and suffering. To cut the frustration a little I figured I'd do something useful.
Oh yeah. I am really, really hoping that Floyd is clean, just weird physiologically. It seems to me that it would make no sense to dose up on testosterone at that stage in the race. It wouldn't have helped. Anyway, if everyone decides he's guilty without listening to the issues, we suck. Of course, if it turns out that he did dose up, he does. Enough.
Saddle sores: Saddle sores are a bitch. They are not as bad as swollen, infected molars, but they are close.
If you are planning to ride a multi-day event and you don't have a plan to prevent saddle sores, you are setting yourself up for a serious quantity of extra suffering. These things are hard enough as they are.
Read the entire Keith Bontrager diary here.
Gold medal collection complete; the Gunn-Rita Dahle-Flesja diary
It was an awesome experience to become European Champion in Marathon cycling. It was the only gold medal which was missing from our collection. The day was extra special for Multivan Merida biking team too, as my Swiss team-mate Ralph Näf won the men's class.
It's Wednesday afternoon here in the Italian town of Alpago where we've been living since last Monday. As usual, the days pass very quickly when we're preparing for a championship.
Last week our entire focus was on my legs - lots of rest, fine adjustments to my training every day, lots of bending and stretching, correct nutrition and a grand total of nine hours of massage. In order to have a chance at a medal in the European Championship Marathon, it was of ultimate importance for me to get my legs back in fighting fettle after the stage road races the previous week, in addition to a lot of training in the period before that.
Read the entire Gunn-Rita Dahle-Flesjaa diary here.
(All rights reserved/Copyright Knapp Communications Pty Limited 2006)