MTB News & racing round-up for April 25, 2006
Edited by Steve Medcroft
Nat Ross sets new course record at Temecula 24-hour
Ten hours into this weekend's 24 Hours of Temecula, Nat Ross had crossed ten laps off his stated goal of twenty laps. And by 8am, Ross commanded a six-lap lead over second place Dale Blankenship and could have called it a day but he wanted to take a shot at Tinker Juarez' (Cannondale) course record for the most laps in the Men's Solo category at Temecula (19 laps). Despite an early morning downpour that brought on some chills, Ross neatly finished 20 laps in 24:06:11.
Ross says he attributes some of his success to recent eye surgery since, up until the weekend, he had been legally blind during every night lap of the 29 solo 24-hour races he's done so far. "It's given me so much more confidence and ability to ride at night with speed," explained Ross. "I actually have definition and peripheral vision on top of everything else so I was really looking forward to this season. Being able to go into the night - that eight or nine laps with extra confidence, it sure pays off." Ross' right eye is scheduled for surgery in October.
Read the entire 24 Hours of Temecula race report here.
Melbourne courier Andrew Bell delivers victory at Merida 24-hour
By John Michael Flynn at Kooralbyn, Queensland Australia
Andrew Bell
Photo ©: John Flynn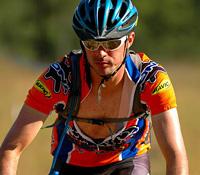 Melbourne bicycle courier Andrew Bell has emerged as Australian endurance mountain biking's 'man of the moment' with a stunning victory in the Merida 24 Hour at Kooralbyn in Queensland.
In what could only be described as one of the most impressive rides yet seen in a 24 hour cross-country endurance event on Australian soil, Bell completed forty laps of the demanding 10 kilometre Kooralbyn circuit, amassing a grand total of 400 kilometres in the saddle.
The 31 year old Victorian's monumental effort proved a fitting climax to the largest 24 hour mountain bike event ever staged in Queensland. Bell's lap tally ranked higher than many of the four and six member teams in the field of 450 riders.

"I had to dig deep, I was ready to stop about six hours ago," an emotional Bell told Cyclingnews at race end.
"The last four laps I thought 'bugger it I'm not stopping, I'm just going to go through and see what the body can do' and it held up.
"It hurt a lot, a hell of a lot."
Read the entire Merida 24 Hour race report, results and photos here.
2006 Cape Epic underway
The third Absa Cape Epic presented by adidas has kicked off this past weekend. At 7:15 on Saturday morning, 1,046 mountain bikers from 37 different countries embarked on their grueling and adventurous eight-day journey through the Western Cape. In just 8 days the 523 two-person teams will have to ride 921 kilometres and climb 16,605 meters before they reach the finish line in Spier next Saturday to deserve the honourable title of 'Cape Epic Finisher.'
Riders have travelled around the world to participate in the race, coming all the way from Canada, Brazil, Norway, China, and Australia. 282 teams are riding in the Men category, 19 in the Women, 61 in the Mixed and 161 in the Masters category for which the combined age of both team members must be 80 years or older. The youngest starter in the field is 18 years old; the most senior rider is 64. The female line up accounts for ten per cent of the total entrants.
Dual World Cup Champion Christoph Sauser and his team partner Silvio Bundi of team Specialized took the rainy first stage. They crossed the finish line in Saasveld after 4 hours, 41 minutes and 31 seconds in the saddle and with 9.5 minute lead over second placed team Stevens Racing with Christian Heule and Johannes Sickmueller. "That was a tough day," Christoph Sauser said.
Follow all the Cape Epic action on Cyclingnews here.
Maryland State Championships also U.S. Nationals qualifier
On Sunday, April 30, 2006, the Greenbrier Challenge AMBC race will take place on the beautiful trails of Greenbrier State Park, just 1.5 hours drive from Washington, DC and Baltimore, MD. The race offers a $16,110 prize purse over forty-six different classes.
Now in its third year, the Greenbrier Challenge AMBC and MD state MTB Championship race slid down the MTB national calendar in an effort to accommodate the PRO mtb circuit and is expected to host the Trek/VW East Coast team with several of the factory team riders expected, the KONA semi-pro team and several regional PRO MTB squads.
The race, which will crown the Maryland NORBA State Championships, will also be a qualifying event for the National MTB championships in Mammoth, California (July 20-23).
Taberlay hot in the Netherlands
The Benelux Top Competition series got off to an exciting start this weekend when, in Oldenzaal, the Netherlands, Jakob Fuglsang beat Australian National Champion Sid Taberlay in a sprint to win.
The action defined early on when a small group of favourites split themselves off the front with a high pace; Taberlay and Team Dolphin teammate Hans Becking in the mix. Fulsgang and Taberlay broke away two laps before finish and was decided in a two-up sprint. Taberlay's teammate Riis Andersen rounded out the podium in third, ahead of Filip Meirhaeghe and Jelmer Pietersma.
Chain Reaction steps up with British Downhill series prize
Chain Reaction Cycles, Europe's largest online cycle shop and already title sponsor of the official British Cycling National Downhill Series have now taken over the unique NPS "Grand" competition.
Last year, Slovenian bike brand Elan put up a £1,000 prize to be shared between all riders who won all their class at all six rounds of the series. Only juvenile category rider Danny Hart of Balfa, U.K. won his class at all six rounds so took home the whole grand for himself! With Elan going into receivership earlier this year NPS promoters would have been unable to run the competition in 2006 if not for Chain Reaction's help.
The next round of the series is at Innerleithen in Scotland in mid May. Check the series Web site for details - www.npsdownhill.co.uk.
Track Maintenance Plan for Royal National Park
Mountain bikers will finally be given a hands-on role in the conservation of Sydney's Royal National Park.
A new project to be undertaken by the New South Wales National Parks and Wildlife Service will see cyclists getting their hands dirty assisting with trail design and maintenance, along with bushland regeneration in the popular riding destination on the fringe of Australia's largest city.
Royal Area Manager, Peter Hay said volunteer involvement and support is an integral ingredient for success in conservation work. "N.P.W.S. would really like to encourage mountain bike riders and other cyclists to get involved with the new program, which starts on 29 April," Mr Hay said.
"Participants will have a great opportunity to meet with park staff and share ideas and input into the maintenance process, to develop techniques for maintaining cycling tracks in Royal National Park."
Bookings are essential and morning tea will be provided. For further inquiries about the volunteer work please contact the Rangers, Leigh Nolan or Patsy Ross on 9542 0612.
Adam Craig's Soggy Sea Otter
Team Giant's Adam Craig has provided a glimpse into the lighter side of a soggy Sea Otter Classic in Monterey California, where he somehow managed to overcome the damp conditions during the four stage event to score a win in the short track race. But his good friend Carl Decker (Broadmark Capital) won't be seeking Craig's advice any time soon, especially when it comes to wet weather tire selection.
In his Sea Otter diary, Craig spills the beans on a series of entertaining incidents, one which left Decker in a rather unenviable position during the opening cross-country race. " Carl was wise enough not to Pre-ride the course, he was at my mercy for tire selection advice on the mountain bike," Craig said in his post-race diary. "For some reason I recommended the 1.6" Michelin Semi Slicks we had used in the dust last year.
"He took my word for it and spent the entire race pedaling three revolutions for every foot of forward motion. Oops…" Decker finished 42 nd , while Craig raced his cyclo-cross bike on the same course to claim 23 rd.
Tire selection was again the secret behind Craig's victory in the short-track race, where the Giant rider finally managed to get things right (at least for himself) with tires to match the conditions. "Observations (of earlier heats) led us to break out the secret weapons, the vintage 1.75" Michelin Wildgrippers, the best tire in the universe in these types of conditions and probably an unfair advantage," Craig said.
Among those left to follow in Adam's wake were some of the sport's greats including Bart Brentjens and Thomas Frischknecht. Craig finished first in front of Jean Christoph Peraud (Orbea) and Jose Antonio Hermida (Multivan Merida).
"Face muddy for sure, I kept it clean and charged (slogged) across the line first, which according to my trivia expert is the first time a Gringo has won a stage at the Sea Otter," Craig wrote. "Carl cruised across in the teens with a big smile and we laughed about the general hilarity of the situation."
Smith Optics partners with Whistler Mountain Bike Park
Smith Optics and Whistler Mountain announced a partnership this week making Smith Optics the official sunglass and goggle provider for the Whistler Mountain bike park and summer bike programs. Whistler's select crew of on-mountain patrollers, guides, and instructors will join Smith's elite team of freeride mountain bikers – Dave Watson, Andrew Shandro, Paul Basagoitia, Carlin Dunne and Joe Schwartz – in benefiting from the brand's quality eyewear. Smith Optics will also provide grassroots support for Whistler's robust event calendar which runs all summer long at one of mountain biking's true meccas.
Hans Rey; the father of freeride
The term legend is used frequently in the sport of cycling. Sometimes it's warranted, sometimes not - but one thing's certain - the development of freeriding owes a lot to mountain biking legend Hans 'no way' Rey. Cyclingnews' Steve Medcroft caught up with this German freespirit to find out a little more about his legacy in the sport and how he's using it for the future.
Hans Rey didn't start out his career planning to found the freeride branch of the mountain-biking tree. In fact, the charismatic German didn't even plan to be a mountain biker at all; he had a fully established career in the prominent amateur European sport of trials. Both on motorcycles and bicycles, Rey could balance, pivot and hop as well as anyone, pocketing a number of national championships in his early career. But when mountain biking exploded in the US and Rey learned that riders near his skill level were making a living competing in trials, he moved to southern California's beach communities and dominated the fledgling American sport.
When the popularity (and opportunities) in trials dwindled, Rey had the inspiring idea to take his mountain bike on Indiana Jones like adventures and bring a camera crew along to catch whatever happened.
The resulting DVD's and feature television documentaries have made Hans Rey synonymous with insane freeride adventures in exotic places and sparked the imagination of a thousand riders to follow in his footsteps.
Today, Rey produces one or two adventure trips a year, performs trials exhibitions around the world, and is focused on his charity; Wheels 4 Life, which buys bicycles for health workers and needy people in third-world countries.
Read the entire Hans Rey Interview here.
Kristin Danielson; Returning to earth
By Steve Medcroft
Photo ©: Larry Hanelin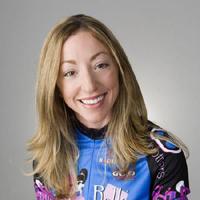 Re-entering any sport after a three-year hiatus is never easy. But based on previous success and for the love of her husband, Kristin Danielson is doing just that in 2006, racing for the Velo Bella/Kona mountain bike team. To overcome those first-race jitters, she toed the line at Sea Otter to see if she can recapture her winning ways on the dirt.
It's surprising to hear 25 year-old Coloradoan Kristin Danielson say she's nervous about her upcoming reintroduction into mountain bike racing at the Sea Otter Classic last week. The Cyclingnews diarist has twice earned the collegiate national cross-country championship and was also the NORBA National Series champion in the Expert category.
But for the past three seasons, Danielson only raced once on the dirt, spending her seasons instead as part of the T-Mobile-sponsored U.S. women's development road team and Basis. Signed with Velo Bella/Kona for 2006, Danielson says she'd coming back to mountain biking for 'a lot of reasons'.
First of all, she says that she's looking for a less stressful athletic career; to come down from the constant intensity of road racing. The second reason is that the less-demanding mountain-bike schedule opens the door for her to spend more time with ProTour husband Tom Danielson.
"Living apart during the season is a huge challenge," she says. "In road racing, I was required to do a full 50 days of racing. With Velo Bella/Kona, I have more flexibility." Which means she'll have the time to take in a race or two based out of the couple's Girona, Spain home and the freedom to cheer on her husband in the upcoming Tour de Georgia (April 18-23).
Read the entire Kristin Danielson interview.
(All rights reserved/Copyright Knapp Communications Pty Limited 2006)