MTB News & racing round-up for April 14, 2006
Edited by Steve Medcroft
Sea Otter Classic wrap-up; a short track race for the ages
By Steve Medcroft
Liam Killeen
Photo ©: Rob O'Dea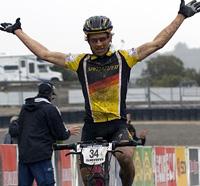 The famous Laguna-Seca raceway hosted the sixteenth edition of the Sea Otter Classic this past weekend. After ten weeks of on-again off-again rain, the skies were clear for almost all four days of the event but the damage had been done; the soil on the muddy hillside MTB time trial, short-track, dual slalom and mountain-cross courses turned to mucasy feces under the wheels of the several-thousand pairs of mountain-bike tires. Only the cross country (held on long stretches of fire road and singletrack through the hills surrounding Monterey) and road (held on the raceway itself) races were spared the mud baths.

By far, the short-track race left the most lasting impression. Layered from start to finish in a liberal frosting of the afore-mentioned mud, the course was populated by hub-deep holes by the time the pros took to the start. It's not often you see riders of the caliber of those at Sea Otter (former and current Olympic, world, continental and national champions) reduced to what looked more like the under-five kids race at a NORBA. It's also not often that a group of hecklers forms at a mountain bike race but the carnage at one particularly nasty short-track corner was too much for even the kindest of fan to avoid letting the laughs rip when a rider held a yard sale in front of them or boo when someone cut the course tape to avoid the worst of the terrain.

There were three pro short track races. The 106-rider men's was cut in half (based on omnium points standing). In the 'B' category event, Walker Ferguson (Scott USA) rode alone at the front for much of the twenty-minute-plus-three-laps race. His only real challenge came from Ryan Trebon (Kona Les Gets), who dangled ten seconds back until the last lap when he managed to catch Ferguson's wheel. In an unbelievable final 100 meters, Trebon had the momentum at first and was about to pass Ferguson but bobbled, then Ferguson crashed and Trebon, running his bike part of the way, came around, then Trebon crashed again and Ferguson was able to hold on for the win. It was simultaneously the most thrilling and heartbreaking thirty seconds of mountain biking I've ever seen.

Because no-one wanted to get their bikes and uniforms completely covered in mud before the race, almost all of the women skipped a pre-ride of the short-track course. Which meant that during the first lap, the course was littered with more bodies than a Civil War battlefield before sensible heads found lines that gave them a least a 75% chance of staying upright. And as she does in most of the mountain-bike races she enters, Gunn-Rita Dahle-Flesjaa moved to the front and stayed on her bike (only after one spectacular endo of her own) long enough to win her second race of the weekend.

Then came the men's 'A' group. Frenchman Jean-Christoph Peraud (Team Orbea) led the omnium overall after winning Thursday's Super XC and finishing second in Friday's time trial. Again, heckler's corner proved entertaining. The crowd saw more than a dozen riders either flip completely over their bars or lose control in such a dramatic fashion that if it were you or I, we'd be talking with our buddies about for years to come.

But the strongest riders will usually make it to the front (as Todd Wells said after the race) and sure enough, Peraud took the lead. But the stars-and-stripes in short track (team Giant's Adam Craig) was chasing. Although Craig says he's been slow to find form this early in the season, he kept working and working and, eventually, bridged to Peraud with one lap to go. Whether by skillfull bike handling, luck, or sheer willpower, Craig managed to pull off the upset. He laughed as he crossed the line and said "I can't believe I just won that. That's ridiculous," to the trio of reporters surrounding him.

Besides what has to be the most epic short-track race ever (I have no idea why the Euros haven't taken up this form of mountain-biking - it's ridiculously good for spectators), there were a few other competitions to follow at Sea Otter.

Race 1, Thursday, April 6, MTB stage race #1, Super XC - Norway 's Gunn-Rita Dahle-Flesja (Multivan-Merida) and France's Jean-Christoph Peraud (Team Orbea) won the Sea Otter MTB stage race opener on Thursday morning on a windy and muddy half-road, half-mountain 2.3-mile course.

Race 2, Friday, April 7, MTB stage race #2, Time Trial - Clean starts, bike handling and momentum were the keys to winning both the men and women's MTB time trial at Sea Otter on Friday morning. Mary McConneloug (Kenda/Seven) managed to finish the muddy, technical sub two-mile course 1.6 six seconds faster than world cross-country mountain-bike champion Gunn-Rita Dahle-Flesjaa (Multivan/Merida). In the men's race, Dahle-Flesjaa's team-mate Ralph Naef nipped yesterday's stage winner, Jean-Christoph Peraud (Team Orbea) by exactly the same margin.

Race 3, Saturday, April 8, NRC road race - Road racing took centre stage on Day 3 of the 2006 Sea Otter Classic. In the men's race, a trio of Tasmanians thwarted the ambitions of Tour de France favourite Levi Leipheimer and the powerful Health Net squad, while top rated Tina Pic of the Colavita team easily outkicked the rest of the women's field in a sprint finish.

Race 4, Saturday, April 8, MTB stage race #3, Short Track - "I can't believe I just won that," American Adam Craig said (Team Giant) after he fought his way across a gap and passed Sea Otter omnium leader Jean-Christoph Peraud (Team Orbea) to win the first race in which he wore his U.S. short-track national championship jersey. And only Katerina Nash (formerly Katerina Hunosova, of the Luna Chix Racing Team) was able to stay on Gunn-Rita Dahle-Flesjaa's (Merida Multivan) wheel in the women's short track race. But not to the end; Dahle-Flesjaa found clean lines when no-one else could and managed to build enough momentum to win her second race of the weekend.

Race 5, Saturday, April 8, Gravity Omnium event #1, Dual Slalom - On a day when the course seemed to jump out and grab tires all day, snarfing up dreams in one bite, luck, both good and bad, played a major role in the outcome of Saturday's SRAM Gravity Omnium Pro Dual Slalom. Brian Lopes (GT-Oakley) and Sabrina Jonnier (Iron Horse-Monster) won the Pro Men's and Women's titles, respectively, each taking advantage of slips by their competitors in the two-up, best of two format.

Race 6, Sunday, April 9, Gravity Omnium event #2, Downhill - Slipping a high rolling Maxxis TT tire on the rear of his 4-inch mountain cross bike was a key element to Graves' win today on this muddy, rutted, "power pedaling" DH course. At the bottom of his time 2:43 run, Graves's squirmed quite a while as Fabien Barel (Kona), John Kirkaldie (Maxxis), Cedric Gracia (Commencal) and Steve Peat (Santa Cruz) pedaled down. But none of them could better his time.

Race 7, Sunday, April 9, MTB stage race #4, Cross Country - With company headquarters only fifty miles away in Morgan Hill, California, Specialized spared no expense in spreading the word about itself, its history and its riders at what could be considered their home race; the Monterey-based Sea Otter Classic. Celebrating the twenty-fifth anniversary of the world's first mass-produced mountain bike, Specialized had a museum of Stumpjumper models at Sea Otter, one-off pink-framed S-Works Epics (the original team-issue Stumpjumper was painted pink) for their riders, logo banners all around the venue and hosted VIP bike rides throughout the weekend. So it was fitting that Specialized's athletes should reward the company with strong performances in Sunday's epic UCI E1-rated cross-country race. At world-cup marathon distance (38 miles, 61 kilometers), Specialized factory teammates Liam Killeen and Alban Lakata worked together to go one-two on the day. Although Sabine Spitz finished more than four minutes behind Gunn-Rita Dahle-Flesjaa (Multivan Merida), her second place was an impressive third Specialized factory team podium spot of the race.

Race 8, Sunday, April 9, Gravity Omnium event #3, Mountain Cross - World Four-Cross Champions Jill Kintner (GT) and Brian Lopes (GT) lead from qualifying all the way to the finishing rounds to claim the top spots for the Sea Otter Classic Mountain Cross.
Mud bogging; the Chris Davidson diary
The otter came by
Photo ©: Chris Davidson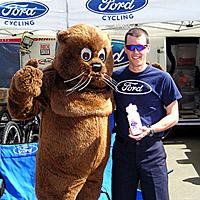 Ford women's cycling team road manager and wrench Chris Davidson kept up his Cyclingnews diary while he rebuilt and rebuilt mud-damaged bikes at Sea Otter. He sent us entries from almost every day including this one from the mountain-bike time trial.
The sun rose on day two and the rain gave us a reprive until mid afternoon. However, the quagmire that is the ground here at Sea Otter started to congeal and the mud actually started to take a greater hold on the riders and bikes. The time trial was super short, about a six minute effort, as most of the track was a swamp. Downhill sections had to be traversed on foot, because there was little controlling the bike on these sections.
There were lots of crashes, with the wheels spinning and sideways sliding on the course. One of our riders, Melanie Meyers, crashed and hit her knee pretty seriously. This was a big blow, as Mel had gone so well in the SuperXC the day before, her first pro race. She has such a great excitement about her first pro season that she really wants to continue to race, but the best course of action may be not to race. A hard situation to be in for a neo-pro. She continues to impress me every day.
After washing two bikes again today and taking nearly four hours, I am beginning to wonder what the promoters are thinking about the racing. The courses are in really bad shape. The daily mudbaths are really not great for the riders, the bikes or the ground that we are constantly dredging. There was talk today about why they haven't sought alternative courses or added more road sections. In an environmental sense, this county park that Laguna Seca sits in is going to take years to recover from what we are doing to it over four days.
Read the entire day two diary here. Follow the links for day one's Monterey Mudfest, and day three and four's Dipped in Sh**t.
Sea Otter tech
Cyclingnews tech writer James Huang made the trip to Sea Otter and filed three days worth of reports. Among the finds, these new MTB component groups from Shimano and SRAM.
| | |
| --- | --- |
| The new XTR trigger | The new Dual Control shifter |
| As promised, the new rear derailleurs | The new radial master cylinder |
First ride on Shimano's new XTR shifters and derailleurs - We told you about it, we showed you pictures of it, and now we've finally tried it ourselves. This year's Sea Otter Classic offered up the first opportunity to not only lay our hands on the new XTR trigger shifters and Dual Control shifters, but also to ride them. Ok, I will admit that both test rides consisted of short little spin around the expo area, but it was enough to get an impression on how the actual production bits will feel.
The new Two Way Release, Multi Release, and Instant Release features of the new trigger shifter combine to deliver amazingly fast shifts, particularly when using the thumb to actuate the forward release trigger. Shifts can still be performed with the index finger as before, but the new 'thumb-thumb' Rapidfire Plus style of shifting is both faster and easier to use.
The new Dual Control shifters represent the biggest change from the current M960 generation to the new M970. Shimano obviously took note of criticisms of the current Dual Control levers and seem to have addressed all of them. The new radial master cylinder and hose routing produced a substantial improvement in brake feel and also results in a much more compact assembly. Shift action is enhanced as well: moving the lever up requires much less effort than before, and lever throws have a shorter and more precise feel overall.
Without a doubt, both styles of shifters are a definite improvement over their predecessors with much more tactile feedback, a more precise feel overall, and greatly enhanced ergonomics. More significantly, Shimano seems to have backed away slightly from its hard-line Light Action philosophy having incorporated a noticeably stronger return spring in the new rear derailleurs along with much more tactile feedback in both shifters. According to Shimano, the new kit will drop roughly three-quarters of a pound over the current XTR kit and will be available around October.
| | |
| --- | --- |
| SRAM's X.9 trigger shifter | Avid ups the ante |
| Avid's new Ultimate two-piston | Truvativ is moving upscale |
| A mountain bike version | Matchmaker |
SRAM launches bevy of MTB products - SRAM introduced two complete road groups this year but clearly didn't want to ignore its off-road roots. There's therefore a heap of new MTB components from SRAM, including new trigger shifters and derailleurs, a new Avid hydraulic disc brake, and a brand-new line of carbon fiber cranksets from Truvativ.
The X.9 trigger shifter has been revised to not only offer near-X.0 performance, but also appearance as well. "Zero Loss" lever travel provides faster downshifts and the two-position adjustable clamp adds greater user adjustability. The new rear derailleur features a new forged aluminum B-knuckle and X.0 styling along with a full range of short, medium, and long cage flavors. A new X.9 front derailleur borrows heavily from the previous X-Gen version but with forged aluminum links and a cut-out cage to drop 18g.
Avid introduced a new lighter-weight Juicy hydraulic brake dubbed the Ultimate. The new top-level XC offering features a magnesium master cylinder, carbon fiber lever, and completely new one-piece forged aluminum caliper complete with a full complement of titanium hardware. Weights will start at 343g complete with 160mm rotor, but 185mm and 140mm (rear-only) rotor options will also be available.
Truvativ will make a lot of headway in shedding its somewhat pedestrian 'good value and solid performance' reputation with a new high-end carbon fiber line called Noir. The new line will feature unidirectional carbon fiber laid over Al-66 spines with integrated carbon spiders along with Truvativ's unique GXP bottom bracket system that minimizes lateral loads on the bearings. Mountain, road, and road compact versions will be offered, along with an ultrahigh-end HCT (HardCore Technology) road version that swaps the full-length spine for separate pedal and crankhead inserts that reduce the weight down to 750g, complete with rings and bottom bracket.
In addition to the component introduction, SRAM also introduced a new mounting option based on its Avid Juicy clamp. Special rear clamps incorporate mounting points not only for X.0 or the new X.9 trigger shifters, but can also simultaneously accept the new aluminum Rock Shox PushLoc remote lever.
To read the full Day 1, Day 2, Day 3 and Day 4 tech reports, just follow the links.
Global MTB wrap-up
Chile Challenge turns eighteen
For the eighteenth consecutive year, Angel Fire, New Mexico will host the Chile Challenge mountain bike race and kick off the 2006 Yeti Cycles Mountain States Cup Series.
The event opens Friday May 19th with practice for all disciplines. Saturday will feature the leg-burning Jalapeno Cross Country and head-to-head action with the Cayenne Mountain Cross, and the Biker Bash to follow. Sunday will feature the much-anticipated Habanero Downhill event and the Serrano Super-D. The event offers competition for everyone from first-timers to seasoned pros.
For more information please go to www.cyclecyndicate.com.
2006 Yeti Cycles Mountain States Cup
The Mountain States Cup Schedule has been released and racers are gearing up to compete in the Rocky Mountain Regional mountain bike championship series. The Mountain States Cup (with seven world-class venues in 2006; Angle Fire, N.M., and Colorado stops including Crested Butte, Nathrop, Nederland, Snowmass, Telluride and Keystone) is pleased to announce a partnership with Yeti Cycles of Golden, Colo.
The MSC will continue to host various disciplines at each event, including endurance events such as Cross Country, Hill Climbs and Short Tracks. In addition, the venues will host gravity events such as Downhill, Mountain Cross and Dual-Slalom. Most venues also offer Super D, a new event combining the best of both gravity and endurance genres. Series Champions will be crowned in Cross Country, Gravity and Super D at the Series Finale Sept. 2-4 at Keystone Climax in Keystone, Colo.
Details regarding the Yeti Cycles Mountain States Cup Series can be found at www.racemsc.com.
Bendigo MTB three-stage tour
The Bendigo MTBA Club in central Victoria will be running it's second annual three-stage MTB tour on the weekend of the 29th and 30th of April. The Tour is designed as an event that is achievable by riders with a reasonable level of fitness. Each stage starts and finishes at the same venue; on private property bordering the Sedgwick Forest, with the stages utilizing 3 various short course race tracks in the area.

Camping at the start venue is available on the Saturday night, $5.00 per person, or enjoy Bendigo's variety of accommodation options, only 15 minutes drive from the event venue.

Stages: Saturday 29th 1.00pm, Point to Point 37km 60% single trail; Sunday 30th 10.00am, 10km Individual time trial; 1.00pm, Cross country lap race 100% single trail.

Event Classes: - Elite, Expert, Under 19, Under 17, Under 15, Veteran (30-39), Master (40-49), Super master (50+), Sport A and Fun Sunday at 12.00 there will be a kids participation event for 9—14 yr olds.
Kona expands Bike Park Program
The Kona Bike Park program is equipping mountain resorts all over the world with the tools and the know how to operate world class bike parks, giving freeriders, new and old alike, a place to call their own. The latest inductees, in no particular order, are: Verbier, Switzerland; Killington, VT, USA; Canada Olympic Park, Calgary; and Levi, Finland. Check them out at the improved www.konabikeparks.com.
As with all Kona bike parks, Verbier, Killington, Canada Olympic and Levi will be supplied with a fleet of durable and high-performance freeride and downhill mountain bikes for guides and clients alike. Kona will also lend assistance to the parks with event development and promotion, design of trails and park features and coordinate marketing of the resorts to assure summertime success for their bike park partners.
The four new parks join Kona Bike Park All-Stars; Canada's Whistler Blackcomb and Panorama, the U.S.'s Winter Park and Snowshoe, Austria's Leogang, Germany's Todtnau, Italy's Livigno, France's Les Gets, Bolivia's Gravity Bolivia and Australia's Mount Buller.
For more information about Kona's Bike Park program, visit their Web site: www.konabikeparks.com.
Previous News Next News
(All rights reserved/Copyright Knapp Communications Pty Limited 2006)