MTB News & racing round-up for April 3, 2006
Edited by Steve Medcroft
Curacao World Cup round-up
Bart Brentjens (Giant) wins
Photo ©: Rob Jones
Round one of the UCI World Cup went off in the Dutch Antilles island of Curacao this weekend. World champion Gunn-Rita Dahle (Multivan Merida Biking Team) and former world champion Bart Brentjens (Giant-Racing-Team) took the women's and men's races respectively; Dahle ahead of Sabine Spitz (Specialized) and Margarita Fullana Riera (Spiuk Illes Balears) and Brentjens ahead of world champion Julien Absalon (Bianchi Agos) and Commonwealth Games gold medallist Liam Killeen (Specialized).
The Caribbean heat was tough on competitors - soaring temperatures and high humidity forced organizers to actually shorten the men's race by one of the originally-planned seven laps around the 6.8 kilometer course - but an ocean front finish meant that exhausted, heat-stroked racers could finish their ride with a dive into the ultimate swimming pool.
For Dahle, winning means she has been careful with her off-season preparation and has retained the strength which allowed her to dominate women's world cup and world championship competition the past two seasons. It was also a testament to her good luck - first-lap confusion and crashes split the field right off the gun and let Dahle slip away from riders who could have mounted a serious challenge like Marie-Helene Premont (Rocky Mountain / Business Objects) and Mary McConneloug (Kenda / Seven), who ended up fourth and fifth respectively.
In the men's race, Brentjens may have possessed a little inside knowledge of the course having helped design it in his role as ambassador to mountain biking for the Netherlands, but world champion Absalon says Brentjens was the stronger racer anyway. "He was really powerful, and I maybe did too much at the beginning when I had to catch him," Absalon said after the finish. "But this is good for me at this time of year, and now I will go back and train for the three World Cups in Europe next month."
Read complete race reports, results and photos for both the men's and women's races here.
Swedish MTB pro attacked in Curacao
Swedish MTB rider Emil Lindgren was the victim of an assault while training on the mountain bike World Cup parcours in Curacao this weekend and had his bicycle stolen. Lindgren is said to be relatively unharmed by the attack, though shocked by the aggression and has several bruises. Police found his bike and later arrested two suspects.
Writing in his own web site, he said, "I went for my daily ride and after while I rode to the parcours to do a lap. After about two kilometres two guys jumped out from the bushes on a down hill stretch. I rode at high speed and was to pass them when one of them hit my shoulder which resulted in a crash.
"I didn't understand what had happened until one of them took my bike and started to run. The other one picked up stones and started throwing at me. I ran as fast as I could the other way and I don't know if any of the stones hit me. I was just scared that one of them might follow me."
Lindgren made it back to his hotel safely, where he was able to assess the damage; some bruising and a deep cut in his right knee. The local police apparently responded quickly and located his bike as well as arresting the two suspects.
The attack was hardly the best preparation for the first round of the MTB World Cup; Lindgren finished the men's race in 62nd place, almost 15 minutes behind race winner Bart Brentjens (see report ). "I'm happy that I wasn't badly injured and I'm looking ahead again. I always do my best in all situations and I'll do it now as well."
Kabush and Killeen look to repeat Sea Otter 1-2
Organizers of the Sea Otter Classic have reworked the cross country course for 2006. Veteran racers expecting the XC event to be "just another day at the office" will need to prepare for a race studded with technical ascents, more passing sections, and a final descent to the finish.
"From a competitive standpoint, what the racers will notice is a lot more frequent climbing, more ups and downs that will make the race more interesting," explained Jeff Frost, who designed the new course. "For the traditionalists, they'll love it! It's still going through eucalyptus groves, sandy sections, and the side-hill stuff unique to the Fort Ord trail system. Also, I think the new course will allow time gaps to actually increase, whereas in years past - with so much fire-road and double track - the top ten guys have always worked together on the first lap. This year I think someone is going to make a move a lot quicker and the race will sort out a lot sooner than it has in the past."
The mountain bike venues at Sea Otter have historically suited bigger power riders like Geoff Kabush, who will return to defend last year's title. "It is going to be great to see a new course and I think it will make things a lot more interesting," said Kabush. "The old course had become very predictable to the racers; it went hard until the first hard climb where a selection was made and the strong riders rode away from there. Hopefully the new course will create a more dynamic race as well as keep some of the fun single-track elements that have made Sea Otter a classic."
During the past ten Sea Otters, Kabush has climbed ever higher in the rankings with the push for number one beginning in 2000 with a memorable sprint for 5th against some of mountain biking's supernovas. Then the countdown started in earnest with a third place in 2003; second in 2004; and first in 2005. However, last year's final podium showed Specialized rider, Liam Killeen, in second place. Killeen's gold medal for cross-country that he won just last week at the Commonwealth Games in Australia, tells of a racer whose form, focus and fitness all point toward another podium finish.
Kabush and Killeen will need to beat riders like Adam Craig, Thomas Frischknecht, Bart Brentjens, Todd Wells, and Sid Taberlay, along with a formidable field of mountain biking's next generation.
Jimena Florit fills big shoes for Luna Women's MTB team
Jimena Florit
Photo ©: Sea Otter Classic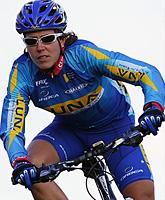 The spot on the Luna Women's MTB Team left vacant by Alison Dunlap, who retired from pro mountain bike racing at the end of last season, recently got filled by two-time Olympian and former RLX-Polo pro, Jimena Florit. Not one to be called "slacker," the pro racer from Argentina has distracted herself from the pro circuit with a few adventure races, some triathlons and the US Xterra series. Her decision to return to pro racing derived from - among other things - a primal desire to stomp with force on her pedals once again.
"I missed being able to ride my bike HARD, really hard," explained Florit. "In triathlon, I was always still recovering from my last run, so I was never fresh to do a hard bike ride. It was really hard to have to ride the bike easy/medium and that was all I could do."
This year marks Florit's eighth return to Sea Otter. A few years back Florit and Dunlap volleyed wins with a robust competitive spirit. Now, with Dunlap out of competition, there's a new queen to crown in women's mountain biking.
"Sea Otter is the biggest race in the season outside of the NORBA and World Cups where pretty much you'll face world class competition," said Florit. "The women's fields are big. You will get all the racers from the NORBA series, plus several top world class riders from Europe or Canada, and why not a few roadies who finally decided to give the knobbies a shot."
Look out for Shonny Vanlandingham, Kelli Emmett, Sue Haywood, Katerina Nash (formerly Hanusova), Heather Irmiger, Dara Marks-Marino and others who seek to topple each other from the podium.
The professional mountain bike races start Thursday, April 6 at 10 a.m. with the Women's Super XC. For a complete schedule of all Sea Otter Classic events, visit: www.seaotterclassic.com/event_schedule.asp
The rules; USAC releases MTB national championship criteria
The 2006 National Off-Road Bicycle Association (NORBA) pro team membership form is now available as a download on USA Cycling's web site. To obtain a copy, click here.
Also released by USA Cycling this week was a FAQ clarifying the qualifications rules for the National Championship category competitions which are to be held at Mammoth Mountain, California (July 20-23). The FAQ clears up misconceptions riders sometimes have about how to qualify for jersey races and lays out a few category-by-category rules (such as the fact that true US-citizen pro-class riders don't need to implicitly qualify and semi-pro's cannot 'race down' for the expert-category championships).
View the entire FAQ on USA Cycling's Web site here.
Winter Plumage; the Nat Ross diary
They might keep you warm,
Photo ©: Nat Ross

At one point in my life, when I was teaching High School, I had the opportunity to teach several electives and one was Ornithology. I think that Birds are fascinating and perhaps with the paranoia of the bird flu epidemic, others will start following them more closely as well.
Birds ready themselves for the winter by thickening up their feather coat to help regulate their body temp as a sort of body heater. Molting is the process of shedding or replacing feathers, so you can see where I am going with this one. As a former Nordic ski racer, I'm used to racing in a lycra skinsuit in the cold but when I'm training for cycling, I want to be warm, dry and even a bit toasty. So I've got an amazing system of layering that I call my Winter Plumage Kit; before a winter ride I add layers and once I get going, I often have to shed, or molt, a layer.
As one can imagine, preparing for endurance events requires an insane amount of dedication and commitment. I put the bulk of my energy and focus into training during the off-season. Once I have put in the required hours (and more), it pretty much becomes a race and recover deal starting immediately after the first big endurance event. Acquiring the necessary hours to be on top of my game is not an easy task. I live in Vail, Colorado and we've had a snowy winter. Not that I am complaining, but the cold temperatures hamper my motivation.
Read the entire Nat Ross diary here.
(All rights reserved/Copyright Knapp Communications Pty Limited 2006)