MTB & cyclocross news for September 23, 2005
Edited by Steve Medcroft
Welcome to our regular round-up of what's happening in the dirt. Feel free to send feedback, news and gossip to mtb@cyclingnews.com
Houseman in the sponsorhouse
By Steve Medcroft
Rich Houseman
Photo ©: Steve Medcroft

With the U.S. mountain bike season about to close and all thoughts drifting towards Interbike; U.S. cycling's end-of-year Las Vegas trade show, most pro riders are putting together their sponsorship deals for 2006. The process involves creating a resume worthy of sponsorship and making presentations (by phone, email, letter and so on) to companies looking for athletes to assist. It can be an overwhelming and time consuming process.
Enter sponsorhouse.com. In the pits at Mammoth Mountain, California, when he was not on practice runs for his elite pro men's Downhill or Mountain Cross competitions, Team Yeti rider Rich Houseman sat at a folding table under an eight by eight Easy Up talking to anyone who was interested about sponsorhouse.com; the online sponsorship clearinghouse Houseman works for.
The service, Houseman says, "is an online system connecting riders and sponsors." Riders complete a profile; basically an online resume complete with results, photos and bio. The profiles are visible to the fifty or so companies that use sponsorhouse.com to find athletes; companies like Sinister Bikes, Iron Horse and Turner. "It replaces having to find the right contacts for the companies you want to be sponsored by and knowing when and where to send resumes to get noticed," Houseman says.
The service began in 2001 when Northeast-based motocross racers Scott Tilton and RJ Krause started helping friends with their sponsorship resumes. "They were writing resumes for top guys and I think it just dawned on them that there might be service in what they were doing," Houseman says. "They developed, and continue to improve, the software the service is based on."
The service was adapted to mountain biking in 2003. "They dabbled in it at first," Houseman says. "Then my brother (retired MTB pro Gary Houseman) and I stumbled on it and were the first mountain-bike pros to use it. They hired me in 2004 and we've focused on mountain biking full time from there."
The service is offered in three versions. "There's an entry level; a free account," Houseman says. "The basic level is $60 per year. The premium level is $120." Although the profile of any athlete with an account can be viewed at the service's Web site (www.sponsorhouse.com) the difference between the packaged programs is mainly in how many contacts your profile will be actively marketed to by the service.
Houseman says his sponsorhouse is partly responsible for the collection of sponsors he represents to make a living. The last deal he did? "I hooked up with Kicker stereos which is an outside-industry sponsor. Kicker is a stereo equipment manufacturer and I'm considered one of their factory riders."
Not everyone who rides a mountain bike is an elite-level pro like Houseman but "people are really surprised by how little experience or results you need to get sponsored," Houseman says. "The programs are open for everyone from beginner to pro." He says beginner riders may only receive discounted product at first but even that is "an opportunity to get your foot in the door and grow with the program."
"My theory is that everyone is sponsorable," he says. "Results will get you a long way but a lot of companies look at the grass roots level for what kind of a person and what kind of rider you are. From my experience and from the companies I talk to, the main thing they're worried about is how they're represented on the course. And that means that everybody is sponsorable."
Sven Martin gets help from his downhill family
By Steve Medcroft
Seven weeks before U.S. National Championships in Mammoth Mountain, California, pro downhill racer and Turner/Honda team manager Sven Martin crashed during a training ride in Whistler, British Columbia.
The South African and his wife, Anka, were negotiating a moderately technical trail at "cruising" speed. Martin's front wheel caught a rock and he went over the bars so quick he says he didn't have a chance to correct his position and landed on his head. He says he knew right away that he had broken his neck. X-Rays confirmed that he had broken his C3 through C5 vertebrae, crushing C4. It was a miracle he wasn't paralysed from the injury and has taken surgery and careful therapy to get him to the point where he was walking the Mammoth pits; albeit wearing with a neck-immobilizing brace.
The accident left Martin financially vulnerable and looking at a six-month recovery. Although he had purchased an international catastrophic medical policy, he travelled to Whistler two days earlier than planned and the provider refused to pay the claim. Leaving the now out work Martin with tens of thousands of dollars in medical expenses.
But the downhill scene has a way of taking care of its own; at Nationals, Jeremiah Dean (of Dylan/Dean Designs - a custom helmet designer), was busy organizing donations of sponsor products for a raffle to raise funds to help with Martin's bills.
"A lot of people donated product and cash," said Dean. "Pretty much everyone in the industry is helping out." The fundraiser was one of many. "We did some fund raising at the Mount Snow NORBA finals. We're having another raffle in Southern California at Dana Point (Break Neck Speed Fundraiser, September 22nd)."
Martin says all the attention has been humbling. "I've been blown away by it. I've been on the circuit for a couple of years and the downhill scene is sort of a small, travelling family but the fact that they wanted to raise money for us not once or twice but over and over, has been amazing to me."
The relief has allowed Martin to focus more on recovery than money. "Not being able to work has been stressful," he said. "But I have a long-term payment plan for much of my medical bills. With the help these guys are providing, we'll make it through."
The experience of having a catastrophic injury while uninsured has made Martin reflective about the lack of medical coverage for professional mountain bikers. "This whole thing has made me want to work to create some form of insurance coverage for us," he said. "NORBA has something that helps and some of the pro teams have contracts which include medical coverage but a lot of other riders are not covered by anything. We all understand that there are risks involved with this sport but there has to be a solution; even it's a policy where you pay a certain amount out of pocket but are covered for a catastrophic injury like mine."
Beyond becoming an advocate for medical coverage for athletes, Martin says he is focused on recovery. "I'm doing good now," he says. "It's been six weeks since the accident and I'm starting to feel more normal; I can get out of the house and walk around, I don't have to take so many pain killers and I don't have to lay down every couple of hours. It's going to be twelve weeks before I can get on a mountain bike again." A moment he says he is looking forward to.
Martin expects to recovery in time to rejoin his Turner/Honda team for the 2006 mountain bike season.
Transition, an American cyclocross documentary, now on DVD
Transition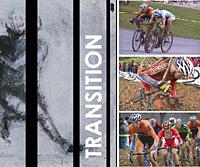 Transition: An America Cyco-Cross Season, the highly anticipated movie by Sam Smith at Blunt Trauma Productions is now available. Filmed from New Gloucester, Maine to Philadelphia, Pennsylvania to Portland, Oregon, Transition covers all the major races of the 2004 season including all the U.S. Gran Prix rounds and the 2004 U.S. Cyclo-Cross National Championships.
Transition contains gritty, mud-soaked race action set to cutting-edge music, as well as - sometimes insightful, sometimes outrageous - commentary by today's top pro men of cross including Ryan Trebon, Geoff Kabush, Barry Wicks, Mark Gullickson, Mark McCormack, Adam Craig, Ben Jacques-Maynes, Ben Turner, and Carl Decker.
From one road or mountain bike season to the next, from riding to running, from one course surface to another – be it grass, pavement, mud or sand, from the hot early autumn to the freezing and treacherous mid winter, viewers are taken through every experience in American 'cross racing. The viewer also follows the season of Adam Hodges Myerson who reluctantly makes the transition from high level pro to simply a race participant doing it for fun, as other things start taking priority in his life.
The DVD version of Transition contains race footage, interviews, and an extremely interesting DVD menu. For more information or to purchase the DVD, go to www.store.yahoo.com/cyclocrossworld/tramcysedvd.
MTB on U.S. TV this week
Gene Hamilton of BetterRide has worked with the Science Channel to produce a feature on mountain biking. Shot on the trails at the Klebold ranch in western Colorado the show has exciting downhill footage and some great riding tips. This is must see TV for mountain bikers featuring professional downhill racer and coach Gene Hamilton, 5th place Red Bull Rampage finisher Lance Canfield, Chris Canfield, Mason Klebold and Ryan Cranston.
The Mountain Biking feature will air during the program Discoveries This Week, Episode 316 on The Science Channel this Friday September 23rd and Sunday September 25th at 8 and 11pm Eastern Standard Time.
For more information and to view the Science Channel's schedule here
Easton/Kona announces 20005/2006 cyclocross team
The Easton/Kona cyclocross program has annpounceed its national team line up for the upcoming 2005/06 cyclocross season. The team is entering its fourth year and the upcoming season promises to be one of its best. "Graduates" of the Easton/Kona program include 2004 USGP Elite men's champion, Ryan Trebon, and 2005 UCI US World Championship team members Troy Wells (U23) and Josie Beggs (Elite women).
Headlining the team in the elite men's category is Tyler Johnson (Chester, Conn). Tyler's resume includes a silver medal at the 2002 ITU U23 World Duathlon Championships, a UCI elite victory at the Biowheels UCI race in Cincinnati and several years experience on the well established, Richard Sachs cyclocross team. Tyler's plans for 2005 fit perfectly with Easton/Kona program. After a fall of competition on the US circuit, including the Crank Brothers USGP series, Tyler plans to head for Europe after the US National Championships. Keep your eyes out for Tyler this season, we assure you he definitely one to watch!
Joining Tyler in the elite men's category is returning 2004 Easton/Kona rider, and reigning 2004 Collegiate USCF National Champion Matt Shriver (Durango, CO). Matt is foregoing his usual collegiate mountain bike program for the fall to focus solely on cyclocross. Matt will build on his success and experience from 2004 and should surprise many of the established US favourites in the battle for those podium positions.
New to the Easton/Kona program for 2005, but certainly not new to cyclocross, is Brent Bookwalter (Comstock Park, MI) in the U23 category. Brent was a member of the 2002 UCI cyclocross and mountain bike World Championship teams. 2004 saw Brent capture the Collegiate National Mountain Bike Championship in both XC and the Omnium. Brent races road on the Advantage Benefits-Endeavour Cycling Team and has just capped of an outstanding 2005 road season with a stint on the US National Team and a selection to compete in the Tour de l'Avenir in France. Brent is focused on cyclocross once again for 2005.
Rounding out the team for 2005 is one of the top Masters riders in the US, Andy Applegate (Asheville, NC). Andy had a frustrating season in 2004 but put it all together at the sixth stop of the Crank Brothers USGP in Highland, New Jersey to take a much-deserved victory. Andy finished the USGP series ranked third in the highly competitive 35+ category. Andy competes in both the 35+ and elite men's category, often doing both races in the same day!
(All rights reserved/Copyright Knapp Communications Pty Limited 2005)