MTB news & racing round-up for September 22, 2005, part one
Edited by Steve Medcroft
Welcome to our regular round-up of what's happening in the dirt. Feel free to send feedback, news and gossip to mtb@cyclingnews.com
U.S. National Mountain Bike Championships wrap up
By Steve Medcroft
JHK repeats
Photo ©: Rocky Arroyo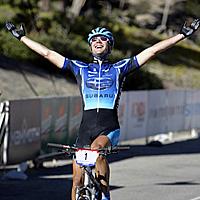 1,582 competitors registered for the U.S. National Mountain Bike Championships in Mammoth Mountain, California last weekend. Though mostly cool and windy weather, stars and stripes jerseys were awarded in one-day pro/elite, semi-pro, expert, and junior expert category downhill, mountain cross, super d, short track, cross country and marathon competitions.
Elite-level racing kicked off Thursday with a 66-mile marathon. Chris Eatough (Ellicott City, MD) who won the NORBA National Championship Series and Jay Henry (Avon, Colo.), who had beaten Eatough in two NORBA marathons this season, were the pre-race favourites. But semi-retired former national cross champ and Olympian Travis Brown lined up and took the race for himself. Not without adversity though: in the first of three laps Brown, along with Henry, Eatough and Michael McCalla were led off course by the lead moto and had to work their way back through the field before starting the second lap. After that, Eatough says he just didn't have enough recovery in his legs after a brutal 24 Hours of Adrenalin Solo World Championships (Sept. 3-4, which he won) to mount a more convincing challenge. For Brown, the race would be the opening day of three contests during the weekend; he raced Saturday's singlespeed cross country and Sunday's short track.
Gretchen Reeves (Rocky Mountain Cycles)
Photo ©: Rocky Arroyo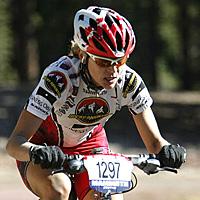 In the women's Marathon, NORBA series Champion Monique Sawicki (TeamMATA) fell to the World-class pace set by defending marathon national champion Gretchen Reeves (Rocky Mountain/Business Objects).
In Friday's cross country Shonny Vanlandingham (Luna Chix), who dominated the NORBA series in 2005, got off the front and looked to be soloing to an easy win. But she flatted in the final miles, which featured a particularly long and treacherous downhill. The reduction in Vanlandingham's speed allowed second-place Mary McConneloug enough momentum to get on the Luna Chick's wheel and when Vanlandingham was thrown off her bike at the transition between dirt trail and paved finishing straight, McConneloug slipped around for the win. Vanlandingham ended up running her bike across the line to salvage fourth.
In the men's race, there was no challenge to Jeremy Horgan-Kobelski (Subaru/Gary Fisher). JHK ended up almost four minutes ahead of second-placed Todd Wells (GT/Hyundai). Third place Adam Craig (Giant), who had been the highest-placed American in international competition in 2005 with a 21st at World Championships and 7th at the Fort William World Cup finals, says he rode in 'survival mode' because he wasn't recovered from traveling mid-week from Scotland. Behind Walker Ferguson (Scott USA), the ageless Ned Overend (Specialized) battled Jay Henry to earn the fifth and final podium spot.
Saturday's mountain cross was all about world champions. Current world champ Jill Kintner rode smoothly through her brackets and final to take the women's race. On the men's side, the absence of newly crowned world champ Brian Lopes, left room for 2004 world champ Eric Carter to make a comeback. After a year on the sidelines with back-to-back injuries, an emotional Carter (Mongoose) won ahead of teammate Brian Schmith. He said the win lets him put the 2005 season out of his mind and head into winter recommitted to racing.
Adam Craig (Giant) celebrates
Photo ©: Rocky Arroyo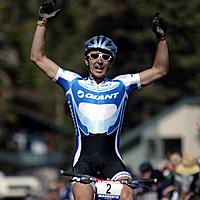 In short track, a front flat again derailed a leader; but this time in the men's race. Jeremy Horgan-Kobelski got off the front in a race that started sluggishly until a relative unknown - Durango-based Cody Peterson (3D Racing) - blew it apart with a huge attack over a section of the route that ran up the final 100 meters of the super-steep mountain cross course. JHK's flat left Todd Wells attacking and Adam Craig chasing. Of course, with Craig's teammate (2005 elite national road champion) Carl Decker sitting ten seconds behind, the cycling gods smiled on Craig. "I was feeling like a total dick for sitting on Todd but that's what you're supposed to do when you have teammates," Craig said about his tactic of coasting behind Wells and refusing to work at the front of the race. The move was decisive though; Wells had no energy left to follow ultimate winner Craig's final attack up the mountain cross course and came second.
In the women's short track, Shonny Vanlandingham left nothing to chance. Still bandaged from her crash on Friday, she set a strong early pace and rode the last half of the twenty-minutes-plus-three-laps contest fifteen seconds ahead of Dara Marks-Marino (Ford/Specialized) to take home the national championship jersey fate stole off her back in the cross country race.
Speaking of jerseys, Sunday's short track was Alison Dunlap's final pro cross country appearance. In an emotional call-up ceremony, her team presented her with a custom jersey that represented her many accomplishments; world and national championships, World Cup and her two appearances in Olympic cross country.
To close out the weekend, two young riders took the downhill national championships jerseys on Sunday afternoon. 20-year-old Cody Warren (Haro), 2003 junior national champion beat the second-best time by eight seconds – after stumbling at the top of the course. To put how good his run was into perspective; the next ten results were separated by less than ten total seconds!
23-year-old Melissa Buhl (KHS) took the women's title. The KHS pro has come second in everything from NORBA downhills, mountain cross, dual slalom and Jeep King of the Mountain competitions in 2005. "I was close, close, close all year. This feels really good," she said after her win.
See complete race reports, photos and results here:
Carl Decker wins singlespeed national championship
By Steve Medcroft
Not only were the elite cross country national championships decided in Mammoth Mountain, California this past weekend, but more than 100 jerseys in all kinds of categories were awarded as well. Everything from beginner to semi pro, sport and expert age group classes. And since singlespeed bikes are a third-option in many cross-country racers' arsenals, USA Cycling, for the second year in a row, decided to award a one-geared cross-country category as well. In keeping with the open nature of singlespeed, there were no age or gender divisions.
Trek's Travis Brown, Kona's Barry Wicks, 24 Hours of Adrenalin Solo World Singlespeed Champion Dejay Birtch (Subaru/Gary Fisher) and U.S. Elite Road National Champion and defending Singlespeed National Champion Carl (Giant) Decker (a.k.a. the Dekerator) made up part of the twenty nine strong field. Facing four cold, windy and dusty laps of the six-mile cross country course, Decker and Brown worked off the front together in the first lap to build a lead. One lap later, Decker streamed through the start/finish area in an aero tuck, a comfortable minute ahead of Brown. It was a gap he'd never give up.
We caught Decker at the finish line for a brief chat about the race and about his affinity for one-geared mountain biking.
Cyclingnews: You're a road racer, a cross-country race and a singlespeeder. How do you manage to train for all three disciplines?
Carl Decker: I don't know. I think a bike race is a bike race and I do a lot of cross over riding; when I'm at home, I'm usually on the road bike, when I'm on the road I'm usually on my mountain bike. I just ride different bikes at different times for different reasons and end up spending a lot of time on all of them.
CN: What motivated you to race the singlespeed category Cross Country?
CD: Well, today is a down day between two races (Friday's cross country and Sunday's short track). I tend to feel better the more I race so to me it makes sense to race today rather than sit out. As hard and miserable as it is to do this today, I might feel better for it tomorrow.
CN: How long have you been singlespeeding?
CD: I've had one in the quiver for six or seven years. They're good around Bend, Oregon (where Decker lives) because we have a lot of low angle stuff – long climbs that aren't super-steep. You can run a big gear out there and still ride almost everything. As for why I ride a singlespeed; it's simple, it's quiet and your bike doesn't jam up in the mud. It's so much more reliable for where I ride.
CN: In today's race, Travis was your main challenger but it looked like he was spinning out on the flats where you seemed to be riding comfortably. Were you geared differently?
CD: Very, very different. This bike (Decker lifted his bike at this point) is not a singlespeed frame. It has vertical dropouts and I had no way to adjust the chain tension so I cut off my derailleur hanger then I sat down with a bunch of different cogs and chainrings until I found a set that fit the frame. The gear I ended up with is 32x15 (55.4 inches). He (Brown) was on a 32x20 (46.4 inches). He was geared for the climbs and I was geared quite a bit bigger. We yo-yo'd back and forth early in the race - I had to walk some of the climbs he was riding - but he couldn't put enough time on me on the steep stuff to stay away and I had the advantage on the flatter stuff. I kind of knew I had it; I just needed to keep it together and it worked out.
CN: This is your second Singlespeed National Championship in a row and your second National Championship this year. You're happy with your results?
CD: I think it makes up for being an idiot and not tightening my chainring bolts properly in singlespeed world championships; I folded my chainring while I was in the front of that race so this feels good.
Can the Costa Rican La Ruta reign continue?
More than a race
Photo ©: Adventurerace.com

There is no such thing as a sure thing in cycling, but for more than a decade Costa Rica's La Ruta de los Conquistadores mountain bike race has been pretty close. In each of the event's 12 renditions, the men's victor in the three-day trek from the Pacific Ocean across the mountainous Central American country to the Atlantic has been won by one of the local boys. But this year, with the race's 13th running set to commence in the ocean side town of Punta Leona on November 11, that could all change.
Among the non-Ticos signed up this year are former world junior cross-country champion Walker Ferguson, Spanish pro Alejandro Díaz de la Peña, 2005 Trans Rockies winners Marty Lazarski and Andreas Hestler, and reigning world marathon champion Thomas Frischknecht. Frischknecht, winner of an all-time best 17 World Cups, also took the marathon title in 2003 and has to be considered the race's early favorite.
But even with all this foreign firepower, there's no guarantee that the Costa Rican reign will end. Back in 2001, American endurance racing stalwart Tinker Juarez made the trip south, but was unable to break the streak of the Ticos, as the locals are known. Certainly there is something to be said for a little home-course advantage, especially when the course is 318km long and includes over 9000 meters of climbing, including the ascent up the side of Volcan Irazu. Here the race tops out nearly 3000 meters above the sea level - and the starting line two days prior.
Despite these impressive numbers, La Ruta is not solely the realm of the world's top mountain bikers. Each year a mix of local of international amateurs contest the event, taking on a challenge that has few equals in the world of endurance sport.
"More than a race, La Ruta is a personal growth journey," said event founder and race director Roman Urbina. "That's the difference from the traditional mountain bike competitions. There are some segments that cannot be traveled even in 4X4 vehicles or motorcycles. The competitors will not always have access to external support and must trust in his their own tenacity."
Tropical environs
Photo ©: Adventurerace.com

Besides the distance and elevation gain, La Ruta also serves up a vast array of climate and topography changes. In any given day a rider may face searing tropical temperatures one hour, only to have to bundle up in near-winter wear as the race heads up into the country's stunning mountains. The course is equally diverse. There are some sections of serene paved road, but most of the time contestants will be off-road on terrain that ranges from smooth ox-cart path to rock-strewn double track.
The race got its start 13 years ago, when Urbina first read about Spanish conqueror Juan de Caballón and his 20-year trip up and over the sky-scraping mountains of Costa Rica while exploring the country. Caballón's expedition started at the Pacific Coast and finished on the coast of Caribbean Sea. Urbina - a recognized Costa Rican athlete and adventurer himself - decided to emulate that long voyage.
Captivated by the trek of the Spanish general, he and another 34 companions started the trip, which crossed nine of the 12 microclimates that exist within Costa Rica's borders. The adventure led them through rain forest, up majestic volcanoes, and across crystalline rivers. It was then that Urbina decided that the trip had to be turned into an annual competition, and La Ruta de los Conquistadores was born.
Today, La Ruta is considered one of the most difficult mountain bike races on the planet. It is also the most important fat tire race in Costa Rica, and the only one that attracts many foreign competitors and the attention of the international media. Throughout 12 years of existence, La Ruta has attracted almost 2000 cyclists. Fifty percent of the race is reserved for Costa Rican cyclists, while the other half is made up of foreign participants.
For more information or to sign up for the challenge of a lifetime, go to www.adventurerace.com.
Stage 1 - November 11: Pacific Coast - Central Valley, 114km
Stage 2 - November 12: San José - Turrialba, 78km
Stage 3 - November 13: Turrialba - Caribbean Sea, 126.4km
Total climbing: 9040 meters
Photography
For a thumbnail gallery of these images, click here
Images by www.Adventurerace.com
Keith Bontrager diary: Breathless and cold in Colorado
He's not sleeping here either...
Photo ©: KB and friends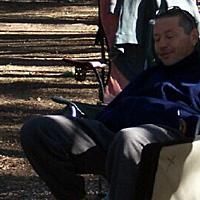 Kona World Challenge 24 hour in Colorado - September 21, 2005 - There is very little oxygen in Winter Park, Colorado. I think the people out in California must be hogging it all like they do with the gasoline. Dunno.
The rides I was scheduled to participate in were close to the race site, so I'd get a chance to try out the terrain and the air. The terrain was great, one of the best spots for XC riding I've been to. But the air - the base at Winter Park is around 2700 metres, and the trails around the ski area go up 600 metres or so from there.
Lester and Larry organised the get together. They are the reps in the area and get around to a lot of good shops, so they invited the folks in the shops who ride and work on bikes to attend. There'd be very little discussion about selling things, which is good, because I am out of my element in that topic. We'd be talking tech in between (my) gasps for air.
The first ride was short, an afternoon warm up. And, as is the case with most short group rides, it was brisk. I went OK on the fireroad to the fist climb, and went well on the climb itself for about as long as I can hold my breath, which was not too much of a surprise having raced up in the area in the past. I'd been up for races in Breckenridge a few times over the years (it's also a great XC riding area and 300 metres higher than Winter Park) and knew the feeling well. This time I wasn't coming up to race on the day though; there would be five days of gasping before the actual 24 hour race. Hopefully that would be enough to make it a bit better on the weekend.
The ride went well enough, with some good singletrack climbs and descents. The lads were kind to me for the most part and didn't leave me for dead. The hardtail I'd brought was going to be fine in this area too, as were the fat, smooth tubeless tires as long as it stayed dry.
Read the entire Keith Bontrager diary here.
Geoff Kabush diary: Worlds and a tour of northern Italy
Geoff and his fiancee
Photo ©: Geoff Kabush & friends
The 2005 world championships is in the book and for me and that means that the season is pretty much done; at least the MTB part. 2005 has been a dandy year and it finished off well, or satisfactory at least. It was a quick trip over for Team Maxxis from Mt Snow to Livigno, but definitely not trouble free. It started with me grinding my teeth as I watched our bikes in a cardboard box sit out on the Boston runway for a 15 minute thundershower; fortunately they finally got put on; unfortunately that was the last we would see of them for four days.
That meant that I would be skipping the team relay, which was a little frustrating, as well as training for the week until the bikes showed up on Friday. We were right next to the venue so the hardest part of the week was listening to the announcers out our window; I think I heard the Flow Show's Dangerous Dan say "podium of decision" a few too many times. We did humour ourselves though with some of the English translations we saw on the menus like octupussy, chesse, tunny, whysky; as well as the official phrase for 2005 Livigno which wasn't quite right - "All can be a road".
And so the XC finally came around - at the big races they make you just sit on the line after call up; something stupid like 12 minutes before the start. I was about the only one that hopped the fence and rode a trainer to the last minute and I think it paid off. As everyone struggled with dead legs I went round the outside and cruised through the start loop on the front. All was going to game plan as I settled in on the first climb and coasted backwards; and let me tell you there were some good climbs on this course. Maybe too many climbs going straight up and not enough corners and bumpy stuff for my liking. I felt decent though and finally came around in the low 20's and made it back up close to the top ten before a slow leak left me in 14th at the end. It was okay, but I was hoping for something a little more special. I have time and better Worlds courses on the horizon, I suppose. The village was pretty dead but we finally found Rowney and the party; T-Lowe was out for his last MTB party before going to the dark side. I of course had to dress up and show the Euros some good Canadian fashion; it was one last Deaner appearance before retirement.
Read the entire Geoff Kabush diary here.
(All rights reserved/Copyright Knapp Communications Pty Limited 2005)